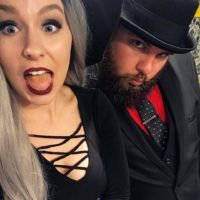 Hidden Disney is a series celebrating the lesser-known corners of the Disney Parks, written by two avid crowd-avoiders and secret-enthusiasts. We will be delving in to tips & tricks we've learned from personal experience frequenting Disneyland and beyond, to help guide you to a bit more magic on your next excursion. Have something for us to look in to? Tweet @DAPs_Magic with the hashtag #DAPShidden!
***
Hidden Disney Location: Alfresco Tasting Terrace (Disney California Adventure)
This delightful patio with a view is tucked out of the way above the restaurant Wine Country Trattoria, almost dead center in the park. This is a casual drinks-and-appetizers kind of place, and the perfect hideaway from a busy Disney afternoon/evening.
Caitie: "When trying to find your way, it can be a bit confusing, especially if it's not an area of the park you normally venture into. If you head into Wine Country Trattoria, you'll find a set of stairs that takes you up to the restaurant. If you make a right, you'll find an absolutely gorgeous patio with a view to die for. This is exactly where you want to be!"
Cam: "Truth be told, up until the suggestion we go up for a bite, I had no idea it was even there! It's so removed from the main paths that you really have to have the intention of finding it to get there."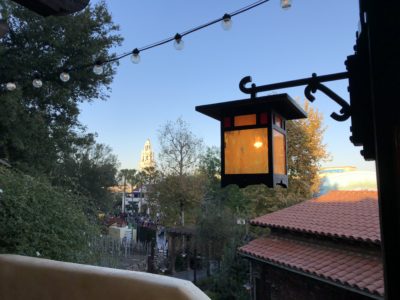 Benefit #1: The view
Benefitting from its raised, central placement, and relatively unobstructed sightlines, this location offers some of the best views of California Adventure, especially during a legendary west coast sunset!
Caitie: "The best part of the view is realizing no one knows you're up there. You can see the magic in a totally different way with a birds-eye view. You think of how many times you've walked by there without looking up, and there's something so beautiful in seeing other guests purely enjoying the park."
Cam: "I was especially struck by the unique view of Carthay Circle over the trees. Disney-centric shutterbugs are always looking for a fresh angle on the parks, and I really haven't seen any pictures taken from up there."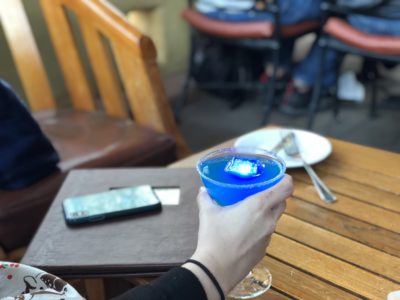 Benefit #2: The drinks
While California Adventure does offer its fair share of fantastical beverages, the Alfresco Tasting Terrace brings a decidedly elegant twist to the experience. Their menu includes an array of artisanal wines, craft beers, and colorful cocktails, all without having to order at a counter.
Caitie: "Cove Bar lovers rejoice! All the fun cocktails and Instagram drinks are available right here at the tasting terrace. While I love Cove Bar drinks, I found myself drawn to the expansive list of drinks the Terrace already had on the menu! They were all a fantastic value and every drink that passed by our table looked amazing."
Cam: "It was a surprise to see George Lucas staring back from the wine list, but his, and other specially selected vineyards are represented well."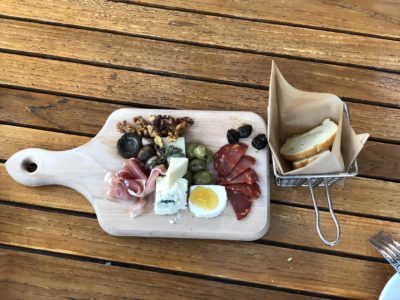 Benefit #3: The food
"Theme park food" may have a dirty name most of the time, but this location subverts expectations! While not a full entrée restaurant, there are several menu options for that perfect between-meal snack (or full meal of appetizers!).
Caitie: "I love a good board, and this charcuterie plate did not disappoint! It was perfect to split between friends, and as an insider tip, there's not limit to how much bread they'll bring you. You're welcome."
Cam: "We didn't try everything on the menu (yet), but it all looked extremely appetizing, and had a very decent price point ($12 and under for most)."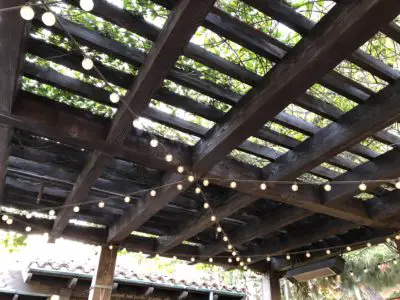 Benefit #4: the seclusion
By virtue of its location upstairs, it really feels like you've stepped away from the busy parks while lounging and dining. Having a moment to breathe and recharge your batteries (both personally and on your devices) is essential on any good trip to the parks!
Caitie: "The feel is something you can't find many other places in the park. It's truly relaxing and it feels like a Disney twist on a sophisticated experience."
Cam: "For being as open as it is up there, I was impressed by the quiet! We were able to easily have a conversation over our drinks, with no intrusion from the surrounding rides and people."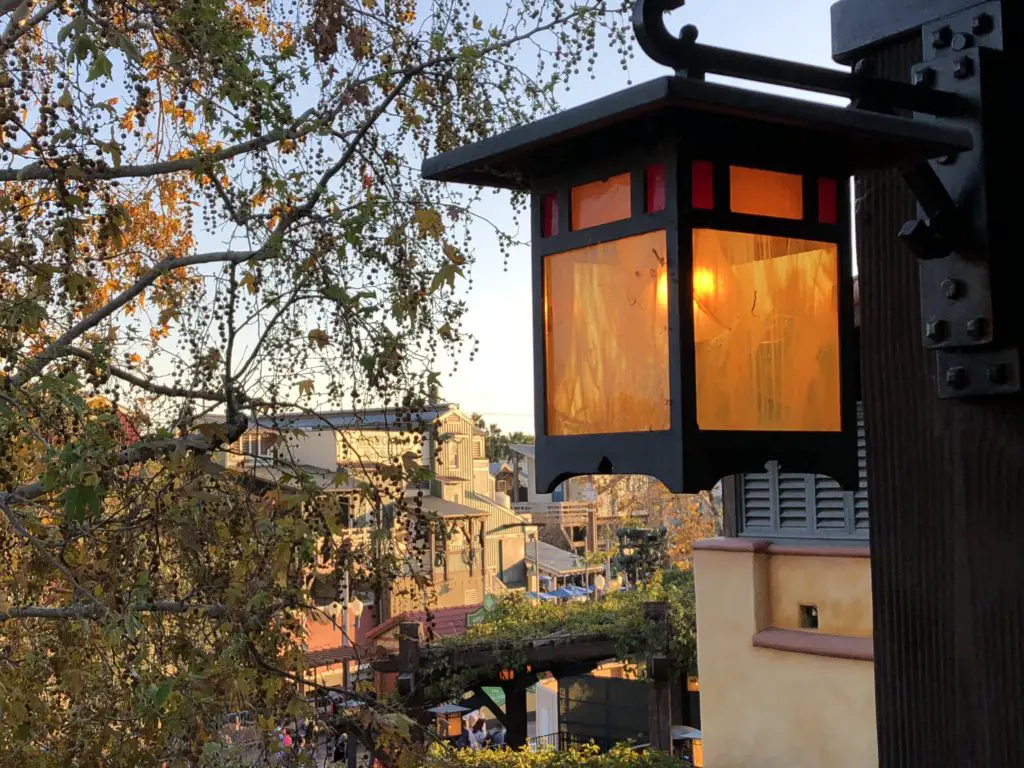 Caitie and Cam can be found on Twitter, @Caitiebear13 and @mr_camjaxn respectively. Be sure to look for them every Tuesday night on #GeeksCorner at thegeekscorner.com!