Hey Everyone! Welcome back to another article in our new Disney Parks Veg' Series!
This past week, while scrolling through social media, I was bombarded with post after post of cheesy, ooey gooey, mouth-watering slices of one of America's most favorite food groups… PIZZA! That's when I quickly discovered it was the most wonderful day of the year again. National Pizza Day!
It got me thinking… it's fairly easy to find a custom pizza joint outside the parks, which can cater to allergies or vegetarian/vegan options (Pizza Press is my favorite and right across the street!), but what if you happened to be inside the Disneyland Resort on this special day? Would you be able to celebrate?
Of course!
Disneyland and California Adventure have been offering personal vegan pizza options for quite a while now.
We just didn't know it!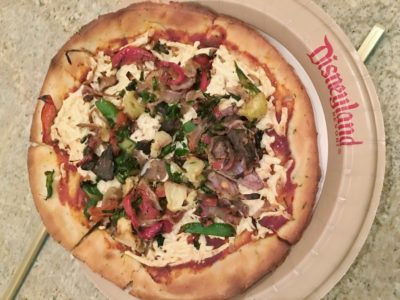 The First stop on our tour is the Pizza Port in Disneyland's Tomorrowland! We should have guessed, right? Head on over to the designated pizza counter and ask the Castmembers if you can order a Vegan Dairy Free pizza. They will grab a special ordering ticket and write down everything you need. At this time Pizza Port is only offering a cheese pizza option, no extra toppings. I was given a buzzer that went off when my pizza was ready and I picked it up at an appointed counter. Pizza Port is a great vegan option in general at the resort as well.
Heading over to the other side of the Resort, our second stop is Boardwalk Pizza & Pasta in the Pier section of California Adventure. Of the two locations, Boardwalk is my favorite for this specific reason. They LOAD up on the veggie toppings! I'm talking green and white onions, mushrooms, peppers and artichoke hearts! It's SO good! The process of ordering for Boardwalk is the same as Pizza Port, the one exception being that I hung around the counters for the pizza versus receiving a buzzer to tell me when it was ready.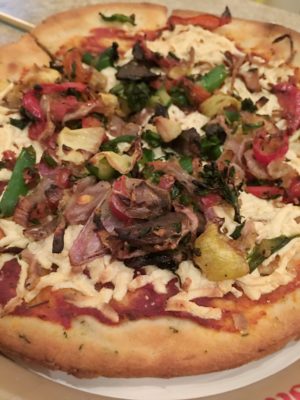 Both locations are considered a quick service dining option because of the ready to grab counter options, however, special orders do take a little more time. They are made right when you order and typically take about 15 minutes. I should also note that both locations serve the Vegan pizza on their Gluten-Free crust, not the regular pizza dough, and the cheese brand Diaya is being used which contains soy.
Now that you are armed with Disney Vegan Pizza knowledge, go forth and conquer those veggies!
Are you planning on heading to the parks soon? Let us know in the comments what locations would you like to know Vegan options for!
Lots of Coffee & Confetti,