December 14, 2017 Disney officially announced that they have come to a deal to acquire 21st Century Fox.  Disney have an agreement to acquire the company at $52.4 billion in stock.  Shareholders of 21st Century Fox will receive 0.2745 of Disney shares in the acquisition.  Disney will also assume a debt of $13.7 billion that Fox has, which will be added onto the $52.4 billion.  In addition, Bob Iger will now remain Chairman and CEO of The Walt Disney Company through 2021.
What is Disney Getting?
What Disney will not be getting in the deal are Fox Broadcasting, Fox News, Fox Business, FS1, FS2, and the Big Ten Network.  These will become a new company that will still be with current shareholders.
What Disney will be getting, studio wise, are Twentieth Century Fox, Fox Searchlight, FX Networks, National Geographic Partners, Fox Sports Regional, Fox Networks International, Star India, Sky, Fox2000, and a bigger stake in Hulu.  These include a huge library of shows and films, as well as licenses for sports showings.  It increases Disney into an even bigger powerhouse of entertainment.

The Big Movie and Show Expansion
What may be most exciting to Disney fans is the vast library of movies and shows that Fox has to bring.  Avatar, X-Men, Fantastic Four, Deadpool, and Firefly are going to be in the Disney family now.  I know what you're thinking: Some of these Disney has with Marvel. But, not really.  X-Men and Fantastic Four characters rights were given out to Fox before Marvel Studios existed.  Disney couldn't do anything with them until now.
In addition to those franchises, Disney now owns Star Wars fully.  I know that's weird to hear too.  The original trilogy had some caveats to it because 20th Century Fox was the original studio to produce and release the films.  They have had the original trilogy as it was first shown all this time.  It's one of the reasons why we haven't had a new release of the un-enhanced originals.  Now it's back to Lucasfilm completely, and therefore with Disney.  Think of it as like how Disney got back Oswald after all these years.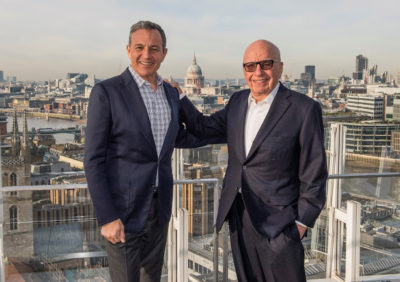 So, Is This Good?
Whether or not this is a good deal will only be known over time.  So far it is a good move.  One reason is that ESPN has been an ailing branch of the Disney company.  It's the biggest component that has been bringing the company down.  With a bigger and bigger market of sports channels emerging, it was going to be hard to compete for ESPN.  The phrase "if you can't beat them, join them" comes to mind.  It may have been getting harder for Disney to figure out what to do with the ESPN company, and grabbing Fox Sports will now knock out one big competitor from the market.  It will only boost the Disney company and fix the problem in the company.
Then there are the franchises that Disney already has a stake in.  They are getting even closer now to have complete control of the Marvel brand (Universal Studios Orlando still has rights to Marvel at their parks).  And there's an Avatar presence at the Walt Disney World Resort.  That is now officially a Disney brand instead of some movie license they made a land of.  Again, it will only enhance what Disney already has to make it even stronger.
It's yet to be seen how the library of shows and films will be incorporated into the Disney company.  It's also yet to be seen if each part of the studio will still exist.  For example, will Fox Sports still be several channels alongside ESPN?  Will 21st Century Fox be a movie studio brand?  We don't know yet.  But, it's still an exciting deal that we'll see the full results of these next few years!
Let us know in the comments what you think about the acquisition, and here's a link to the official Walt Disney Company statement.