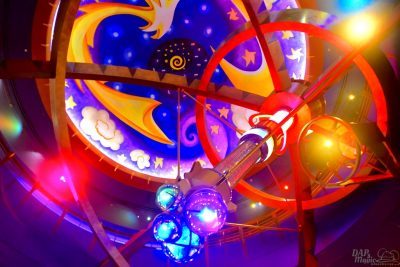 DisneyQuest closed its doors on July 2, 2017 after almost 20 years of being an experimental theme park for Disney.
The Plan
DisneyQuest first opened in Orlando at what was then known as Downtown Disney West Side.  The huge cube-like building housed multiple stories of interactive attractions.  They weren't just games, but sometimes ways to customize rides.
It was planned to open a few DisneyQuest's around the globe.  The first expansion was in Chicago.  It opened June 16, 1999, but was closed in 2001.  This outside Walt Disney World had low attendance making it not a successful operation.
Cybrolator and VenturePort
The entrance of the theme park was originally a ride in itself.  The Cybrolator was said to be "not just an elevator…it's an adventure!" by Genie from Aladdin.  A mirror came to life in the elevator to display a short cartoon starring Genie as he explained the beginning of the journey into DisneyQuest.
Once the Cybrolator ride ended, guests were let out at VenturePort – the entry to all the Zones.  A giant lit up sculpture was featured at the top of the ceiling and the entrances to the zones were seen from the center hub.
The Zones
DisneyQuest was divided into four zones: Create, Explore, Replay, and Score.  These were like "lands" of Disneyland.
Create Zone
Create was about being creative, of course.  An Animation Academy was located here, and was the predecessor to the theme park versions where guests could learn to draw various Disney characters.  This Animation Academy used computer screens instead of pad and paper. 
Living Easels was a touch screen coloring book that you could buy a print of your creation.  Sid's Create-A-Toy was an interactive way of making a toy creation like Sid from Toy Story.  A joy stick guided around a room let you pick up appendages to form an action figure that was also available for purchase. 
Magic Mirror let you take a picture of yourself and then play with the portrait.  A purchasable photo was available from this as well.  CyberSpace Mountain was a roller coaster simulator that let you make your own ride.  Bill Nye was the host, helping you pick parts of track while Crash was a robot tester.
Explore Zone
The Explore Zone had virtual adventures.  Aladdin's Magic Carpets was a virtual reality scavenger hunt.  Treasure of the Incas incorporated kiosks with video screens and driving controls, while under the floor was a temple maze with miniature cars equipped with cameras were controlled by the kiosks.  Effects were synced to treasures found in the maze, and guests had a certain amount of time to find as many treasures as possible. 
Hercules in the Underworld was a multiplayer game with 3D projection to have guests in a room gather lightning bolts in the Underworld.  Each guests became a character from the movie and had a wand that later was used as a weapon against Hades. 
Virtual Jungle Cruise combined two properties of Disney: the world famous Jungle Cruise and Honey, I Shrunk the Kids…the television series at least.  Wayne Szalinski used a time machine to send passengers on an inflated raft through a time with dinosaurs.  Passengers actually paddled on inflated "water" to escape the impending meteor strike.
Score Zone
The Score Zone featured big games with fun stories.  Mighty Ducks Pinball Slam used characters from the television cartoon and once owned hockey team.  A giant screen let not just the players see what was happening but anyone passing by too!  Players stood on platforms that moved from side to side with them.  It was how the pucks on the screen were controlled.  They players had to try to get past various obstacles as they competed for the high score. 
Ride the Comix was a VR game where individuals were in their own pod with their own headset and wand, but were together fighting super villains in the virtual environment.  The comic characters were made for DisneyQuest. 
Invasion! An Alien Encounter used "pod" rooms where four people worked together to rescue workers trapped on a hostile planet.  One pilot maneuvered the contraption which was simulated through displays wrapping around the whole pod.  Others were gunners destroying the hostile aliens.  Guests sat back to back but could talk to each other in the pod.  The game also used XS Tech character Chairman Clench, and both were part of former Magic Kingdom attraction Alien Encounter.
Replay Zone
The Replay Zone was all about classic arcade play.  This is where several arcade games of various type were available for play.  It's also where a classic carnival game – bumper cars – got a new twist to it.  Buzz Lightyear's Astro Blasters combined bumper cars and a cannon game.  Guests could drive the cars around and pick up foam balls that were shot out of a cannon.  If a car was hit, it would spin around with lights flashing inside of it.  Two could fit in the cars, one driver and one gunner.  But, one could do both though it was a bit hard to do both well.
Wonderland Cafe and Food Quest
The two eateries were Wonderland Cafe and Food Quest.  Wonderland Cafe featured cushioned seats with internet connected computers.  It let people send some fun postcards to family and friends while enjoying some tasty food.  Food Quest featured a good selection of bites and cuisine.
Changes
As with many Disney parks, DisneyQuest would change over time.
The Cybrolator eventually lost its introduction video and became just an elevator.
One addition to the Create Zone was Radio Disney Song Maker.  Guests could make up their own songs in a Mad Lib style where certain lyrics were given as choices to include.  Song style and vocal styles could be customized as well.  Guests could even sing into their own songs.  CD's could be purchased of these creations.
Pirates of the Caribbean: Battle for Buccaneer Gold replaced the Hercules attraction.  The room kept the 3D projection screens, but the floor emulated a ship hull and several virtual cannons were around the rails.  Guests could move about the room shooting off the cannons to sink ships and gain treasure.  They had to fight the Buccaneer – a skeleton fashioned after the one that welcomes you before the waterfalls in Disneyland and Walt Disney World.
Arcade games were replaced as some were dated and new ones came out.
Treasure of the Incas was closed entirely and replaced with several driving arcade games.  The see through floor was carpeted over.
Ride the Comix was closed three years before the closing of the park itself.
Wreck It Ralph elements were brought in, as a statue of him greeted guests at VenturePort.  Fix It Felix Jr. arcade games were placed in the Replay Zone.
Closure
DisneyQuest closed to capacity attendance on July 2, 2017.  With the exception of things that had closed years previously, all attractions were open for the last day.  To note little touching things that happened on the last day to pay homage to all its years is that Genie was the last character to be drawn at the Animation Academy.  He was the unofficial mascot of DisneyQuest as seen in the Cybrolator.  Tokens and commemorative photos were given out to those attending the last day.
Legacy and Influence
DisneyQuest was controversial in whether it was a success or not.  It wouldn't have high attendance year round, and its whole venture was shuddered after Chicago was not popular enough to warrant more.  Though attractions were changed, it wasn't kept up enough to have any real grounding as a rotating theme park.
But, its influence is vastly present in theme parks now, and even outside of it.  Magic Carpets was Disney's first virtual reality venture, predating the theme park itself.  The technology has surely helped give way to VR games and tech we know of now.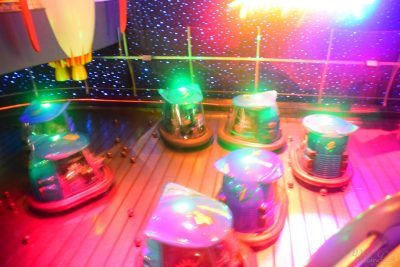 CyberSpace Mountain served as inspiration for the popular (but also short lived) attraction in Epcot called Sum of All Thrills.  That was an educational roller coaster simulation that let you customize the track.  A robot test subject was also present in it just like Crash.
Buzz Lightyear's Astro Blasters name is known at a couple of Disneyland parks where guests are in vehicles that you can shoot at various targets.
Already mentioned in Animation Academy, which is in various parks as well and in similar format.  Disney artists teach how to draw Disney characters still.
The Pirates game/ride has maybe the biggest influence.  It's 3D and cannon technology is the same used in Toy Story Midway Mania at parks around the world.  The cannons are generally the same as in the DisneyQuest attraction.
My Memories
DisneyQuest had many visitors, and many loved playing in all the attractions.  It was a unique experience and a unique place.  Though it wasn't kept up in some maintenance and keeping up with technology, it had its influence in other areas of Disney.  This was a hidden gem that was sadly not too known.
I had a lot of fond memories at DisneyQuest.  My family and I spent a lot of time there on our Walt Disney World vacations.  For not being much of gamers, my parents still enjoyed the attractions.  They weren't hard for them to participate in.  My brother and I got a kick out of making silly songs in the Radio Disney Song Maker, and trying to make each other sick with CyberSpace Mountain.  It was a family park for us, and had that surprising feel to it.
I'll remember it very fondly.
For now, enjoy the look at the only indoor interactive theme park Disney has created through video and photos…