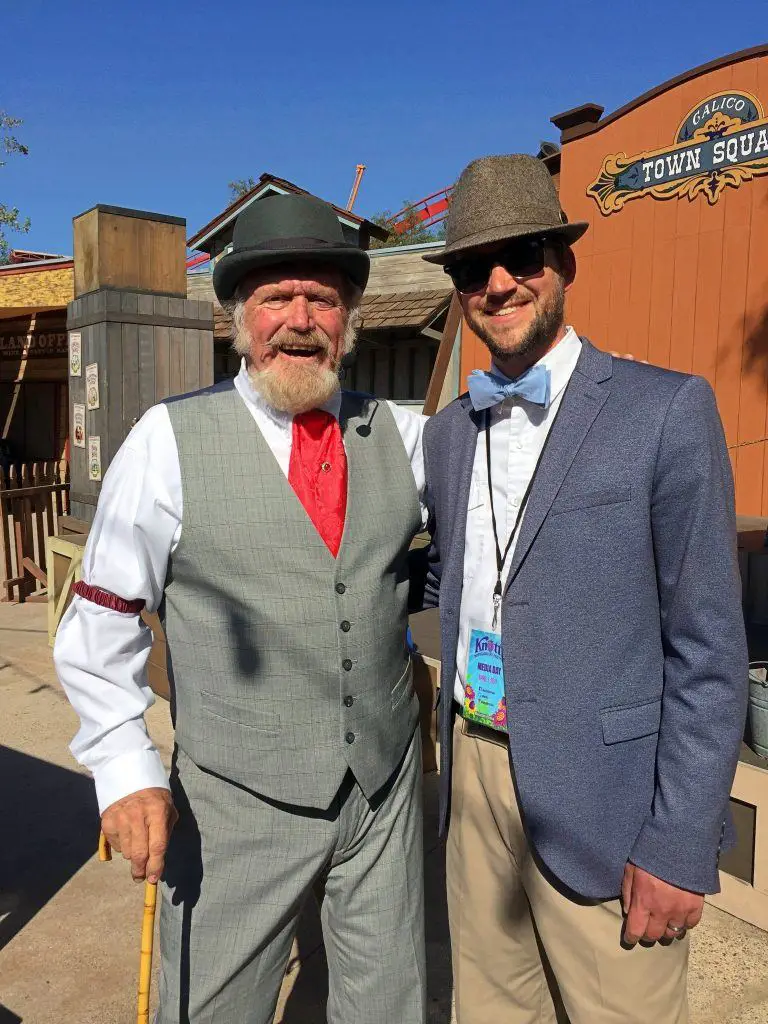 The Boysenberry Festival at Knott's Berry Farm is now in full swing! This year's expanded festival includes more entertainment, more experiences, and more food! For part of the opening day coverage, DAPs Magic was given tasting cards to experience some of the foods being offered this year. With six locations, this tasting card gives guests at Knott's Berry Farm a chance to try a variety of boysenberry themed foods.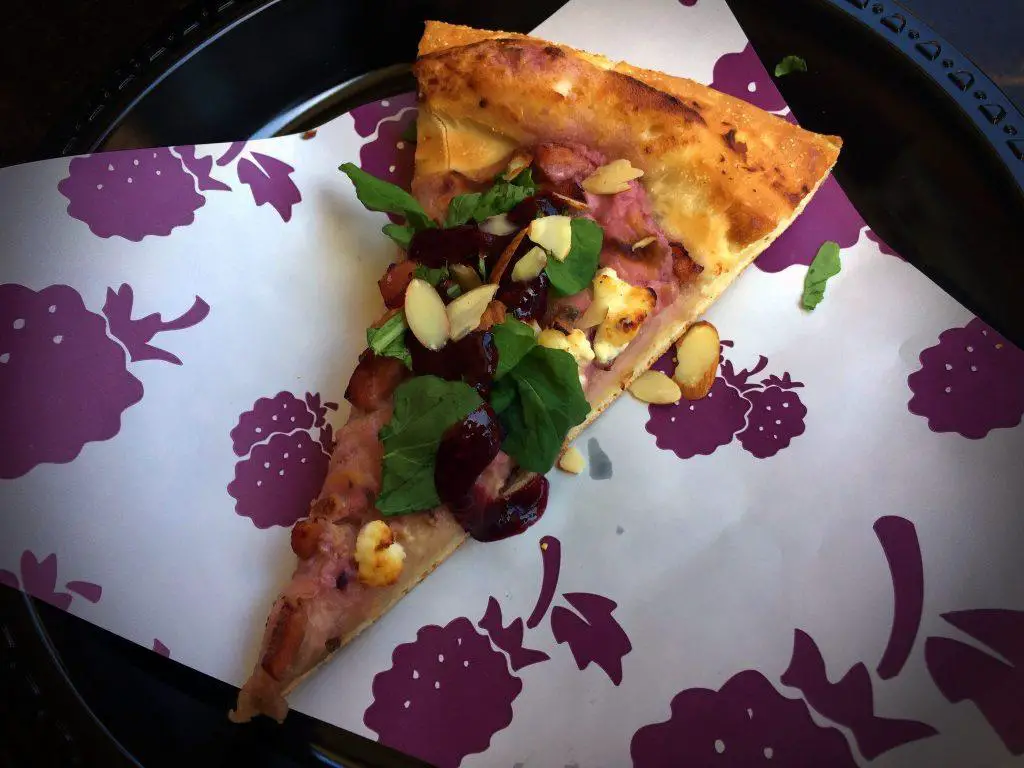 Boysenberry Pizza – Wagon Wheel Pizza
Our day began at Wagon Wheel Pizza where we had the opportunity to eat the Boysenberry Pizza. If you were like me, this concept seemed like it was a bit of a stretch. As I waited in line I imagined a combination of pepperoni pizza and boysenberry. I really had to wonder what I was getting myself into. Once I was served my pizza though, I quickly realized that my imagination had gone way off in the wrong direction. This is a pizza that has a boysenberry cream cheese sauce, arugula, Black Forest ham, goat cheese, caramelized onions, a drizzle of Boysenberry Sriracha and sliced almonds. The first bite was a bit surprising me as I realized I didn't hate this at all but found it rather pleasant. It was creamy for the most part with some texture added in with the almonds, ham, and arugula. As I continued to eat the pizza, I found myself really enjoying it. There are so many things in this pizza that if there was too much, it could overpower the tastebuds. Thankfully, it is balanced and as I completed my slice I found myself wishing for another. This is definitely worth trying and is a fun new addition to the Boysenberry Festival food offerings.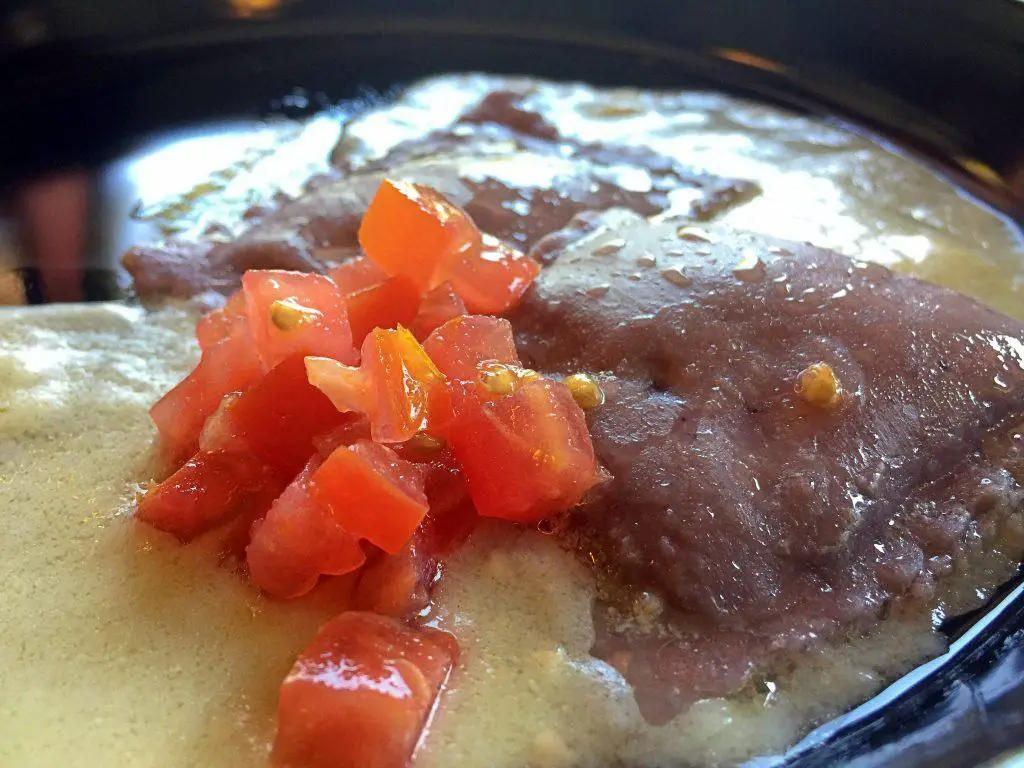 Boysenberry Ravioli – Spurs Chophouse
The next stop was Spurs Chophouse to taste the Boysenberry Ravioli. This ravioli is a boysenberry pasta dough filled with a boysenberry cheese filling. It's plated on a cream sauce with a tomato, onions, garlic, and Parmesan cheese mixture above. Going into this, it seemed like this was a for sure winner. As I cut into the ravioli I was surprised at the intensity of the color both inside and out. As I tasted the purple mixture it was a bit overwhelming. The first bite was the best and then the flavor of boysenberry continues to get stronger and stronger with each bite. Where the pizza balanced itself out, this one did not. It was not my favorite as there was just too much boysenberry. Something was needed to balance out that intense flavors. The boysenberry seeds inside could have been left out as well.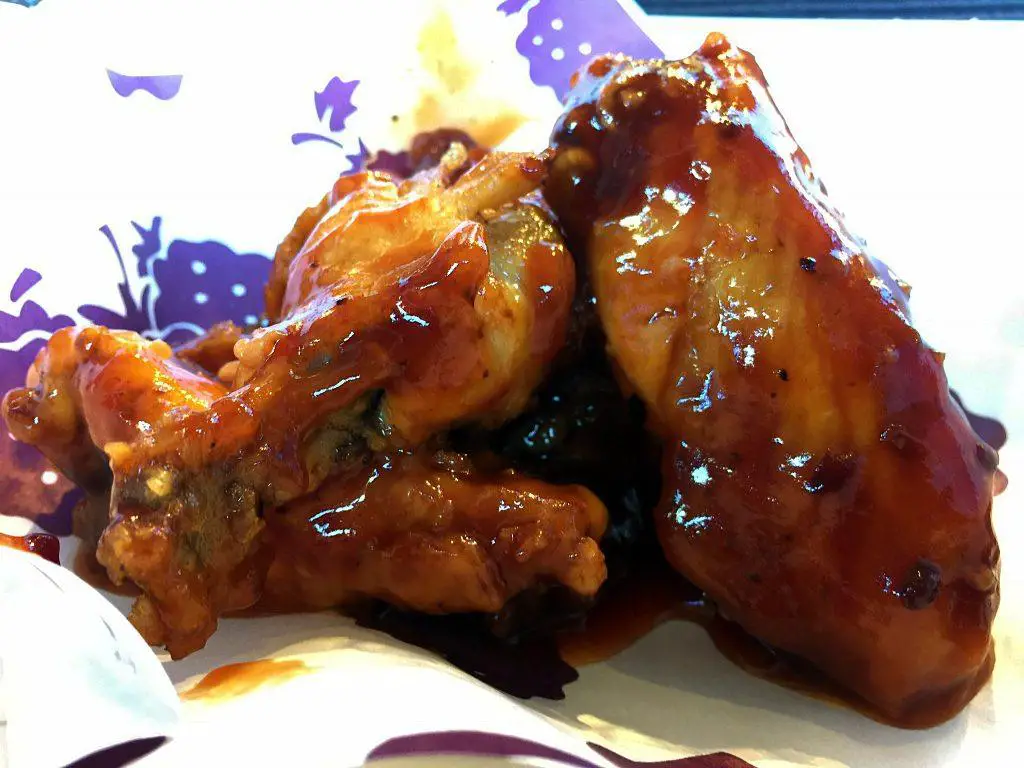 Boysenberry Buffalo Wings – Gold Trails Hotel
In front of the Gold Trails Hotel the Boysenberry Buffalo Wings continuously had a long line on the opening day of the Boysenberry Festival. There is a reason for this: they are good! These are buffalo wings that are covered in Boysenberry BBQ Sauce that is simply delicious. These are not the spiciest buffalo wings in the world, not even close, but they are very satisfying. They are also very messy! So grab some napkins and be ready to go clean up in the restroom after eating these. I'd just suggest not wearing a suit like I did when enjoying these. My only complaint? I always want more!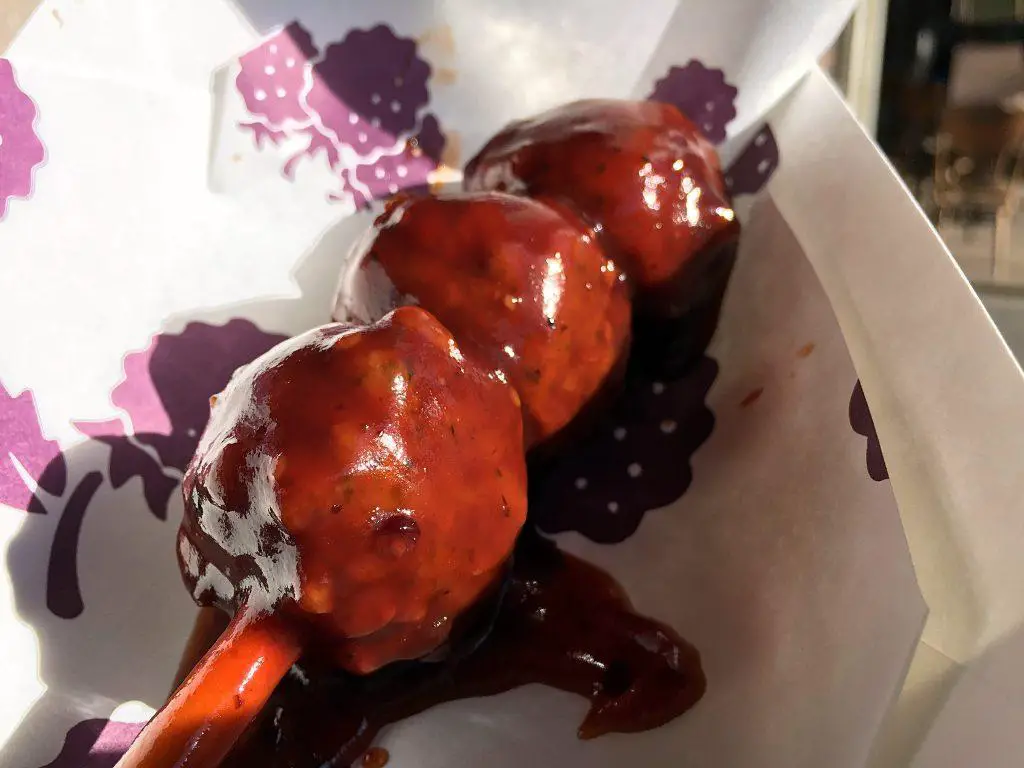 Boysenberry BBQ Meatballs – Bank of Calico
The Boysenberry BBQ Meatballs are another returning favorite of mine for the Boysenberry Festival. These are meatballs of a decent size that are also smothered in the Boysenberry BBQ Sauce, like the Boysenberry Buffalo Wings. They are served on a stick so in theory should be easier and cleaner to hold and eat than the buffalo wings. However, the sticks we received were covered in BBQ sauce as well. All of this doesn't matter though because that Boysenberry BBQ Sauce is absolutely delicious! This is also probably one of the more filling dishes that comes as part of the tasting card. These are one of my favorites and if I were to offer any suggestions it would be to come up with a meatball that would stand out more on its own.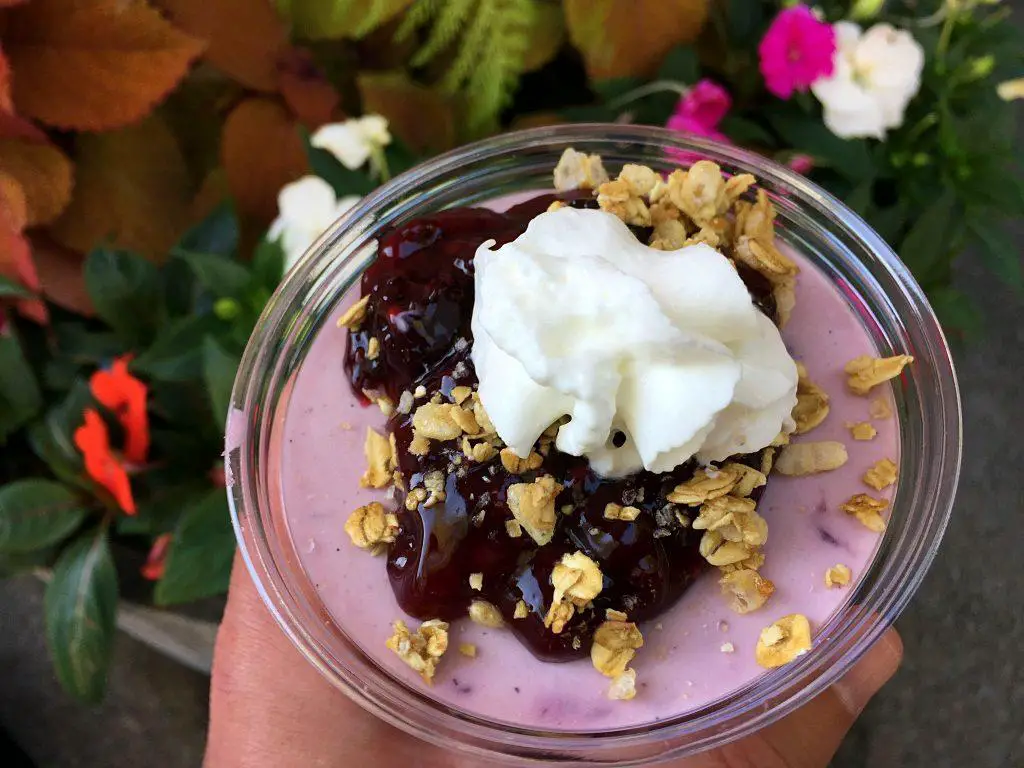 Boysenberry Panna Cotta – Ghost Town Bakery
Finally we reached the dessert portion of our tasting card and we were in for a treat! Well really, we were in for two treats. The first was the Boysenberry Panna Cotta. This creamy dessert was topped with whipped cream, granola, and boysenberry jam. Inside there were boysenberries! This was delicious. It wasn't too sweet and was light and refreshing. It made for a perfect treat in the late afternoon. Don't miss this one. It was one of my favorite treats of the day, if not my absolute favorite.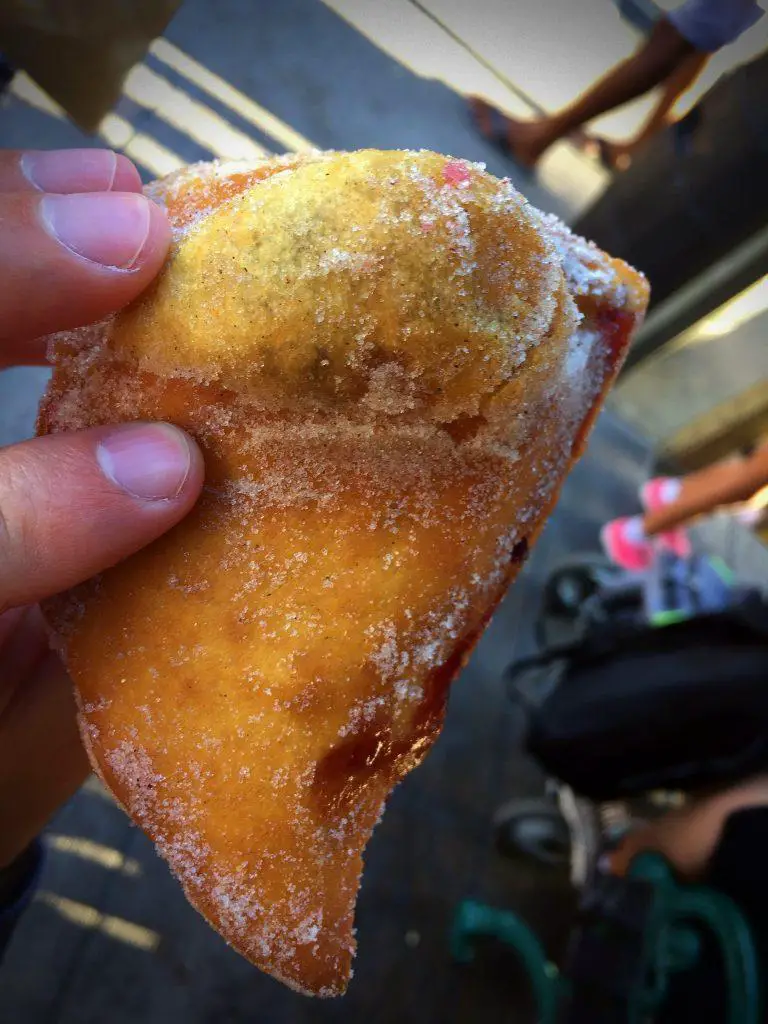 Boysenberry Fry Bread – Churro Factory
The last treat of the day was the Boysenberry Fry Bread. This deep fried fry bread is covered with cinnamon and sugar and filled with boysenberry jam. This was probably the most sinful food we ate of the day. Imagine a donut mixed with a churro that is filled with boysenberry deliciousness and that's pretty much what this was. Thankfully, this was not too large or I'm sure I would have been falling asleep soon after. It made for a delicious end of the day and tasting card for us.
Knott's Berry Farm continues to up its game this year for the Boysenberry Festival. On the current course it is going, this could almost be called the Boysenberry Food Festival! These six treats that we ate made for a delightful culinary adventure. It was easily enough food to last the entire day. At $25 per card (plus tax), it adds up to just a little over $4 per dish. This is a very reasonable price point for what is offered and a great way to eat your way through the Boysenberry Festival.
<i>Daps Magic received a sample product or experience for this review in exchange for an honest review. The views of the reviewer are wholly their own. Read full disclosure policy at dapsmagic.com/disclosurepolicy.</i>