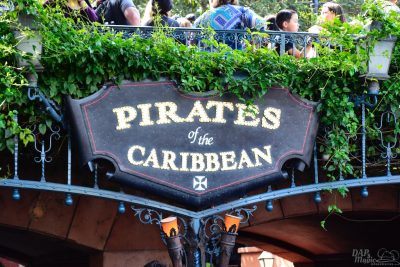 On its 50th anniversary, Pirates of the Caribbean is still sailing strong.  And, if the 50th anniversaries are the golden ones, then this is one of the best suited for Disneyland's famous attraction about ransacking pirates.  On March 18, the New Orleans Square ride celebrated 50 years.  Disneyland celebrated this great milestone with several entertainment, food, and merchandise offerings around New Orleans Square, and even spilling into a bit of Main Street.
Guests were given a special button at the entrance to Disneyland throughout the day.  The buttons declared the 50th anniversary of the Pirates of the Caribbean, and advertised the upcoming movie that is based on the attraction.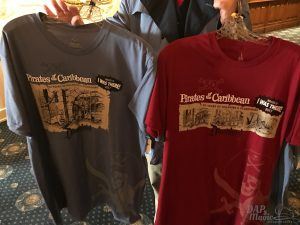 In Disneyana, guests and Annual Passholders could purchase special shirts and pins that commemorate the anniversary.  The shirts were identical in print, except one was red for regular guests, and one was blue with an annual passholder logo printed on the back.  The AP shirt was only available for Passholders, of course.  Exclusive Annual Passholder pins were sold out in the morning by about 9:30 am.  Shirts eventually sold out as well.
20th Century Music had special a special 50th Anniversary series of pins for the attraction's celebration.  Each had a flip up cover that revealed a scene from the ride in pin print.
Over in New Orleans Square, a chance of a photo with a special ship's wheel was available.  Also available was a jail window to hold up in pictures as well, with the key holding dog printed on it as well.
Jack Sparrow wandered around the land looking for treasure, and stopping to pose for photos and sign autographs.  Buccaneer musicians also wandered throughout, serenading passerbys.  Pirates were prevalent and often greeted guests waiting to board the attraction.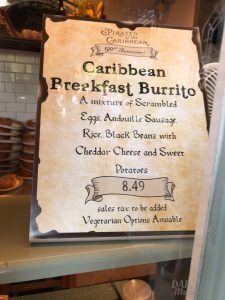 The Mint Julep Bar a few items were offered for hungry and thirsty visitors.  Gold beignets and churros were regular recipe items with sprinkled lemon flavoring.  A Jolly Roger Punch had pineapple and mango flavors.  A special stein made for the anniversary was available, but sold out extremely quickly within one hour of park opening.  Other New Orleans Square restaurants had some different items of fare.  At the Royal Street Veranda I was able to get a taste of the Breakfast Burrito with andouille sausage, black beans, eggs, and sweet potatoes.  Besides the burrito, a chicken stew in a bread bowl could be ordered.  Blue Bayou and Cafe Orleans also had some items different than the other locations.
Guests wandering around the land could pick up a Pirate Speak card and sticker from cast members handing them out.
Many travelers were setting sail on the ride.  After its rather long refurbishment it was polished and spiffed up for the anniversary.  After 50 years, it still captivates young and old alike.  Many have fond memories, others are creating new ones.  This is one of the last attractions that was headed by Walt Disney himself, and it shows how visionary he was.  The ride has stood the test of time for over 5 decades now, and seems to not be losing popularity anytime soon.
So, hoist the colors to one of the best Disneyland has to offer!  And may the swashbuckling pirates have another 50 years to entertain!