The Inhumans Take To The Stars – Your First Look at ROYALS #1!
New York, NY—March 6th, 2017 — A myth from the future. A quest to the farthest stars. A legend written across galaxies. This April, the Inhuman royal family departs on an odyssey to save their race in ROYALS #1 – the brand-new series from fan-favorite writer Al Ewing (The Ultimates, U.S.Avengers) and red-hot artist Jonboy Meyers (Teen Titans, Spawn)! Abdicating the throne in the wake of Inhumans vs. X-Men, Marvel's newest space epic will take the Inhumans to the far reaches of space and beyond! The knowledge they seek about their true origins could change the course of Inhuman destiny, or damn it for all time. They must uncover who they are, if they are to truly unlock who they might be. Now, Black Bolt, Medusa, Crystal, Gorgon, Flint and Swain – along with Marvel Boy as their guide – will blast off on a mission that could mean salvation for their people. But thousands of years from now, when their legend has passed into myth, they'll say that seven set out on a journey, but only six returned…
Take a plunge into the unknown on April 5th when ROYALS #1 comes to comic shops and digital devices everywhere!
ROYALS #1 (

FEB170803

)

Written by AL EWING

Art & Cover by JONBOY MEYERS

Hip-Hop Variant by KERON GRANT (

FEB170805

)

Variant Covers by SIMONE BIANCHI (

FEB170804

) and PAUL MCCAFFREY

Action Figure Variant by JOHN TYLER CHRISTOPHER (

FEB170807

)

Classic Variant by NEAL ADAMS

(

FEB170806

)

Young Variant by SKOTTIE YOUNG (

FEB170808

)

FOC – 03/13/17, On-Sale – 04/05/17
The Future of Mutankind Begins Here! Your New Look at X-MEN GOLD #1!
New York, NY—March 6th, 2017 — From the ashes of Inhumans vs. X-Men, an all-new team will rise to make Charles Xavier's dream become a reality! Today, Marvel is pleased to present your new look inside X-MEN GOLD #1 – the hotly anticipated debut issue, coming to comic shops everywhere on April 5th. Brought to you by the all-star creative team of Marc Guggenheim (X-Men, television's Arrow) and Ardian Syaf (Superman/Batman), a new day is dawning for the Children of the Atom – one that is sure to please fans old and new!
Kitty Pryde has returned to Earth to find the X-Men in shambles. Now, the student will become the teacher as Kitty takes the reigns to assemble a team of the brightest, the toughest and the heaviest hitters in the X-Men's vast roster. Storm, Colossus, Nightcrawler, Old Man Logan and Rachel Grey. They are the X-Men, and they're here to take mutantkind into the future! Be there as they embark on their first adventure in X-MEN GOLD #1 – available wherever comics are sold on April 5th!
X-MEN GOLD #1 (

FEB170777

)

Written by MARC GUGGENHEIM

Art & Cover by ARDIAN SYAF

Variant Covers by DAVID MARQUEZ (

FEB170782

), BILLY MARTIN (

FEB170781

),

SKOTTIE YOUNG (

FEB170783

) and BOB MCLEOD (

FEB170779

)

Hip-Hop Variant by ANDRE LEROY DAVIS (

FEB170778

)

Corner Box Variant by LEONARD KIRK (

FEB170780

)

Party Variant by RON LIM (

DEC168886

)

Party Sketch Variant Also Available

FOC – 03/13/17, On-Sale – 04/05/17
ASTONISHING X-MEN #1 Recruits Superstar Writer Charles Soule!
The Most Iconic X-Men Series of the 21st Century Comes to ResurrXion!
New York, NY—March 9th, 2017 —You asked for it! You got it! The hardest hitting mutants. The biggest villains. The best creators. Today, Marvel is pleased to announce that chart-topping writer Charles Soule (Death of Wolverine, Inhumans vs. X-Men) will headline the all-new ASTONISHING X-MEN #1. A new prestigious ongoing series from top-tier creators, the new series is set to unite some of the most popular, fan-demanded characters in the X-Men mythology for an epic story that will redefine the mutant landscape in the Marvel Universe!
"If you're going to relaunch a book called 'Astonishing X-Men,' it had better live up to the title," says Marvel Editor-in-Chief Axel Alonso.  "Charles and his soon-to-be-revealed collaborators are about to unveil a story that touches every corner of the X-Men mythology, and the first issue alone will have massive ramifications for the Children of the Atom.  We can't wait to tell you more about this book."
Old Man Logan, Archangel, Mystique, Rogue, Gambit, Bishop, Psylocke and Fantomex. Together, they are the Astonishing X-Men. But what brings this eclectic collection of heroes together? A familiar menace has once again reared its ugly head – reborn, renewed and resurrected. To defeat one of their greatest foes and rescue one of their own, the X-Men's greatest will assemble for a mission that will take them places you never thought they'd go!
"The book is designed to tell a very focused, specific story, with a few cool main villains," says series writer Charles Soule. "I'm writing it like a puzzle box, with new layers and reveals opening up every issue. So, you'll never know exactly where it's going to go next – but the structure is built in such a way that almost anything from the long, incredible history of the X-Men can pop up. If you think about these characters, they've been present or involved for virtually every major era of X history, all the big events. That'll play a role in a big way."
As deadly forces await, will the Astonishing X-Men's first mission also be their last? Find out this summer, in the blockbuster ASTONISHING X-MEN #1!
ASTONISHING X-MEN #1
Written by CHARLES SOULE
Art by CLASSIFIED
Cover by JIM CHEUNG
On Sale in July!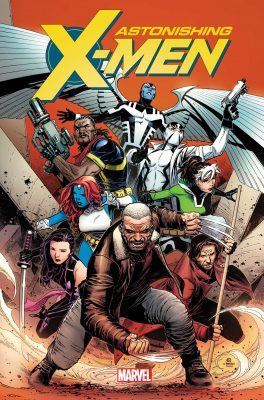 Don't Miss The Free RESURRXION SPOTLIGHT SAMPLER Available March 29!
Featuring Previews of Upcoming X-Men & Inhumans Titles!
New York, NY—March, 8th 2017 — X-MEN PRIME #1 and INHUMANS PRIME #1 are set to take the comics industry by storm on March 29th, setting the stage for the entire line or ResurrXion titles. When visiting your local comic shop on March 29th, don't forget to grab a copy of the FREE RESSURXION SPOTLIGHT SAMPLER too! An oversized 56-page standalone book, inside you'll be treated to new previews, creator interviews, character designs and more! Get the inside scoop on all the can't-miss X-Men and Inhumans launches before they hit the stands! Featuring X-MEN GOLD, X-MEN BLUE, ROYALS, CABLE, ICEMAN, JEAN GREY, GENERATION X, WEAPON X and more – it's your one-stop shop for all things ResurrXion! Don't miss one moment of the action that already has the entire industry buzzing. Try out all the upcoming titles on March 29th when the FREE RESSURXION SPOTLIGHT SAMPLER comes to comic shops!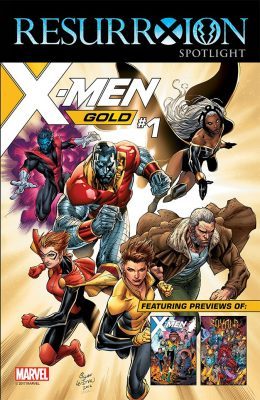 Slashing Meets Smashing in WEAPONS OF MUTANT DESTRUCTION Crossover!
Weapon X & Totally Awesome Hulk Crossover This June!
New York, NY—March 9th, 2017 — This June, the claws are coming out as two of Marvel's biggest comics collide in a hard-hitting crossover for the ages! Today, Marvel is pleased to announce Weapons of Mutant Destruction – a blockbuster 6-part crossover between Weapon X and Totally Awesome Hulk! Kicking off this June in WEAPONS OF MUTANT DESTRUCTION ALPHA, blockbuster creators Greg Pak and Mahmud Asrar are pitting the strongest there is and the deadliest there are against the reinvigorated Weapon X program!
For years, the Weapon X Program engineered the most dangerous mutant machines on planet Earth. That is, until they mysteriously vanished. Until today! The Weapon X program has been reopened, more deadly and dangerous than ever before. Under the leadership of its mysterious new director, the Weapon X program has moved beyond their old ways and has a new mission – exterminate all mutants! The key to their master plan? Amadeus Cho, the Totally Awesome Hulk! But why? And what is the sinister secret of Weapon X's mysterious new "Batch-H" experiment?
The high-octane thrill ride begins this June in the oversized WEAPONS OF MUTANT DESTRUCTION ALPHA one-shot and continues in the pages of both Totally Awesome Hulk and Weapon X!
WEAPONS OF MUTANT DESTRUCTION: ALPHA
Written by GREG PAK
Art by MAHMUD ASRAR
Cover by SKAN
On-Sale in June!
TOTALLY AWESOME HULK #20
Weapons of Mutant Destruction Chapter 2!
On-Sale in June!
WEAPON X #5
Weapons of Mutant Destruction Chapter 3!
On-Sale in July!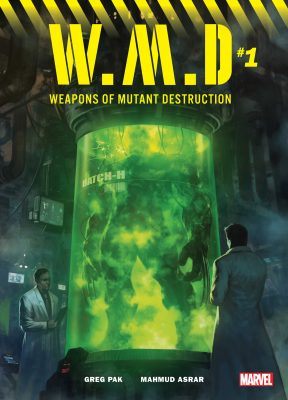 ROGUE ONE: A STAR WARS STORY Comes To Marvel This April – Your First Look!
Featuring Story Content Not Seen In the Film!
New York, NY— March 7th, 2017 — The Rebellion comes to Marvel Comics this spring as one of the biggest films of 2016 becomes one of the biggest comics of 2017! Today, Marvel is pleased to present your first look inside the STAR WARS: ROGUE ONE ADAPTATION #1 – the new series available wherever comics are sold on April 5th! Written by Jody Houser (Max Ride) with art by Emilio Laiso (Star Wars Annual) and Oscar Bazaldua (Gwenpool Holiday Special) , join the harrowing group of Rebels as they embark on a life or death mission to save the galaxy!
All appears lost in the fight against the tyrannical Galactic Empire. The Rebellion has discovered the existence of the Empire's ultimate super-weapon. The Death Star. With the power to wipe planets from existence, the Death Star's existence spells doom for those seeking freedom. All hope now lies in the hands of new heroes Jyn Erso and Cassian Andor. Their last ditch gambit to steal the Death Star plans are all that stands in the Empire's way!
Plus – this 6-issue adaptation of the blockbuster film is set to feature story material not seen on the big screen!
The film that took the world by storm jumps from the silver screen to the comic page! Straight from a galaxy far, far away to your local comic shop, don't miss STAR WARS: ROGUE ONE ADAPTATION #1 – on sale April 5th!
STAR WARS: ROGUE ONE ADAPTATION #1 (FEB170948)
Written by JODY HOUSER
Art by EMILIO LAISO & OSCAR BAZALDUA
Cover by PHIL NOTO
Variant Cover by TERRY DODSON (FEB170949)
Action Figure Variant by JOHN TYLER CHRISTOPHER (FEB170951)
Star Wars 40th Anniversary Variant by MIKE MAYHEW (FEB170952)
Droids Variant by JOE QUINONES (FEB170950)
Movie Variant Also Available (FEB170953)
Blank Variant Also Available (FEB170954)
FOC – 03/13/17, On-Sale – 04/05/17
Star Wars © Lucasfilm Ltd. & TM. All rights reserved. Used under authorization. Text and illustrations for Star Wars are © 2016 Lucasfilm Ltd.
IRON FIST #1 Retailer Exclusive Variants Bring
Epic Action to Your Local Comic Shop!
New York, NY—March, 6th 2017 — This March, fists and feet will fly as Danny Rand is going solo and exploding back on to the scene in the highly-anticipated IRON FIST #1! Writer Ed Brisson (Bullseye, Old Man Logan) and Mike Perkins (Deathlok) are bringing epic kung-fu action to a new ongoing series – as the titular hero faces a gauntlet of mystical foes!
To celebrate the release of the upcoming new series, Marvel has partnered with valued retail partners to produce custom IRON FIST #1 variant covers from blockbuster artists! Participating retailers have the opportunity to showcase Marvel's hard-hitting new series with covers exclusive to their stores!
Bill Sienkiewicz – Golden Apple WonderCon 2017
Gabriele Dell'Otto – Frankie's Comics
J. Scott Campbell Venomized/Anti-Venomized – Midtown Comics
John Tyler Christopher – Fried Pie Variants
Mike McKone – Fan Expo Dallas
Ryan Stegman – The Hall of Comics/CBCS
Want to know more? Fans are encouraged to check with their local comic book retailers for more information and availability for these can't-miss variant covers. Danny Rand's trial of mythic proportions is about to begin. Feel the fury of the Iron Fist on March 22nd, when IRON FIST #1 comes to comic shops everywhere!
AMERICA #1 Will Return To Comics Shops For a New Printing!
Second Printing Available In Three Different Covers
New York, NY—March, 9th 2017 — She's the leader of the Ultimates. She punches so hard she can shatter the barriers between dimensions. And now she's returning to comic shops for a second round! Today, Marvel is pleased to announce that AMERICA #1 has completely sold out at the distributor level (though copies may be available at retail level) and will return for a brand new printing! But that's not all, to celebrate the release of this can't-miss debut-issue, Marvel is offering up three separate covers for the America #1 Second Printing – from artists Joe Quinones, Jamie McKelvie and Jeffrey Veregge!
Missed the first issue? Don't worry! You'll get another chance to grab a copy of the first issue when it returns to comic shops on April 12th! Superstar YA writer Gabby Rivera and fan-favorite artist Joe Quinones take America Chavez solo for the first time in a debut that has the critics buzzing!
"A triumphant debut that almost dares readers to not be entertained." – Newsarama.com
"Perfect. America is simply one of the best new comics that Marvel have put out in a while." – All-Comic.com
[America #1] is as visually inspiring as the lead character, carrying an energetic visual style that compliments the book's vision. – ComicBook.com
"If there were any doubts that Miss America truly needed her own comic, America #1 should put them to rest." – IGN.com
"Rivera writes a confident and multidimensional America, while Quinones and Villarubia illuminate the pages with energy and vibrancy." – Comicsverse.com
She's stood side-by-side with some of the most powerful heroes in the Marvel Universe. But now it's time for her to go it alone. It's not too late to jump on board the series that has the world watching! Grab your copy at your local comic shops when AMERICA #1 returns to stores April! Plus, be on the lookout for issue #2 – available April 5th!
AMERICA #1 SECOND PRINTING
Written by GABBY RIVERA
Art by JOE QUINONES
Covers by JOE QUINONES, JAMIE MCKELVIE & JEFFRET VEREGGE
On-Sale April 12th!
AMERICA #2 (FEB170865)
Written by GABBY RIVERA
Art by JOE QUINONES & MING DOYLE
Cover by JOE QUINONES
Variant Covers by ART ADAMS (FEB170866) & MARGUERITE SAUVAGE (FEB170867)
FOC – 03/13/17, On-Sale – 04/05/17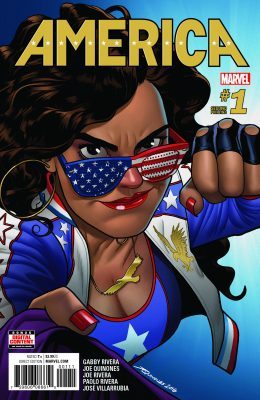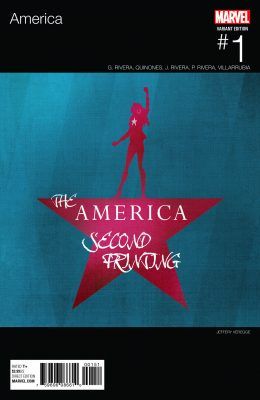 Go Behind the Scenes of MAN-THING #1 in New Video!
Featuring Interviews & Artwork!
New York, NY—March 8th, 2017 — Legendary Goosebumps author R.L. Stine comes to Marvel Comics! Kicking off today in comic stores everywhere, the world renowned scribe lends his pen to the highly-anticipated MAN-THING #1! To celebrate the release of Marvel's monstrous new series, go behind the scenes and hear from the minds behind the madness with a special MAN-THING #1 SPOTLIGHT FEATURETTE!
Watch the Special Man-Thing #1 Spotlight Featurette Here
Featuring interviews with R.L. Stine himself, along with Editor-in-Chief Axel Alonso, Senior Editor Mark Paniccia and Assistant Editor Christina Harrington – get the inside-scoop on the spine-tingling terror awaiting you at your local comic shop!
Attempting to recreate the formula that produced Captain America, biochemist Ted Sallis was transformed into the shambling creature known only as MAN-THING! Now, having recently regained his ability to speak, Man-Thing sets out on a journey to leave the swamps once and for all. But when an ancient and mysterious danger threatens reality, he will have to choose between his new life and the place he once called home!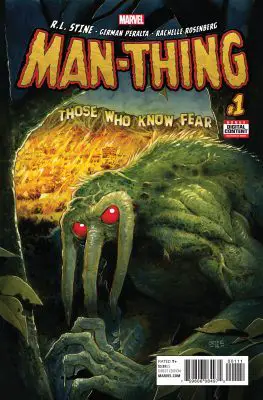 PRESENTING THE LATEST MARVEL MUSIC VIDEO SERIES SPOTLIGHTING "MONSTERS UNLEASHED" FEATURING SKILLET
Spotlight Video Series Expands Exposure of Marvel's Monsters Unleashed Comic Book Series 
Paired with Today's Top Musical Acts
New York, NY—March 10, 2017 — Marvel Comics is proud to present an all-new approach in introducing the world to Marvel Comics and the next great Marvel Super Hero event – MONSTERS UNLEASHED! Masterfully mixing animated comics with in-depth narration and commentary, this new video series is designed to present a whole new audience to the world of Marvel's gargantuan monsters, timed with the debut of the brand new comic book series MONSTERS UNLEASHED, available now in all local comic retailers.
Brought to you by superstar writer Cullen Bunn (Deadpool Kills the Marvel Universe, Uncanny X-Men) and an army of today's top artistic talent – Steve McNiven, Adam Kubert, Leinil Yu, Greg Land, and Salvador Larroca – MONSTERS UNLEASHED  brings you a colossal story filled with wall-to-wall action as the Avengers, the Champions, the Guardians of the Galaxy, the X-Men, the Inhumans, and more band together and go toe-to-toe with towering beasts the size of skyscrapers!
Continuing the excitement surrounding the massive monster mayhem in MONSTERS UNLEASHED , Marvel has worked with Skillet, to incorporate the track "Back from the Dead" into its latest Marvel Music Spotlight Video.
"Marvel has been one of the defining things in my life ever since I was 4 years old when Spider-Man became my hero," said John Cooper from Skillet. "The Marvel Universe is a world where even a nobody like Peter Parker can become someone, stand up for what is right, and no matter how evil the world becomes, you know that good will overcome. Being involved with Marvel is truly one of the best moments of Skillet's career."
As the cataclysm of MONSTERS UNLEASHED continues to unfold , new videos will be released monthly to educate new and old fans about the monsters of the Marvel Universe and the MONSTERS UNLEASHED  series through commentary and motion graphics, as well as an energetic score from some of the world's biggest musical acts.
Watch "MONSTERS UNLEASHED" Music Spotlight Video featuring Skillet now!
With Marvel's first Spotlight video series, "Black Panther: A Nation Under Our Feet"  and "Captain Marvel: Alien Nation," Marvel coupled some of today's top hip-hop and female-led musical acts with Ta-Nehisi Coates' Black Panther, Margaret Stohl's The Mighty Captain Marvel, and now, Marvel continues building excitement around some of its iconic heroes taking on one of their most monumental challenges ever.  But are our heroes enough to fight off wave after wave of colossal beasts? Find out those answers and more within the pages of Marvel Comics' MONSTERS UNLEASHED available now in local comic shops and online now!
MARVEL DIGITAL COMICS SHOP: STOREWIDE BUY ONE GET ONE SALE!
STOCK UP ON DIGITAL ISSUES & COLLECTIONS…WITH THIS BUY ONE GET ONE SALE!
New York, NY— March 10th, 2017— Now's the time to shop Digital! Through 3/13 11:00 PM EST, Marvel Digital Comics Shop is holding a Buy One Get One Marvel Sale…on ALL titles storewide! With the purchase of any digital comic or collection, you'll get another digital title — for free! Just use Cart Code MARVEL.*
Have yet to check out Jason Aaron and Olivier Coipel's UNWORTHY THOR? Now's your chance to read the series that has critics and fans abuzz! Follow the disgraced Odinson as he begins his quest for a relic from a dead universe, one that is the key to the fallen god's redemption.
Or, with his Netflix debut March 17th, you may want to channel your Chi with Iron Fist! Read mystically-charged comics starring K'un Lun's Kung Fu Warrior, like the fan-favorite IMMORTAL IRON FIST (2006) or Danny Rand's latest turn in POWER MAN AND IRON FIST (2016)!
Want a launching-off point of even more to read? Visit the Digital Comics Shop's DISCOVER Section, and explore comics based off your favorite characters, creators and events!
Best of all, digital trades and comics are perfect for on-the-go reading! All purchases in the Marvel Digital Comics Shop are added to your personal library, and can be read on any mobile device and in the Marvel Comics app on iPhone®, iPad® and Android™ devices!
An added bonus? Marvel Insiders get 2,500 Insider points when they shop the Buy One Get One sale this weekend! Not a Marvel Insider? Sign up today and earn exclusive prizes just by being a Marvel fan! See what rewards are available here!
Don't miss out on the perfect opportunity to expand your reading! Take part in the Buy One Get One Marvel Sale, running from 3/10 12:00 AM EST until 3/13 11:00 PM EST!
*Offer valid until 3/13/17 11:00 PM EST on Marvel titles only. Promotion code can be used to buy any Marvel digital comic and/or digital collection and get another Marvel digital comic or digital collection of equal or lesser value for free.  No limit to the number of purchases for which the free offer applies.  Offer not valid on bundles or preorders. Marvel user account and internet connection required.
Television & In-Theater Advertising Coming For Your Favorite Marvel Comics!
New York, NY—March 9th, 2017 — The greatest heroes, the biggest creators and the can't-miss comic titles of 2017 are coming to a big screen and a small screen near you. Today, Marvel is pleased to announce an ambitious spring advertising campaign that will see several key Marvel Comics releases advertised ahead of blockbuster films and airing on broadcast television channels with the key goal of exciting and mobilizing TV & Film fans into local comic book shops and retailers.
First, Marvel Comics are coming to a theater near you! Beginning this weekend, keep your eyes peeled for special pre-trailer advertisements before some of 2017's biggest releases! Including ads promoting Marvel's highly-anticipated SECRET EMPIRE event ahead of select screenings of Marvel's Guardians of the Galaxy Vol. 2!
Then, Marvel Comics come to the small screen with dedicated TV advertising and promotions. To be featured on ABC and other broadcast networks nationwide, fans can look forward to dedicated spots, on-air interviews, and more devoted towards Marvel's biggest comic book launches this spring – SECRET EMPIRE and Marvel's upcoming slate of X-MEN titles and more!
This year, Marvel continues to bridge the worlds of graphic fiction with all new audiences and now, with extensive advertising activations, the House of Ideas is set to reach entirely new audiences in 2017 and invite them directly into local comic shops! The biggest characters and creators are waiting for you at your nearest comic retailer!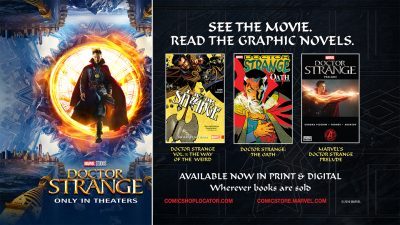 Marvel Reveals New GeoTargeting Technologies To Aid Comic Retailers
New York, NY—March 8th, 2017 — The fun and excitement is happening each and every week at your local comic shop! Today, Marvel is excited to announce a new marketing initiative specially designed to increase comic store foot traffic and bring new readers into stores through the use of GeoTargeting technologies.
"Marvel is always looking for ways to get more people through the doors of their local comic stores," says Marvel SVP Sales & Marketing David Gabriel. "With these new tools at our disposal, we're looking to tap into fans of Marvel television, films, animation, games and even our licensed product and turn them into comic book readers. Not only will these prospective readers learn exactly where their nearest shop is, but all the great Marvel comics waiting for them when they get there!"
Once again leading the way in how comics reach larger audiences, these new technologies will provide both new, casual, and hardcore fans with information about comic shops in their area (location, store hours, phone #) and the exciting Marvel Comics waiting for them inside! Embedded within Marvel e-mails, shared across over Marvel social media networks, fed through advertising partners, and more – this ambitious program is estimated to reach millions of prospective readers – both new and existing!
"Comic book shops have been and always will be the lifeblood of our industry," says Marvel Editor-in-Chief Axel Alonso. "It's Marvel's mission to not only keep those retailers stocked with exciting comics, but to keep fans coming through their doors week after week to engage with those communities. We have a lot of exciting ideas for how to reach new and lapsed fans in 2017, and this is just the start."
Rolling out first with spring Marvel comic launches, including X-MEN GOLD and SECRET EMPIRE, Marvel is set to reach entirely new audiences in 2017! The biggest characters and creators are waiting for you at your nearest comic book retailer!