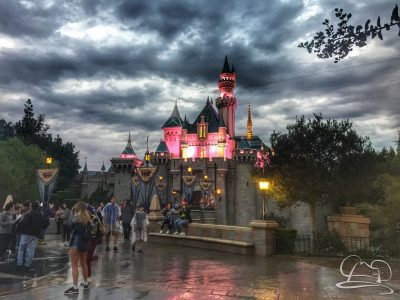 It doesn't rain very often in Southern California. When it does though, it can be a great time to go to Disneyland! As everyone else is rushing out of the happiest place on Earth in search of drier places, it can be a great time to put on a hat, coat, and a good pair of shoes (or boots) and experience a different type of Disney magic! Here are a few ideas for enjoying Disneyland on a rainy day:
Rainy Day Cavalcade!
On rainy days you generally won't find a parade winding its way through Disneyland. You can instead enjoy the Rainy Day Cavalcade. Step out from your dry space for a couple of minutes and see Mickey, Minnie, and their pals make their way up or down the parade route. It goes by fast so don't worry about getting too wet if you are attempting to stay dry.
Bread Bowls
There are few things more cozy than sitting under an umbrella listening to the rain come down while enjoying a bread bowl. Enjoy gumbo, clam chowder, or even chili and warm up! If you don't want to brave sitting at a table under an umbrella (where you WILL get dripped on), stop by the Golden Horseshoe Saloon for a drier experience that also has live entertainment!
If you don't want the bread bowl, Jolly Holiday Bakery Cafe on Main Street, USA in Disneyland has grilled cheese sandwiches and tomato soup that are quite satisfying on a rainy day.
Go For A Ride
There are several attractions throughout the Disneyland Resort that generally have short lines and don't move too fast if you don't want to spend too much time in the rain. Many of the dark rides throughout the resort can offer a nice respite from the rain. Pirates of the Caribbean, Soarin' Over California, Haunted Mansion can all be good breaks from the rain. In Disney California Adventure, the Red Car Trolley is a fun rainy day attraction. Indoor attractions like Star Wars Launch Bay, Great Moments with Mr. Lincoln, or any of the theaters make for a good getaway as well.
If you want to brave the rain instead, hit Splash Mountain, Grizzly River Run, the Matterhorn, or Big Thunder Mountain. If you really want an adventure, take a trip aboard California Screamin' and get a face full of water and a pretty funny photo.
Take Some Pictures
Another fun activity on a rainy day at the Disneyland Resort is to get the old camera (or iPhone) out and take some pictures. The water creates some absolutely beautiful opportunities for photos as the light reflects and adds extra magic to the parks. Make sure to keep your camera dry with an umbrella or plastic bag. It can be a really fun way to get some unique pictures that generally can't be taken at the Disneyland Resort!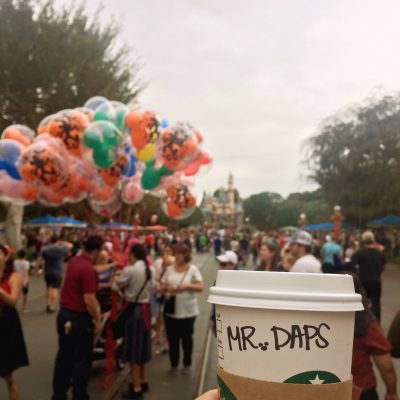 Get a Warm Beverage
The Disneyland Resort might be in Southern California but that doesn't mean it is always the warmest place. When it is raining, it does often end up feeling a bit cooler than it actually does. There are many places throughout the Disneyland Resort to get a warm beverage and warm up. On Main Street, USA stop by the Market House for some Starbucks coffee. If you are looking for Starbucks in Disney California Adventure, stop by the Fiddler, Fifer & Practical Café on Buena Vista Street! There are two other Starbucks locations in the Downtown Disney District as well. If you want something a little different, stop Ghirardelli in Disney California Adventure. There are multiple other places throughout the Disneyland Resort that also serve coffee or hot chocolate (I enjoy stopping by Jolly Holiday at the end of Main Street as well).
Make an Adventure
Rainy days at Disneyland are really all about what you make them. Some of my favorite memories at the Disneyland Resort come from rainy days. You can make a challenge to see how many attractions you can hit, shows you watch, or even create a photo challenge. We have been enjoying taking pictures with our Starbucks in the parks for the last year or so in various themed locations. What it really all comes down to though is your own sense of adventure. So grab your umbrella, dress appropriately, bring your sense of adventure, along with a good friend and you will have a fantastic rainy day at the Disneyland Resort!
What's your favorite rainy day activity at the Disneyland Resort? What tips would you share for someone going to the Disneyland Resort on a rainy day?
Rainy Days at Disneyland Photo Galleries: