There's quite a few announcements for Marvel this last week.  A new treasury, video teaser, and award for Marvel, plus more info on Free Comic Book Day.  Spider-Man #1 with Miles Morales has premiered and there's a preview below.  Marvel Infinite Comics hits Marvel Unlimited.  Deadpool vs. Sabretooth will be happening soon.  And, finally, the one question we've been waiting to have answered: How did C3PO get his red arm?  All this and info on Black Widow's new series.
The Burning Question From STAR WARS: THE FORCE AWAKENS
Will Be Answered This March…
New York, NY—February 5th, 2016— How did C-3PO get his red arm?! Find out this March in STAR WARS SPECIAL: C-3PO #1!
STAR WARS SPECIAL: C-3PO #1 (OCT150933)
Written by JAMES ROBINSON
Art & Cover by TONY HARRIS
FOC – 03/07/16, On-Sale – 03/30/16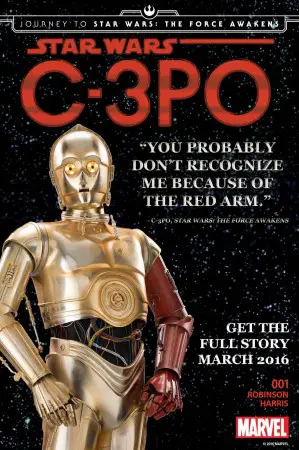 Make Yours Marvel on FREE COMIC BOOK DAY –
Your First Look at Two Brand New FCBD Titles!
New York, NY—February 4th, 2016— The biggest heroes, the biggest creators and the biggest stories in comics are coming to FREE COMIC BOOK DAY! But before that exciting Saturday in May, get your first look at the covers to both of Marvel's FREE COMIC BOOK DAY offerings right now!
First, FCBD CIVIL WAR II #1 peels back the curtain of the biggest event of 2016. Be there for the opening shots of CIVIL WAR II as Brian Michael Bendis and Jim Cheung give you the first taste of the conflict that will ignite the Marvel Universe later this year! Plus, this issue also features the highly anticipated debut of the All-New Wasp! Be there as she makes her debut, courtesy of All-New, All-Different Avengers writer Mark Waid and legendary artist Alan Davis! But is this mysterious character friend or foe?
Then, FCBD CAPTAIN AMERICA #1 brings you the titanic return of Steve Rogers as Captain America! Nick Spencer and Jesus Saiz bring you one of Steve's first adventures since his dramatic return in the pages of AVENGERS: STANDOFF. Just in time for their new series Captain America: Steve Rogers #1 later that month! Then, go deeper into DEAD NO MORE, a top secret storyline coming later in 2016! If you got the chance to bring someone back, would you?
There's no better time to jump into the Marvel Universe than Free Comic Book Day. Don't miss out on these 4 can't miss stories, available at participating comic shops nationwide on May 7th!
FCBD CAPTAIN AMERICA (JAN160037)
Written by NICK SPENCER & DAN SLOTT
Art by JESUS SAIZ & JAVIER GARRON
Cover by JESUS SAIZ
Coming Free Comic Book Day!
FCBD CIVIL WAR II (JAN160009)
Written by BRIAN MICHAEL BENDIS & MARK WAID
Art by JIM CHEUNG & ALAN DAVIS
Cover by JIM CHEUNG
Coming Free Comic Book Day!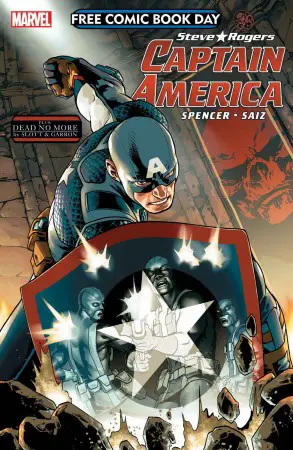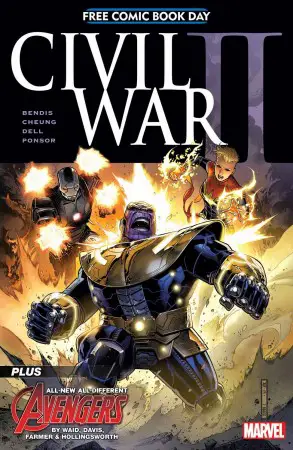 BLACK WIDOW #1 Reunites Eisner Award
Winners Waid & Samnee in March!
Your New Look Inside The First Issue!
New York, NY—February 2nd, 2016 — She is the Marvel Universe's most dangerous super-spy. Capable of hunting her targets with lethal precision. But what happens when the hunter…becomes the hunted? This March, the Black Widow becomes…S.H.I.E.L.D.'s MOST WANTED! And it's all happening in BLACK WIDOW #1 – the brand new series from Eisner Award winning Daredevil creative team. Writer Mark Waid, Artist Chris Samnee, Colorist Matt Wilson and Letterer Joe Caramagna re-team for the next explosive chapter in Natasha's life!
She has spent years gathering secrets. Knowledge and intel on friends and enemies alike. But when some of those dark secrets mysteriously begin to go public, no one is safe! Now, Natasha has become the one thing she never thought she'd be – public enemy number one! Betrayed by her former accomplices, with friend and foe alike nipping at her heels, all bets are off. With a lifetime of training and ingenuity at her disposal, she's out for answers, and she's going to get them any way she can. As long as S.H.I.E.L.D. doesn't get her first!
Prepare for a knock-down, drag-out tale of action, adventure and espionage! All eyes are on the Black Widow. With her enemies closing in at every side, it's time to show everyone why she is and always will be the world's greatest spy. Be there when BLACK WIDOW #1 explodes into comic shops this March!
BLACK WIDOW #1 (JAN160743)
Written by CHRIS SAMNEE & MARK WAID
Art & Cover by CHRIS SAMNEE & MATT WILSON
Hip-Hop Variant by PHIL NOTO (JAN160744)
Variant Cover by TULA LOTAY (JAN160745)
Young Variant by SKOTTIE YOUNG (JAN160746)
Action Figure Variant by JOHN TYLER CHRISTOPHER (JAN160747)
Women of Power Variant by KEVIN WADA (JAN160748)
FOC – 02/08/16, On-Sale – 03/02/16
SPIDER-MAN #1 Swings Into Comic Shops This Wednesday!
Your New Look Inside The First Issue!
New York, NY—February 1st, 2016 — This Wednesday, Miles Morales comes to the Marvel Universe, and he's here to stay! But before SPIDER-MAN #1 comes to comic shops everywhere and digital devices, Marvel is pleased to present your new look inside the highly anticipated first issue! Strap in as Miles Morales co-creators Brian Michael Bendis and Sara Pichelli present the next chapter in the young hero's life!
"Writing Spider-Man is truly a responsibility. It's not just a gig," says writer Brian Michael Bendis, speaking with Entertainment Weekly. "It is something that profoundly affects people. One of the great joys of my life on levels I never thought would happen are people's responses to this book and to this character."
Sure, he's been doing the superhero thing for a while now, but following the events of Secret Wars, Miles finds himself a full-fledged resident of the Marvel Universe. Swinging alongside Captain America, Thor and Iron Man as a member of the Avengers and patrolling the Big Apple's rooftops as NYC's own Spider-Man! But it's not all fun and games. A lot has transpired in the eight months since Secret Wars and an entire new universe awaits – friend and foe alike. Is he ready to face the new Marvel Universe? Better yet – is the Marvel Universe ready for Miles Morales? Find out this Wednesday in SPIDER-MAN #1!
SPIDER-MAN #1 (DEC150723)
Written by BRIAN MICHAEL BENDIS
Art & Cover by SARA PICHELLI
Hip-Hop Variant by ADI GRANOV (DEC150724)
Variant Covers by MICHAEL CHO (DEC150725),
SKOTTIE YOUNG (DEC150726), and MARK BAGLEY (DEC150727)
Blank Variant Also Available
On-Sale – 2/03/16
"DEADPOOL VS. SABRETOOTH" Begins in DEADPOOL #8!
New Story Arc Begins This March!
New York, NY—February 2nd, 2016 — This March, the Merc With a Mouth takes on the Uncanny X-Men's hairy, clawed, feral mutant! No, the other one. Today, Marvel is pleased to present your first look at DEADPOOL #8 – the first chapter of "Deadpool vs. Sabretooth"! Writer Gerry Duggan and incoming artist Matteo Lolli (Hawkeye vs. Deadpool) bring you the explosive next chapter in Wade Wilson's life! Deadpool has no idea that he was responsible for his own parents deaths. Only problem is, he's sworn vengeance on the one responsible. And he thinks Sabretooth did it. This is gonna be a messy. The fireworks begin this March in DEADPOOL #8!
DEADPOOL #8 (JAN160891)
Written by GERRY DUGGAN
Art by MATTEO LOLLI
Cover by MIKE ALLRED
Women of Power Variant by ANNIE WU (JAN160892)
Secret Comic Variant by SCOTT KOBLISH (JAN160893)
Story Thus Far Variant by MIKE HAWTHORNE (JAN160894)
Classic Artist Variant by HOWARD CHAYKIN (JAN160895)
FOC – 02/08/16, On-Sale – 03/02/16
Marvel Comics' Ms. Marvel Wins "Best Series" at the
2016 Angoulême International Comic Book Festival
Marvel Takes Home Highest Praise at the "Cannes of Comics"
New York, NY— Feb 1, 2016 — Every year the Angoulême International Comics Festival recognizes the best and brightest creators from around the world for their contributions to the comics industry. Marvel is pleased announce that Ms. Marvel Volume 1: No Normal, written by G. Willow Wilson with art by Adrian Alphona, won the prestigious award for "Best Series" this past weekend in Angoulême, France.
Humbled by this award, Ms. Marvel series writer G. Willow Wilson said, "The whole Ms. Marvel team is honored to accept the Angouleme prize for best series. Working on this book and connecting with readers and fans has been a unique joy for all of us. At a time when it sometimes seems the world is in a state of constant conflict, it is a privilege to work on a series that unites us through adventure, humor and a celebration of our common humanity. Thank you to everyone who believes in Kamala Khan, and thank you to Angouleme." 
As the only American comic book publisher to be recognized this year for their contributions to the international comic book community, this is also the first time that Marvel Comics has received the respected and significant award of "Best Series". Marvel would also like to congratulate all the other nominees and winners at the 2016 Angouleme International Comic Book Festival.
Ms. Marvel, the groundbreaking heroine that has become an international sensation! Kamala Khan is an ordinary girl from Jersey City – until she is suddenly empowered with extraordinary gifts. But who truly is the all-new Ms. Marvel? Teenager? Muslim? Inhuman? Find out as she takes the Marvel Universe by storm! As Kamala discovers the dangers of her newfound powers, she unlocks a secret behind them as well. Is Kamala ready to wield these immense new gifts? Or will the weight of the legacy before her be too much to handle? Kamala has no idea either, but she's here to prove that she is the next great Marvel Super Hero!
If you haven't checked out these award winning series, head out to your local comic book retailer and pick up this great collection!
MS. MARVEL VOL. 1: NO NORMAL
Written by G. WILLOW WILSON
Art by ADRIAN ALPHONA
ISBN: 978-0785190219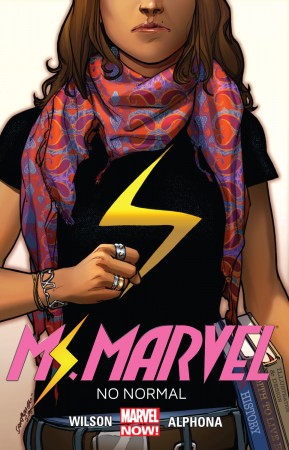 The Triumphant Return of the MARVEL TREASURY EDITION!
SPIDEY Vol. 1 Coming in Oversized Treasury Edition Format!
New York, NY—February 5th, 2016—Swing into action True Believer and witness the return of the famous Marvel Treasury Edition! Gone from comic shops for nearly 35 years, be there as this long-lost format makes its big comeback with SPIDEY: ALL-NEW TREASURY EDITION VOL. 1! Presented in an oversized tabloid size format, this can't miss tome collects the first five issues of Robbie Thompson and Nick Bradshaw's hit series SPIDEY! Prepare for a webslinging Spider-Man experience like no other when the oversized adventures of teenage Peter Parker are released this June!
"Nick Bradshaw's work on SPIDEY practically leaps off the page," says Marvel SVP Sales & Marketing David Gabriel. "We knew we had to do something special for fans of this series. And since Robbie Thompson does such a wonderful job of capturing the early days of Peter Parker's super hero career, we though SPIDEY was the perfect title to bring back this classic comic format."
Today, he's the world's greatest super hero. But before he was amazing, he was just Spidey. Class is in session as he faces off against Doctor Octopus, the Sandman, the Lizard, the Vulture and more iconic Spider-Man rogues! Strap in and suit up as Thompson and Bradshaw bring you an action-packed thrill ride through Peter Parkers early days. Don't miss the SPIDEY: ALL-NEW TREASURY EDITION VOL. 1 when it comes to comic shops and wherever books are sold this June!  
SPIDEY: ALL-NEW TREASURY EDITION VOL. 1 TPB
Collecting SPIDEY #1 – #5
Written by ROBBIE THOMPSON
Art & Cover by NICK BRADSHAW
112 pgs….$15.99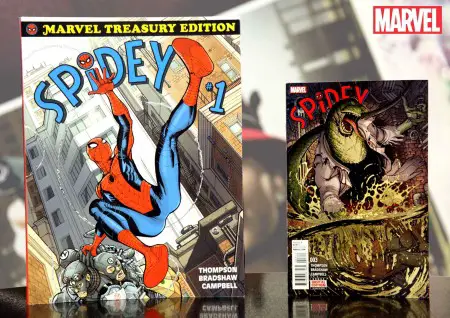 Marvel Infinite Comics Come to Marvel Unlimited Today!
Over 90 Titles Available Now With More On the Way!
New York, NY— February 1st, 2016— Specially designed and optimized for digital devices, Marvel Infinite Comics take graphic storytelling forward like never before. And as of today, it's never been easier to experience these groundbreaking comics! Marvel is pleased to announce over 90 Marvel Infinite Comics have been added to Marvel Unlimited, all set to be read right now!
Taking full advantage of the latest technology, Marvel Infinite Comics push the boundaries of what's possible with digital comics. Showcasing new storytelling possibilities and techniques while still staying true to the medium's greatest strengths. Dive into the Marvel Universe and the Marvel Cinematic Universe through these exciting new issues!
The following Marvel Infinite Comics are available through Marvel Unlimited now, with more due to be added in the future!
· All-New Captain America: Fear Him Infinite Comic #1-#4
· Amazing Spider-Man Cinematic Infinite Comic
· Amazing Spider-Man: Who Am I? #1-#12
· Avengers: Age of Ultron Prelude – This Sceptre'd Isle Infinite Comic
· Avengers: Millenium Infinite Comic #1-#6
· Daredevil: Road Warrior Infinite Comic #1-#4
· Deadpool: The Gauntlet Infinite Comic #1-#13
· Guardians of the Galaxy Infinite
· Guardians of the Galaxy Infinite Comic #1-#4
· Infinity: Against The Tide Infinite Comic #1-#2
· Iron Man: Fatal Frontier Infinite Comic #1-#13
· Marvel's Ant-Man – Scott Lang: Small Time MCU Infinite Comic
· Marvel's Captain America: The Winter Soldier Infinite Comic
· Marvel's Guardians of the Galaxy Prequel Infinite Comic
· Original Sin: Secret Avengers Infinite Comic #1-#2
· Thanos: A God Up There Listening #1-#6
· Wolverine: Japan's Most Wanted #1 – #13
· X-Men '92 #1-#3
With over 17,000 comics with more added all the time, Marvel Unlimited just got even more exciting! Not a Marvel Unlimited member? Visit Marvel.com/unlimited to get started today.
IT'S MARVEL'S WORLD
Your favorite All-New, All-Different Marvel titles are blowing up the charts and selling out left and right. There's never been a better time to dive into the Marvel Universe so jump on board the comics everyone is talking about. Be sure to tell your retailer you don't want to miss an issue. If you did miss an issue, catch the exciting second printings of these hit series coming soon!