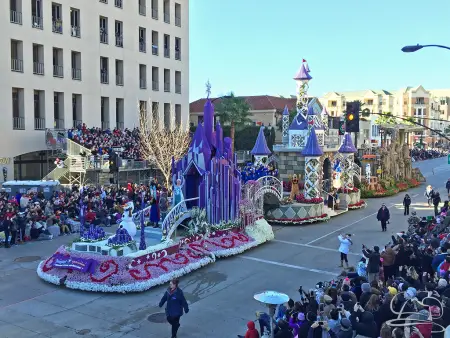 Disney magic arrived along the route of the 2016 Rose Parade with the Disneyland Diamond Celebration – Awaken Your Adventure float. This float brought to life the adventures of Disneyland to this yearly Pasadena parade.
The float was divided into three sections: Frozen, Sleeping Beauty Castle, and Star Wars. This highlights many of the exciting things happening at the Disneyland Resort as it continues to celebrate its Diamond Anniversary that began in the spring of 2015 and will continue to September 5, 2016.
Disney has a long relationship with the Rose Parade that dates back to 1938 when Snow White and the Seven Dwarfs joined the parade. In the 1966 Rose Parade, Walt Disney served as the Grand Marshal for the parade. Decades later in 2000, his nephew Roy E. Disney served in the same capacity. Mickey Mouse served as the Grand Marshal in 2005 when Disneyland celebrated its 50th Anniversary.
The 2016 Rose Parade is the 127th time this parade has celebrated the New Year in Pasadena. It is considered a part of  "America's New Year Celebration" that goes hand in hand with the dropping of the ball in Times Square in New York City, fireworks in Sydney Australia, and football bowl games around the United States.
How do you celebrate New Year?