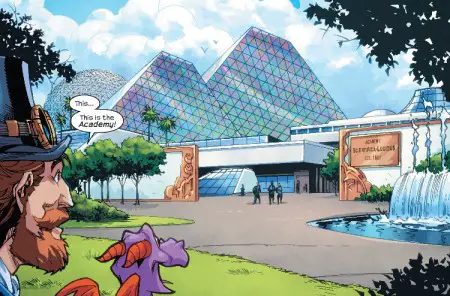 It's Wednesday!  That means new comic book day!  Today is especially grand because the first issue of Figment 2 has been released!
The first limited series of Figment was a hot item for comics readers and Disney fans alike.  Disney Kingdoms released these as a collaboration between Marvel and Disney Imagineers.  The result was a great origin story of Dreamfinder and his pal, Figment!  Both are part of the original Imagination pavilion at Epcot Center and have been longtime fan favorites.  Because of the success of the first series, Marvel is having this sequel series for all to enjoy.
The story takes place in contemporary time in a fictionalized imagining of our world.  I don't want to spoil the first story, but need to tell a little bit about it to explain the new tale.  Dreamfinder and Figment went off to explore dimensions of imagination, leaving an institute they help found to some trusted friends (definitely pick up the first limited series to find out more of this origin).  Now that they're back they find a world that has a lot to do with science, but might be too rigid for their imagination.
The first issue uses imagery from Epcot itself, and it feels like a great homage to the original concepts.  There's some incorporation of what the pavilion is like now in the form of an Imagination Institute (no Nigel Channing, though).  I like the incorporation of iconic structures from Epcot, but it does feel a little forced.  There wasn't a lot used in the first series, so to make a jump to known, real structures is a little bit of a stretch.  Still, to see these used within a story just feels right.  I think it adds to Epcot itself, thinking that there's more of a history with it than there actually is.
The story itself has an interesting premise (again won't spoil anything).  I can see the tale unfolding already and it's pulled me in to find out what this modern world has in store for the two main characters.  It is already developing into a good sequel.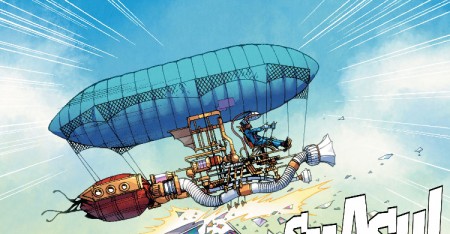 If there's any critique is that it doesn't seem quite as strong as the first series, but I lend that to trying to connect it too much to Epcot.  It's a nice feature, but a lot of it is too "on the nose" right away instead of letting things pop up over time.  It's not bad, just wish it had been more subtle in some ways because it makes the story seem a little campy.
Overall, this is a great series out of the gate!  The art is fantastic where it has a bit of a child like quality with classic comic feel.  I like the look of Dreamfinder especially.  He's staying within steampunk territory but has his classic look from the Epcot attraction.  I've been looking forward to more of this comic since the first issue last time.  It is not disappointing me again!  It's something that will keep me checking when the next issue comes out!  What Disney Kingdoms is doing with these classic characters is just right, and satisfies that part of me that misses the old attraction.  If you want that again, this series is for you.  If you're any kind of park fan, this is a great series to pick up.  So far the Disney Kingdoms various series have been great to comics readers, but I'd maybe wait if you're a hardcore comic reader to see how the rest of this pans out.
Figment 2 is available in comic shops and on the Marvel and Comixology apps.