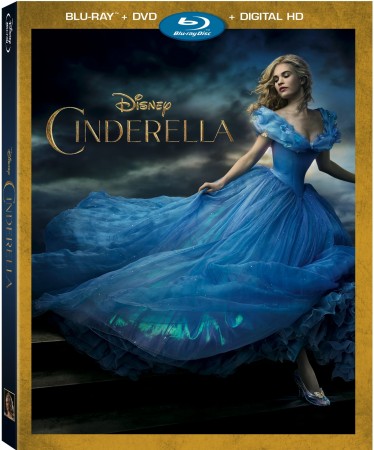 Cinderella is a story that is known and loved by millions. For many, the story immediately evokes memories of a beautiful  animated maiden who talks with animals, sings as she works, and exudes kindness to all. The Walt Disney Company returned to this classic story and retold it, this time utilizing live-action instead of animation. Overall, Cinderella is the same story but with a bit more of the backstory than the original animated film shared. A strong cast, the title role is portrayed by Lily James who is joined by Cate Blanchett as Lady Tremaine, Richard Madden as Prince Charming, Sophie McShera as Drisella, Holliday Graingeras Anastasia, and Helena Bonham Carter as the Fairy Godmother. It is directed by Kenneth Branagh.
Quality
The quality for Cinderella was spot on.  The movie was simply beautiful. While there was some CGI employed that at times had a bit of that CGI look, for the most part it was a beautiful movie to watch. The sound was quality as well and filled my home theater nicely. Overall, this was a very enjoyable movie to watch from a quality standpoint.
Extras
A Fairy Tale Comes to Life – This is a look at how Cinderella was brought to life, this time live-action. It is a story that has been around for around 2,000 years but the version most well known? The animated Cinderella 1950 Disney classic. Cast and crew talk about being a part of the story and the development of Cinderella as well.
Costume Test Fun – A fun music video set to the music of Tchaikovsky that showcases the costumes of Cinderella… and a few other things.
Staging the Ball – An entire ballroom was built for the ball… and it is impressive. The cast and crew talk about the creation of Cinderella's ball. Watching this set and scene being created in this extra was definitely interesting to watch.
Alternate Opening: Ella's Childhood –  This was a deleted scene that showed more of Cinderella's childhood and the connection she had with animals and also… magic. Obviously it was decided that this was unneeded for the final cut but it is a cute extra for those who like cute kids and/or cute animals.
Ella's Furry Friends – This gave a look at the adventure of using live animals in a live-action movies. This was very interesting and entertaining to watch.
Frozen Fever – What happens when Elsa gets a cold… and it just happens to be in the midst of her trying to make Anna's birthday perfect? Find out in Frozen Fever. This is a cute and humorous short that is a fun follow up to the hit animated film Frozen.
Final Thoughts
Disney's live-action Cinderella is simply charming. This recreation of a classic was very well done. It is a movie that added depth to the story that we all know and love. It had moments that were at times touching, others humorous, and overall surprisingly moving. This is a version of Cinderella that modern audiences connect with as they get carried along through this beautiful love story. The extras were solid and fun to watch. Highlights were definitely Staging the Ball and Frozen Fever. This is definitely a blu-ray (or Disney Movie Anywhere) that is worth adding to the home library. This one is very easy to give a hat tip to.
Daps Magic received a sample product or experience for this review in exchange for an honest review. The views of the reviewer are wholly their own. Read full disclosure policy here.