Marvel has some big announcements this week as they move from Secret Wars.  A couple of surprises have popped up.  One of which is Black Knight, an old favorite of the Avengers.  The series looks to be a good expansion on the character and more establishment in the Marvel Universe.  The other is the announcement of a series called Spidey.  Spidey will fill the gap where Peter Parker is now grown up and has a huge corporation, while still being Spider-Man (see former Marvel news updates on this site).  Spidey will be looking at Peter's past as Spider-Man in his teenage years.  Finally, there are news on the upcoming issues of SHIELD, Hercules (the Marvel hero not the mythological character or The Rock), and Invincible Iron Man release parties!
Before He Was Amazing…He Was SPIDEY!
New Series Within Continuity Starring Teenaged Peter Parker!
New York, NY—July 28th, 2015— Today, he's the world's greatest super hero. But long before he swung from rooftops as the Amazing Spider-Man, he was just a spider-powered teenager who knew that "with great power must also come great responsibility." Today, Marvel is pleased to announce SPIDEY #1 – a brand-new ongoing series launching as part of All-New, All-Different Marvel! Follow the adventures of teenaged Peter Parker in a new series set within continuity from rising star writer Robbie Thompson (TV's Supernatural, Silk) and blockbuster Marvel Young Gun artist Nick Bradshaw (Wolverine and the X-Men, Guardians of the Galaxy)!
 "Everyone remembers their FIRST Spider-Man comic," says Marvel Editor-in-Chief Axel Alonso. "SPIDEY aims to be perfect as someone's first Spider-Man comic, or their one thousandth. We're not looking to re-tell stories here. What Robbie [Thompson] and Nick [Bradshaw] have put together is an exciting new take on Spider-Man at his arguably most iconic incarnation, and will feel fresh to new and old fans alike."
Class is in session as two of the hottest creators in comics take Peter back to school for a classic and iconic take on the Spider-Man mythology. Familiar faces and new characters populate Peter Parker's world as he balances his double life as a high school student and the high-flying, web-swinging new hero Spider-Man!
"Out of the 700+ issues of AMAZING SPIDER-MAN" shares Spider-Man Editor Nick Lowe, "Peter Parker was only in high school for thirty issues! Stan and Steve covered a lot, but there's a lot of the high school and early super hero experience still on the table."
Iconic villains, a classic supporting cast, the ol' Parker Luck and more are back! Don't miss one moment of these bombastic new adventures as Thompson and Bradshaw create a legend of their own when SPIDEY #1 comes to comic shops later this year!
SPIDEY #1
Written by ROBBIE THOMPSON
Art & Cover by NICK BRADSHAW
On Sale This Fall!
Celebrate 50 Years of S.H.I.E.L.D. – Your New Look at S.H.I.E.L.D. #9!
            New York, NY—July 29th, 2015— This August, celebrate a half century of Marvel's premier intelligence agency in one colossal issue! Today, Marvel is pleased to present your new look at S.H.I.E.L.D. #9 – the oversized anniversary special! Be there when blockbuster writer Mark Waid and artist Lee Ferguson answer a question 50 years in the making. A question that lies at the heart of the creation of SHIELD – who is the "Man Called D.E.A.T.H."?! This full length story features a never-before-published S.H.I.E.L.D. sequence penciled by Jack Kirby and inked by Jim Steranko!
 Then, Al Ewing and Stefano Caselli bring you the terrifying origin of the new Howling Commandos! Before they spin out into their very own series later this year, witness the return of Dum Dum Dugan as he steps from the shadows to assemble a team truly unlike any you've seen before!
 Rounding out this massive issue, S.H.I.E.L.D. #9 also includes the very first S.H.I.E.L.D. story by Stan Lee and Jack Kirby! Be there as a half-century celebration of espionage and intrigue comes to comic shops this August in S.H.I.E.L.D. #9!
S.H.I.E.L.D. #9 (JUN150809)
Written by MARK WAID, AL EWING & STAN LEE
Art by LEE FERGUSON, STEFANO CASELLI & JACK KIRBY
Cover by JULIAN TOTINO TEDESCO
Howling Commandos Variant by ART ADAMS (JUN150810)
Variant Cover by JACK KIRBY & JIM STERANKO (JUN150811)
Black & White Kirby & Steranko Variant Also Available (JUN150812)
FOC – 08/03/15, On-Sale – 08/26/15
INVINCIBLE IRON MAN #1 Comes To Comic Shops For an Epic Launch Party!
Head to Your Local Comic Book Store to Experience the Biggest Launch of the Year!
All-New, All-Different Marvel kicks off in full force this fall, and Marvel is making sure all comic book stores worldwide are armed and ready for the new flagship Marvel title as INVINCIBLE IRON MAN #1 explodes into comic shops on October 7th! You won't want to miss comic superstar Brian Michael Bendis and red-hot artist David Marquez's opening salvo in their explosive new ongoing series. And Marvel is ready to make the launch one to remember. In addition to being first in line to purchase INVINCIBLE IRON MAN #1, fans will also be able to receive special items at participating retail stores, including the first piece of the exclusive BUILD YOUR OWN IRON MAN promotional item!
Launching alongside INVINICIBLE IRON MAN #1, the first piece of the BUILD YOUR OWN IRON MAN promotional item will allow fans to assemble their very own Iron Man armor. Based on artist David Marquez's new armor design, collect all six pieces, launching alongside Invincible Iron Man and five other October Marvel titles, fold and compile your very own Iron Man standing nearly a foot tall!
To ensure these parties are a massive sales success, each retailer opting into the event will receive exclusive INVINCIBLE IRON MAN Party promotional materials. Check your Marvel Mailer for more information on how to opt-in by 8/10 to ensure your store has these items.
"Make no mistake, INVINCIBLE IRON MAN is the flagship title for the new Marvel Universe," says David Gabriel, Marvel SVP, Sales & Marketing. "Brian and David are exploding out of Secret Wars with an exciting new beginning for the most recognizable super hero on the planet. This one is going to be BIG and we're backing our retail partners with access to all kinds of promotional materials, exclusive variants, cake toppers and more – everything they need to entice customers to suit up with Tony Stark!"
All qualifying retailers who opt in will receive the following as part of the INVINCIBLE IRON MAN launch:
Invincible Iron Man Invitational Postcards
Invincible Iron Man Build Your Own Iron Man Promo Item Piece 1 of 6
Invincible Iron Man Skottie Young Lithographs
Invincible Iron Man #1 Exclusive Deadpool Sketch Party Variant by Yasmine Putri
Mass media promotion around the launch of Invincible Iron Man and the associated parties
But that's not all! Retailers who qualify will also be eligible to order the INVINICIBLE IRON MAN #1 Deadpool Party Variant. Everyone loves Tony's new armor – even the Merc With a Mouth! From rising star Yasmine Putri, fans won't want to miss this exciting variant only available at the upcoming launch parties.
Strap in and suit up! Prepare for the marquee comic launch of the fall as Brian Michael Bendis and David Marquez armor up and bring you a new Iron Man for a new Marvel Universe. Don't miss the blockbuster  INVINCIBLE IRON MAN #1 – on-sale October 7th !
INVINCIBLE IRON MAN #1 (JUL150696)
INVINCIBLE IRON MAN #1 LAUNCH PARTY OPT-IN (JUL150706)
Written by BRIAN MICHAEL BENDIS
Art & Cover by DAVID MARQUEZ
Deadpool Party Variant by YASMINE PUTRI (JUL150710)
Variant Covers by BRUCE TIMM (JUL150700), ADI GRANOV (JUL150702),
SKOTTIE YOUNG (JUL150703)
Action Figure Variant by JOHN TYLER CHRISTOPHER (JUL150704)
Hip Hop Variant by BRIAN STELFREEZE (JUL150699)
Design Variant by DAVID MARQUEZ (JUL150701)
Young Guns Variant Set by DAVID MARQUEZ,
SARA PICHELLI, MAHMUD ASRAR, NICK BRADSHAW
VALERIO SCHITI and RYAN STEGMAN (JUL150705)
Cosplay Variant Also Available (JUL150698)
For more on Marvel's Invincible Iron Man, please visit www.marvel.com. Join the conversation on Twitter with don't forget to follow us at @Marvel [www.twitter.com/Marvel]!
A Legendary Avenger Returns in BLACK KNIGHT #1!
      New York, NY—July 31st, 2015 — Their legend echoes through history. Ancient warriors and wielders of the legendary Ebony Blade. Champions of their own destiny. But what do you do when it's your destiny…to be damned? Find out this November as the creative team of Frank Tieri (Wolverine) and Luca Pizzari (Red Skull) bring you BLACK KNIGHT #1 – a brand-new ongoing series launching as part of All-New, All-Different Marvel!
Forged by ancient magic, long has the Ebony Blade granted its user the powers of the Black Knight, passed down through the centuries. But all power comes with a price, as each and every Black Knight has met an untimely end – a victim of the blade's curse. Will Dane Whitman's fate be the same? The long-time Avenger's addiction to the blade grows stronger and stronger every day. Will he succumb to its power and suffer the same end?  
 A lost man himself, Dane now finds himself in Weirdworld, the place where all lost things go. What are the circumstances that brought him to this strange place, so far from the world he called home? And what could he possibly have done that would cause the Uncanny Avengers to mobilize against him, a man they called friend?
 See the Marvel Universe from a whole new angle this November as Tieri and Pizzari take Dane Whitman to the depths of Weirdworld and beyond in BLACK KNIGHT #1!   
BLACK KNIGHT #1
Written by FRANK TIERI
Art by LUCA PIZZARI
Cover by JULIAN TOTINO TEDESCO
Variant Cover by ERIC POWELL
On Sale in November!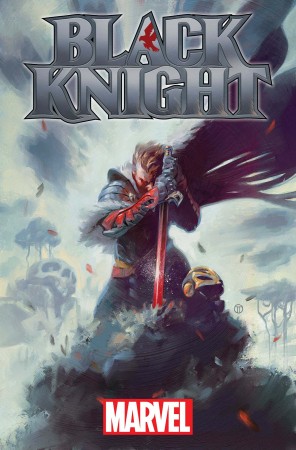 Ancient Hero Meets Modern World in HERCULES #1!
New York, NY—July 30th, 2015 — He's been called many things, gone by many names, accomplished many heroic deeds. But now, it's time for a new beginning. This November, the world's first super hero is back in the game in HERCULES #1! Fan-favorite writer Dan Abnett (Guardians of the Galaxy, Guardians 3000) and artist Luke Ross (Hulk, Secret Avengers) blast out of the gate with an explosive first issue that'll show the world why he set the bar for heroism in the first place!
 Protect the innocent, defend the world, save the day. Olympus's favorite son is back like you've never seen him before! An ancient warrior in the modern day, Hercules battles everything from street-level crime to cosmic scale threats. Whether it's protecting his block, his city or the entire world – no labor is too big or too small for the mighty Hercules! But a new evil has awoken – one that will push the demi-god to the limit and test his mighty resolve. The world's first super hero is back in the fight,  but will his new lease on life be short lived?
"Hercules is fun, brash and one of Marvel's more interesting characters because of his connections to both the Avengers as well as ancient Greek mythology," says series Editor Katie Kubert. "A hero of all eras, he's trying to reestablish what being a hero means today, and what better place to attempt to do that than NYC with his buddy Gilgamesh at his side? "
Witness the Marvel Universe through the eyes of one of its most powerful warriors, and the heart of a true champion. Ancient hero meets modern day this November in the bombastic debut of HERCULES #1!
HERCULES #1
Written by DAN ABNETT
Art by LUKE ROSS
Cover by CLAY MANN
On Sale in November!