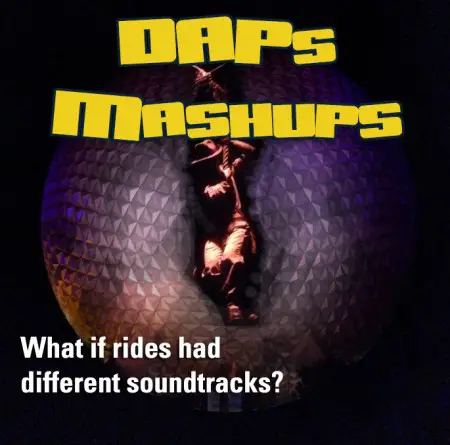 What if attractions had a different soundtrack?  What effect would it have on the ride?  Would it be whimsical instead of scary?  Would it be scary instead of fun?
I decided to pit some ride throughs against a different soundtrack (and one in this post that doesn't have a soundtrack to start with).  What do you think?  Does it change the ride for you at all?
The more I experiment with all of this I find that music is an integral part of attractions.  It doesn't change a lot with a ride, but it can help with the mood or detract from it.
Here are two more ride mashups for opinions….
The first is Indiana Jones Adventure at Disneyland with the music from Spaceship Earth at Epcot.  Spaceship Earth has a dramatic soundtrack to bring people through the ages.  But, it's a much more mellow instrumental compared with Indy's.  The second is an experiment with bringing a soundtrack onto a ride that has almost none to begin with.  Seven Dwarfs Mine Train does have some songs from Snow White, but only at specific points of the attraction.  I used some Haunted Mansion music to see if it would give a different feel to the ride.  The results are below.