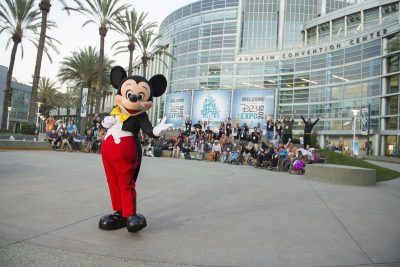 D23 Expo is almost upon us, and we have a way to navigate this huge event!  Be sure to follow along here and on Twitter @DAPs_Magic as well as Instagram @dapsmagic.  We'll have some free "swag" at the Expo and a couple of giveaways.
Getting There
If you've prepared to any extent for the Expo, or been before, it is held at the Anaheim Convention Center, located just down the street from Disneyland off of Harbor Blvd.  There are multiple ways of getting directions to get here, and that would take up a lot of room for this guide, so best way to get them?  Google Maps.
Of course parking is a bit trickier.  Depending on what you are expecting for your trip to the Expo, there are a few options.  The first is parking at the Convention Center, which is accessed off of Katella or sometimes West St.  It does cost quite a bit, but you are right there at the Expo for convenience.  Across the street is the Toy Story Parking Lot for Disneyland, and it is sometimes open for convention goers, although if you are going to the parks or Downtown Disney after, you can pay the cost and park there too.  If you're an Annual Passholder, then parking is free here, and you can walk across to the Expo.  Keep in mind that this lot is subject to hours of operation according to theme parks, not the Expo.  So, if you plan on getting to the Expo really early it may not be open, which reminds me….
How Early?
The question that is on most people's minds are "how early should I get to the Expo?"  Things have changed this year for strategy, so I'll try to give the best out of my opinion.  While Disney is not encouraging overnight waiting for the Expo, they will provide space at the Convention Center Thursday night and Friday night for the following mornings.  It starts at 10 pm in Hall E.  At 7 am, there will be a queue at the main plaza/entrance to the Convention Center.
Is it worth waiting overnight?  It does depend.  In my opinion, no.  They did something similar for the Star Wars Celebration that was held at Anaheim Convention Center this year (although the first presentation with the Force Awakens trailer had multiple places to watch from).  I got in line at 6 am and made it into the main arena where I got to see JJ Abrams present the trailer live.  So, is Expo going to need a different strategy?  Probably not, but anticipate getting in line in the wee hours of the morning, like 5 or 6 am.  If you want to go into the main presentation of that morning, maybe get there a little earlier.  The lining up is to get into the Expo itself, not just Hall D23.  It used to be that queues began around 5 am to get into the Expo and presentations at the main plaza, but the overnight lining up will change things a bit.  Just know that you will be waiting to get in for a long time.
StagePass and StorePass
StorePass
StorePass will help with the abnormally long store lines for the Disney Dream Store, Disney Store and Mickey's of Glendale.  They will start handing these out at Expo opening and you will have a 30 minute window to go shop.  Be sure to plan accordingly.  If you are drooling over any of the merchandise that they have announced, then be sure to grab this first as time slots will fill up fast, and merchandise is easily grabbed in the first day!  The location of this will be next to StagePass in Hall A.
StagePass
StagePass is a way to get to panels a little easier.  It was a great way to hit more panels, as lining up happens way ahead of the time they begin.  For panels and presentations that are between 11 and 2:30 pm (usually not including the Hall D23 ones) the passes will be available starting at 9 am.  For ones after 2:30 pm, passes are available at 12:30 pm.  If you are in a group and able to split up in the morning, meaning you're not going to the main Hall D23 presentation, then send a person with your tickets to get passes for whatever presentation you want to see later, send everyone else to get in line for whichever morning panel or presentation you would like to see.  And, speaking of panels and presentations…
Panels and Presentation Planning
Which presentations are best to see?  How do you see them all?
Well, first of all, there is no way to see them all as many overlap, and it also takes strategy to get into them.  It pays to decide on 2-3 presentations per day you are really wanting to see and aim for those.
For the main, Hall D23 presentations, anticipate lining up 2 hours or more ahead of the presentations.  This means that you may only get to see 2 presentations total the whole day.  The Hall D23 presentations are exciting and full of great previews, but if you've been to the Expo before I'd suggest skipping them and going to the show floor or another presentation.  Last time I ditched the live action film presentation and went to a very low attended but AMAZING presentation with voice actors who have done the radio shows and windows of Buena Vista Street at Disney California Adventure (and we have video of it here).  I was so sad that many didn't get to experience this unique and great presentation.  Many would recognize the voice actors' work and they did a live performance of what is hard to hear at the park.  The main presentation engulfed so many attendees that it was easy to get into this performance, but I think many missed out by going to see trailers that would be online within that day.  There are so many more unique and once in a lifetime presentations at the Expo if you're willing to part from seeing a star from a far distance!
A Word on StagePass
For getting StagePasses, pick out the 2 presentations, one before 2:30 pm and one after, that you really want to go to and aim to pick up passes for that.  Have 1 or 2 secondary ones in mind in case the passes run out.  This way you won't be disappointed (and all the panels and presentations are good and not disappointing anyway).  For anything else, schedule your day anticipating lining up for presentations at least an hour and a half before it starts.  On busier days, and towards the afternoon, these can take a 2 hour queuing to guarantee a seat.  Thankfully, you can sit on the floor in the queue areas.  Oh, and get to know the map before going at all to the Expo.  It'll help you get to everything faster.
Show Floor
The show floor is where the shops and areas of Disney present their fun.  The best day to check it all out is Friday.  Friday as historically been lower in attendance for the Expo.  That means that there are shorter lines to go and do everything.  In the morning is also a great time to go, as often people head straight to the presentations first thing.  The Imagineering/Parks and Resorts show area is one of the best to check out, and even multiple times.  Usually there is some kind of preshow before you get to walk around, and this does create a queue.  Keep checking throughout the day if you don't go first thing, and when the line looks fairly short, just jump in.
Archives
The Walt Disney Archives exhibit has some of the longest lines throughout the Expo days.  Again, Friday is a great day to check it out.  Otherwise, anticipate waiting an hour before you can go and walk around inside.  In all, the show floor is less crowded when one of the bigger presentations is happening.
Booths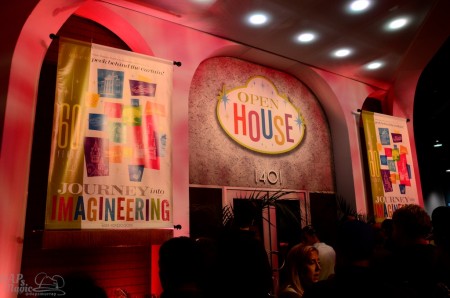 At different booths there are small events that take place throughout the time at the Expo.  Disney Channel has often had stars lined up to sign autographs, and some merchandise areas have other Disney stars for photos and autographs.  Check the schedule guide to find out when these are available, but also go to the booth areas and ask someone how to proceed lining up.  And, do this well before it's time to meet the stars.
Photography
There are a great number of opportunities for photos and video at the Expo.  The Hall D23 presentations usually do not allow these, though.  And the Walt Disney Archives exhibit is not this year.  Other than that, the show floor allows it, and almost anywhere else, as well as at multiple presentations.  But, look for signs in case a presentation or certain area does not allow photos and video.  There are some, but not many.
The other thing you will notice are cosplayers.  People come up with creative costumes, paying homage to Disney characters, movies, and shows.  Many times they do not mind having photos of them, but be sure to ask permission to photograph them, even if it's from your phone.
Food
One big suggestion for the Expo is to pack some snacks in a small backpack.  Yes, sometimes you will have to check in your bag for presentations and it will take time.  Yes, you have to carry it around with you.  But, the Expo is about going from place to place to place with not much time in between.  Grab a couple snacks to tide you over in case food lines are long for lunch or dinner.  Water is great to bring too.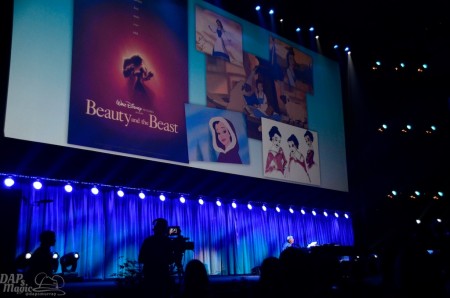 How is eating at the Convention Center?  The food is actually pretty decent at the eateries on the show floor/first floor.  Count on inflated convention prices, though.  There have been food trucks outside the entrance in the convention plaza that are available, but there's no guarantees of them being there.  The Hilton has a very small food court, and this often fills up with a line.  There's some restaurants along Harbor Blvd at varying distances, but these are going to be filled with both Expo attendees and Disneyland Resort vacationers.
It's not too hard to get to the park or Downtown Disney to eat, as you can walk across to the Toy Story Parking Lot and hop on the bus there to take you to the Resort.  In all, anticipate lines to get food.  If you're even remotely hungry at a given time, go get something to eat.  If you wait until you're starving, chances are everyone else did and you'll be crawling to the register with stomach pangs.  By the way, if you're a D23 Charter Member, there is a lounge available usually on the second floor that sometimes has snacks and drinks to enjoy.  And, it's usually been free to eat!  And, last year they started allowing you to take one other guest with you (although I don't know about this year).
Meeting People
Be sure you take money and cards that provide discounts, like your D23 member card.  It's hard to leave the convention center and get to either your hotel or car and then head back.  Plan ahead the night before and you'll be fine.
The days can be tiring, but if you come into the Expo with expectations of meeting some friendly faces, you will have a great time.  While waiting for presentations I have met some great people, even some who have become part of our DAPs team!  Everyone is looking for a great time, so the more friendlier, Disney attitude you can have the better your experience will be.
Contrary to popular Disney fan belief, the Disney Company is not perfect.  They are great, and do a fantastic job, but not perfect.  There will be kinks that take place that are even out of their control.  Please keep it in mind as I have both experienced and witnessed people not having a great time because they took these kinks to heart.  The Expo is fun and exciting!  Yes, there's waiting, but have fun with the queues!  Yes there are crowds, but treat it as a way to look around and observe instead of trying to rush to the next thing.  With this strategy, the Expo can be a terrific event that will create some great memories!