Time to bring out those mobile devices. D23: The Official Disney Fan Club has launched this year's D23 Expo app. This app which is available on both the Apple App Store and the Google Play Store, will provide expo goers with tons of information.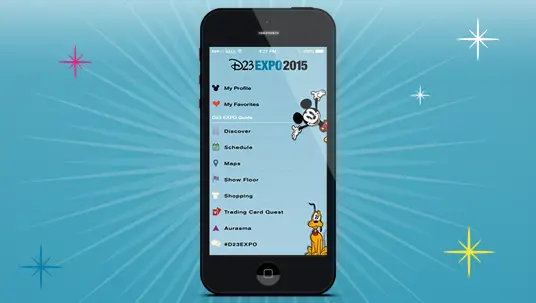 The app titled D23 EXPO 2015 Official Mobile App, will provide content such as entertainment, where to shop, photo locations, event times and so much more.
With just under two weeks till the D23 Expo at the Anaheim Convention Center, the app will help attendees with their expo experience.
Based on the app description, here is a bit more insight on what the app entails:
D23 EXPO 2015 is the Ultimate Disney Fan Event, and the D23 EXPO 2015 Official Mobile App will help you navigate all the entertainment, presentations, shopping, photo opportunities, and magic that Disney has in store.

• Maps will help you navigate your way through all things Disney and find everything you need from stages and stores to photo spots and more.
• See the full schedule of presentations and special entertainment, and get up-to-the-minute information on StagePass availability.
• Personalize a schedule that keeps you on track to see and do everything you're dreaming about, find out who's available for autograph sessions and where to find them, and learn about special guests.
• Locate the latest D23 EXPO and Disney products to make the most out of your shopping experience.

Go ahead and download the D23 EXPO 2015 Official Mobile App today and discover the wonder and excitement of Disney, all under one roof. Updates will be made throughout D23 EXPO 2015.

Please consider that this app contains:

• Social media links to connect with others
• The option to accept push notifications to let you know when we have exciting updates like new content
• Registration to create profile
• Advertising for some third parties
• Location-based services
If you are attending this year's expo, will you be downloading the app?