Today will be a day long remembered by Star Wars fans. Star Wars Day has a lot to celebrate and look forward to. Lucasfilm made it even more special with the release of several photos and a behind the scenes video from the upcoming Star Wars: The Force Awakens set.
First release was the new Vanity Fair cover photo from the flight deck of the Millennium Falcon. In it we see Han Solo (Harrison Ford), Chewbacca (Peter Mayhew), Rey (Daisy Ridley), Finn (John Boyega) and BB-8.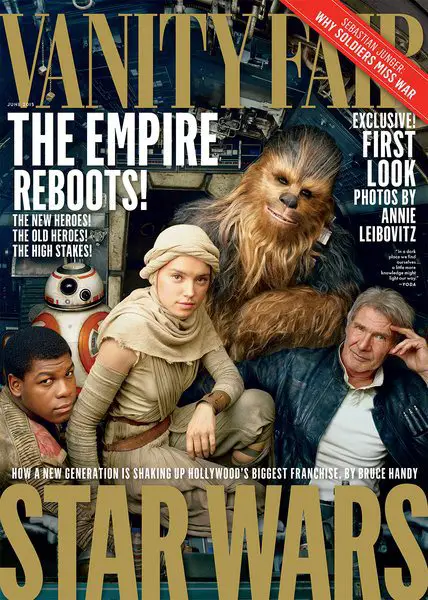 Peter Mayhew teased the photo last night as well on Twitter:
PSSSST #MayThe4thBeWithYou pic.twitter.com/5Zf2Dz09gK

— Peter Mayhew (@TheWookieeRoars) May 4, 2015
And another? pic.twitter.com/H8rAjVZcwA — Peter Mayhew (@TheWookieeRoars) May 4, 2015
Next came a few photos that offer some really awesome insight into the movie and some of its characters. They showcase Oscar Isaac's Poe Dameron, Adam Driver as Kylo Ren, and Lupita Nyong'o getting the motion capture treatment for her role as Maz Kanata.
And then there is this behind the scenes video of photographer Annie Liebovitz taking the photos:
This is a fantastic gift for Star Wars day and it just makes things that much more exciting as we anticipate the future of Star Wars. Does anything jump out at you here?
Make it a GREAT day!