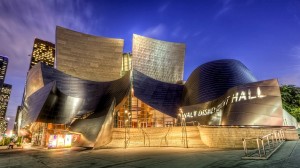 Tickets went on sale today for the Annual Holiday Sing-A-Long at the Walt Disney Concert Hall in Los Angeles.
This family friendly event is a great way to join in on some Holiday cheer the weekend before Christmas. The event boasts a live orchestra, a full choir, and an absolutely breathtaking pipe organ that reaches to the ceiling.
While Featured Artists have not been announced, for the last few years none other than Julie Andrews herself has made an appearance as the special guest star for both event times!
During last years event, in combination with the sing-a-long, Andrews read poems and stories from her Children's books as well as interacted with 2 very lucky children who were selected to participate in a song on stage. There was also a running storyline between Julie Andrews and an actor playing an Elf character who would walk around the concert hall engaging audience members.
The event isn't very long, about an hour, which makes it a perfect amount for Children to enjoy. Although, the adults will have just as much fun!
The Holiday Sing-A-Long is December 20, 2014 at both 11:30am and 2:30pm.
Prices range from $47.50-$91.40 for Adults depending on seating location.
You can look at seating charts and more ticket information HERE regarding the event.  You don't want to miss you on this!