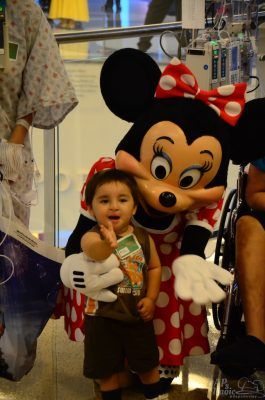 There are many things that I get to cover from time to time that are meaningful and touching.  This event may have topped them all.  Today, I went to the CHOC Minnie Walk that takes place in the Bill Holmes Tower of the hospital.  An annual CHOC "Walk in the Park" commences in October, but this special event takes place for the children unable to attend because of hospitalization.  Children go on a parade through a lineup of volunteers and booths, and being led by Minnie Mouse.  Booths are setup by organizations, including In N Out, Chik Fil A, and Farrell's.  All of this took place on the second floor of the tower, which has been ordained and sponsored by the Disneyland Resort.
Featured on this floor are several Disney decorations, such as a Finding Nemo mobile and Turtle Talk with Crush.  Yes…a whole Turtle Talk attraction built right into the wall.  Appearances with Crush happen daily for hospital residents.  In addition, Mickey Mouse often visits patients throughout the month.  Besides the generous donations of the companies, the CHOC Foundation raises money for many of these experiences, including Ryan Seacrest Studios radio station.  This station has an in house line for patients to request whatever music they would like.  And, it has resident hosts.  The Foundation wants to provide child patients with special experiences other children get.  The hospital is also set up to not be like regular hospitals so that kids can feel more at ease being there.
In addition to the Foundation providing many play areas for both children and teens, they also raise money for families without insurance.  With great patient care for very sick children, the hospital cannot sustain those services on its own.  The Foundation raises the funds so that families can bring their children to much needed care.  The annual CHOC Walk in the Park is the biggest fundraiser.  And, it is a unique experience where people can walk in a 5k through both Disneyland Resort parks and Downtown Disney.  Those who raise $225 or higher receive a special medal with icons that depict themes of floors in the Children's Hospital.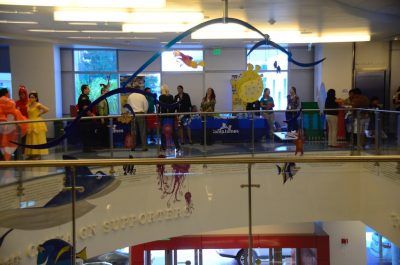 The CHOC Walk has raised over $21 million for CHOC Children's and CHOC at Mission.  Last year, over $2 million alone was raised by over 15,000 participants.
But, for those that cannot make it in the hospital, they provide a unique experience as like today.  The CHOC Walk has been going on for 23 years, but the Minnie Walk is just over a decade old.  And, last year, they were not able to have it due to the construction on the hospital.  Along with the children, several therapy dogs were able to take part in the walk.  There are over 200 who participated, but even some children could not come to the second level because of their severe conditions.  Volunteers make "goodie bags" of giveaway items to give to these patients later on in the day.
Among the volunteers were several VoluntEARS – Disney Cast Members who help out in the community.  Quinn, the project leader, said that he has either volunteered or participated in several CHOC Walks, but this was a unique experience during the Minnie Walk.  He noted how this event is a great reminder of what the CHOC hospital sets out to do.  And, it is wonderful to bring Disney magic to kids who are too sick to be out or visit the park.  VoluntEARS are out almost every weekend in the community being a service, though usually not at the CHOC hospital.
This event and wing of the hospital did not seem like a place where people are trying to get well.  It was festive and lively.  Kids seemed so grateful and pleased to be parading around, though quite a few looked weary from battling illnesses.  And, that is what started to get to me.  To realize that I could easily go to the parks any day, but these children may not at all, or even to have any normal childhood humbled me.  I was glad to see Disney bring some magic to many of these families.
I was told that many patients receive "beads of courage" whenever they have a procedure.  As I was told about this I looked over to see one boy's string on his IV stand.  On it were a great many beads, more than I would want to count.  To think that he had so many procedures done for such a young age was saddening.  But, to see the fun he was having brought a smile to my face.  I have grown a new appreciation for the hospital and the event that it hosts every year at the Disneyland Resort.  My hope is that this year even more would be raised for these and other children can receive care they need to go back to a childhood all should be able to enjoy.
Until next time, have a marvelous day!