The CHOC Walk has only been at the Disneyland Resort since 2002, but the Minnie Walk has just celebrated its 25th year at CHOC.  Here's why it's such an amazing event:
The History
The Children's Hospital of Orange County has been around since 1964.  It was founded because the closest hospital to Orange County like it was up in Los Angeles.  For patients and their families, it was too much of a drive when health care was needed.  The founders reached out to several community leaders, including Walt Disney, to start CHOC.
The CHOC Walk was founded over two decades ago to raise funds for the hospital so that children can get urgent health care at no cost to families.  The Walk has been around a long time, but it has just been since 2002 that it's been at the Disneyland Resort.  Since moving to the Disneyland Resort, the annual event has raised over $28 million!
Minnie Walk Reasons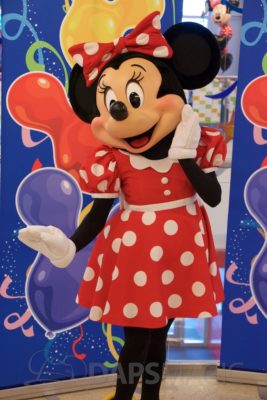 The Minnie Walk started 25 years ago so that patients unable to attend the regular event could still partake in something similar.  Sponsors that are present at the CHOC Walk set up booths for a carnival type atmosphere on the second floor of the main hospital tower.  This floor was also made possible by Disney and donations from the company.
It has been 5 years that this floor has hosted the annual Minnie Walk, and it is always a special occasion.  Chick-Fil-A, Valvoline, Chuck E. Cheese, Dave and Buster's, and Good Humor Ice Cream are just a few of the vendors that provide smiles for the children of the hospital.  These sponsors also set up at the finish of CHOC Walk for the festival there.  They go above and beyond for the Minnie Walk, where this is something extra they provide the residents of the hospital.
The time is very magical and joyous for the patients.  A representative of CHOC Walk said that a mother pointed out that this event was the only thing her child would make an effort to get out of bed for.  For others it makes them feel like they're not at a hospital for the time they are at Minnie Walk.  It delights families and creates a special environment of memories for them all.
More About CHOC and CHOC Walk
CHOC provides great care, but also great experiences for patients.  A prom event is put on for oncology patients that are unable to set foot outside of the hospital.  A theater hosts Disney movies for patients unable to go to a regular theater.  Seacrest Studios lets kids and families have their own radio and video shows.  It is a wonderful place where those having to go through treatments do not feel like they're in a medical facility.
This year for the CHOC Walk there are several opportunities to help the great hospital:
Chuck E. Cheese's of LA, Orange County, San Diego, and the Inland Empire will have a day on July 17 where some of the proceeds will go towards CHOC.
Chick-Fil-A has an annual cookie day on August 15 where 100% of the proceeds of cookies bought in Orange County will go towards CHOC.
July 1 there will be tickets on sale for the annual Luau at Splitsville in Downtown Disney that will take place towards the end of that month.
Of course, you can join the DAPs CHOC Walk team here, or just donate.  We will also have Rock4CHOC, and will have more information on that soon.
The Minnie Walk is a great event that benefits kids and families.  It is touching and joyful.  It also can't be put on without the help of sponsors and donors!  So hats off to those who support the great place of CHOC and this event!
Daps Magic received a sample product or experience for this review in exchange for an honest review. The views of the reviewer are wholly their own. Read full disclosure policy here.