On Wednesday, July 16, 2023, a very special event happened at the Children's Hospital of Orange County (CHOC) for the young patients who find themselves receiving care there. Representatives from Disney and other community organizations came together with CHOC to put on this year's Minnie Walk. The Minnie Walk brings the magic of Disneyland and the CHOC Walk in the Park to the children in the hospital who can't leave due to their medical conditions. It provides a wonderful dose of happiness, hugs, joy, and Disney magic for these children at CHOC and their families.
Minnie Walk Opening Presentation
Before the start of the event, a special presentation kicked things off for members of the media and influencers. Zach Abrams, Assistant Vice President Community Relations at CHOC Children's, acted as the emcee for the presentation. It also included Jessica Miley, Senior Vice President and Chief Development Officer at CHOC, Brianne Ortiz, Manager of the Child Life Department, Disneyland Resort President Ken Potrock, and also Kent Hudson and his mother Eby, this year's CHOC Walk in the Park Ambassador.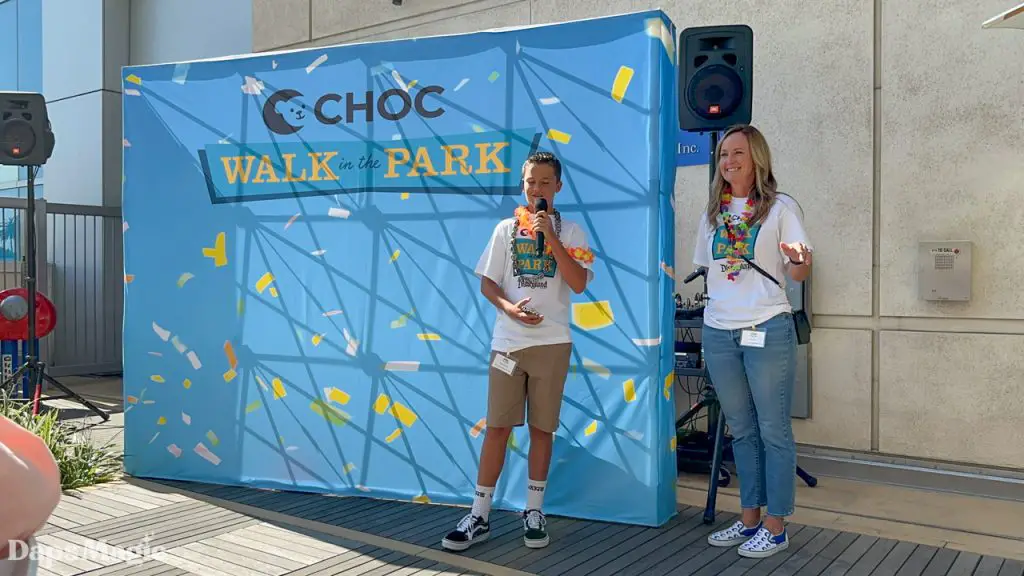 CHOC Walk Ambassador – A CHOC Child
CHOC Walk Ambassador Kent Hudson shared about his journey with cancer at CHOC. He shared stories of how many surgeries he had, the treatments he endured, and how the staff at CHOC went out of their way to do things to make his experience more pleasant, including giving him rides in a red wagon so he could leave his room. Kent said that, "for a little kid, hospitals can be pretty scary. Child life specialists were always there to make sure my hospital stays were fun."
Kent's mother Eby added, "CHOC truly has been instrumental in our care. They have been supportive from the moment we found out he had cancer to last week when we had our annual checkup." She then added how child life specialists are truly life-changing for the children and their families in CHOC. This ranged from activities big and small, events, the Seacrest Studios, music, dogs, and so much more.
We were given life by CHOC and we just want to be able to give back." This is why they fundraise and the CHOC Walk is a big way that this is done. She also shared about how magical the CHOC Walk was. She wrapped up by saying "the CHOC Walk for us is a time for us to celebrate Hudson's defeat against cancer but also to be there for other teams who are currently fighting childhood illness. It is our chance to walk hand in hand."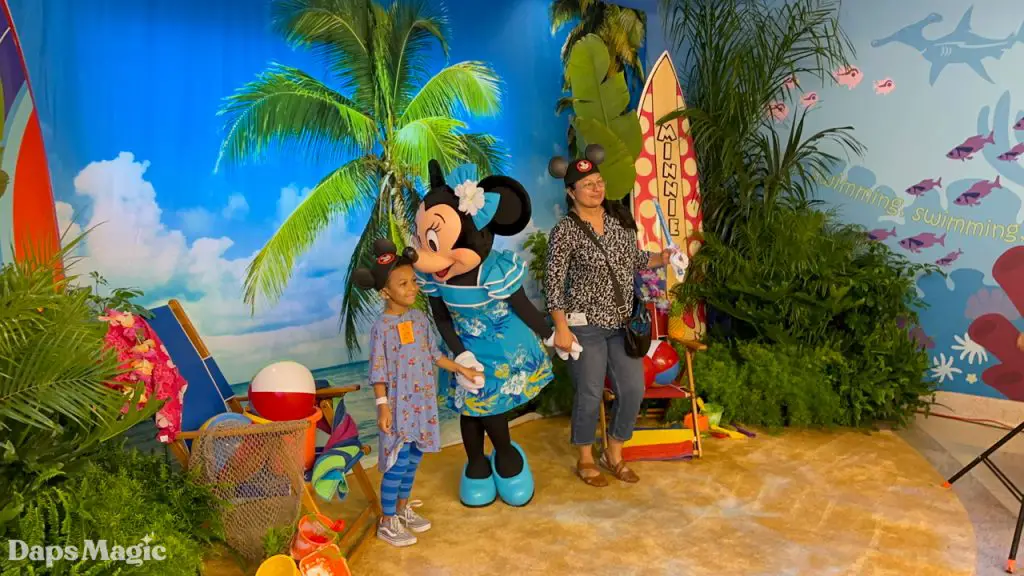 Walking Hand in Hand
Walking hand in hand with those who are fighting childhood illness is very much what the Minnie Walk is about. It's coming alongside the children who can't make it to the Disneyland Resort to experience the CHOC Walk in the Park and walking hand in hand with them in a version that they can participate in.
Following the presentation, those in attendance were invited to move inside and experience this year's Minnie Walk. It was a beautiful morning full of magical moments.
The Minnie Walk
The Minnie Walk is full of fun experiences and tables/booths for the children and their families to experience as they walk around the path on the second floor of CHOC. Along with members of the community being there and bringing fun activities and gifts for the attendees, the Disneyland Resort President Ken Potrock was on hand. Potrock, who is also a board member of CHOC, brought along Disney VoluntEARS, the Disneyland Ambassadors, and also Minnie Mouse and Mickey Mouse! The duo met with guests individually throughout the event and were definitely one of the highlights for those in attendance.
Minnie Walk is an absolutely wonderful event that brings so much joy to the children in attendance. It is a beautiful thing to see a child brighten up when they see Minnie Mouse waving at them. Then they run up to her and get a hug with a smile that could brighten the darkest day. Looking around the event, there are other magical moments happening. This includes Disneyland Ambassador Mark Everett King Jr. sitting on a child-sized chair at a table drawing with a young CHOC patient, CHOCO Bear giving hugs, a photo booth in the corner, gifts being given by different groups, and moments of laughter, smiles, hugs, and happiness.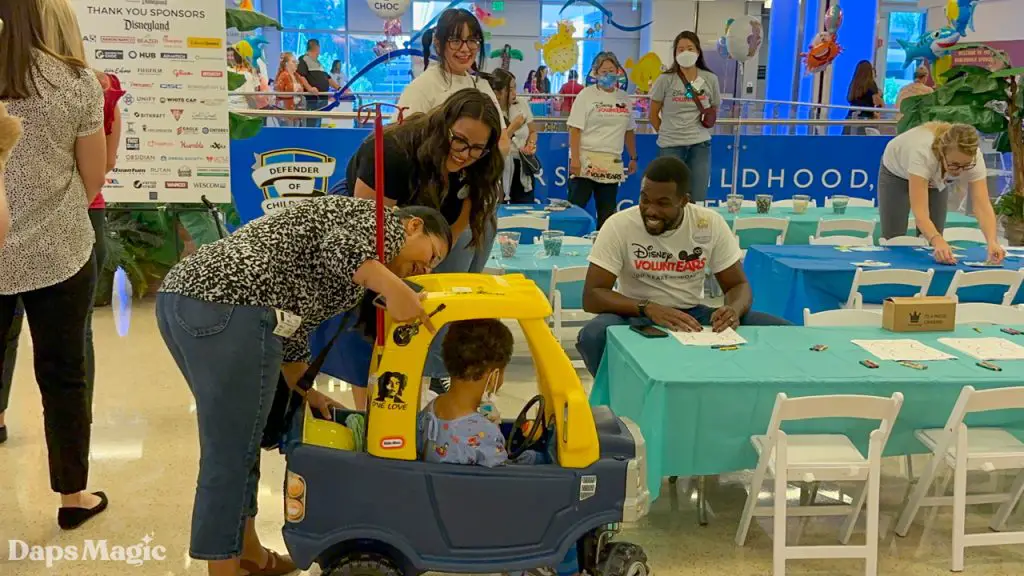 Where Care is More Than Care
CHOC provides a care experience for kids that allows them to be kids receiving care in every sense of the word, instead of simply being patients lying in beds. CHOC goes way out of its way to create positive experiences and activities that bring added joy to its patients and their families. During difficult times, the joy and hope that come from CHOC is so desperately needed. It is such a beautiful gift that CHOC gives to those who are at CHOC.
The Minnie Walk is one of these gifts that CHOC gives to its patients and their families. It is also crucial that CHOC continues to get support from the community so it can provide this care that surpasses just medical care to these young patients. This is why fundraising events like CHOC Walk in the Park matter so much. Every dollar that is earned helps provide a children's hospital experience that helps kids continue to be kids while still receiving their care.
Watching the Minnie Walk, it is very hard to not get emotional. Every direction, there are stories unfolding. Children who should be playing in the park but aren't able to for whatever reason are getting a different kind of happy moment. They are experiencing joy while facing unthinkable challenges. These kids are so brave, and the love that is felt during this event is absolutely beautiful.
Make a Difference Today!
You can join Daps Magic's CHOC Walk in the Park team today or support financially at CHOCWALK.ORG/DAPSMAGIC. We hope that you will help us help CHOC today! Let's help children receive care, medical and more, from CHOC and also be able to create happy childhood memories. Donations to CHOC are gifts that truly last a lifetime.