An annual Southern California tradition that does a lot of good is returning to the Disneyland Resort this summer. The 2023 CHOC Walk is returning again and thousands of walkers will be seen in the parks early in the morning on August 20, 2023 as they raise funds and awareness for the Children's Hospital of Orange County, or CHOC.
This year's CHOC Walk marks the first time since 2019 that the event has taken place as a walk at the Disneyland Resort. Last year, as the world recovered from the pandemic, the event was called the CHOC Adventure and was a celebratory event that took over Disney California Adventure for an evening. The event, now in its 33rd year, will begin at 6:15 AM on Sunday, August, 2023 at the Disneyland Resort. The proceeds from it will go to helping CHOC provide healthcare and services to those who so desperately need it.
When children visit CHOC, it can be a terrifying experience, and the medical professionals and staff at CHOC do so much more than provide medical care for patients. CHOC also provides love and support for those who are closest to the patients and help them all navigate their CHOC experience in a way that provides comfort and care on multiple levels. The result is an environment that feels like the family one chooses and loves, with relationships that last a lifetime. This is what is being supported by fundraisers who walk in the CHOC Walk. It is also what makes this so important.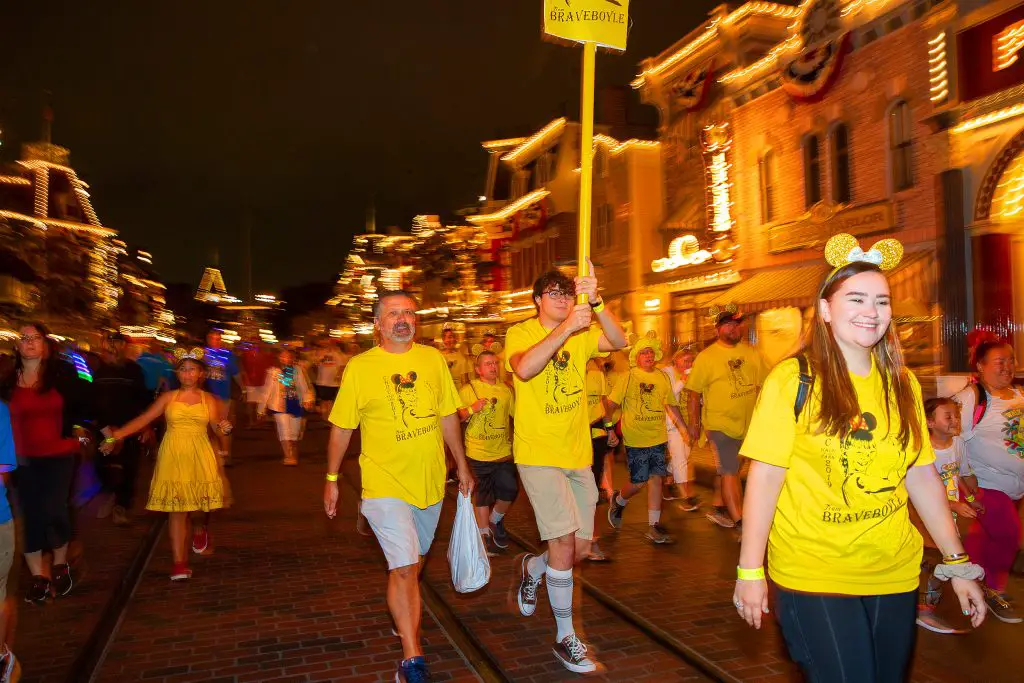 CHOC Walk History
Origins
The CHOC Walk has a history that dates back to 1990. On November 10th of that year, patients and staff moved through halls and tunnels from the original CHOC building to a new patient care tower. The original building had been built in 1964 through the efforts of local business leaders and philanthropists, including Walt Disney. While the patients and staff moved locations inside, outside nearly 1,000 community members made their way past the hospital as they walked in the inaugural CHOC/Disneyland Community Walk.
The first CHOC Walk was over five miles long and began at the Main Place Mall in Santa Ana, made its way past the CHOC, through the surrounding neighborhoods, and eventually ended in the parking lot at Disneyland. Within three years, the event had outgrown the route and was moved to South Coast Plaza. This would be where it continued to be held for the next nine years. This changed in 2002, however.
CHOC Walk Moves To the Park
In 2002, the CHOC Walk became the CHOC Walk in the Park when it moved to the Disneyland Resort. This new version of the walk was a 5k walk with fundraisers walking through Disneyland, Disney California Adventure, and the Downtown Disney District. The event took place before the parks opened and gave walkers a unique look at the parks, that was also packed full with Disney magic.
This was the first of this kind of event to take place at the Disneyland Resort. It also began a new level of collaboration between the Disneyland Resort and CHOC that made a huge difference. The first year raised a record amount of money for the hospital, $550,000. Through the years, the CHOC Walk has continued to reach more milestones of support. In 2004, the walk raised $1 million for the first time.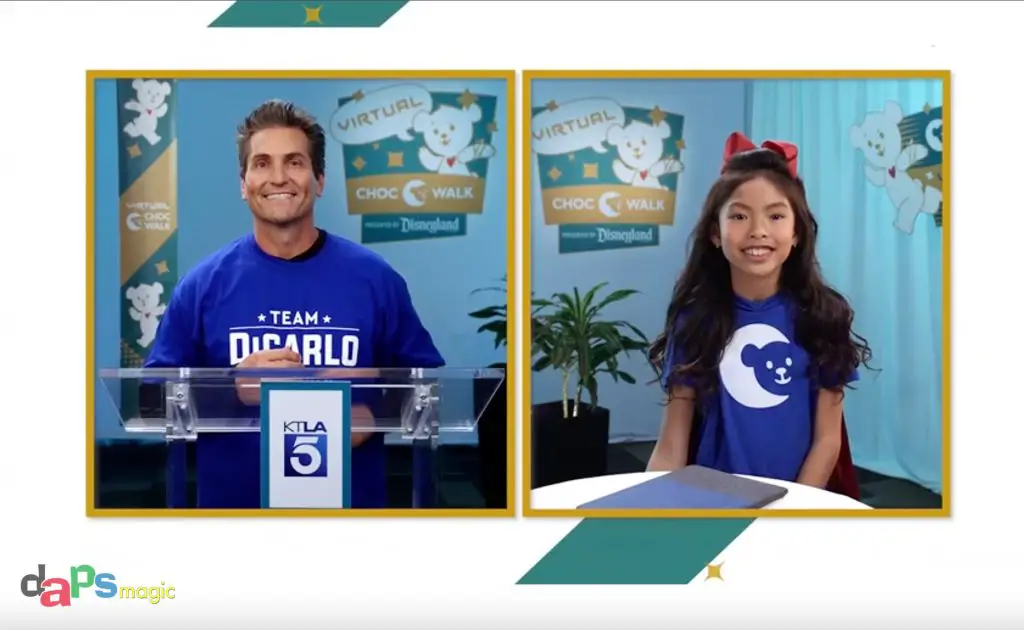 Through the Pandemic
Through the decades, the CHOC Walk continued to make a difference as it raised funds and awareness in the community. When the pandemic came, the CHOC Walk could obviously not happen in the park. Instead a virtual CHOC walk was held, followed by the aforementioned CHOC Adventure. The return of the CHOC Walk in the Park is a welcome one for many walkers.
Return to the Parks
When the CHOC Walk happens on August 20, 2023, it is expected that there will be approximately 350-400 teams walking, including Team Daps Magic! Walkers will come from around the world from places throughout the United States and also Canada, Mexico, Australia, and Japan. Together these thousands of people will be making a difference for those who really need it. This walk isn't just an act of support, it is an act of kindness. It is showing those who are struggling that thousands of people who don't even know them as they lay in their hospital beds that they care. It is providing hope for families that may not have it.
2023 CHOC Walk Ambassador
This cause is exemplified every year by the CHOC Walk Ambassador. This year, the Ambassador is named Hudson Kent. Hudson was diagnosed with kidney cancer in 2011. Thanks to the care of CHOC, he successfully underwent four surgeries and six months of chemotherapy. This all happened before he was three years old. With the diagnosis of kidney cancer for Hudson came a great deal of fear and trepidation for the family. His ten year old brother had to live the reality that he might lose his little brother. However, the family shared that the care of CHOC comforted them through this very difficult time.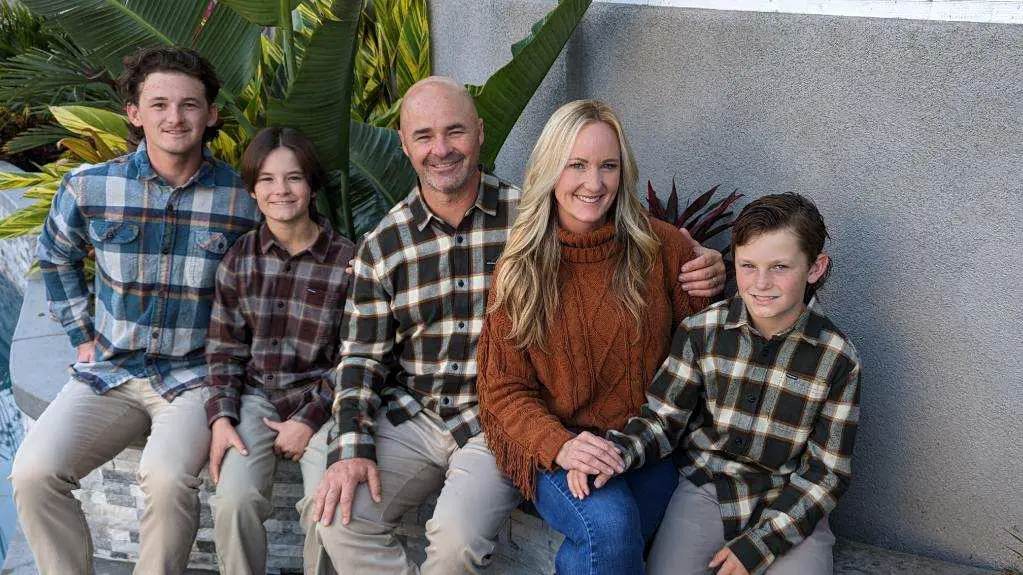 Hudson's younger brother was born during the treatment for his kidney cancer. He has never known a life without CHOC. Hudson's family shared that "The immense support from our family, friends, community, and CHOC staff helped us persevere and become stronger." They also shared about Hudson and his approach to the situation as well. "Hudson's ability to handle the negative effects of treatment in stride gave us the strength to manage our emotional discomfort to keep our lives and family intact. Even at a young age, Hudson battled cancer with positivity and acceptance, never complaining about treatments, appointments, or procedures.  He approached potentially scary or painful procedures with bravery, resulting in a calm and easygoing demeanor.  His strength was a model for our family, allowing us to keep composure during difficult times."
The Kent family also shared about their CHOC experience saying, "When in the hospital, Hudson was visited daily by nurses that would stop by his room. The Child Life Specialists brought a wagon to his hospital room, allowing us to change his environment by pulling Hudson around the hallways. This also allowed us to visit other patients who couldn't leave their rooms and hopefully bring them some cheer. It would brighten up his day to blow kisses to each visitor."
Today Hudson is 12 year cancer free! His experience at CHOC was one that no family would ever want to face. However, the family shared that CHOC made the experience as smooth as possible. The follow care has continued and been amazing as well. After this experience, Hudson pays it forward. He shares his story and encourages people to support this local hospital. He is appreciative of all that CHOC has done for him and also recognizes how many other kids are out there that need the support of CHOC. For this reason, he continues to be passionately sharing about the care that CHOC provides as other children are fighting their own battles.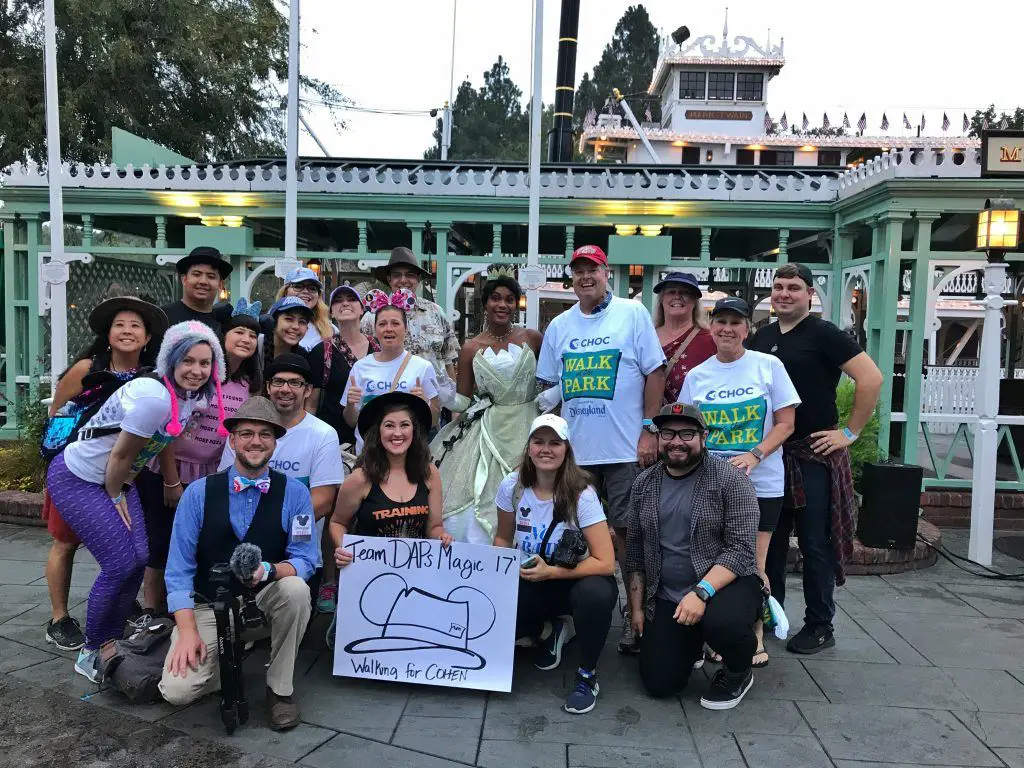 Children like Hudson are why the CHOC Walk in the Park is so important. It is the support that comes from the fundraisers and walkers that help make their care and experiences possible at CHOC. This year, Daps Magic is striving to make a bigger impact with CHOC than it ever has before. The goal is to have a bigger team that raises more money than Team Daps Magic has every done before. This means getting a team of at least 30 members and raising over $5,000 at a minimum. This can only be done with your support. It won't happen by waiting for someone else to do it. It takes you.
It is very easy to wait for someone else to make a difference, but then so often it just doesn't happen. This year, let's make it happen. If you feel that little question mark in your heart, or sense of excitement or movement of any kind when reading or thinking about the CHOC Walk, I encourage you to join or support Team Daps Magic today. Help us making a difference beyond what we have ever done before. Help us support kids like Hudson as they go through terrifying experiences. Let's make a difference together and meet up in the park in the early hours of August 20, 2023 and make our corner of the world a better place!
Join Team Daps Magic at CHOCWALK.ORG/DAPSMAGIC