A long-running tradition that makes a very positive difference is continuing this year. Disney has kicked off once again the Disney Ultimate Toy Drive in support of the Marine Toys for Tots program. Disney has a very long relationship with Toys for Tots that dates back to 1947 at the program's origin. Walt Disney and his studio artists personally designed the original Toys for Tots train logo that is still in use today.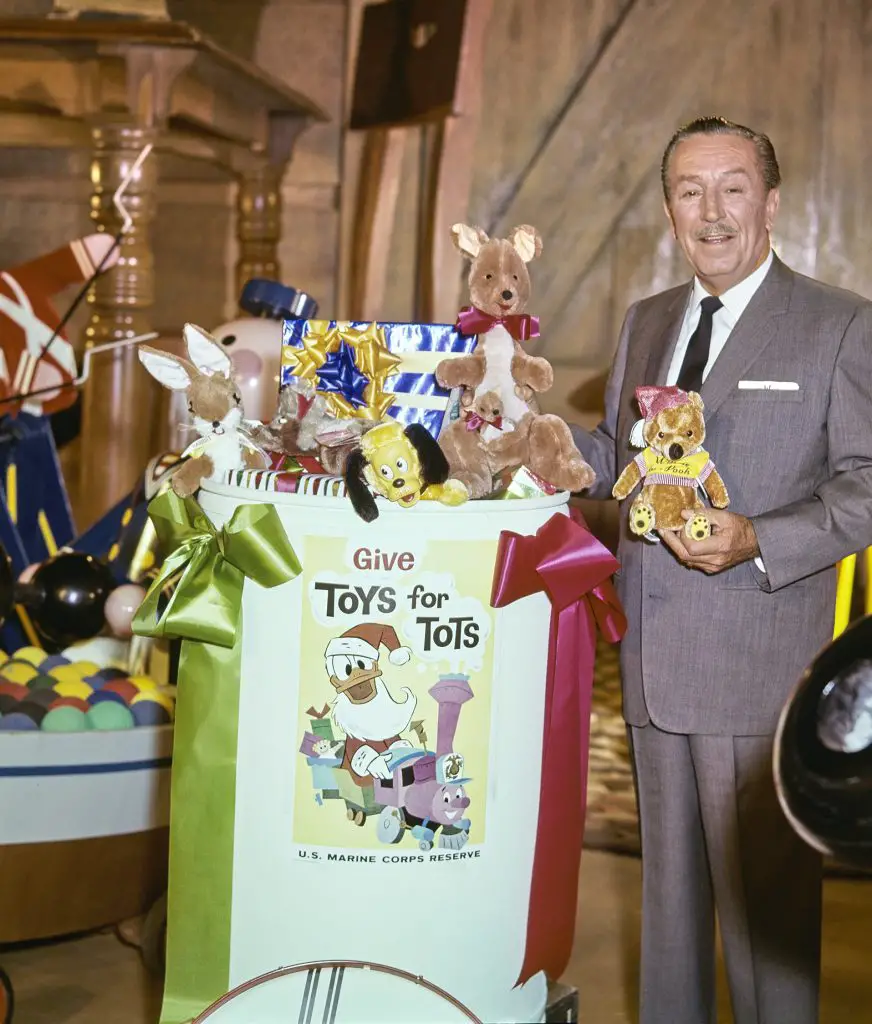 "For over 75 years, Disney has been proud to work with Toys for Tots to help deliver joy to children in need," said Lisa Haines, senior vice president, Corporate Social Responsibility, The Walt Disney Company. "From VoluntEARS opportunities to integrations into shows across our networks, our employees and cast members in every part of the company love supporting Toys for Tots and giving back at this special time of year in ways that only Disney can."
Said Lieutenant General Laster, President & CEO of the Marine Toys for Tots Foundation, "It's amazing how this relationship started with a logo and has now transformed into an annual nationwide campaign supporting children in need. Toys for Tots is grateful to have the continued support of Disney to help bring their stories to children for the holidays and deliver joy during this season of giving."
The program kicked off with a segment on Good Morning America. A 29-year-old mother and foster parent, named Taylor Price, shared her story about how she became a coordinator for Toys for Tots in Texas. This was after experiencing homelessness as a child and receiving toys from Toys for Tots. Her story shows the impact first-hand of this organization. Now grown with children of her own, Price looks to make a difference in lives of other children who are facing difficult circumstances and wouldn't experience the magic of Christmas without the work of Toys for Tots and Disney. As a surprise thank you to Price for her dedication and hard work, Disney Ultimate Toy Drive helped Price kick off her local campaign with both a donation of shopDisney toys and surprsed her on-air with tickets to see Aladdin on Broadway with her family. The segment can be seen here:
There are multiple ways to participate in the Toys for Tots for the Disney Ultimate Toy Drive. Between now and December 24, 2023, toys can be donated online at shopDisney.com. In person, toys can be donated unwrapped at every Disney store location, Downtown Disney District at Disneyland Resort or in select locations at Disney Spring at Walt Disney World Resort from now through December 15, 2023.
The relationship between Disney and Toys for Tots dates back to the program's origin in 1947 Walt Disney and his team of animators designed the Toys for Tots logo that continues to be used even today. This, however, wasn't the only contribution from The Walt Disney Company to Toys for Tots through the years. It was just a starting point that has grown through the years. Disney continues to build this relationship as it engages volunteers and provides charitable support to support Toys for Tots deliver toys to children in need Nationwide! Since 1947, Toys for Tots Marines and volunteers have distrivuted 652 million toys to over 291 million children. Last year was a record-setting year for the organization as it distributed over 24 million toys to nearly 10 million children. This was thanks in part to the collaboration with the Disney Ultimate Toy Drive.
Daps Magic will be participating with the Disney Ultimate Toy Drive this year as well! When you donate a toy, share what that toy was in the form below and we will put a picture of that toy under our digital Christmas tree! Let's fill up the space under the tree and way beyond and make a positive difference for children in need. This is a way that we can show the world acts of kindness during the holiday season! We hope you'll join us and encourage other people to as well!
In the coming days and weeks, Disney will be revealing more ways that you can participate in the Disney Ultimate Toy Drive! We hope you'll be a part of making magic this holiday season for those who might not receive Christmas presents! The Toys for Tots program is a wonderful tradition that makes the world a better place one toy and one child at a time.
What do you think of the Disney Ultimate Toy Drive? What will you be sharing this year to Toys for Tots? Share your thoughts, opinions, and plans in the comments below!