Konnichiwa! Greetings from a lovely evening in Japan! As I write this (not necessarily when publishing it) I have completed my first full day in Japan. I thought about writing a post yesterday, however, most of that day was spent on a plane so it didn't seem like it was going to be that exciting. However, today was quite full so couple that with yesterday's adventures and I think we have a decent first report from Japan. I will say, I'm not entirely sure how often I will be posting this. As the content makes sense, I will post a new trip report. I will also probably go back and share more photos in the future from this trip but I don't want to spend my whole time editing them so think of this as a highlight reel! I am also posting more on the Daps Magic Patreon as well! With that in mind, let's get into my first day and a half in Japan!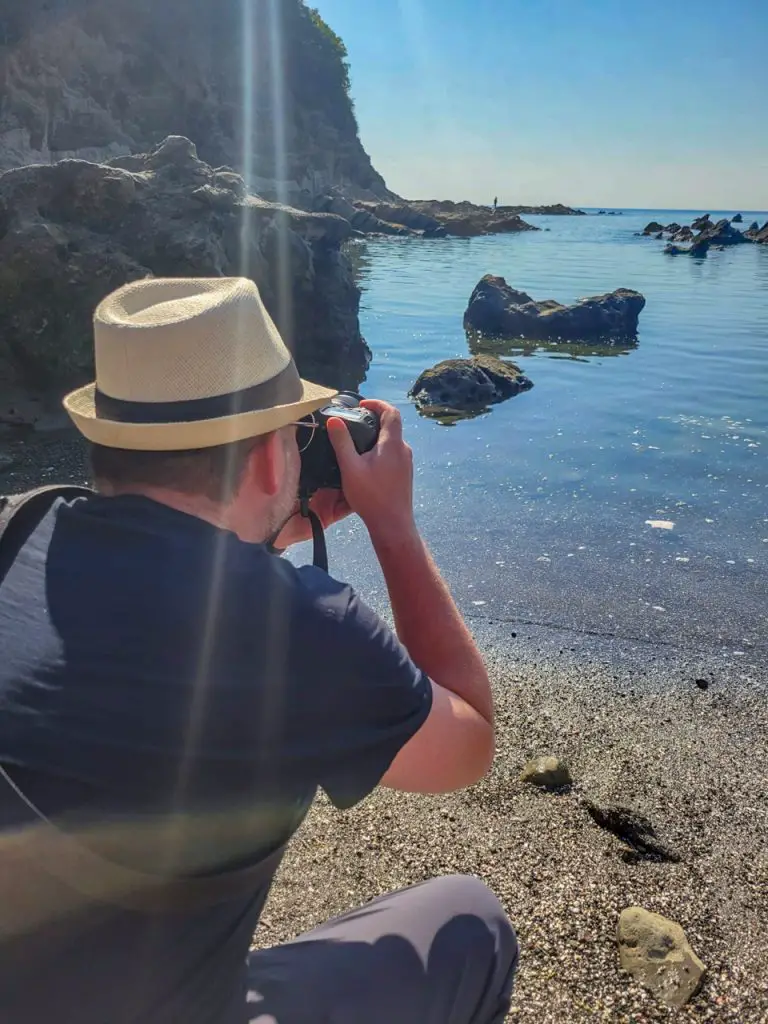 Wednesday, October 25 & Thursday, October 26, 2023 (yes, this was one day)
First things first, I had a ten and a half hour flight that left Los Angeles at around 10:00 AM local time and crossed the international date line. The trip across the Pacific Ocean was fairly uneventful, especially since the wifi was not working on the plane. I did work my way through a book I had brought with me about the history of Japan. It definitely helped add to the prelude of the trip. I arrived in Haneda Airport in Tokyo, Japan shortly before 1:00 PM. There, after working my way through customs and collecting my bag, I was met by my sister, nephews, and niece along with a much needed cup of coffee. I don't sleep on planes and I also like to really push into whatever new timezone I'm traveling to, which sometimes works better than others.
Seeing that we were in Tokyo, my sister suggested stopping by a Japanese Garden on the way back to their place. This garden is known for its three-story pagoda. Seeing that I wanted to push through the first day, this seemed like a very good idea. We made our way over there fairly quickly, after a quick stop at a rest stop where Fast and Furious: Tokyo Drift was filmed called Daikoku.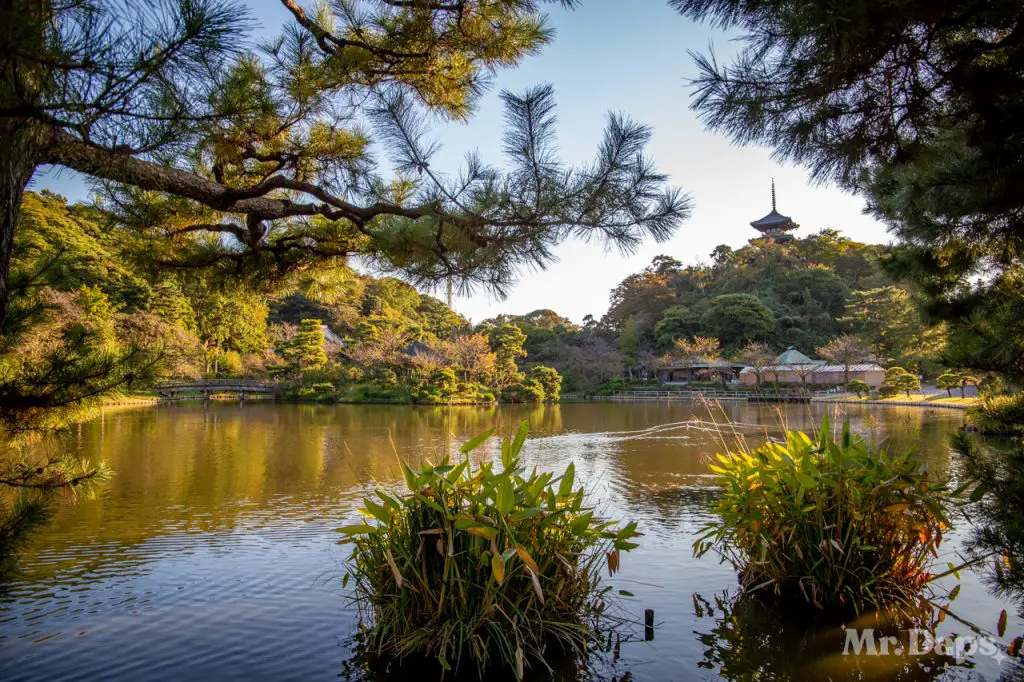 The park we visited was called Sankeien Gardens. It is found in southern Yokohama and features a three-story pagoda, lake, some beautiful bridges, and also some other historic buildings. There was also a display with some bonsai trees that was pretty cool. After arriving, we made our way around the lake and enjoyed some beautiful views as the gardens just began their transitions into fall colors. We then made our way up to a viewpoint above the gardens on a hill that was higher than the pagoda. It gave a look over a very industrial harbor that was nothing like the garden that was seen when facing the other direction. Having seen the view, it was time to check out the pagoda. This was a very cool structure that overlooked the garden and really was beautiful.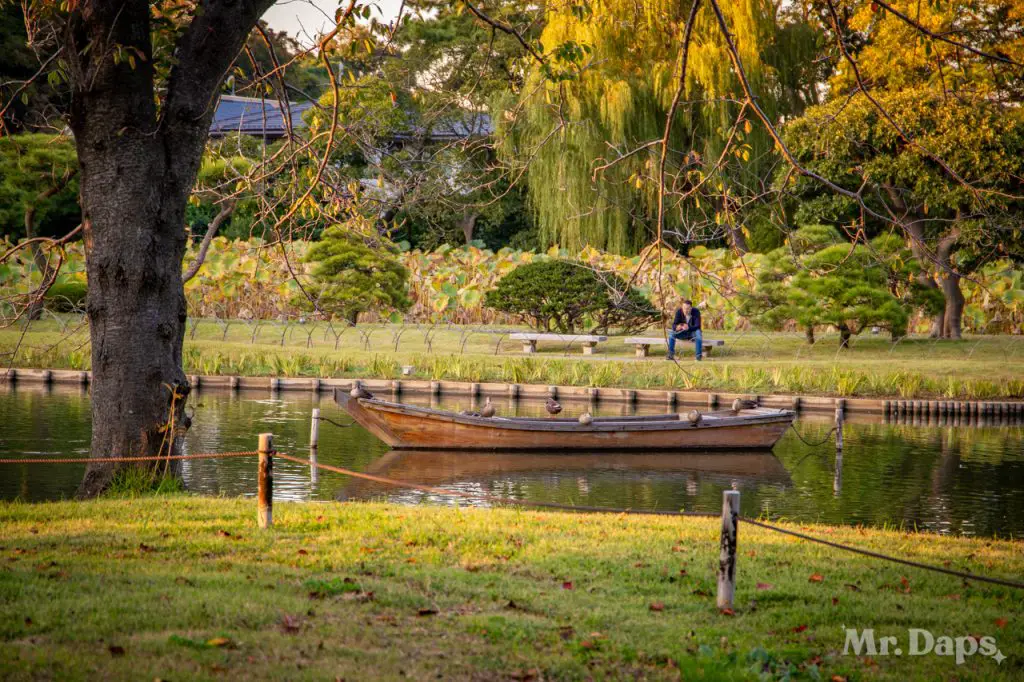 Down below the pagoda (hundreds of stairs lower), there were more elements of the garden to enjoy. This included a small creek that had a small waterfall at the end of it. It also had several different little bridges crossing over it. There was also a traditional family dwelling to explore. This was very rustic but also incredibly beautiful. Shoes off, we made our way through this home that was hundreds of years old. The visit to the gardens was wrapped up by walking back to the car and enjoying views across the lake from the other side. Near the parking lot, there was a row boat that was moored in the lake that was simply beautiful. I definitely took entirely too many photos of that boat both as we arrived and departed.
After making our way back to the house, the day began to catch up with us. Dinner came from a place called Lawson. This was a convenience store that surprisingly enough had very good food for not a whole lot of money. It turns out, this is fairly common at convenience stores here. I will leave that, however, for tomorrow's portion of this report.
Friday ,October 27, 2023
The first full day in Japan was spent exploring multiple parks in the area and getting to see some lighthouses. There also were a LOT of stairs throughout the day. Most of the driving throughout the day also included a lot of beautiful views of the ocean and the boats in it. The weather was perfect and made for a wonderful day out and about.
The first stop we made, however, had nothing to do with lighthouses or beautiful views of the ocean. It had everything to do with coffee. Where'd we get this delicious coffee? We went to 7-11… which has really good coffee and really good snacks. I'll get into the foods from 7-11 later though. I will say this, we got a steamed egg cake at this 7-11 and it was delicious!
The next stop was on Jogashima Island, where we stopped first at Jogashima Park. This park has the Awasaki Lighthouse. This looked more modern and almost like something seen in a James Bond movie. To get to it, there is a garden of trees that was really beautiful to walk through. It also had some really interesting shorelines that could be climbed down to via one's choice of staircases. The shoreline on the point of this park had some really awesome rocks and beautiful views.
Following the stop at Jogashima Park, we made our way to a different part of the island where another lighthouse was found. This area was found in a little part of the town that had a fishing village feel. Seeing some fishing boats and other ships around, I made a slight detour before we went to the second lighthouse. This led to lovely view of this harbor area. People were wandering along the waterfront, fishing, and learning to scuba dive. While this wasn't necessarily a tourist area, it really was charming and beautiful in its very own way.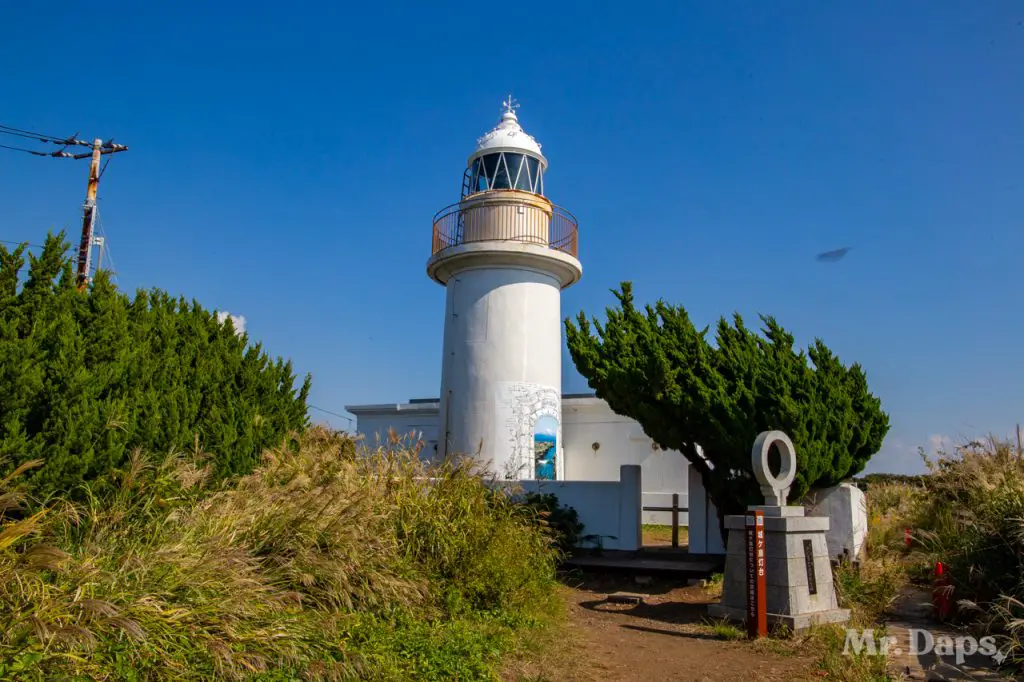 Having seen some boats and fun views, it was time to check out the second lighthouse. The Jogashima Lighthouse was atop a hill that unsurprisingly had some stairs that were climbed to get to it. On the way up, there were some spider webs with some very intense looking spiders that I was told you don't want to get to close to. Keeping this in mind, I didn't spend too much time near them to take pictures. At the top of the hill was the lighthouse that was quite quaint and pretty. The area around it had an almost Roman feel in the way that things were built. Down the hill below the lighthouse there was a food stand that sometimes sells some really good street food, including octopus on a stick. If it had been sold today, we would have tried it. However, the stand only had corn on it so we decided lunch would be somewhere else.
That somewhere else for lunch ended being 7-11. And I will say this right from the start, it was surprisingly delicious. I had a corndog, a curry bun, and two different types of chicken from this 7-11. They were all delicious. The corndog had a thicker and slightly different tasting batter around it. It also came with a little ketchup/mustard thing that you fold in half to get both on your corndog at the same time. This was delicious and I could eat it regularly. The curry bun was unlike anything I'd had before. It had a nice crust on the outside and warm curry inside. I really enjoyed it and while eating it, I thought it was going to be my favorite flavor of the day. But then I ate the spicy chicken. It was a piece of fried chicken that was surprisingly moist. It had zero reason for being as good as it was. This really made no sense to me but I loved it. At this point, I realized that this was my new favorite bite I'd eaten at 7-11. I wrapped up the meal with the regular fried chicken. It was equally moist but I liked the spicy version quite a bit better.
After our lunch, it was time to head to Arasaki Park. This had one of my favorite views of the day. This park had a lovely walk to the shoreline. Once at the shoreline, there was a couple of really cool tunnels (one of which we walked through), a very rocky coastline, and also a small rock structure with a tree on the top of it that I absolutely loved. I definitely took many more photos of this almost island looking rock structure than I needed to. It really was a lovely place to see. On the other side of the point, there was another shoreline that was very calm and beautiful. Looking out across the water it almost looked like an infinity pool with beautiful rocks sticking up out of the water. As we left, an influencer was arriving with her photographer. I couldn't help but think that some things are the same everywhere you go.
The final destination of the day was Taiteshi Park. This might have been the most popular place we visited and the line into the parking lot was quite long. Thankfully the park itself wasn't nearly as busy as the parking lot. It had a rock jutting out of the water several yards off the beach. It also had another place with rocks that could be climbed that had a really beautiful tree growing out of it over the ocean. There were a couple of fishermen below on some rocks enjoying a beautiful afternoon. While this park was right in the middle of town, it also was very peaceful and lovely.
Originally we had planned to make another stop after Taiteshi Park, however, energy was beginning to fade for all of us. With that in mind, we made our way back to my sister's place where we enjoyed a traditional Japanese meal for dinner. It was absolutely delicious.
So far I'm really enjoying Japan. It is an absolutely beautiful country. The people here are also very kind and I can see why people absolutely love this country. There is a lot to love. In the first day and a half that I've been here my initial impressions are that this is a beautiful country, with amazing people, and very good food!
There are a couple of different options for our adventures tomorrow. I'm not entirely sure which one we will be doing. I do know that in the near future we will be heading to the Tokyo Disney Resort to check out Tokyo Disneyland and Tokyo DisneySea. This whole trip will be a fantastic adventure and I'll be documenting it as it makes sense here. I hope you enjoy following along!
Have you been to Japan before? What are you favorite places to visit in Japan? Do you have any favorite foods or restaurants? What are your "can't miss experiences" in Japan? If you haven't been to Japan before, what do you most want to experience if you were to visit someday? Share your thoughts and opinions in the comments below!