The Star Wars Life Day Collection will be arriving on shopDisney on November 17, 2023. This collection has become a favorite for Star Wars fans as of late. Much of last year's collection ended up finding its way into the Daps Magic office and studios. This year's looks like it will be equally popular! Already Disney has shared a look at a sweatshirt that will be included in this collection! It can be seen below.
This post contains affiliate links that help support Daps Magic.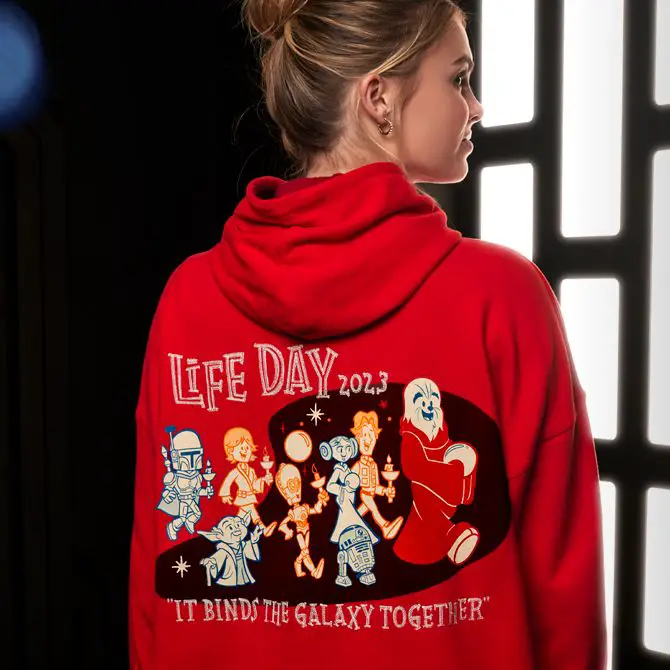 Life Day is a fictional holiday in the Star Wars universe. It was first introduced in the 1978 television special called The Star Wars Holiday Special. In the Star Wars mythos, Life Day is celebrated by the Wookiees, particularly on their home planet of Kashyyyk. The holiday is a time for Wookiees and their friends to come together to celebrate the values of family, unity, and the interconnectedness of all life in the galaxy. During the celebration, a central element is the Tree of Life, which is decorated and holds symbolic significance.
While Life Day itself is not part of the main Star Wars film series and is primarily associated with the somewhat infamous Holiday Special, it has remained a part of Star Wars lore and is occasionally referenced in other Star Wars media and merchandise. It is also celebrated at Star Wars: Galaxy's Edge, where merchandise is also sold for Life Day.
What do you think of the arrival of the Star Wars Life Day Collection this year? What do you think of the design that has been shared already? What else do you hope will be a part of this collection? Share your thoughts and opinions in the comments below!