On Sunday, September 10, 2023 Figment made his triumphant return to EPCOT. This came the day after it was announced that he would be returning by Josh D'Amaro, Chairman of Disney Parks, Experiences and Products during a presentation at the Destination D23 event. On Sunday, Figment fans lined up to see the return of their favorite purple dragon. Some of them waited for hours to see him on his first day back! When he did return, there were a lot of VERY happy fans that saw him in person and watched through screens from throughout the Disney fan community.
When Figment did return, crowds cheered as he returned to meet with guests for the first time in years. Multiple videos could be found on the internet on Sunday showing this heartwarming moment.
The Figment meet and greet is now also featured on the My Disney Experience app (Walt Disney World App). It shows that he is meeting with guests inside ImageWorks at the Imagination! Pavilion in World Celebration from 9:00 AM to 12:30 PM and then again from 1:30 PM to 3:30 PM. Check the app before attempting to visit Figment to confirm the times.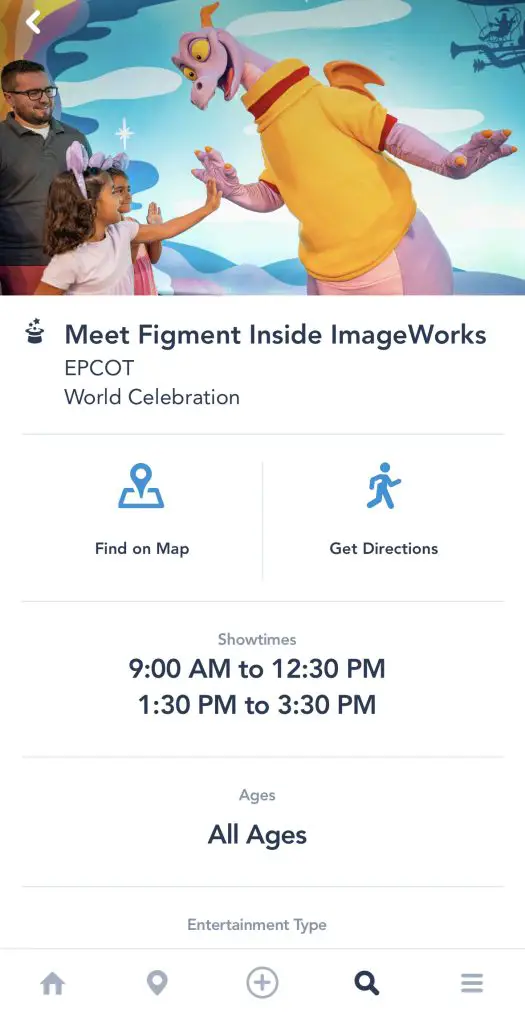 Figment made his debut in 1982 at EPCOT in Walt Disney World Resort at the Imagination! pavilion. Figment has a childlike dreamer who embodies creativity and imagination in the original attraction, Journey Into Imagination. Figment's origin story actually comes from ancient mythology. In old stories, Dragons embody the physical traits of many other creatures and beasts. Figment originally appeared with Dreamfinder in the original Journey Into Imagination attraction (video below). Dreamfinder originally started as Professor Marvel in the 1970s. He would have appeared in a proposed Disneyland attraction that would have featured a panoramic showcase of curiosities and marvels of our world and would have been hosted by two new characters: Professor Marvel and an impish little sidekick (a yet-to-be-named dragon). In an original version of Figment, he would have been green!
What do you think of the return of Figment? Are you excited to meet him at the Imagination! Pavilion at EPCOT in Walt Disney World Resort? Share your thoughts and opinions in the comments below!