The Adventureland Treehouse inspired by Walt Disney's Swiss Family Robinson will be opening later this fall. The announcement was made on Thursday by the Disneyland Resort, along with several other announcements including the opening of San Fransokyo Square, the opening of Tiana's Palace, and also the arrival of new nighttime entertainment on the Rivers of America.
The opening of the Adventureland Treehouse will bring an added magical destination in Adventureland for guests visiting the Disneyland Resort. Guests will be able to climb up the wood and rope staircase into a massive tree that brings to life the story of the Swiss Family Robinson. In the branches there are rooms to be explored that represent different members of the family and the lives they live in the jungle. Disney sought to capture the spirit of the original treehouse that was built in 1962 by Walt Disney and his Imagineers.
Throughout the treehouse, guests will be able to find the following rooms (along with some other fun surprises):
Mother's Music Den
Father's Art Studios
Young Son's Nature Room
Teenage Daughter's Astronomer's Loft
In the various rooms, most of the items were created from different objects and natural resources from different parts of the family's adventures.
Originally, the Swiss Family Robinson Treehouse was built in 1962, two years after the movie that inspired its creation was released. Imagineer Bill Martin worked out the tree's original design and Disney Animator Wolfgang Reitherman, who designed the tree for the movie, helped. The tree species is known as Disneyodendron semperflorens grandis, or large everblooming Disney tree. When it opened in November of 1962, John Mills was in attendance with his daughter Hayley Mills. John Mills played "Father" in The Swiss Family Robinson. Upon opening, it originally required a C-Ticket to experience the walk-through attraction. It was made to look like the family had created the treehouse from remnants of their shipwreck and other things found around the island.
The attraction remained at Disneyland until closing in 1999 to make way for Tarzan's Treehouse. Other iterations of the treehouse were created through the years at Walt Disney World Resort's Magic Kingdom, at Disneyland Paris (where it is known as La Cabane des Robinson), and also Tokyo Disneyland. At Disneyland, Tarzan's Treehouse officially closed in September 2021. It wasn't until April 2022 when it was announced that the Adventureland Treehouse would be replacing it. In November 2022, more details were revealed about this new version of the attraction, including concept art.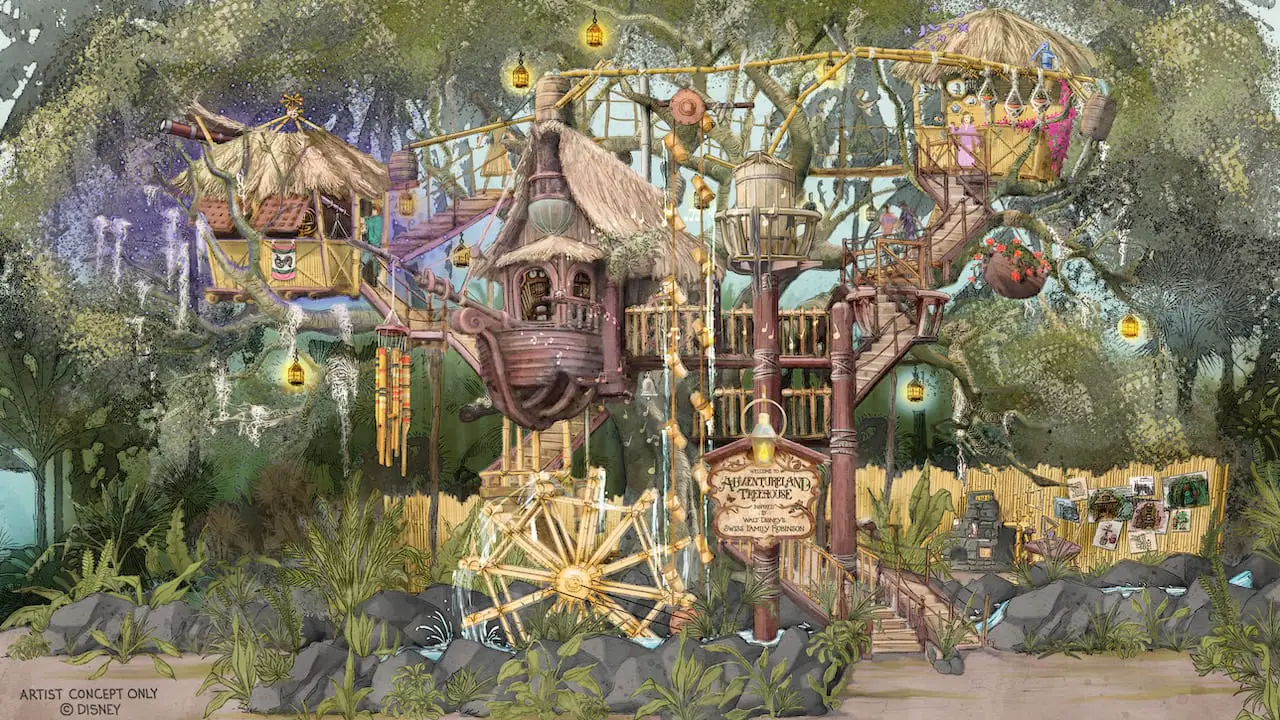 An exact date for the opening of the Adventureland Treehouse has not been announce yet. Daps Magic will continue to follow this story and provide updates as they become available. What do you think about the Adventureland Treehouse opening this fall? What are you most looking forward to seeing in it or on it? Share your thoughts and opinions in the comments below!