Walt Disney World Resort is welcoming a new Vice President of Live Entertainment. David Duffy most recently held the same role at Disneyland Paris and has a long history at The Walt Disney Company. Through his career of over three decades, Duffy has had roles as a show director, writer, artistic director, and creative director.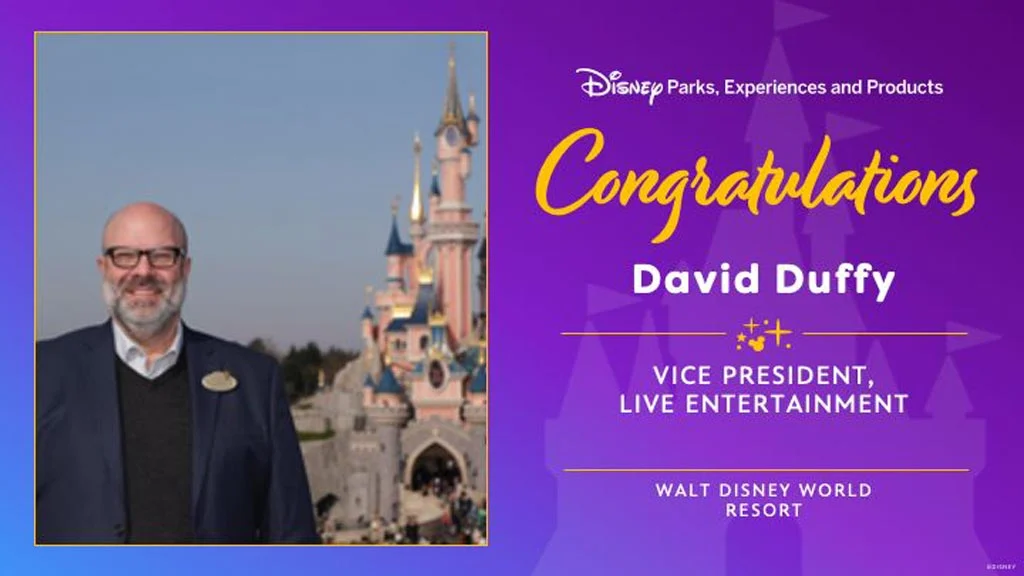 Duffy posted on his own LinkdIn saying, "I guess this means it's time to make it 'LinkedIn official'. After an amazing few years at Disneyland Paris, I am humbled and excited to return to where not only my Disney career but my love of themed entertainment began. I'm still at a bit of a loss for words to express how impactful my time working with the incredible team at Disneyland Paris has been. I have also fallen in love with the city of Paris, the country of France, and the lifestyle it affords. My deep thanks and appreciation go out to the amazing team at Disneyland Paris. Together, we have achieved amazing things! Onward!"
Through the years, Duffy has worked on many fan favorites. Most recently he worked on entertainment for Disneyland Paris' 30th Anniversary. He also worked on shows likes Tale of The Lion King, Mickey's Mix Magic, and Frozen Live at the Hyperion at the Disneyland Resort. He also was the Executive Producer for the Guardians of the Galaxy: Mission Breakout Grand Opening Ceremony and also the Star Wars Galaxy's Grand Opening Celebration.
David Duffy graduated from the University of Nebraska – Lincoln with a Bachelor of Fine Arts – BFATheatre/Theater. He began his career at Disney at Walt Disney World Resort where he worked for over ten years as an actor and then show director. He also has worked at the Disney Cruise Line and Disney Parks, Experiences and Products during his Disney career.
What do you think of David Duffy heading to Walt Disney World Resort as the new Vice President of Live Entertainment? Are you excited to see what he does there? What would you like to see him do there? Share your thoughts, ideas, and opinions in the comments below!