Star Wars Celebration might normally be mainly about, well, Star Wars. However, Lucasfilm does more than just Star Wars. Previously at Star Wars Celebration a look at, what was then, an upcoming Willow series was revealed. On the opening day of Star Wars Celebration Europe 2023, Lucasfilm shared a new trailer for Indiana Jones and the Dial of Destiny. The trailer wasn't all that was shown, however at Star Wars Celebration.
Along with the trailer, six minutes of the film was shown to those in attendance. It showed everything fans would hope one would see. The six minute of clips included  tuk-tuk races around Moroccan streets, Indy back on a horse riding through a New York street parade and also jumping out of a burning plane with Waller-Bridge. There is also a scene with a giant rolling boulder. Waller-Bridge's character also describes Indy as an "aging grave robber." Reports are that the crowd in London loved it all.
There also was a little more clarity as to what is being sought in this film. Both Indiana Jones and the villain Voller, portrayed by Mads Mikkelsen, are after an ancient device. Voller says of it, "Hitler made mistakes and with this I will correct them all."
Indiana Jones and the Dial of Destiny Trailer
Indiana Jones and the Dial of Destiny Official Description
Harrison Ford returns as the legendary hero archaeologist in the highly anticipated fifth installment of the iconic "Indiana Jones" franchise, which is directed by James Mangold ("Ford v Ferrari," "Logan"). Starring along with Ford are Phoebe Waller-Bridge ("Fleabag"), Antonio Banderas ("Pain and Glory"), John Rhys-Davies ("Raiders of the Lost Ark"), Shaunette Renee Wilson ("Black Panther"), Thomas Kretschmann ("Das Boot"), Toby Jones ("Jurassic World: Fallen Kingdom"), Boyd Holbrook ("Logan"), Oliver Richters ("Black Widow"), Ethann Isidore ("Mortel") and Mads Mikkelsen ("Fantastic Beasts: The Secrets of Dumbledore"). Directed by James Mangold, the film is produced by Kathleen Kennedy, Frank Marshall and Simon Emanuel, with Steven Spielberg and George Lucas serving as executive producers. John Williams, who has scored each Indy adventure since the original "Raiders of the Lost Ark" in 1981, is once again composing the score.
Along with the six minutes of clips and the new trailer, a new poster was also released. It has a classic Indiana Jones feel and is reminiscent of previous posters from the franchise.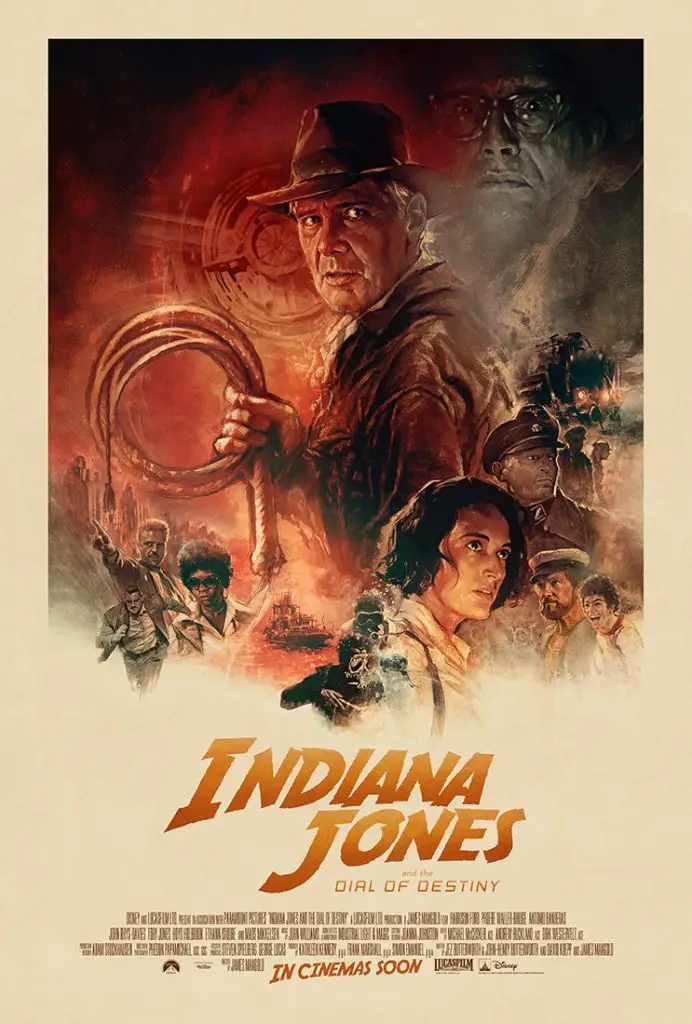 What do you think of the trailer and poster? Are you excited about this new Indy outing? Share your thoughts and opinions in the comments below!