Shanghai, April 8, 2023 – Shanghai Disney Resort is inviting guests, Cast and community members to celebrate the beauty of nature with fun and inspiring activities in April throughout Earth Month. For the first time ever, the resort is celebrating Shanghai Bird Loving Week with the launch ceremony of the 42nd Shanghai Bird Loving Week hosted at the resort's beautiful wetland Wishing Star Park, in partnership with Shanghai Forestry Bureau and Shanghai Wildlife Conservation Association. Building on Shanghai Disney Resort's commitment and efforts in wildlife and environment protection, Wishing Star Park provides a natural environment for plants, fish, and animals, including 121 different species of bird that have been recorded over the past eight years. The resort also introduced a new Wishing Star Park Bird Watching Map, providing guests with a guide to exploring the wide range of bird species and their habitats in the park.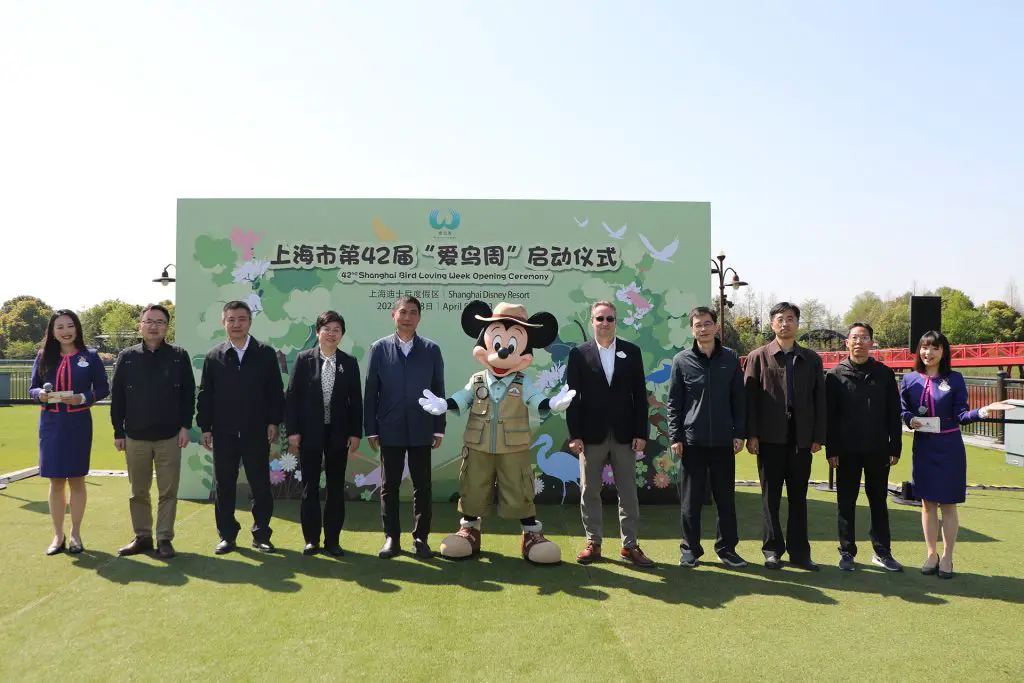 Leaders from Shanghai Disney Resort along with representatives from the National Forestry and Grassland Administration in Shanghai Forest Resources Supervision Commissioner's Office, Shanghai Landscaping and City Appearance Administrative Bureau (Shanghai Forestry Bureau), Shanghai Municipal Bureau of Ecology and Environment, Shanghai Forestry Station, as well as the Shanghai Wildlife Conservation Association, etc. attended the launch ceremony this morning and joined in a special moment releasing rehabilitated birds into the wild. During the ceremony, Ma Zhijun, President, Shanghai Wildlife Conservation Association launched the "Bird Loving Initiatives," encouraging all to take action to protect birds while fostering biodiverse environments for different species of birds and reinforcing the importance of preserving our planet's natural heritage for future generations. Yang Chufeng, Station Director, Shanghai Forestry Station presented a certificate to Shanghai Disney Resort for the resort's contribution to Shanghai Bird Loving Week, recognizing the resort's relentless efforts for wildlife protection and recovery.

Having a variety of bird species is an important barometer of the health of an ecosystem, and Shanghai Disney Resort is committed to conserving natural habitats for wildlife in the design and maintenance of Wishing Star Park. The creation of the park made new habitats for wildlife, and as part of the resort's commitment to wildlife protection, Wishing Star Park has a long and established history of collaborative bird monitoring of these habitats. Over the last eight years, 121 different species of birds and over 30,000 individual birds have been identified at this wetland park. These efforts are another example of a commitment we call Disney Planet Possible, actions we are taking to support a healthier planet for people and wildlife around the globe.

Created in partnership with Disney's Animals, Science and Environment, the newly launched Wishing Star Park Bird Watching Map provides guests with detailed information about select bird species that can be spotted throughout the park. As a brand-new initiative during this year's Earth Month, the map is available at Wishing Star Park's east and west entrances starting from April 8. The resort Cast Members will also give a detailed introduction of the map at the Celebrate Earth – Bird Loving Fair, hosted at Disneytown on April 8 and 9 featuring a range of entertaining and interactive activities from various nonprofits and partners, such as a bird nest DIY workshop, bird specimen exhibition and habits introduction.

As guests discover more about the world of birds and biodiversity at Wishing Star Park during Earth Month, they can also be fully immersed in this remarkable wildlife habitat and nature destination for urbanites. By providing a series of delightful and educational activities for guests to indulge in during the 42nd Shanghai Bird Loving Week, Shanghai Disney Resort invites all to be a part of this joyous celebration and join in caring for the planet we call home.