Rogers: The Musical is coming to the Hyperion Theater at Disney California Adventure. This fictional musical that was seen on the Marvel Studios series Hawkeye will now be a real musical that guests will be able to see for a limited time starting on June 30, 2023.
After debuting in Hawkeye, a musical number Save the City from Rogers: The Musical was shown at D23 Expo last year by Kevin Feige, President of Marvel Studios. This song is about The Battle of New York as seen in The Avengers. Since then, fans have been wishing and hoping for this performance that was seen at D23 Expo to become a musical at the Hyperion Theater. Earlier this spring, it was confirmed that this would indeed be happening with a teaser that included Peggy Carter.
Now, with the announcement of June 30, 2023 as the official debut date for Rogers: The Musical those homes and dreams have become even more real. The new limited-run musical is being presented during the Disney100 celebration at the Disneyland Resort. Along with a release date for the musical, concept art and a logo was released.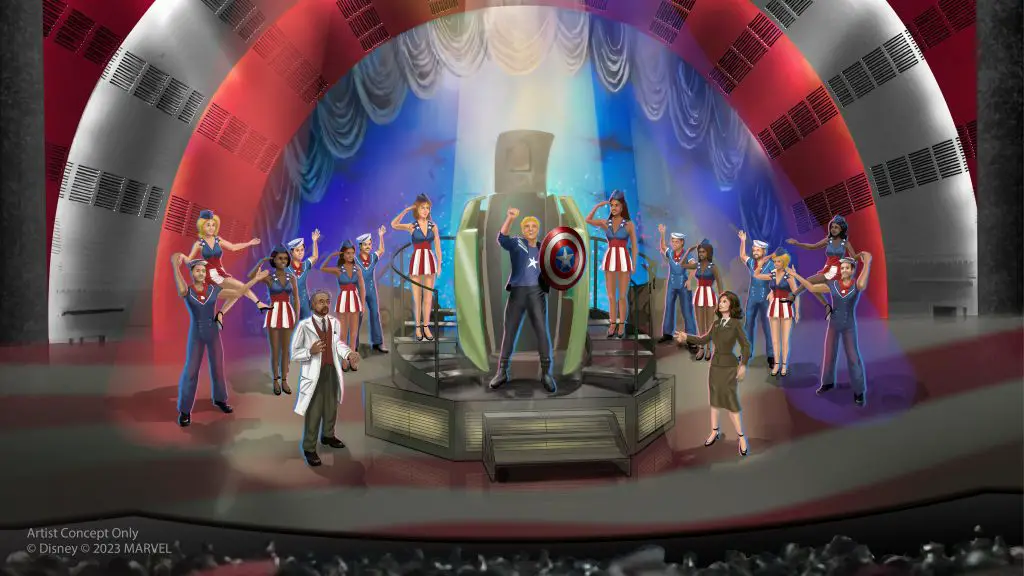 The production will tell the story of Steve Rogers in the way only a musical can. Captain America himself will also be joined by his love Peggy Carter as well. Nick Fury and other select members of the Avengers will also be included. It will include a cast of singers and dancers that brings the story to life. The Disney Parks Blog shares that it will begin with "Steve's humble beginnings during World War II to becoming Captain America, leading the Avengers and beyond. It's a classic tale of heroes, time travel, and romance, oh … and Nick Fury sings!"
The show will have a couple of recognizable songs. Save the City from Hawkeye will be included along with Star Spangled Man from Captain America: The First Avenger. There will also be five other songs that are written specifically for this musical.
The length of Rogers: The Musical is approximately 30 minutes. It will be running from Tuesday through Saturday on most weeks. There will be more details about show dates and times along with merchandise and food and beverage offerings that are all themed to Rogers: The Musical at a date closer to the opening. Daps Magic will continue to follow this story and provide updates as they become available.
What do you think about the arrival of Rogers: The Musical on June 20, 2023? Are you excited about it? Will you be seeing it? Share your thoughts and opinions in the comments below!