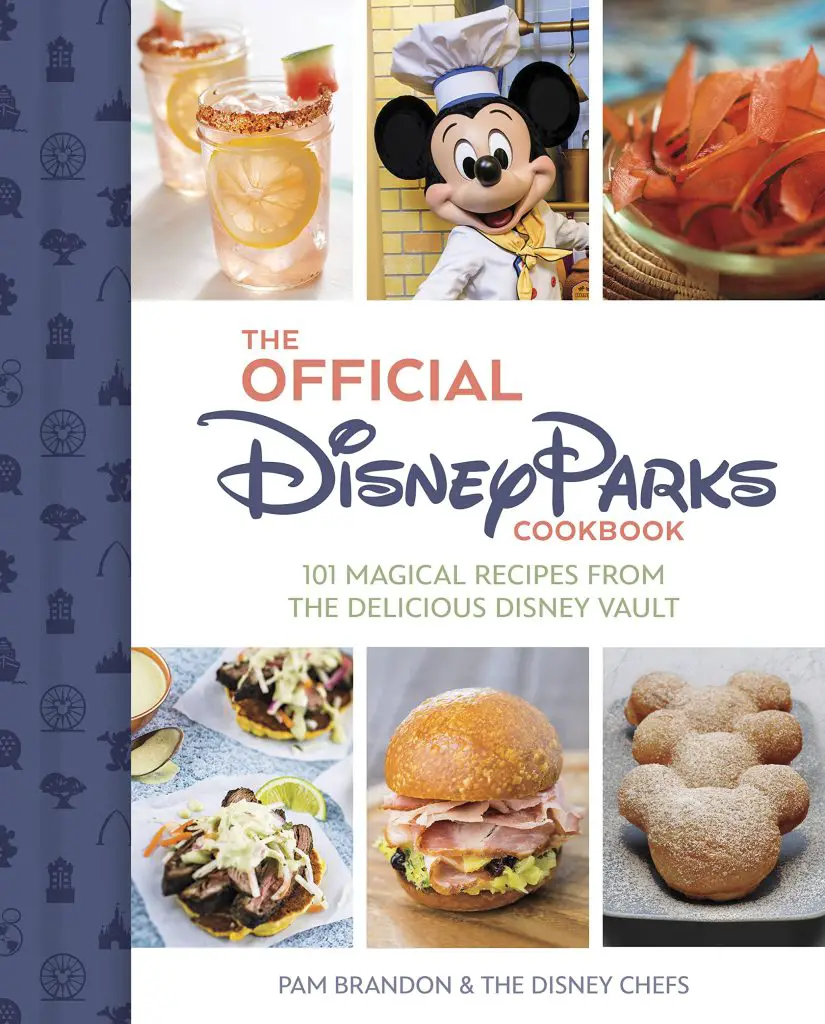 A new cookbook has been released that brings recipes from favorite foods in the Disney Parks to home kitchens. The Official Disney Parks Cookbook: 101 Magical Recipes from the Delicious Disney Vault was officially released on February 7, 2023. This has recipes that span the different parks and the different magical experiences that are offered. From the grey stuff in the Magic Kingdom to the Dagobah Slug Slinger in Star Wars: Galaxy's Edge, there are plenty of different culinary delights to bring some Disney magic home. The cookbook retails for $19.99 but at the time of this post going live, it is on sale for $13.99 here.
The Official Disney Parks Cookbook: 101 Magical Recipes from the Delicious Disney Vault Description
Some of the best vacation moments happen during a great meal, and this collection of official Disney parks recipes is the perfect ingredient to sharing similar food, love, and laughter with friends and family at home!

For more than twenty-five years, Pam Brandon has worked closely with the Disney chefs to thoughtfully take the best dishes from Disney theme parks and resorts and serve up official recipes that are just right for prepping on a smaller scale in home kitchens and tested by real home chefs. Now comfy classics, festival favorites, and international cuisines are whisked together and presented in this bright collection from the Delicious Disney recipe vault.

Filled with personalized notes from the chefs who created and enhanced them, mouthwatering food photos, helpful hints for easy preparation, and, of course, a little Disney magic, this cookbook enchants with 101 tried-and-true recipes from across the years.


You'll find an assortment of appetizers, main courses, sides, desserts, and even joyful libations that have come from fine-dining and quick-service establishments and have wowed guests of the Disneyland Resort; Walt Disney World Resort; Disney Cruise Line ships; and Disney Vacation Club resorts, including:

Dagobah Slug Slinger
Watermelon Lemonade
Chef Mickey's Breakfast Pizza
Pork Goulash Pierogi
Flame Tree Barbecue Sauce
Holiday Ham Slider with Pineapple Cherry Jam
Mickey Mouse Beignets
Rainbow Sprinkle Whoopie Pies
Grey Stuff
About the Author
Pam Brandon is the author of 20 Disney cookbooks, including the "2017 Disney Festivals Coast to Coast," on bookshelves in August, and "Delicious Disney" with recipes from Disneyland Park, Walt Disney World Resort, Disney Cruise Line and Aulani, on bookshelves in late 2018. Brandon also is a food writer for the Disney Parks Blog. She began her career as a senior publicist for Walt Disney World Resort in 1987 and has worked on public relations' food & beverage projects for Disney parks around the globe for the last 20 years, including the opening of Shanghai Disney. She also was a contributing editor to the Disney Birnbaum guidebooks for more than 10 years. Beyond Disney, she is the co-author of "Culinary Confessions of the PTA Divas" and two Florida cookbooks, the award-winning "Field to Feast, Recipes Celebrating Florida's Farmers, Chefs and Artisans" and "Good Catch, Recipes & Stories Celebrating the Best of Florida's Waters." She also is managing editor of Edible Orlando magazine. Brandon resides in Winter Park, Fla.
The Official Disney Parks Cookbook: 101 Magical Recipes from the Delicious Disney Vault is available now and can be ordered on Amazon. What do you think of this cookbook? Have you purchased any of the cookbooks from the parks before? What has been your experience? Share your thoughts and opinions in the comments below!
This article includes affiliate links that help support Daps Magic.