Last year at the D23 Expo, the Disney Treasure was announced as the next ship that is being built for the Disney Cruise Line. This ship is scheduled to take its maiden voyage in 2024. Before that happens, however, there is a lot to be done in creating this new liner. Thanks to Ems-Dollart Media, fans of this new ship can see this ship's origins and see it come together.
Two months ago, Ems-Dollart Media shared the arrival of the first section of the Disney Treasure arriving at Meyer Werft, where this magnificent ship will be built.
Six days ago, the funnel and bow thrusters arrived at Meyer Werft. Ems-Dollart Media shared a video of this as well.
Yesterday, midsections for the ship began to arrive at the shipyard. These will come together to make the Disney Treasure the next floating bastion of magic for the Disney Cruise Line.
The Disney Treasure, as have ships for the Disney Cruise Line before her, is being being built at the Meyer Werft in Papenburg, Germany. Most recently the Disney Wish was built there. The Disney Treasure will have a theme of adventure. Disney revealed what the Grand Hall for the Disney Treasure will look like at the 2022 D23 Expo. This includes a magic carpet ride statue with Aladdin and Jasmine on board.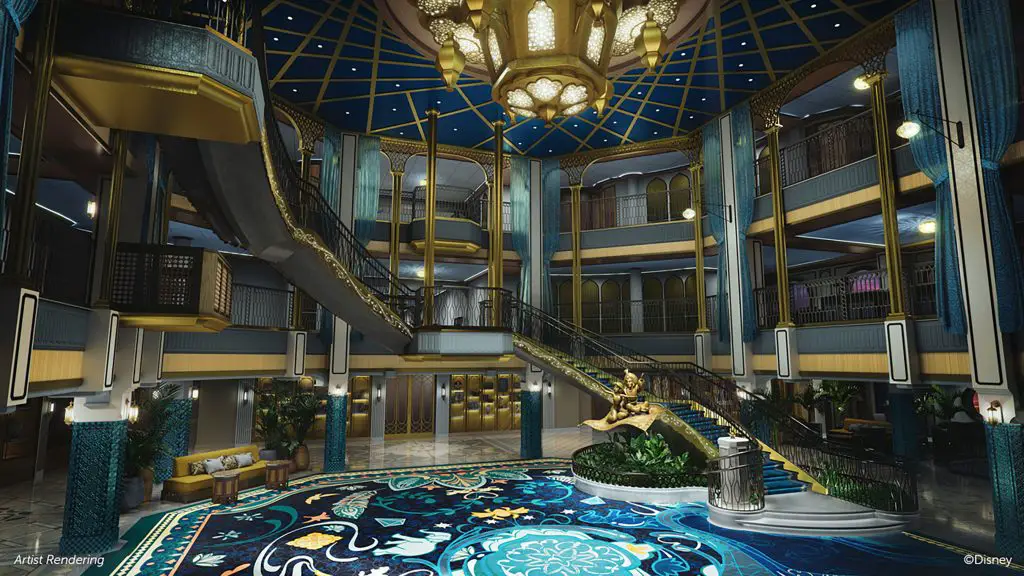 The Grand Hall will be full of inspirations of adventure. It will be inspired by the "mystery of a gilded palace, it draws on real-world influences from Asia and Africa and pays homage to the far-off land of Agrabah" from Disney's Aladdin.
The Disney Treasure is scheduled to be delivered to Disney Cruise Line in 2024. It is the second of three new ships being built by Meyer Werft for the Disney Cruise Line. It is powered by liquefied natural gas and will have 1,254 guest staterooms when completed. Disney also recently purchased a new ship that was mostly completed. With this purchase came the announcement that the Disney Cruise Line would be visiting new markets. A name for this ship has not been revealed yet.
Are you excited about the Disney Treasure? What do you think of its theme of adventure? Do you have a favorite ship in the Disney Cruise Line fleet? Could this become a new favorite? Share your thoughts and opinions in the comments below!