This morning, a first look was given of Disney100: The Exhibition at The Franklin Institute. Good Morning America showed a video of Mickey Mouse and Walt Disney sharing how the magic is made.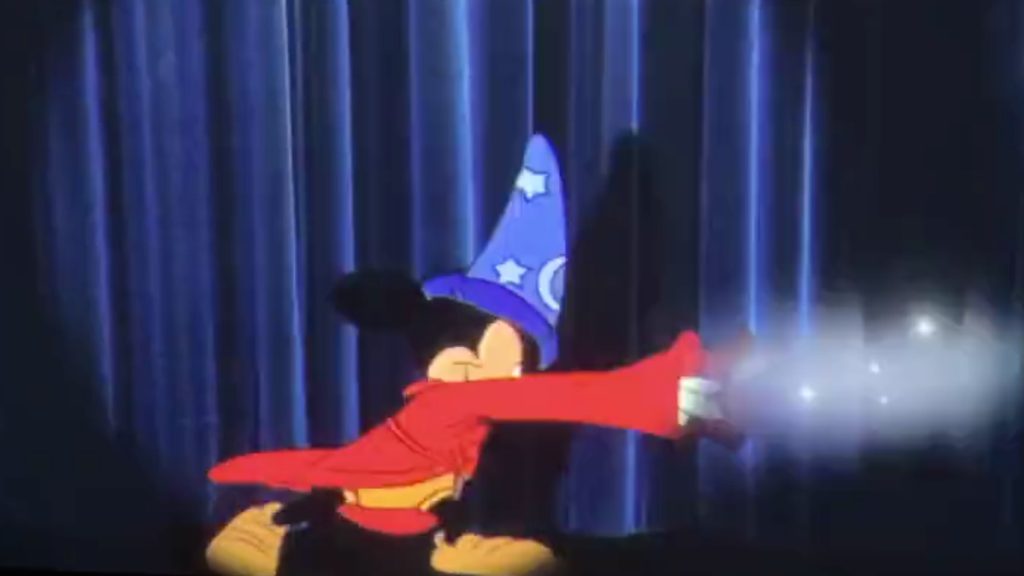 The moment begins with Sorcerer Mickey Mouse saying "Here's my pal, Walt, sharing how the magic is made!" As he says this, he uses magic to bring Walt Disney to life in front of the curtains. A holographic recreation of Walt Disney then shares some thoughts about how the magic is made. It is very much a recreation of Walt Disney introducing something in the old World of Color TV shows. Becky Cline, director of the Disney Archives said, "I get goose bumps every time I see it."
D23 released a video of this magical moment that can be seen here:
The hologram of Walt Disney was created through the use of archival footage and also artificial intelligence. This was reported earlier this week by the New York Times. It is just one of the many magical things that will be experienced when guests visit The Franklin Institute for Disney100: The Exhibition. Cline explained the reasoning behind this recreation of Disney saying, "there are people in this world who don't realize that Walt was a real person." She continued, "We want to make sure that everyone knows that our company was founded by real people — creative storytellers. Because that is so important to everything we do at Disney."
Disney100: The Exhibition officially launches its World Tour at The Franklin Institute in Philadelphia, PA on February 18, 2023, This will be followed by destinations that include Chicago, IL, Kansas City, MO, and internationally in Munich, Germany in April.
"As we prepare to kick off Disney 100 Years of Wonder, we are incredibly excited to bring this fantastic exhibition to life," said Becky Cline, director, Walt Disney Archives. "We can't wait for guests to experience their favorite Disney stories, characters, and attractions in new and immersive ways as we celebrate all the wonderful worlds of Disney."
Here is the official description:
Over the past 100 years, Disney has brought its iconic stories and characters to life in new and innovative ways, becoming part of the global culture and creating generations of memories for billions.

Disney100: The Exhibition invites guests to step into their favorite stories using innovation and immersive technology throughout ten galleries in the 15,000-square-foot exhibit. The Walt Disney Archives opens its vault of treasures, showcasing hundreds of extraordinary objects, including Disney's "Crown Jewels" – more than 250 rarely-seen original artworks and artifacts, costumes and props, and other memorabilia.
The exhibit includes:
10 immersive galleries with visual, audio, and interactive elements that create unique experiences
Authentic film props such as Cinderella's Swarovski glass slipper from the 2015 live-action film, Jack Sparrow's compass from the Pirates of the Caribbean film franchise and Luke Skywalker's lightsaber used by Daisy Ridley in Star Wars: The Rise of Skywalker (2019)
Large selection of sketches and three-dimensional models from animators showing the journey of characters and stories from concept to screen
Celebrates the Disney classics as well as the latest members of the Disney family including Pixar, Star Wars, Marvel, and National Geographic
Recently, D23 unveiled 23 of the items that will appear at Disney100: The Exhibition were shared by D23 ahead of the opening of the exhibit. The exhibit will include a collection of over 250 of the "Crown Jewels" from The Walt Disney Gallery. They highlight the legacy that Walt Disney started 100 years ago with the founding of The Walt Disney Company in 1923. They include:
Story Script Page from Steamboat Willie (1928)
Visual Development Art for Alice in Wonderland (1951), created by artist and Disney Legend Mary Blair*
Concept Drawing of Disneyland by artist and Disney Legend Herb Ryman, graphite on paper (1953)*
Nautilus Special Effects Filming Model for 20,000 Leagues Under the Sea (1954)
Engineer Mickey Mouse used by Walt Disney on Opening Day of Disneyland, 1955
Disneyland® Park Jungle Cruise Attraction Vehicle Model used by Walt Disney, "A Trip Through Adventureland/Water Birds" – Disneyland (TV, 1956)
Prop Storybook featured in Sleeping Beauty(1959)
Clean-up Animation for Sleeping Beauty (1959), created by artist and Disney Legend Marc Davis*
Carousel Horse from Mary Poppins (1964), used by Disney Legend Julie Andrews
Visual Development Art for The Little Mermaid (1989), created by artist and Disney Legend Glen Keane*
Genie Maquette for Aladdin (1992), created by artist Kent Melton
Spell Book from Hocus Pocus (1993), used by Disney Legend Bette Midler
Mater Maquette for Cars (2006), created by artist Jerome Ranft
East High School Yearbook from High School Musical 3: Senior Year (2008)
Visual Development Art Digital Painting for The Princess and the Frog (2009), created by artist Sue Nichols
Visual Development Art Digital Painting for Frozen (2013), created by artist Julia Kalantarova
BB-8 Puppet used in Star Wars: The Force Awakens (2015), Star Wars: The Last Jedi (2017), and Star Wars: The Rise ofSkywalker (2019)
Captain America Shield used in Captain America: Civil War (2016)
Lumière Production Model for Beauty and the Beast (2017)
First Order Stormtrooper Armor from Star Wars: The Last Jedi (2017) and Star Wars: The Rise of Skywalker (2019), designed by Michael Kaplan and Glyn Dillon
Black Panther Costume from Black Panther (2018)
Cinderella Castle Model for Magic Kingdom® Park at Walt Disney World® Resort
Attraction Vehicle from Matterhorn Bobsleds at Disneyland Park
*Reproduction of the original
President and CEO of The Franklin Institute Larry Dubinski shared, "The Franklin Institute is thrilled to host Disney100: The Exhibition, the first major event to mark the global celebration of Disney's 100 years, allowing fans throughout the Philadelphia region and beyond the very first opportunity to see these crown jewels come to life in beautifully crafted galleries reflecting the creative empire synonymous with imaginative storytelling, innovation, discovery, and wonder."
Disney100: The Exhibition will be opening to the public on March 18, 2023. Tickets can be purchased here. What do you think of The Walt Disney hologram and all the other offerings that will be appearing at Disney100: The Exhibition? Share your thoughts and opinions in the comments below!