Today it was announced that Walt Disney World Resort hotels will be returning to full room cleaning and regular schedules for housekeeping by the end of February. Housekeeping will be cleaning rooms daily or every other day, depending on the location. The full cleaning of rooms includes replacing towels and amenities, cleaning the bathrooms, making the beds, emptying trash and recycling, tidying the room, and vacuuming.  
"Cast members always bring an element of magic and fun to the job that they do!" said Matt N., a planDisney panelist who loves staying at Disney resorts. "From a simple smile when you see them in the hallways, to something special left behind in the room, to a sparkling clean room, Disney housekeepers always go above and beyond."
Sometimes on top of cleaning the rooms, housekeeping will provide extra magic as well. This could include leaving a new Mickey ear hat on display in someone's room or perhaps displaying guests' Disney plushes in the room in a fun way. These are just added personal touches that make a Disney visit that much more magical.
"They go out of their way to make us smile when we return to our room after a busy theme park day," said Amy A., a planDisney panelist. "Setting up my son's stuffed animal with funny sunglasses, tidying up my hair appliance cords, or creating a hidden Mickey in a supply restock — they connect with us and show they care for us, even when we don't see them."
Along with announcing the return of full housekeeping services on a normal schedule, Walt Disney World Resort also announced that new rooms will be debuting at Disney's BoardWalk Inn in the coming weeks. This will feature some themed artwork of Mickey Mouse, Minnie Mouse, and other Disney characters strolling through some of the iconic locations at Disney's BoardWalk Resort.
The return of the full and regular housekeeping services is happening due to the hard work of the cast members who work every day across the Walt Disney World Resort to bring magic and keep things clean and safe.
"I love making those special little touches — that's what it's about," said Duckky, a housekeeping cast member at Disney's BoardWalk Resort. "If I can make somebody smile every day just by walking past and saying 'have a magical day,' that warms my heart. Everything I do here warms my heart."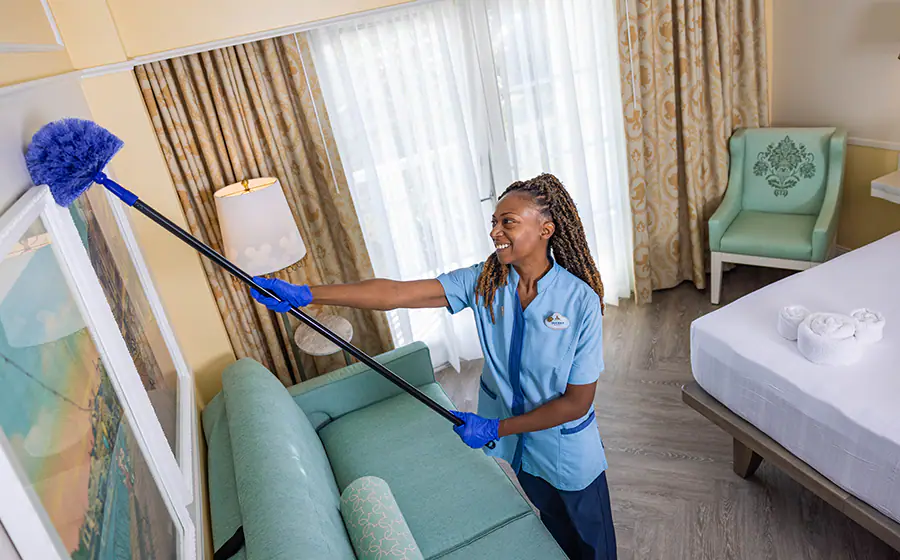 The return of regular and comprehensive housekeeping comes after Walt Disney World Resort also recently brought back complimentary parking to hotel guests. What do you think of the return of full housekeeping on a regular basis? Share your thoughts and opinions in the comments below!