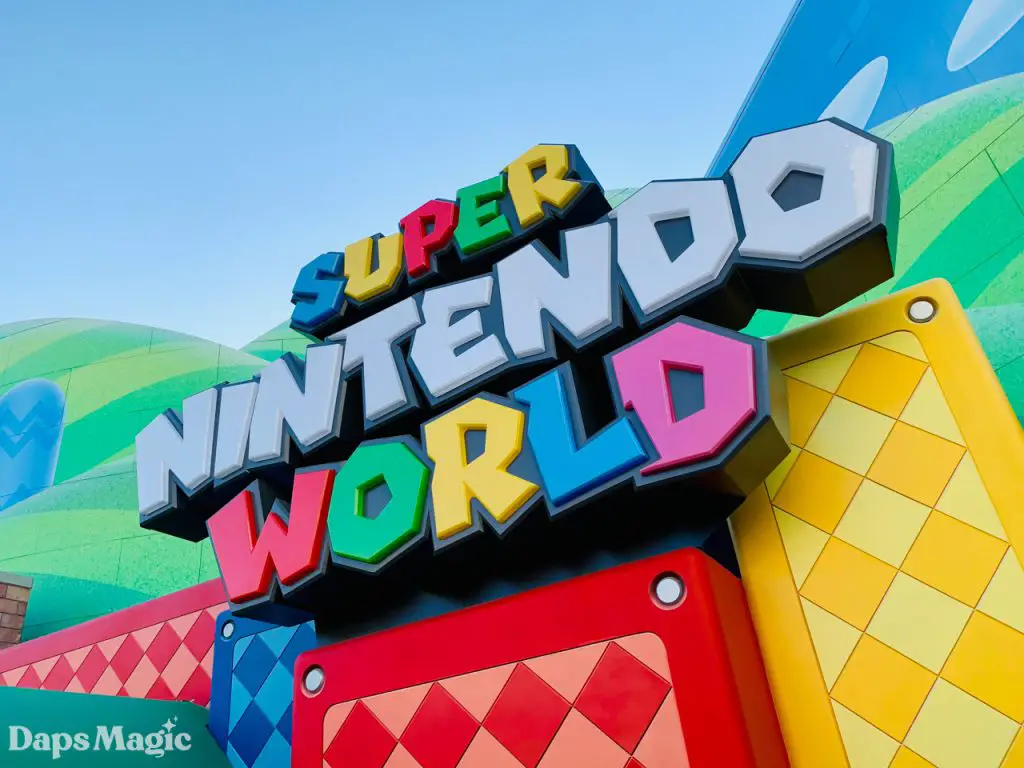 Universal Studios Hollywood will open Super Nintendo World to the public on Friday, February 17. As a special reward for their annual pass holders, a series of preview days were announced, allowing members who successfully registered on line to spend two hours (more or less) in the new land.
Our visit was scheduled for Sunday, February 5, from four o'clock to six o'clock in the evening. As the afternoon wore on, crowds wearing their color coded wristbands made their way to the entrance of Super Nintendo World, in the theme park's Lower Lot.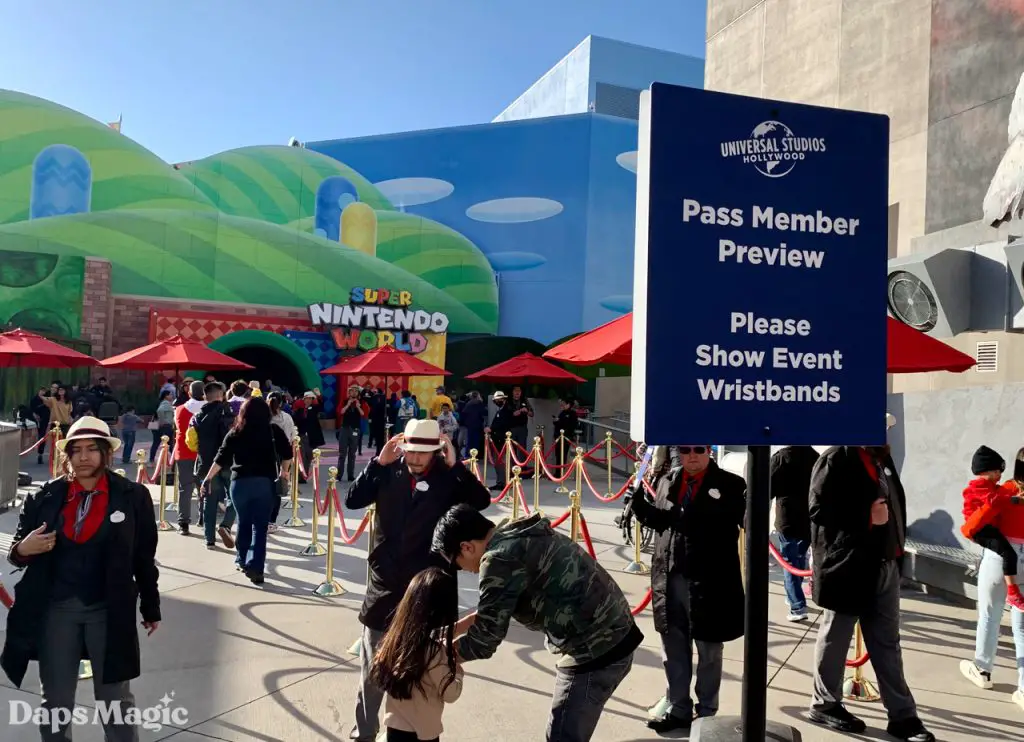 Finally, it was our turn.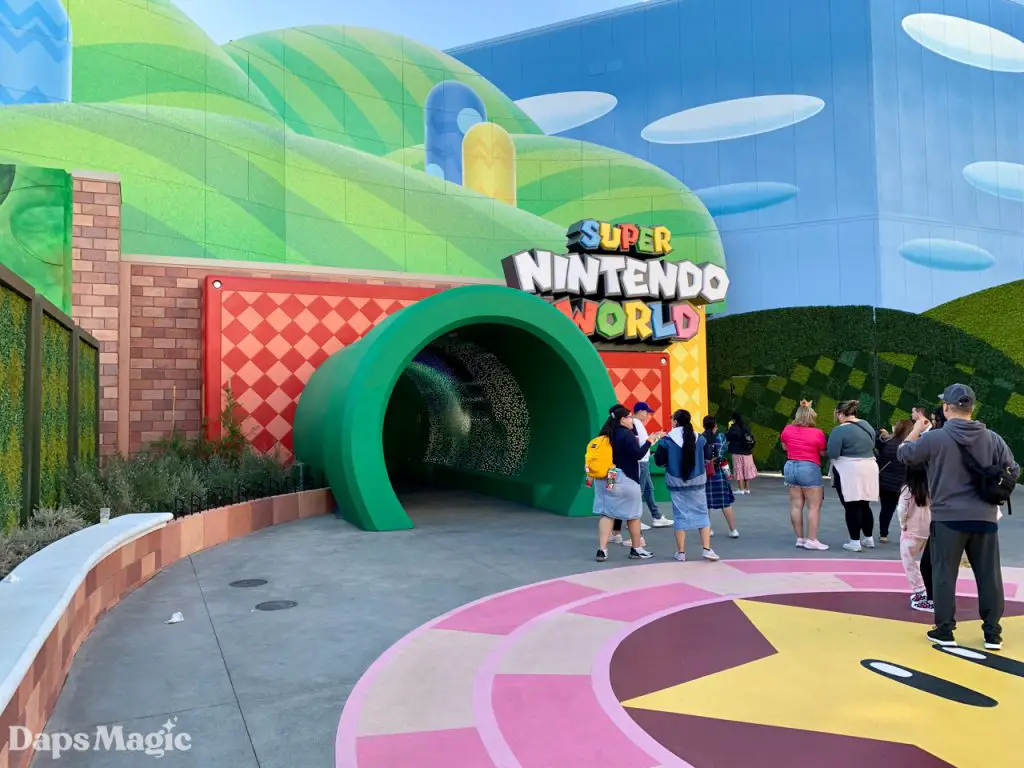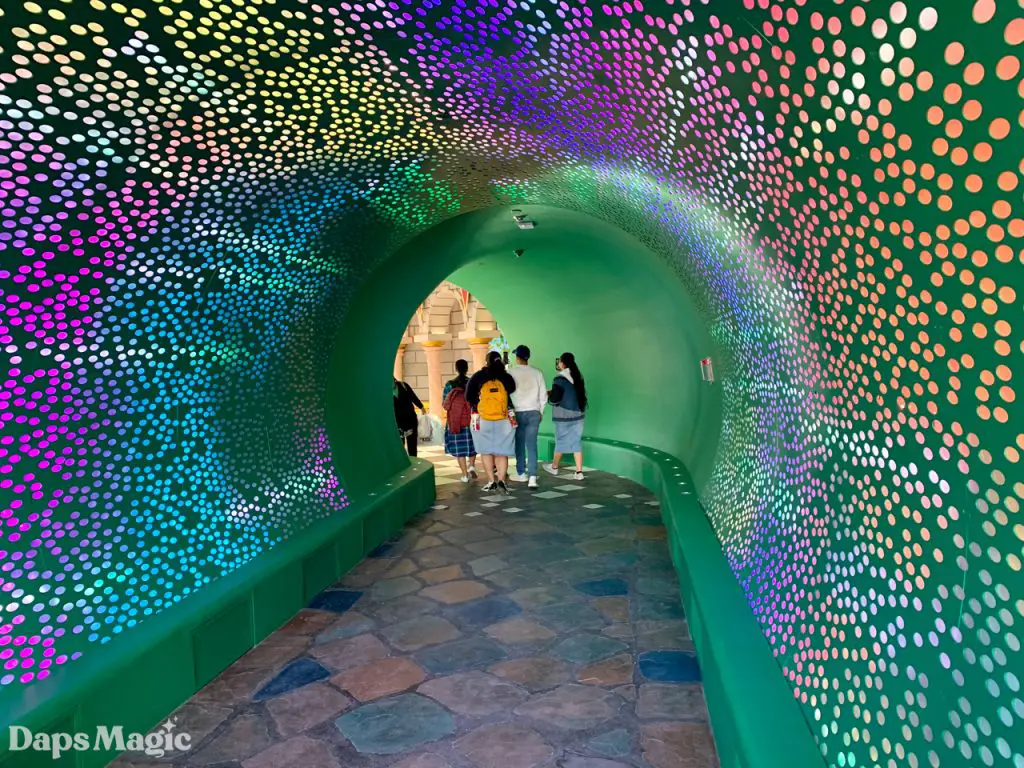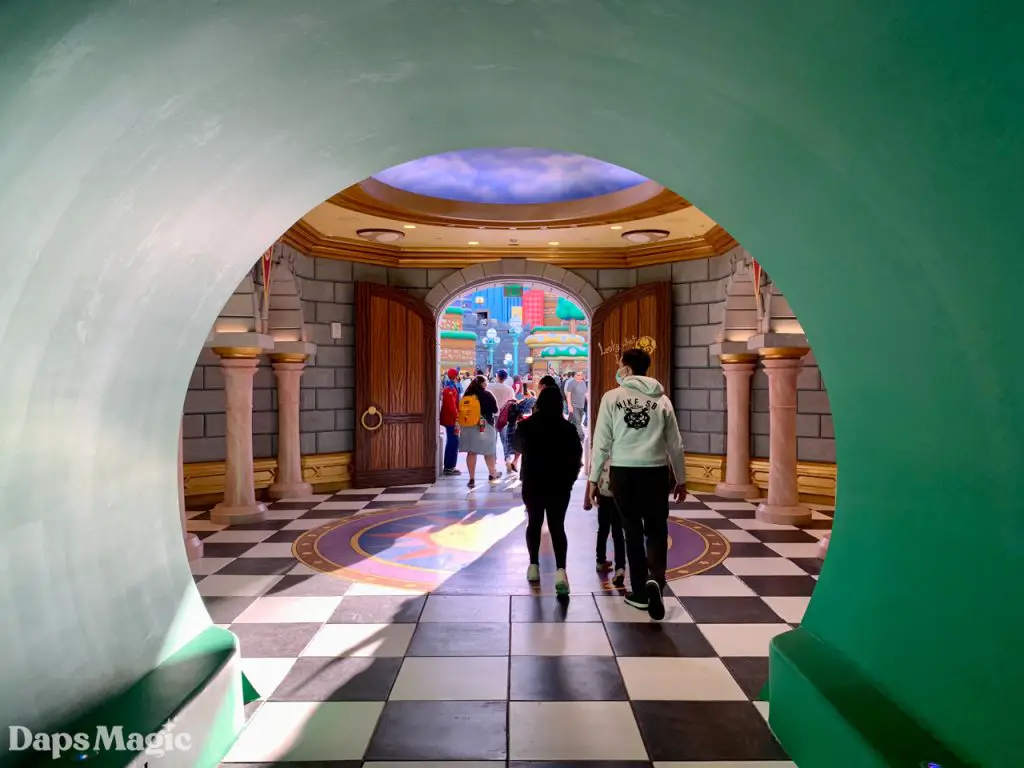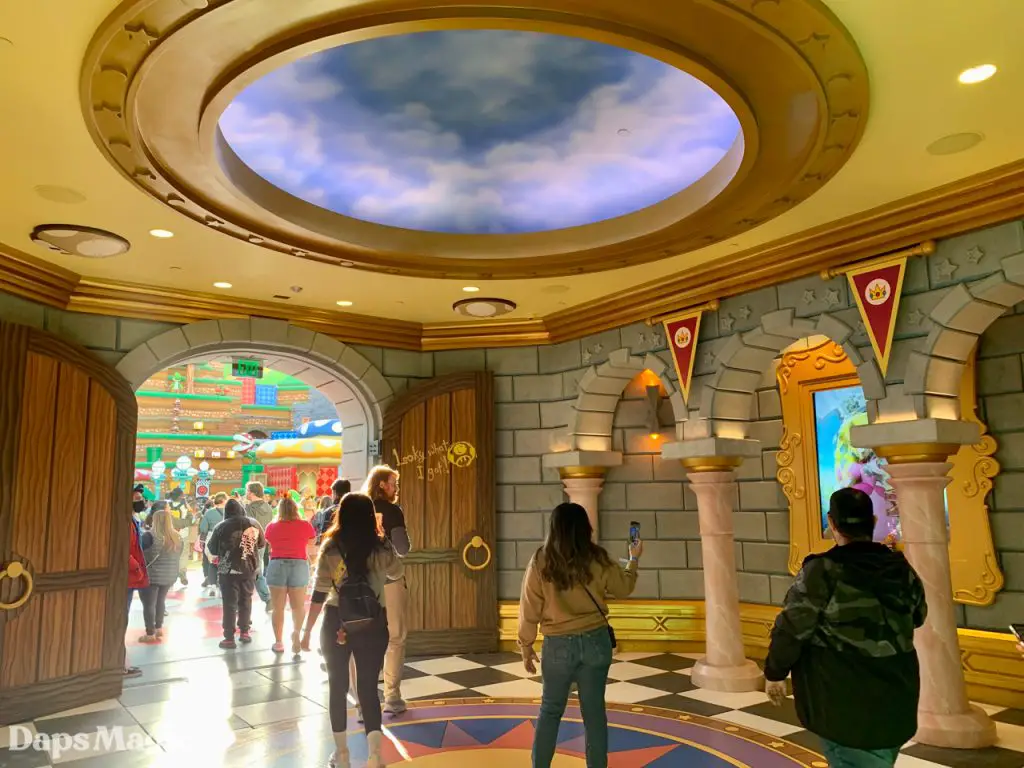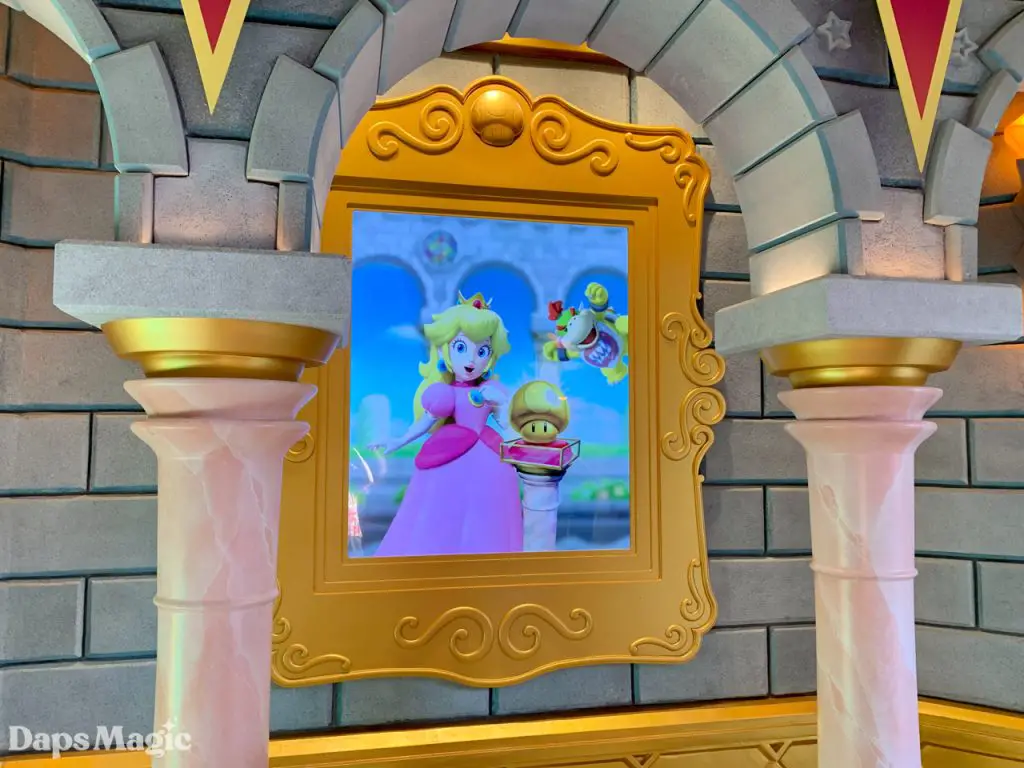 Entrance to the World is, appropriately, through a bright green pipe. After passing through a brief rainbow hued light show, guests emerge in a small but stately gallery in the castle of Princess Peach. Although it is called Super Nintendo World, the intensively themed area and its attractions are based almost entirely on the mythology surrounding the Toadstool Kingdom, its lovely Princess, and the intense rivalry between Mario and Peach's infatuated nemesis, King Koopa (or, as his friends and minions call him, Bowser).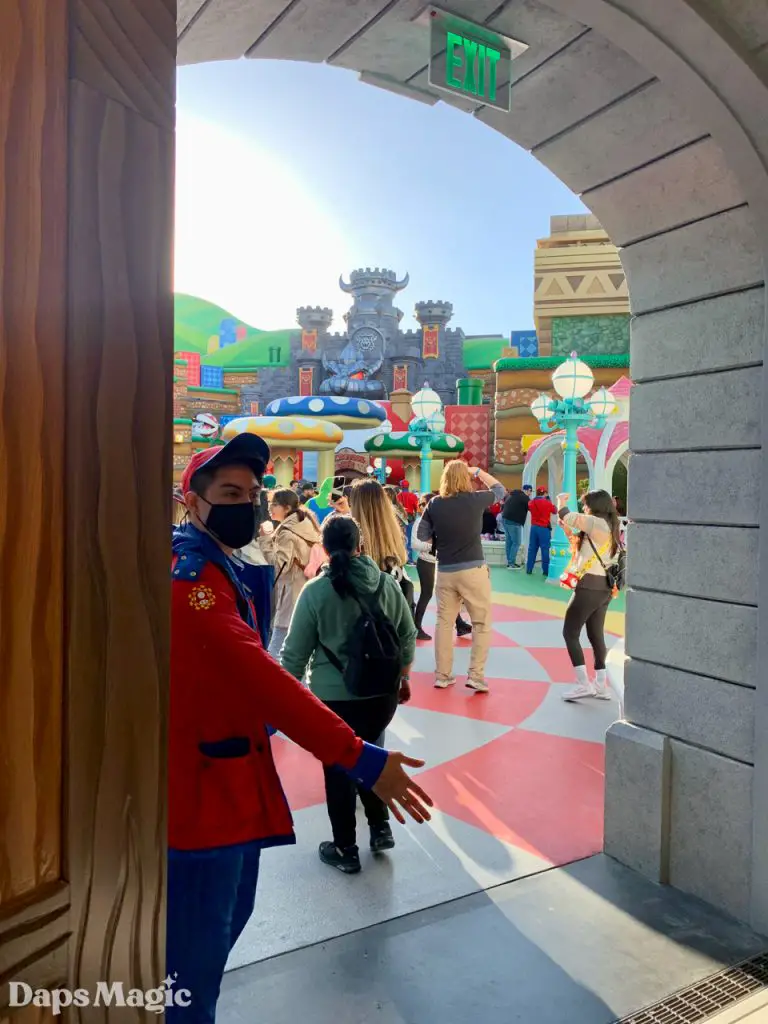 In fact, the most prominent landmark that can be seen as one emerges from the gallery is Bowser's Castle at the far end of Super Nintendo World.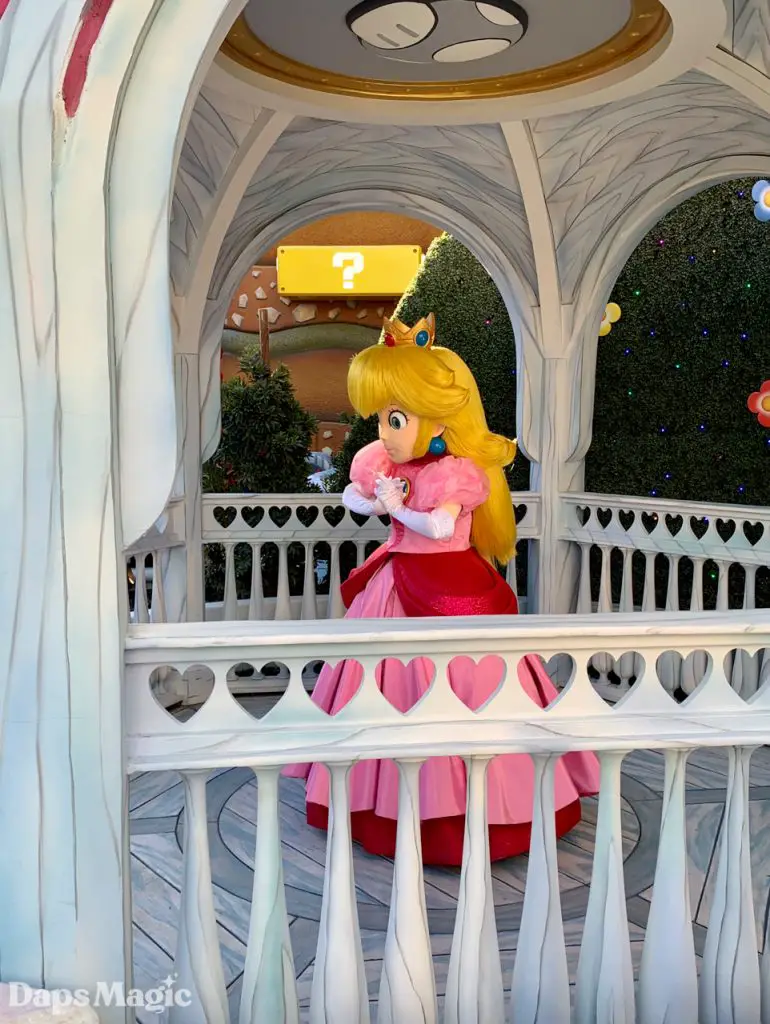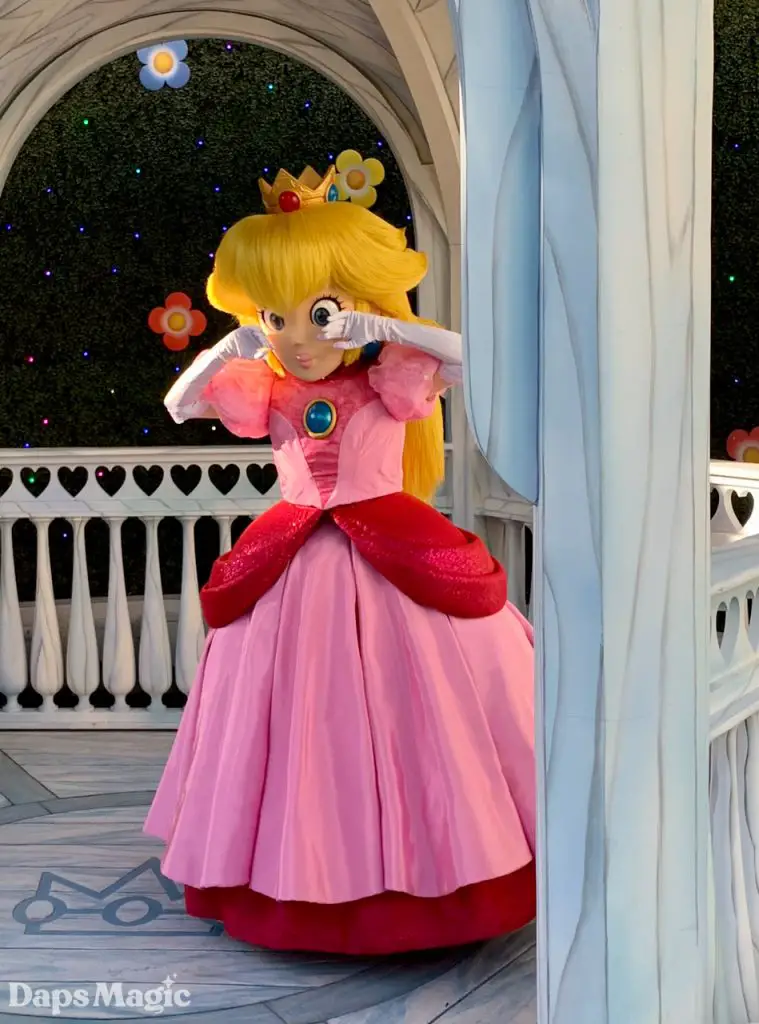 But before exploring, we were treated to the sight of Princess Peach herself, greeting guests in her gazebo, just to the left of her castle.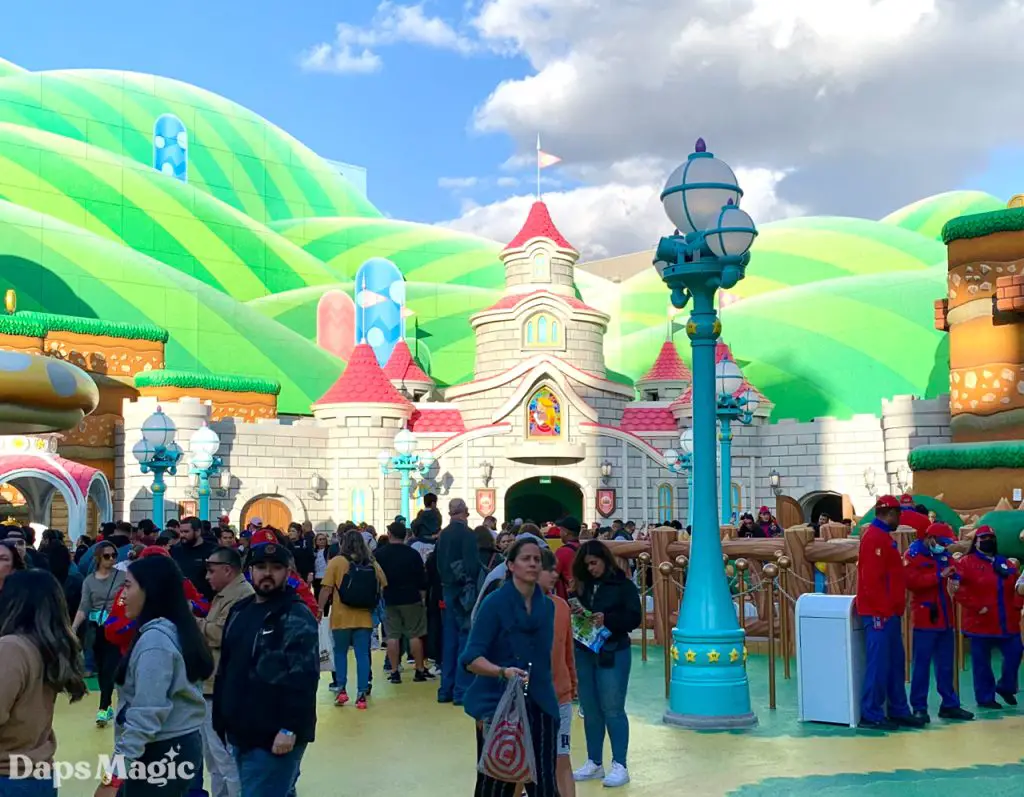 Only after stepping away and turning back can one appreciate the architecture and prominent placement of Princess Peach's castle.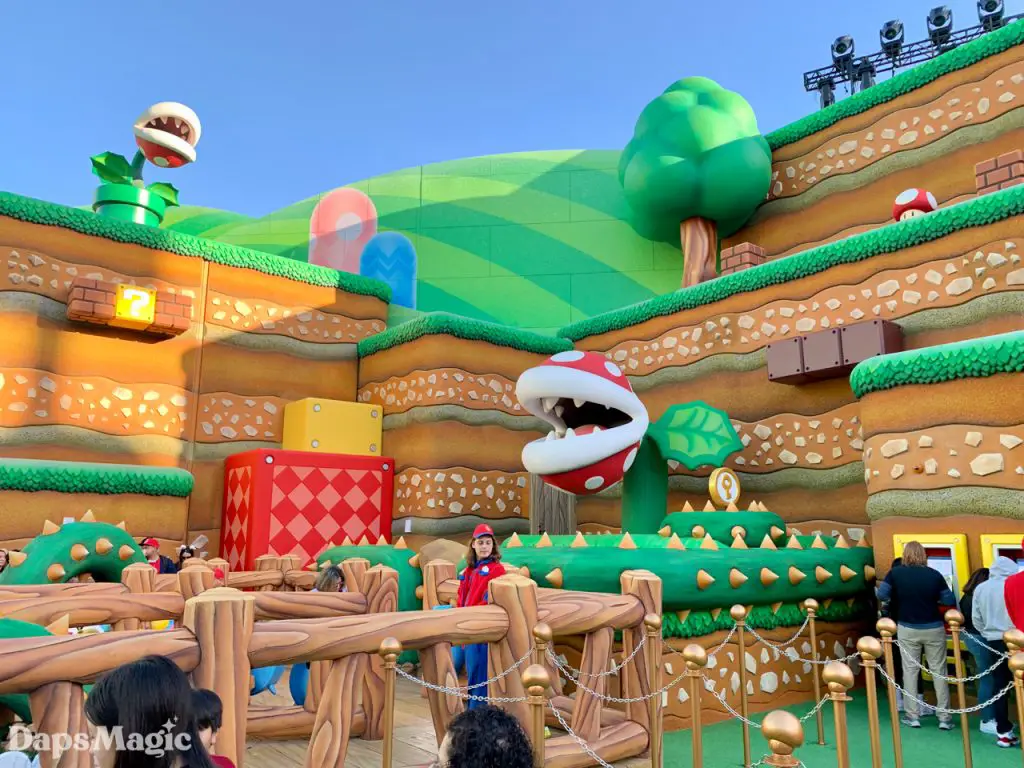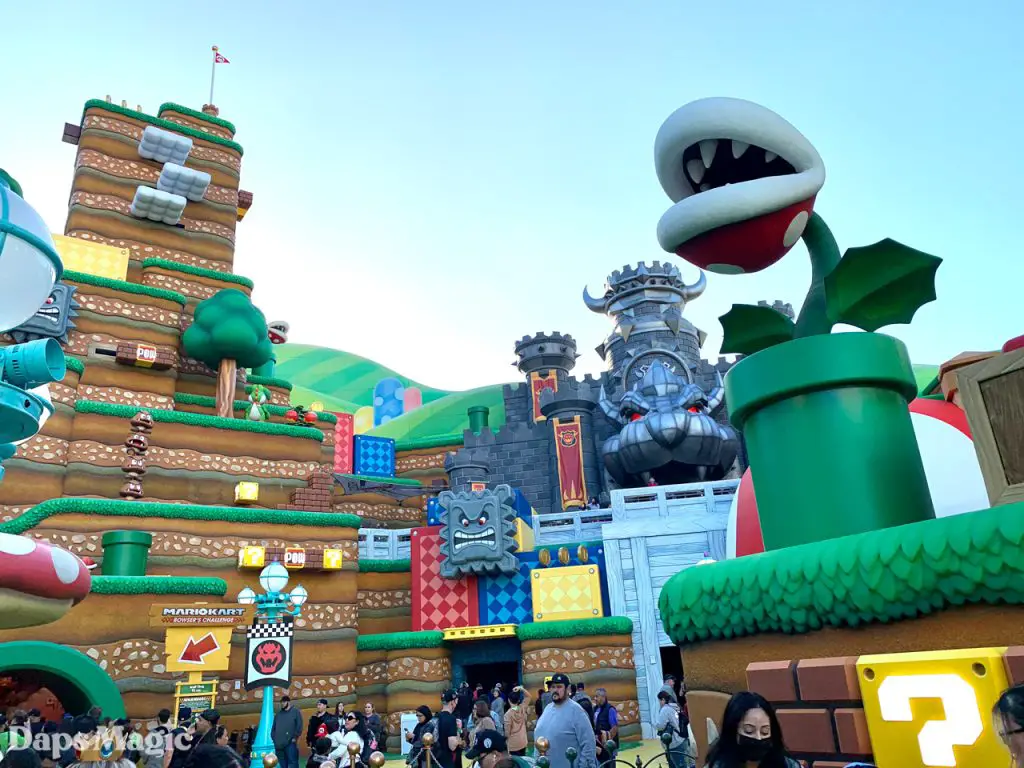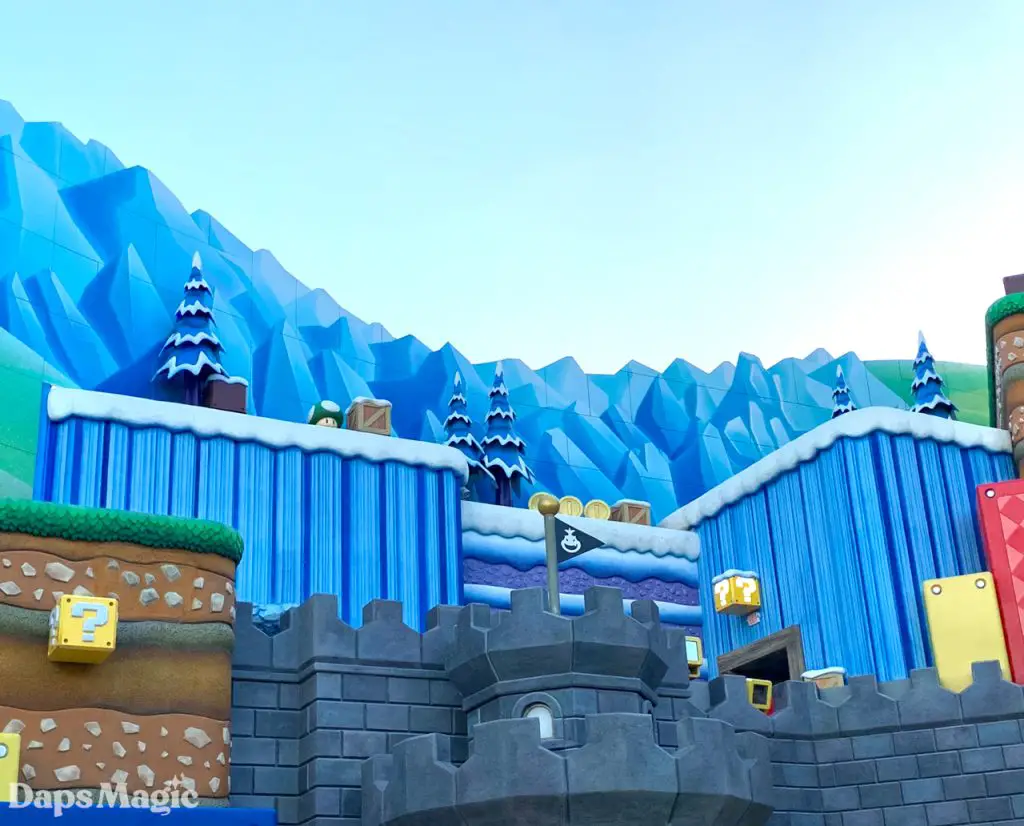 There is much more to see, of course.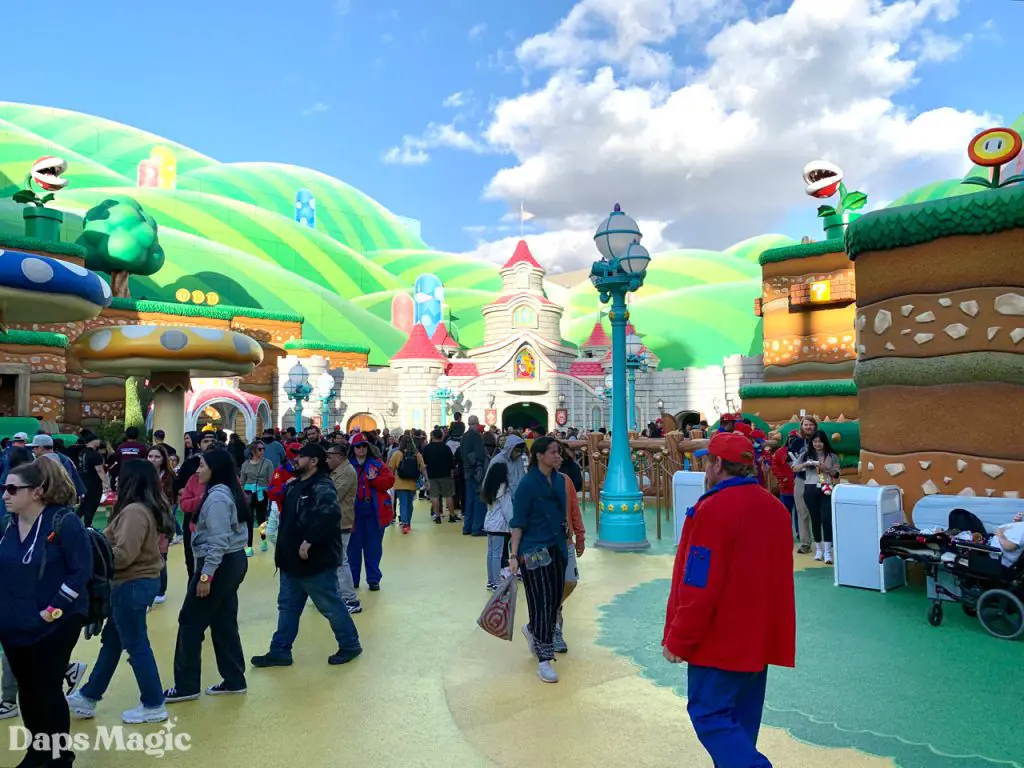 And another view of the castle, from a little further away.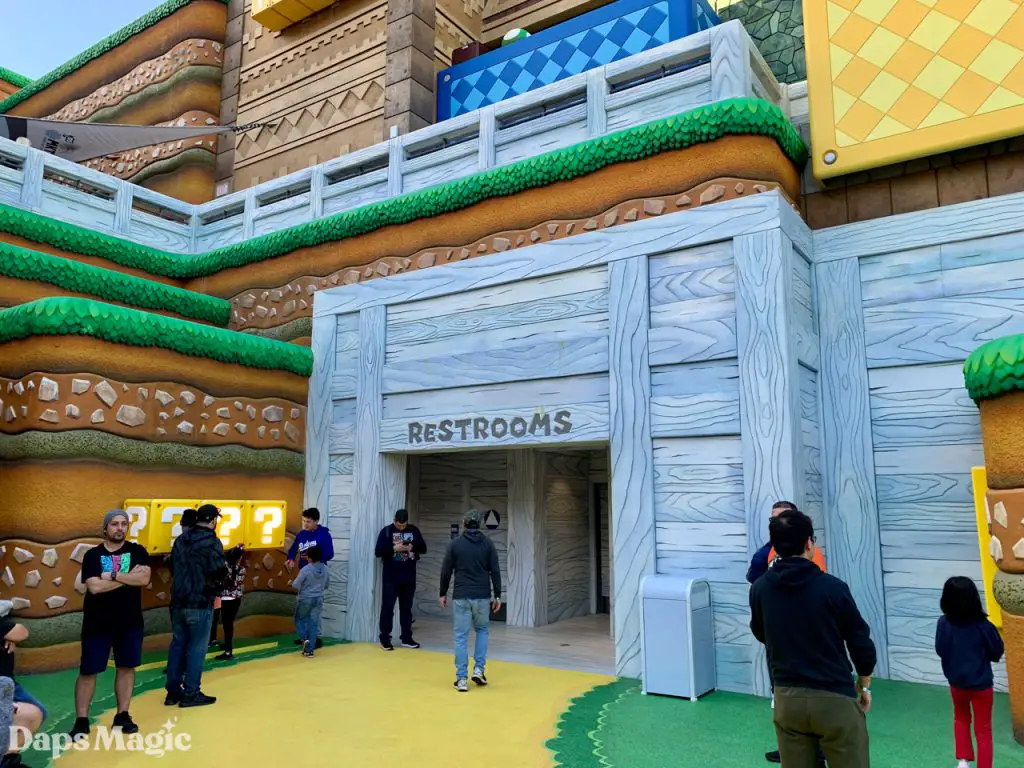 Super Nintendo World has its own restrooms. (And you will have to make a visit yourself to see what they look like inside!)
There is, of course, a gift shop. This is also the exit from the signature attraction, MarioKart: Bowser's Challenge. Inside, all merchandise is themed exclusively to Super Mario World.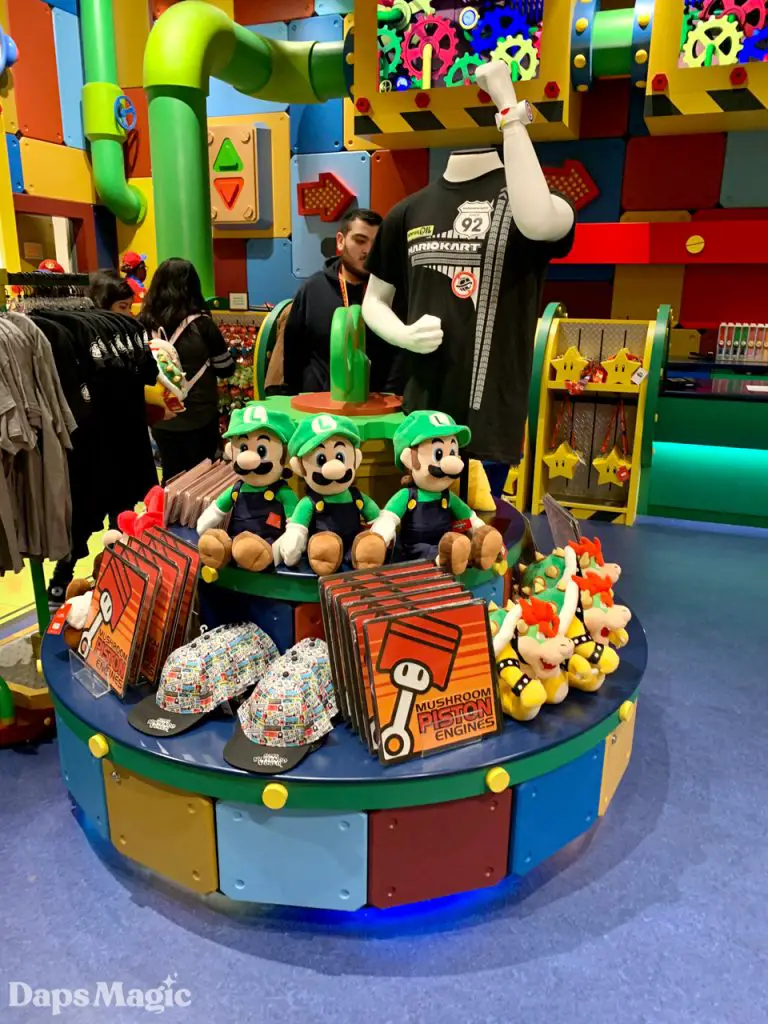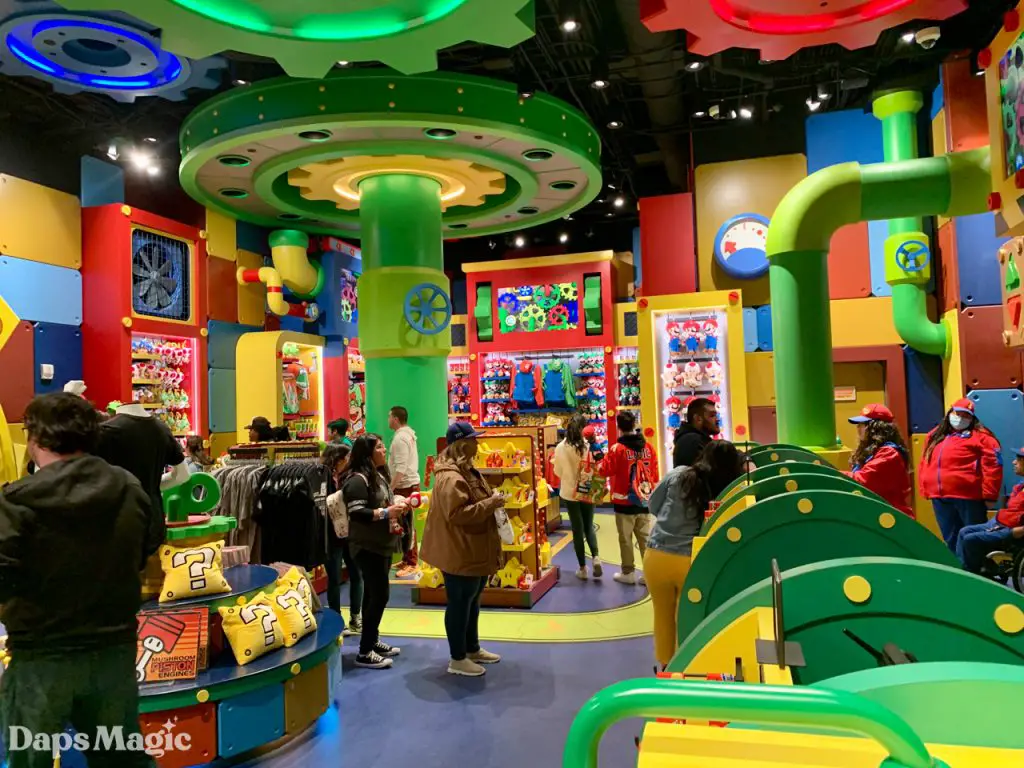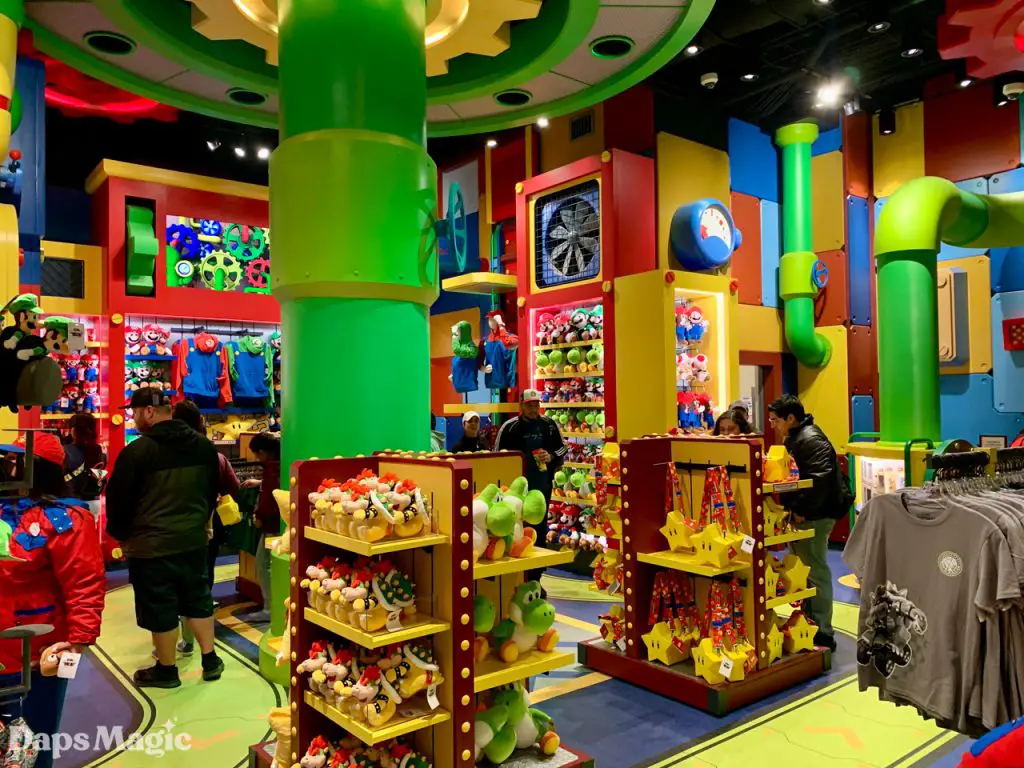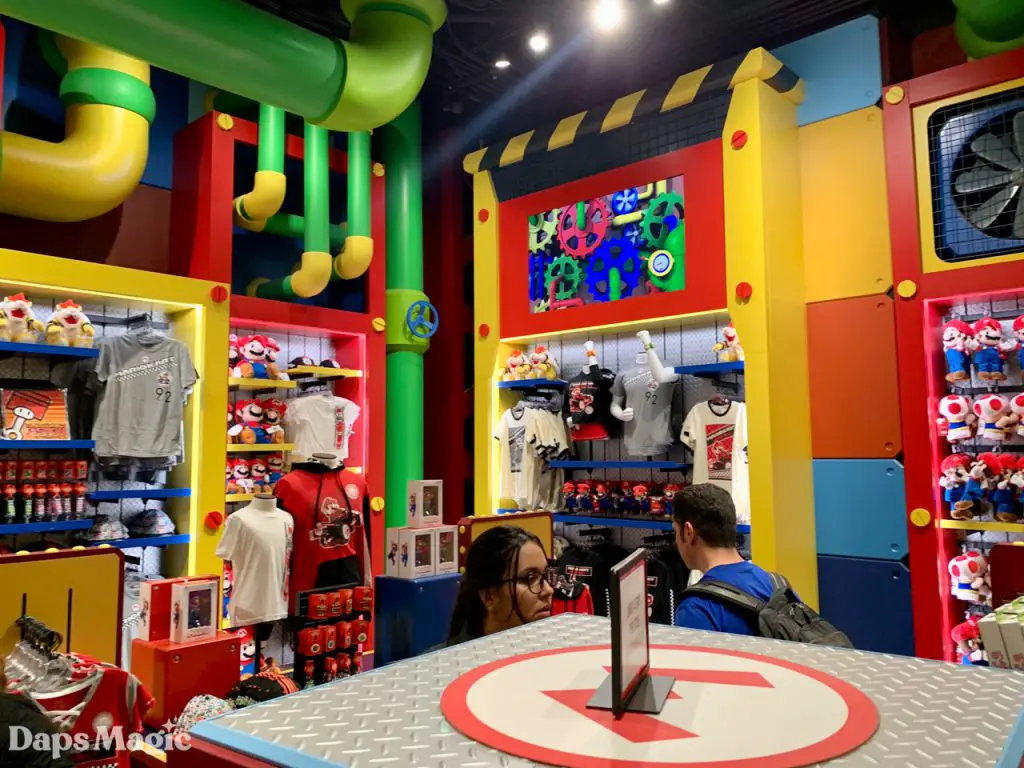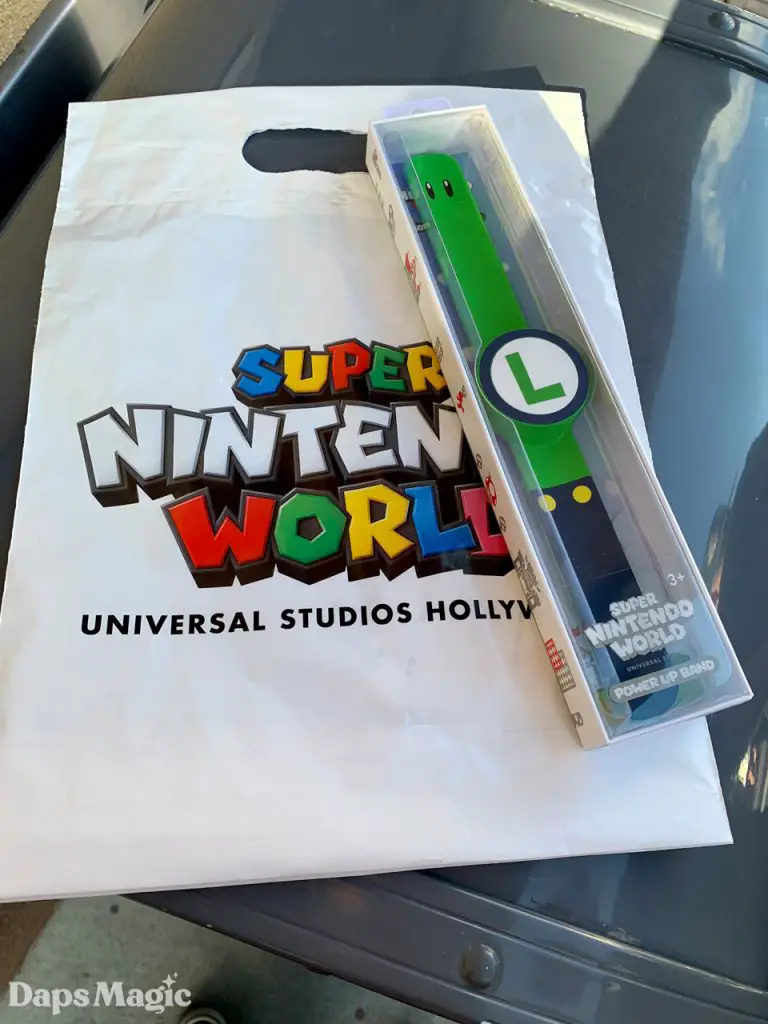 A prized item that is sold in the gift shop, as well as outdoor kiosks, is the Power-Up Band. Available in six inaugural year designs, the bands allow guests to keep track of their score, win virtual stickers, and collect virtual coins and prizes.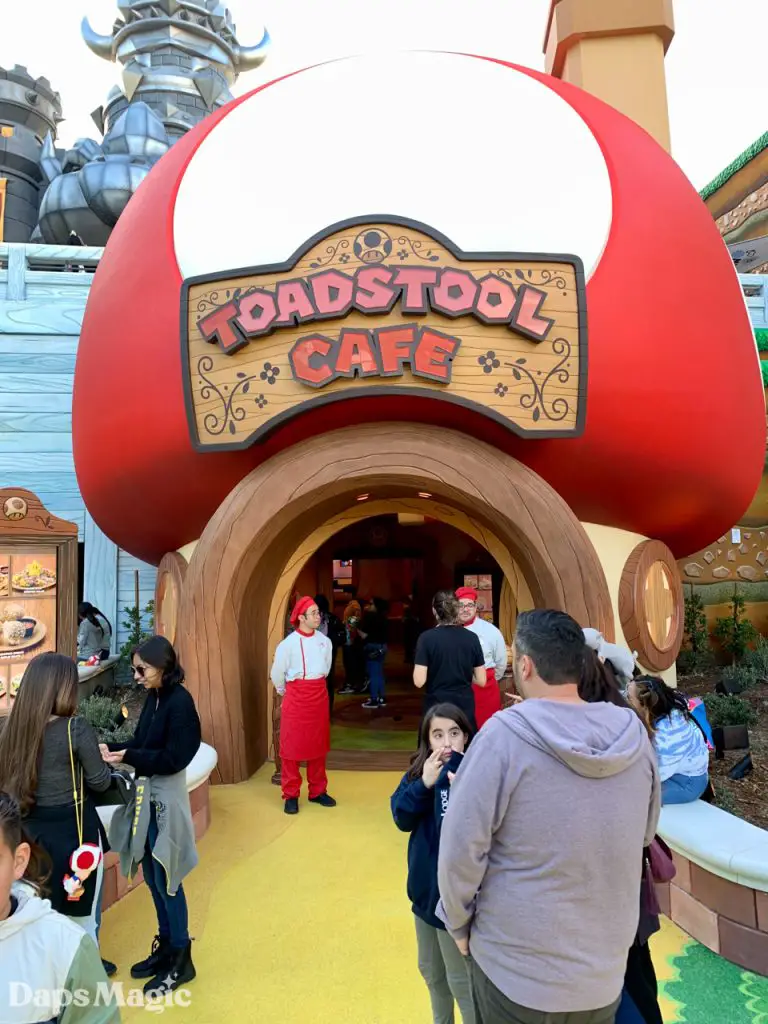 Super Nintendo World opens with one food outlet, the Toadstool Cafe. Reservations are required.
While waiting to enter the service area, guests are entertained by a "show kitchen" in an anteroom.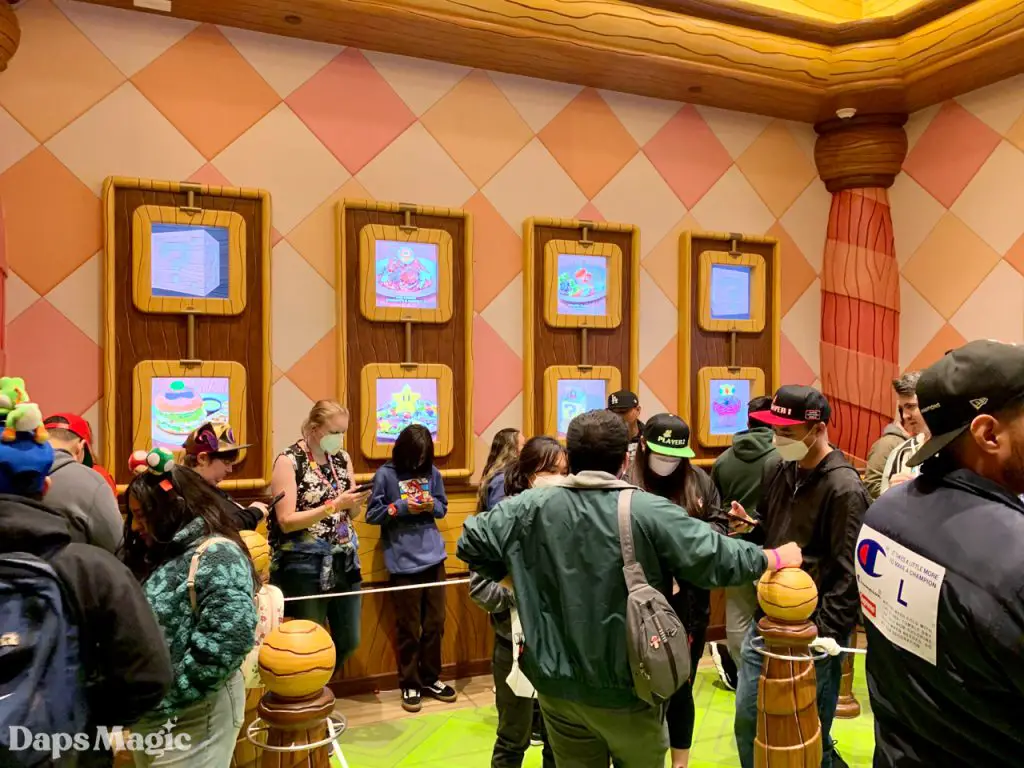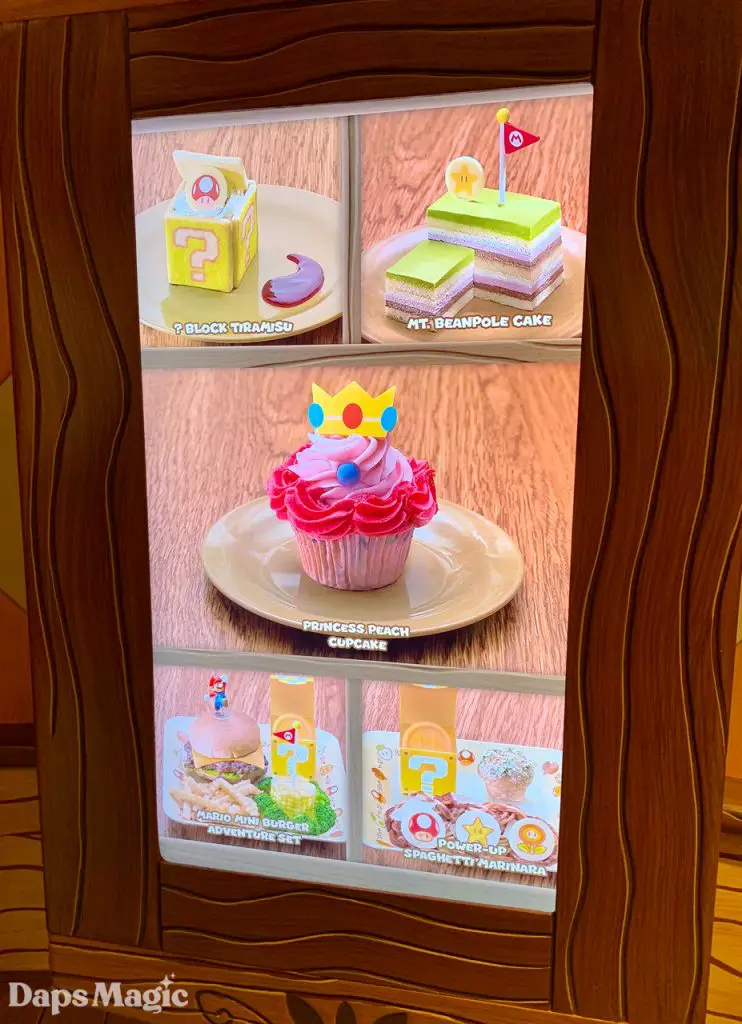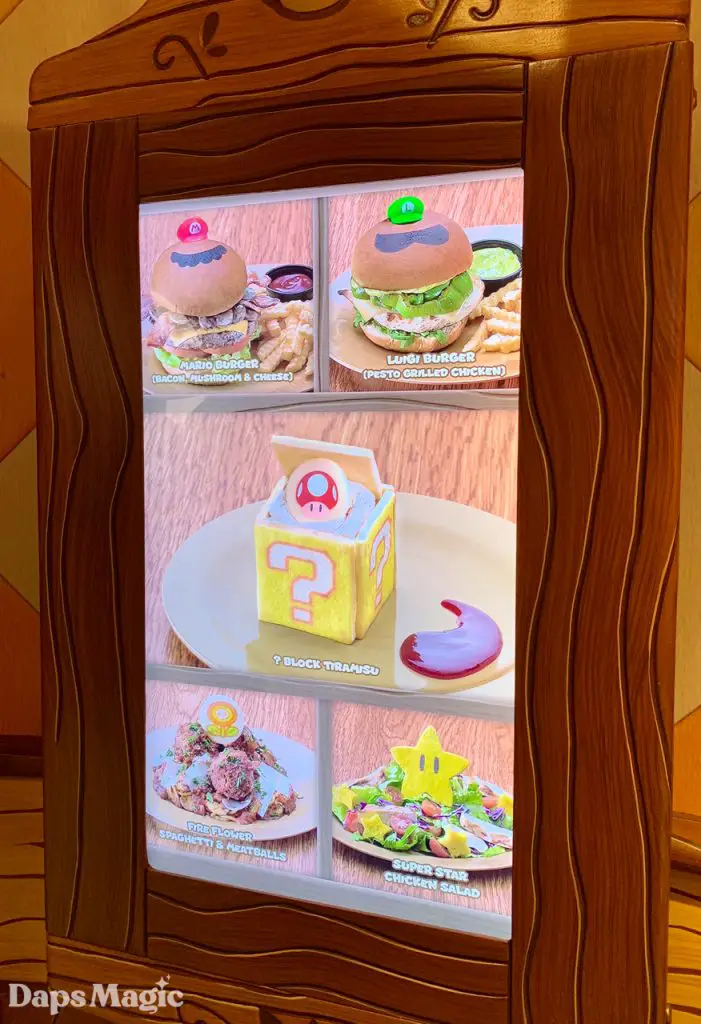 Guests will find menu items pictured in interactive displays.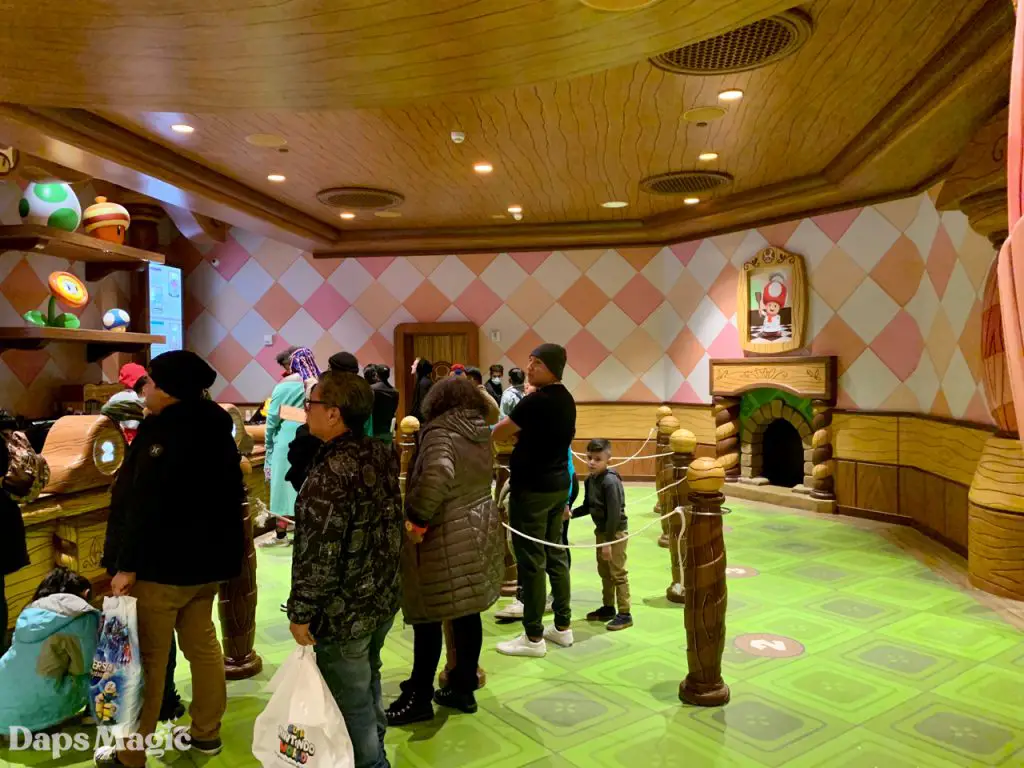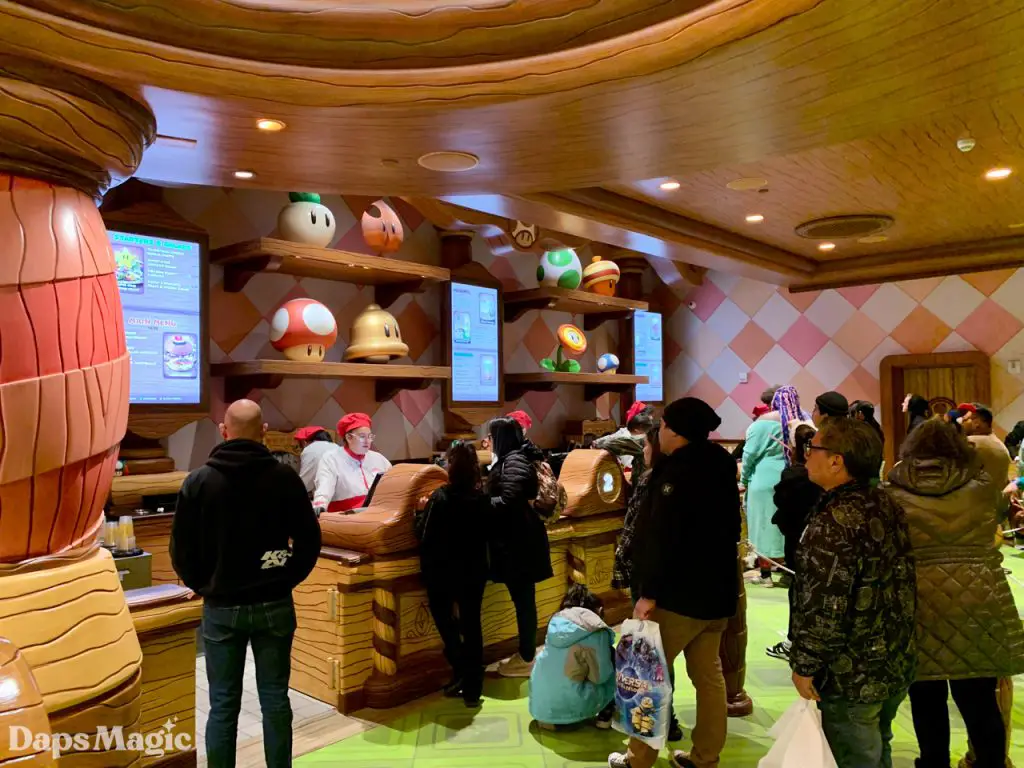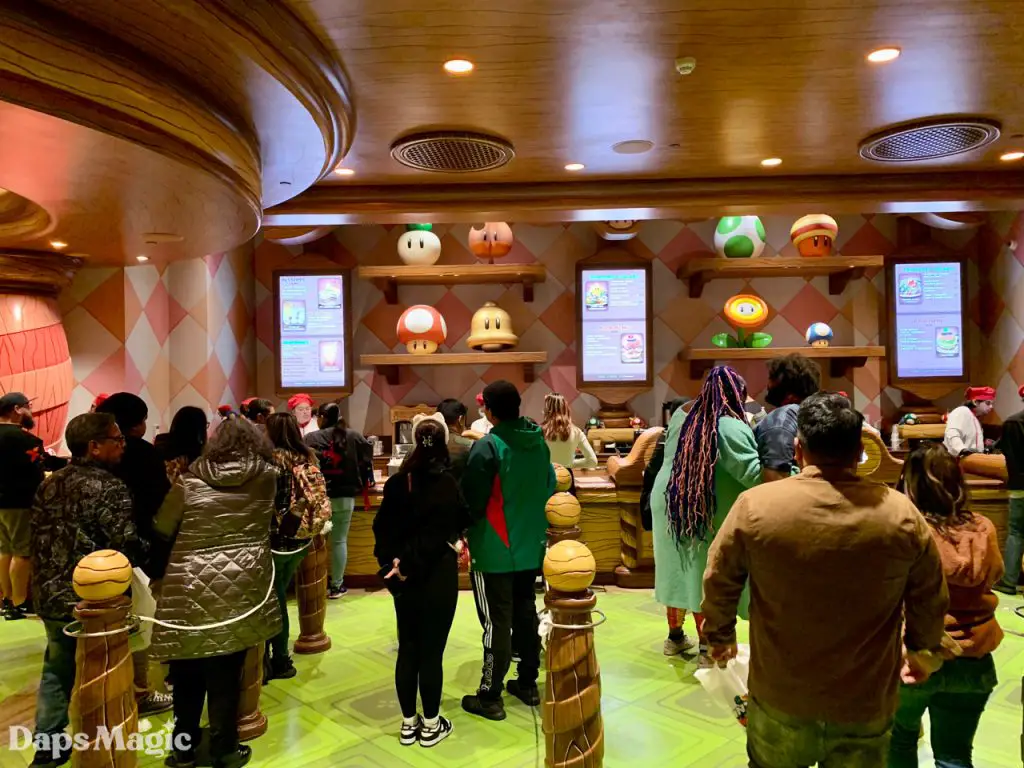 Orders are taken at a walk-up counter.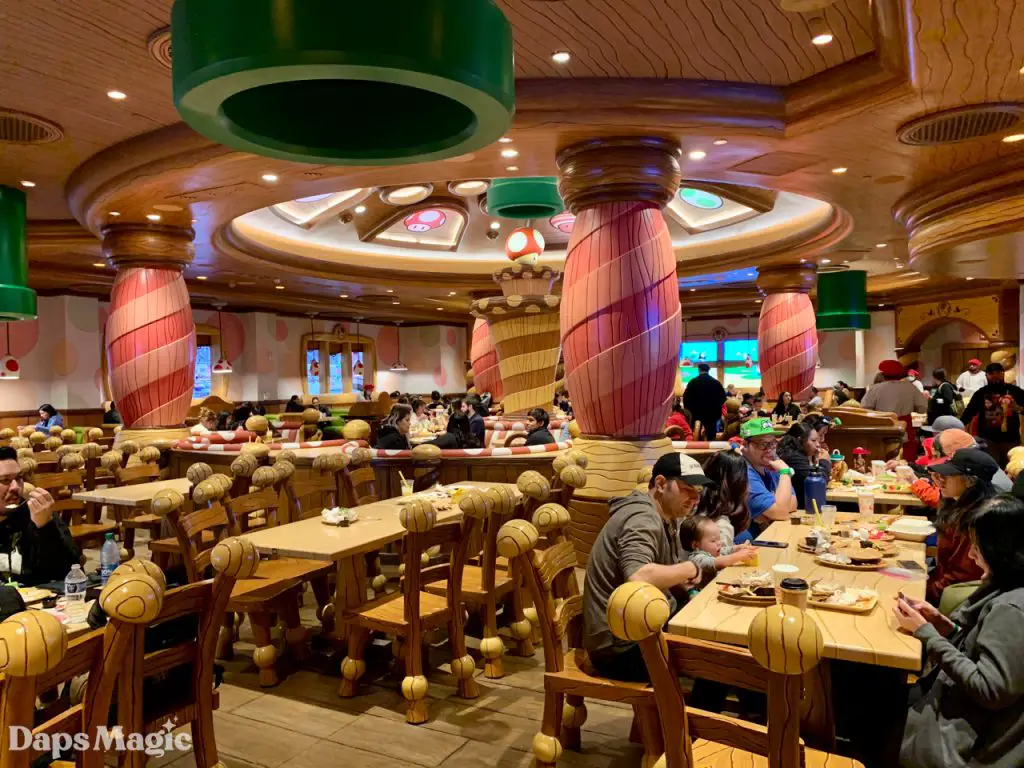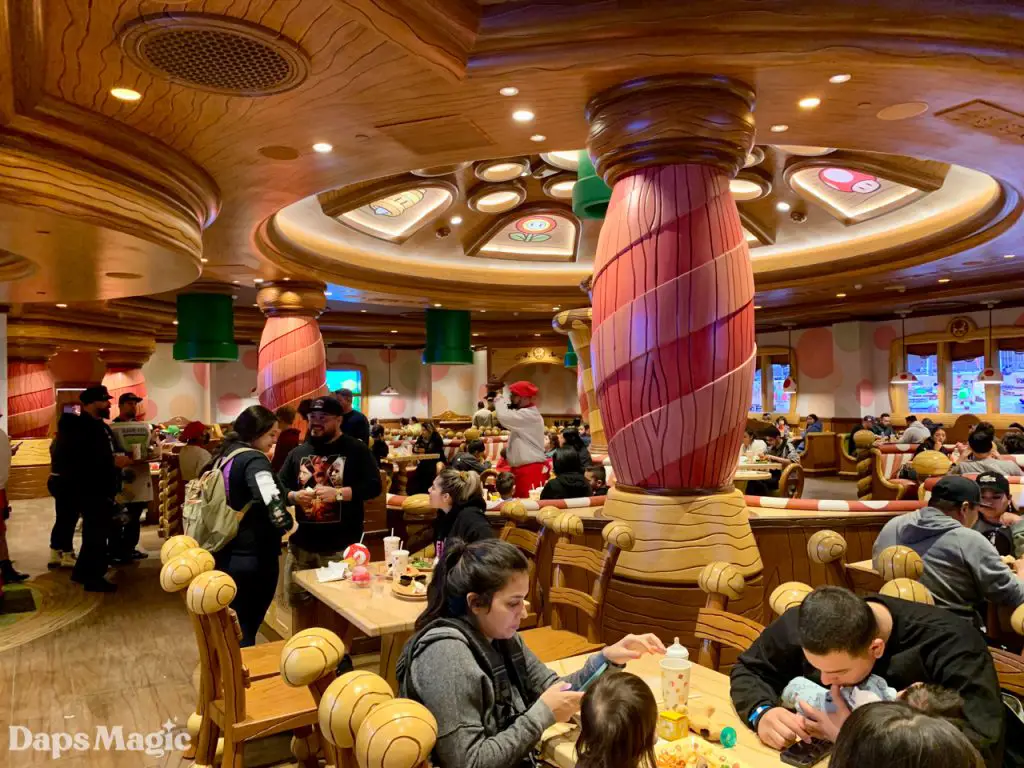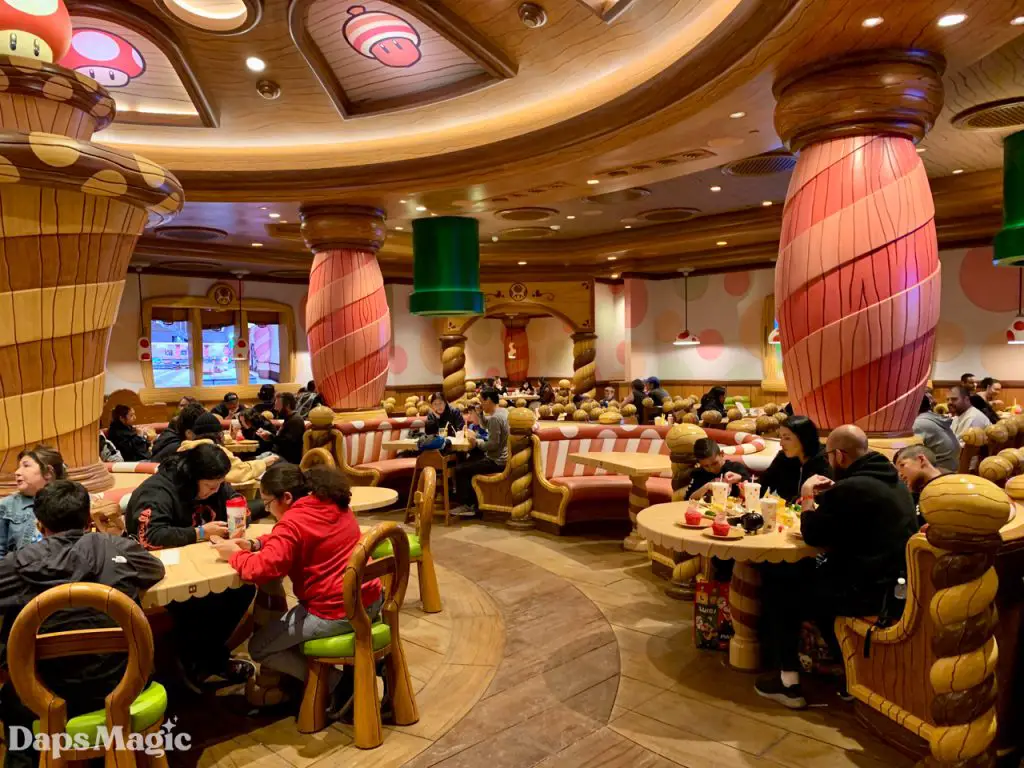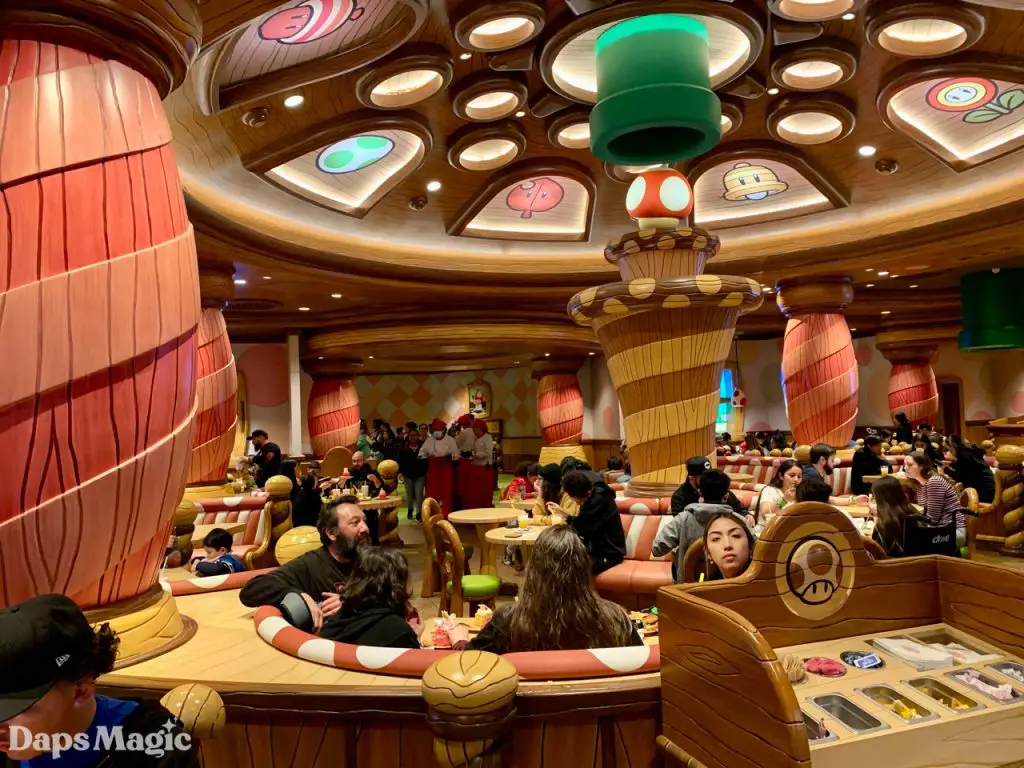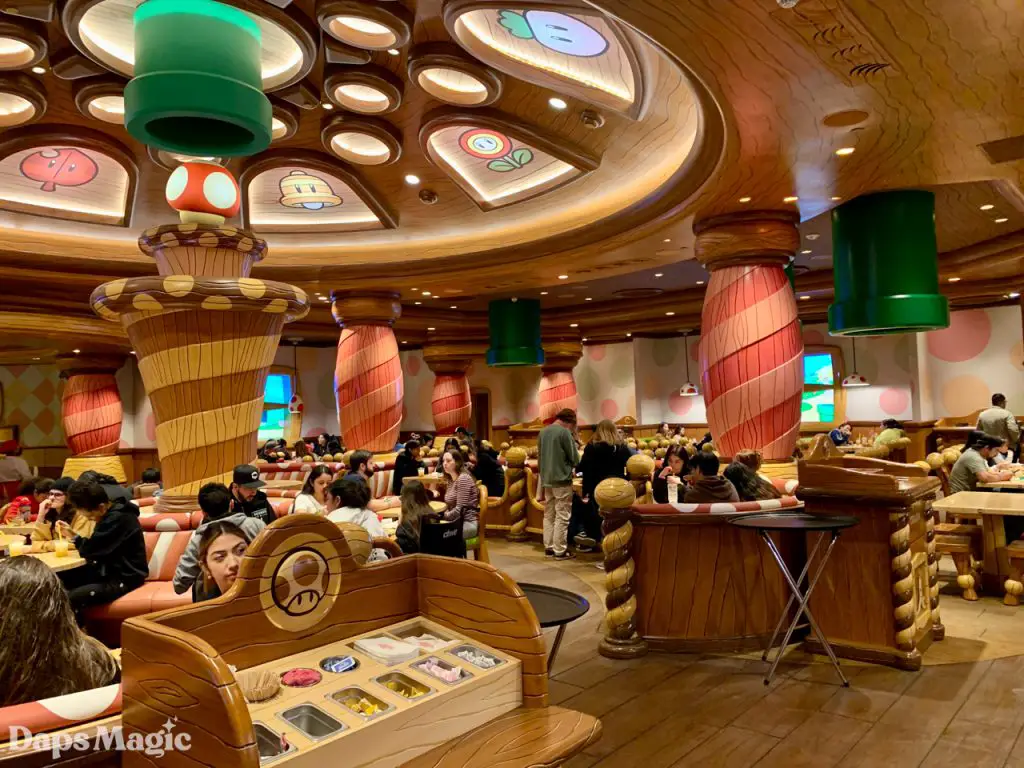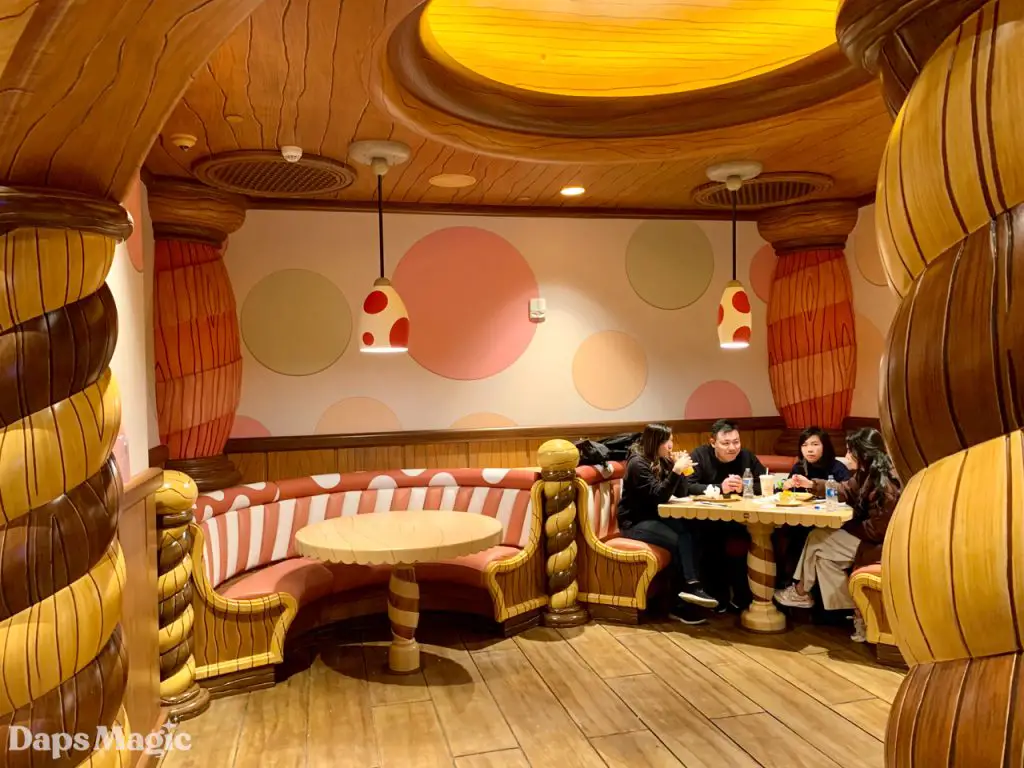 Inside, the meticulously themed dining room offers a variety of seating options. Windows offer a glimpse of the Toadstool kitchen staff, hard at work preparing your meal.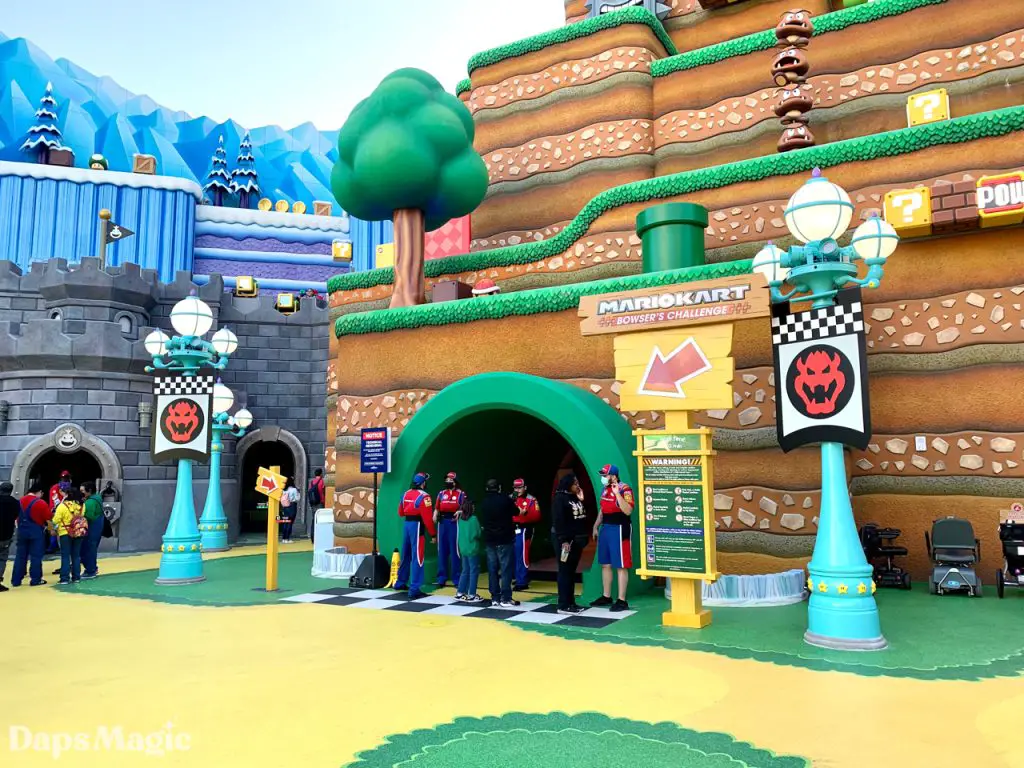 The signature attraction at Super Nintendo World is a high tech racing game, MarioKart: Bowser's Challenge. Upon entering, one can test the seats, as well as practice transferring.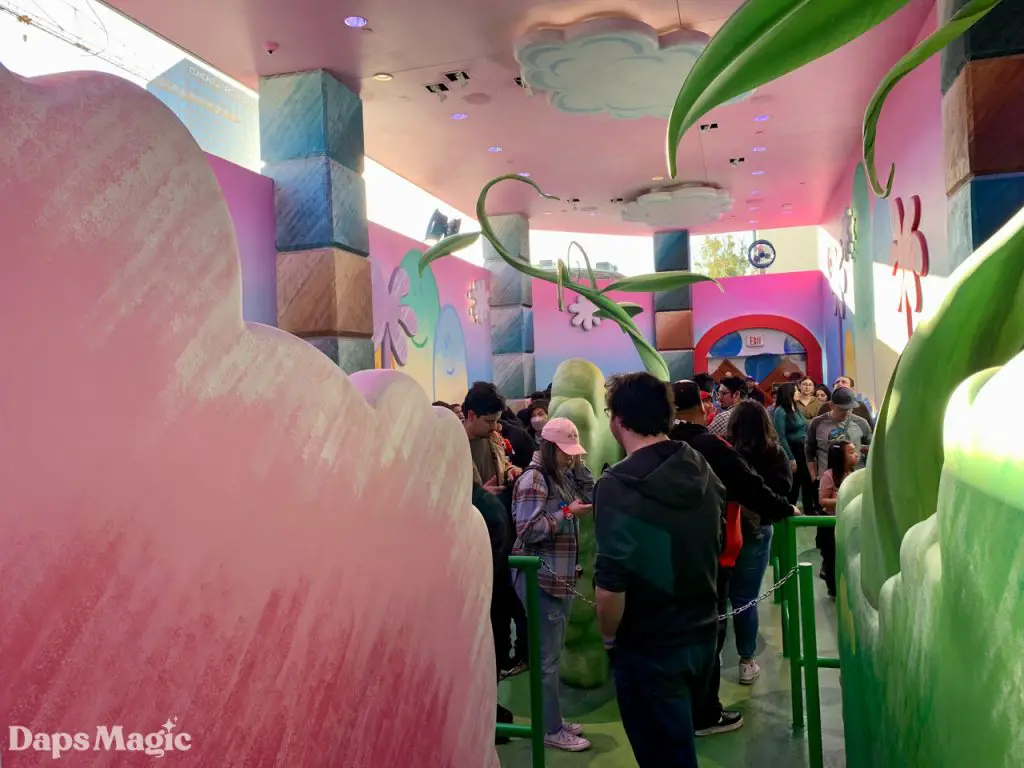 During the Preview a two level extended queue was open, offering some glimpses outside "the World." Inside, even the trash cans are specially themed.
Back inside, the queue takes guests through a subterranean lower level. Up some stairs, and past a playful Yoshi and its nest, the second level queue passes the elevator access for disabled guests, and sends guests outdoors.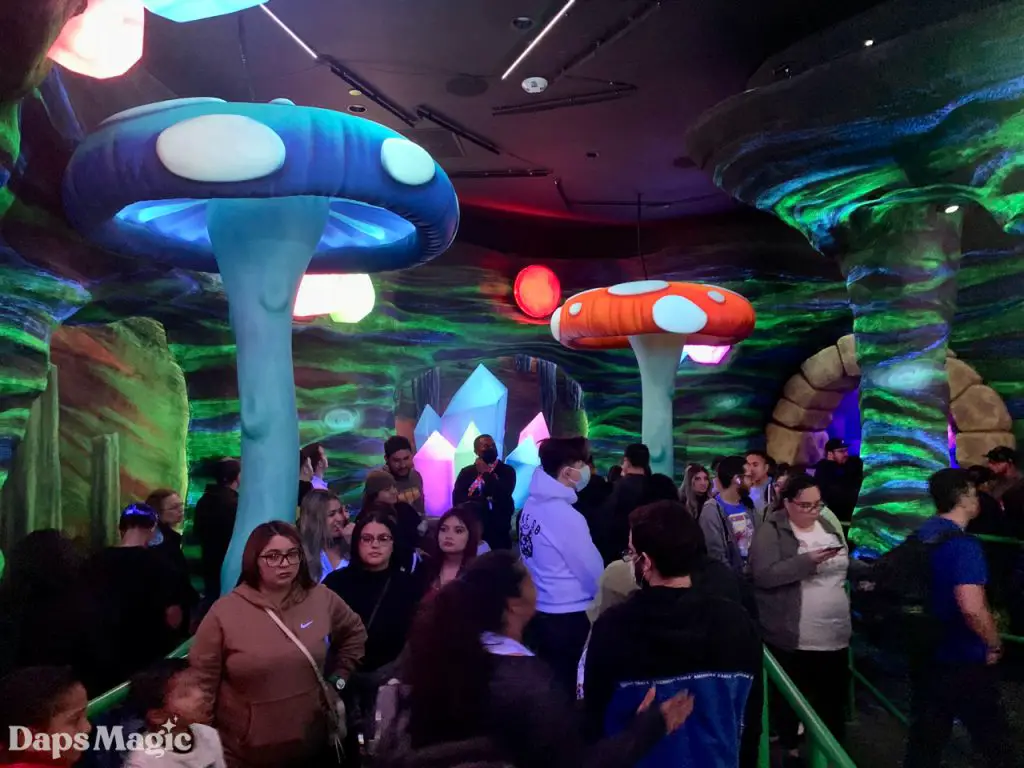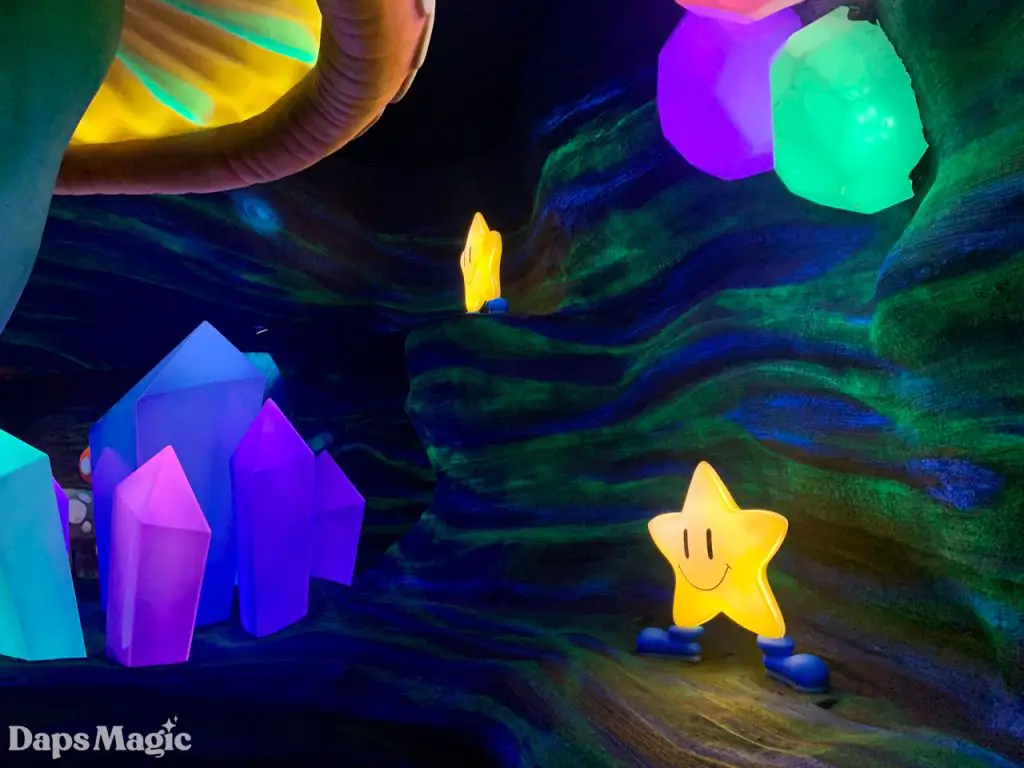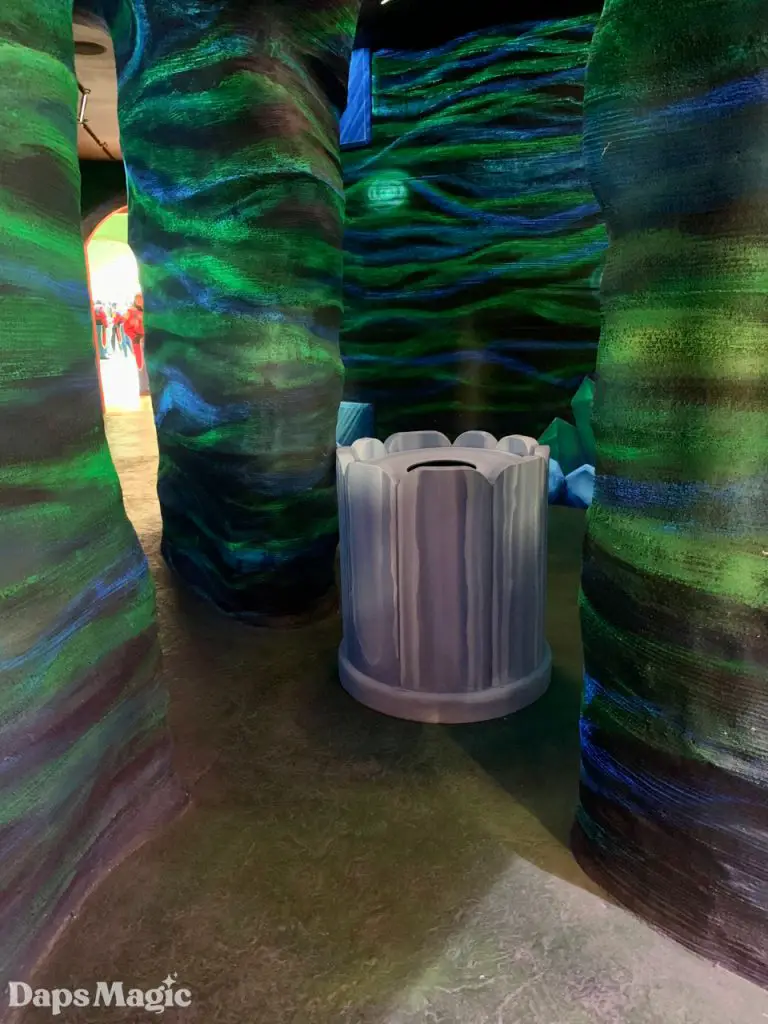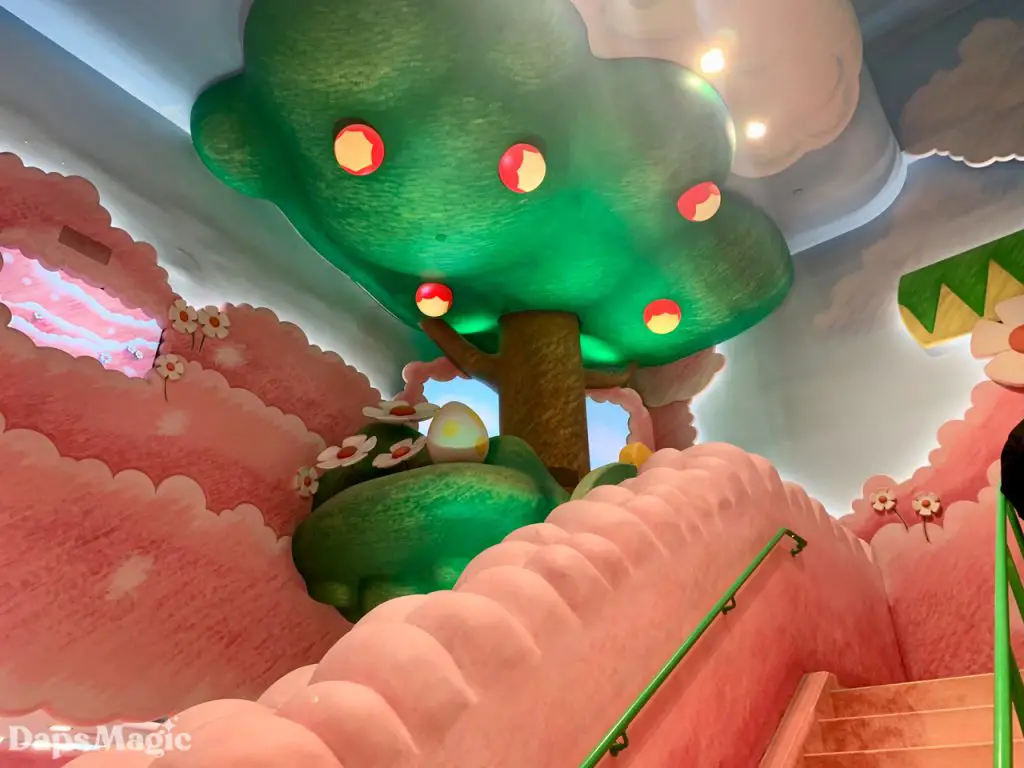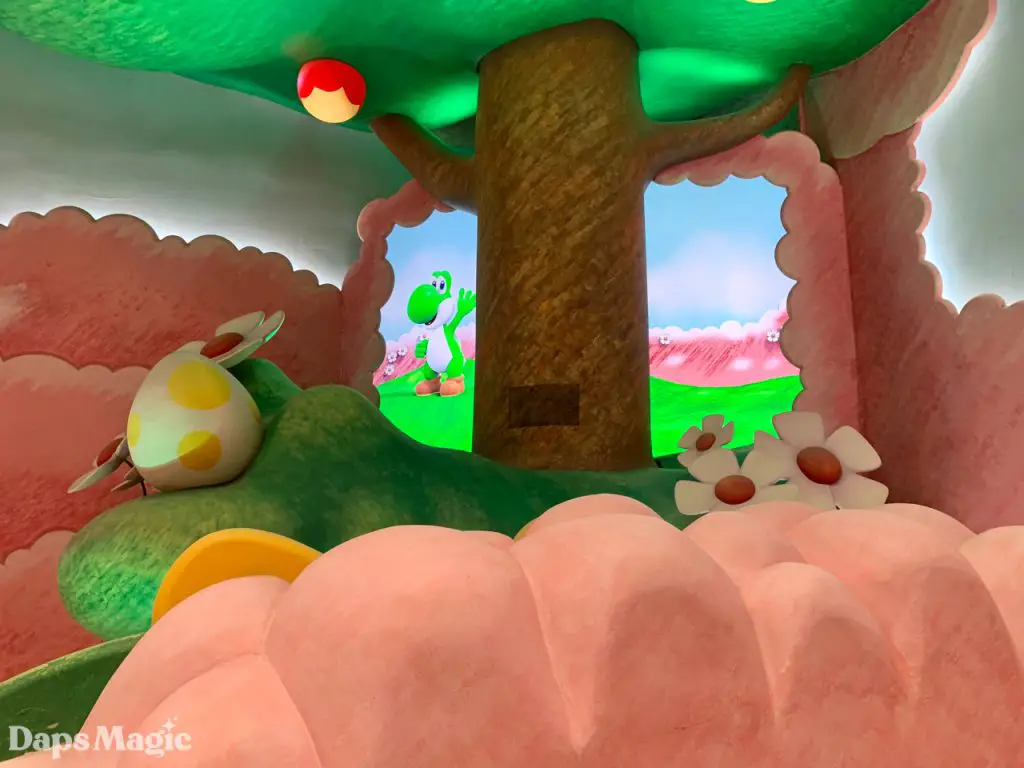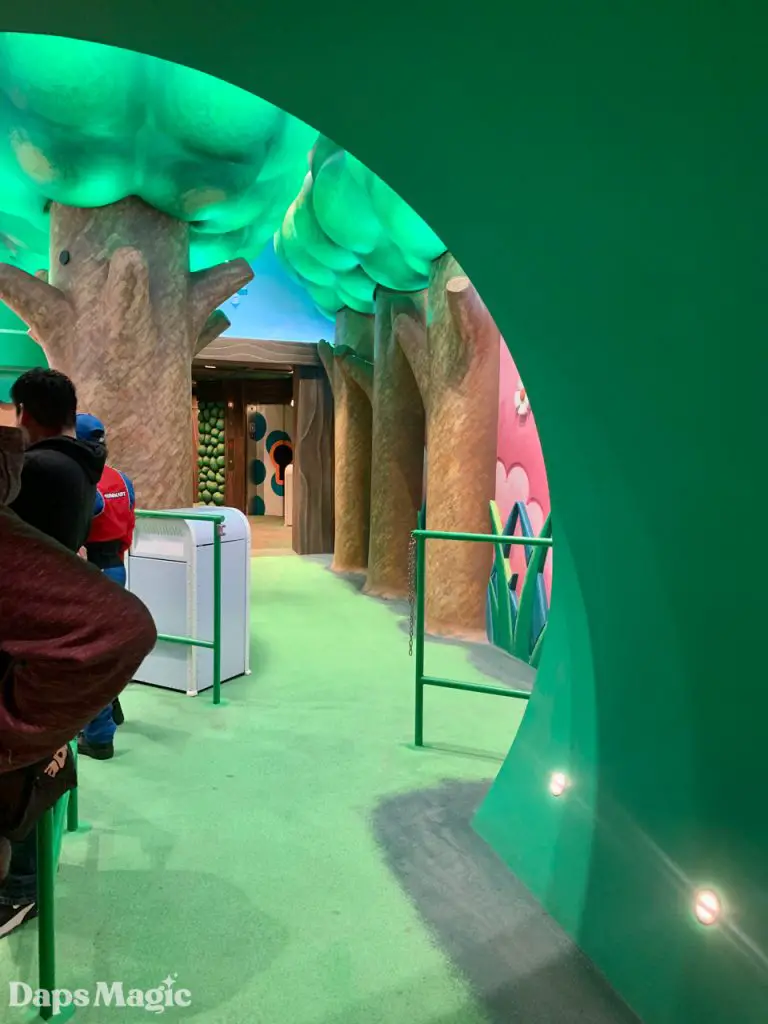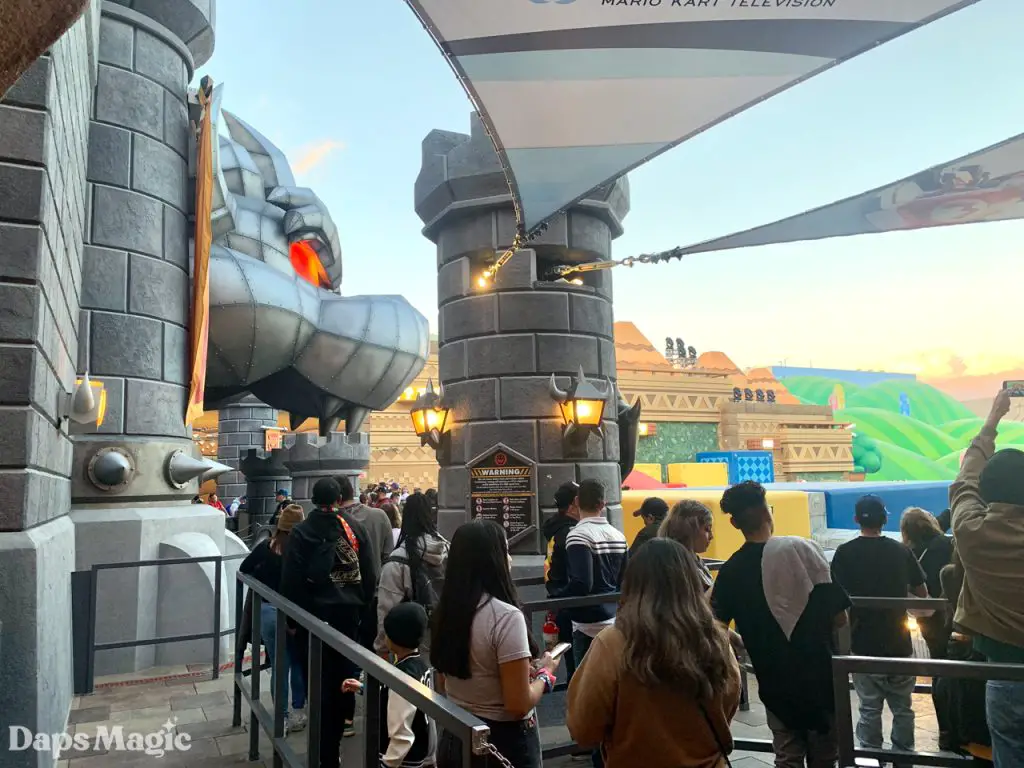 The outdoor second level offers expansive views of Super Nintendo World. (And yes, it also offer views of some of Universal Studios beyond.)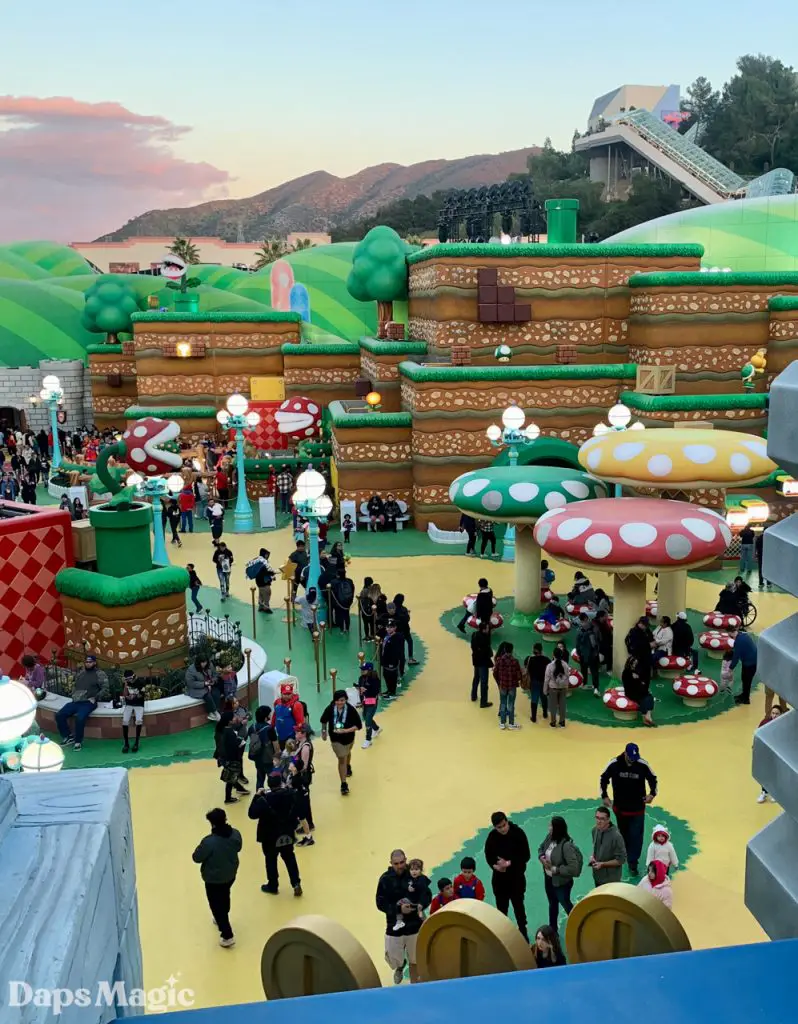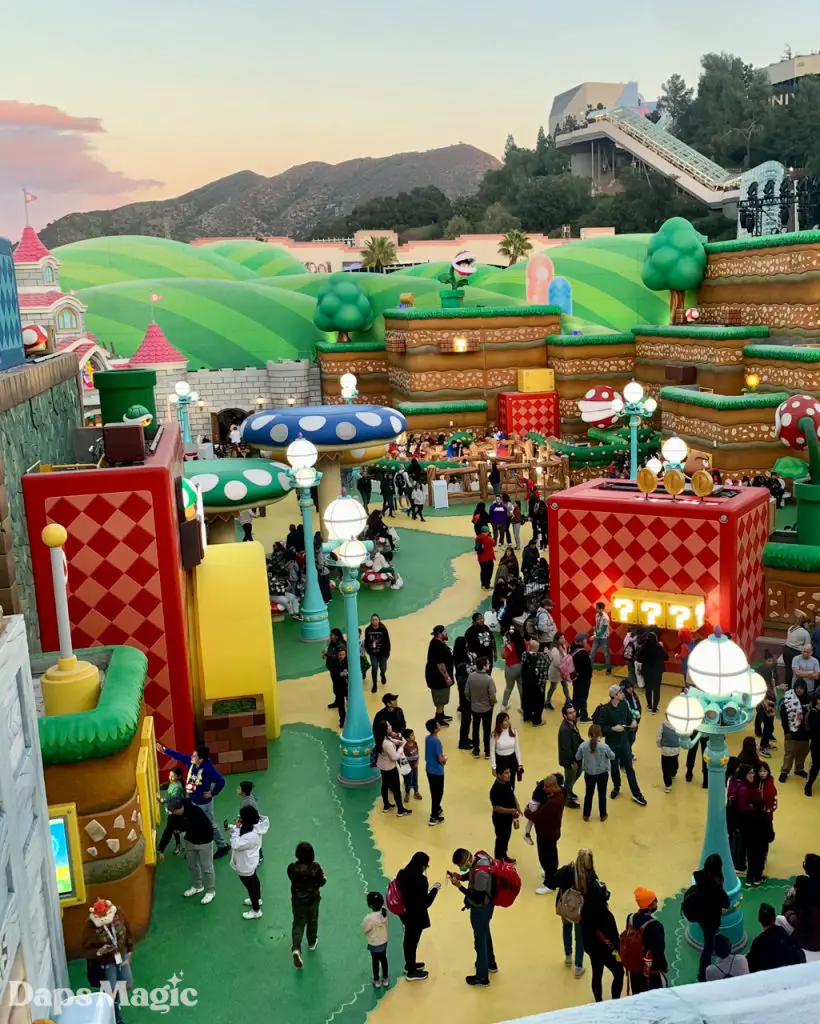 Looking up also offers some pretty nifty views.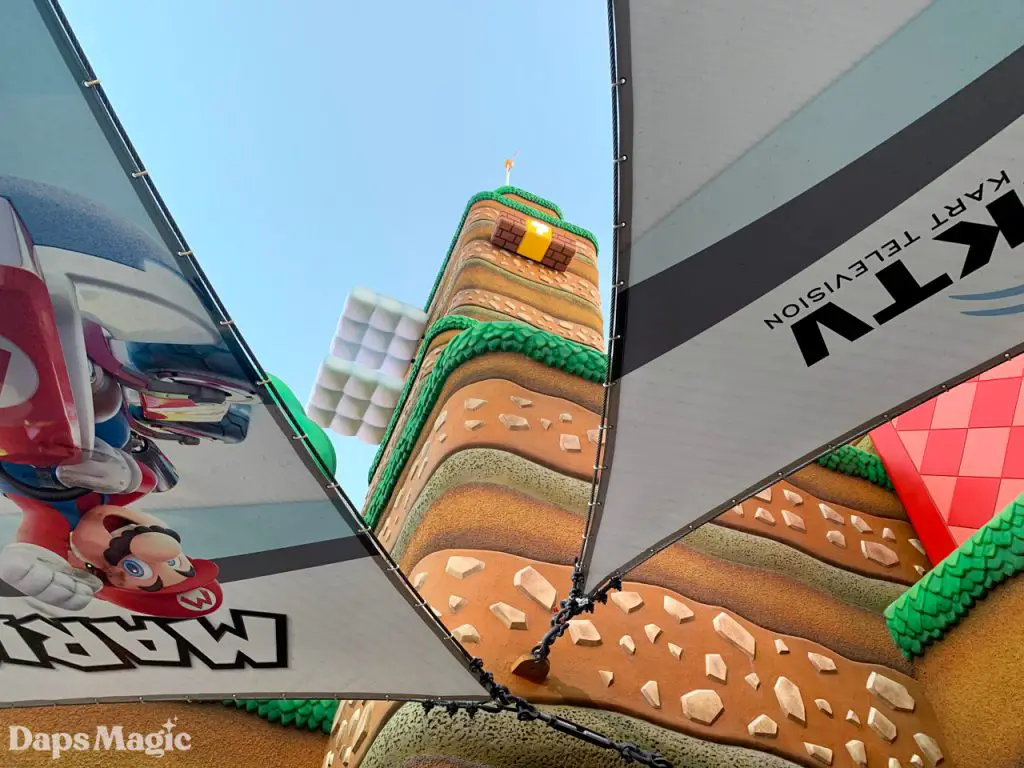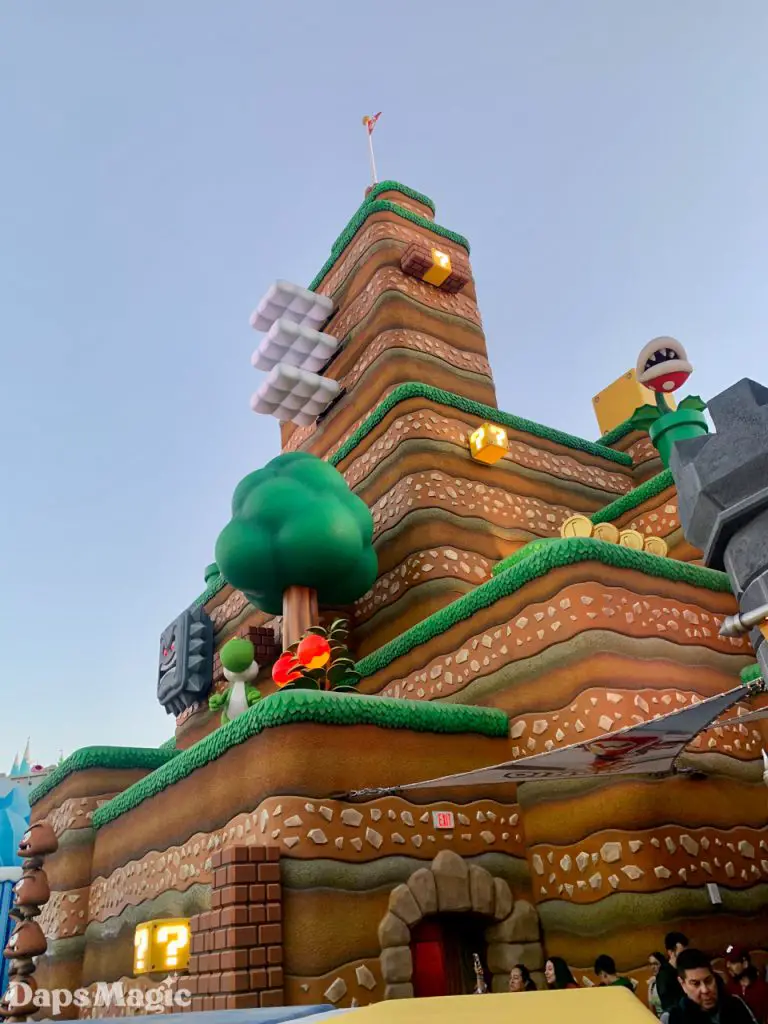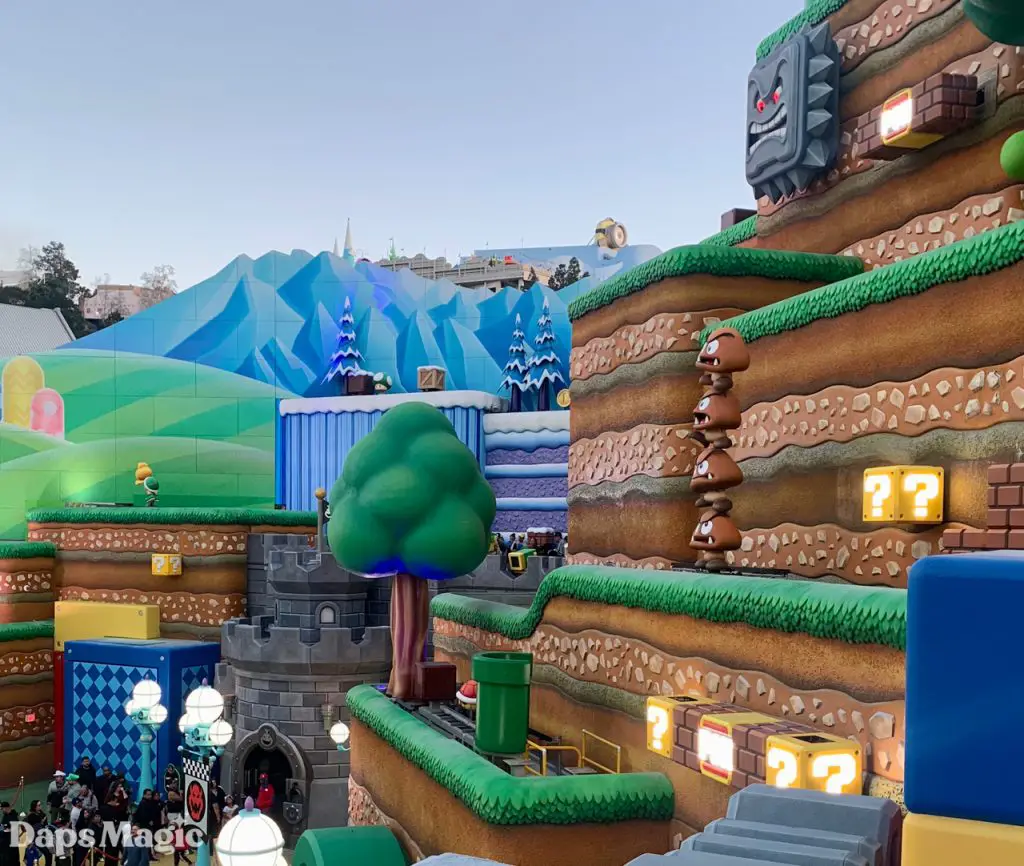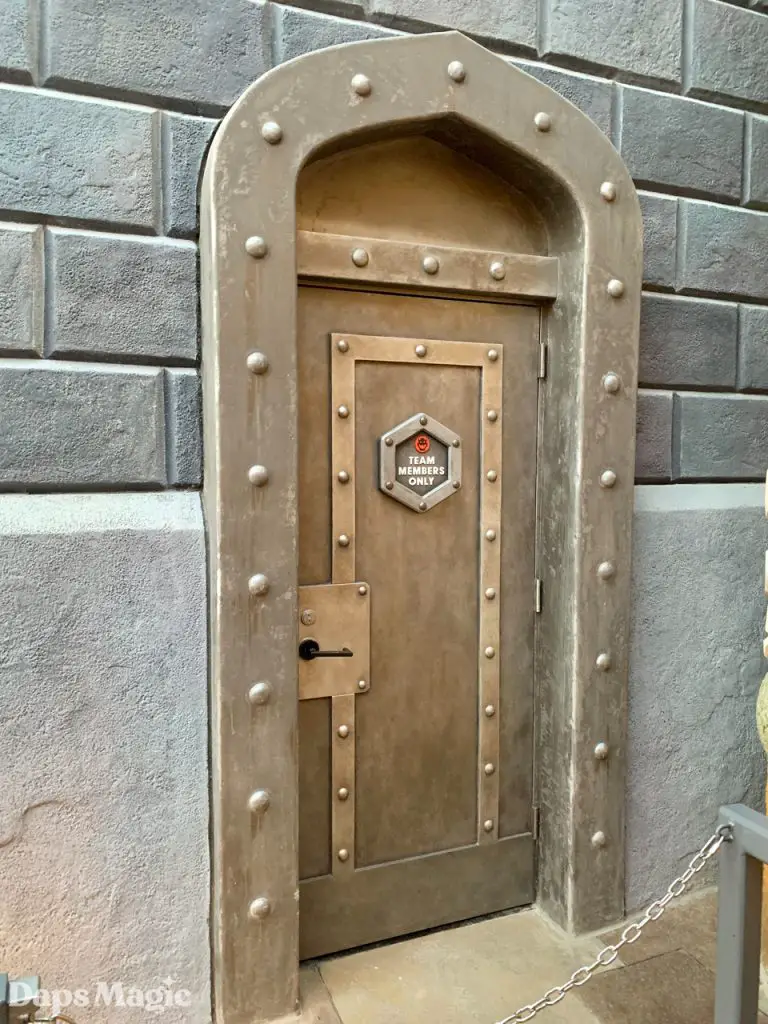 You have to wonder about the team the Team Members that use this door are playing.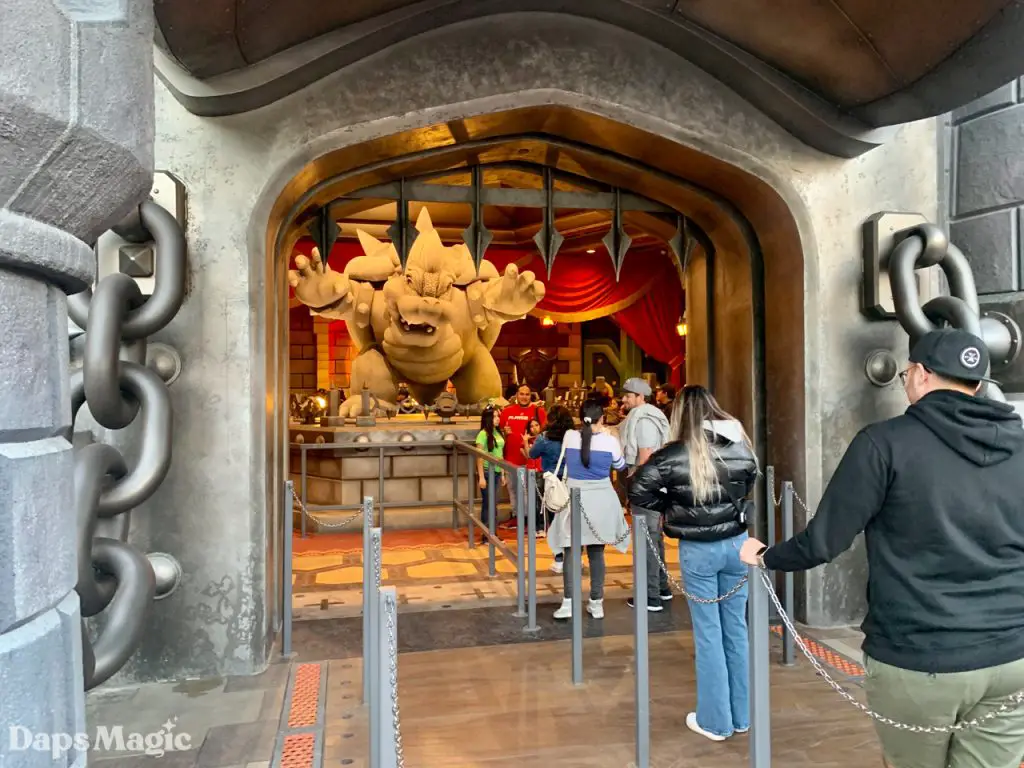 The final leg of the queue takes us right through the front door of Bowser's castle.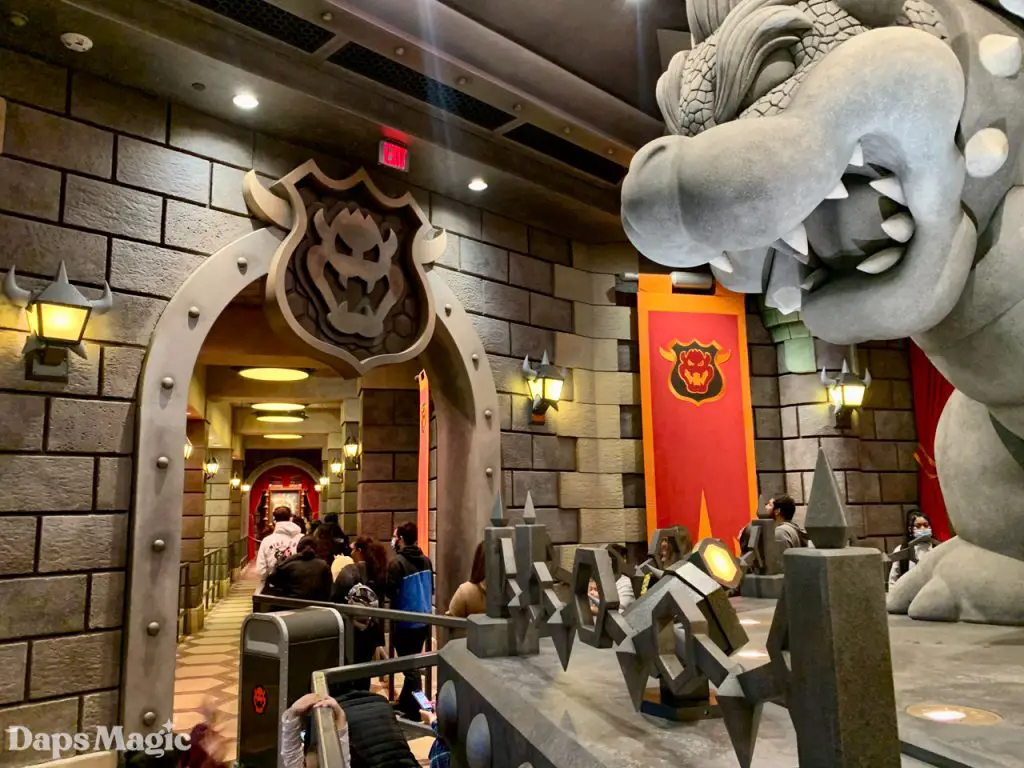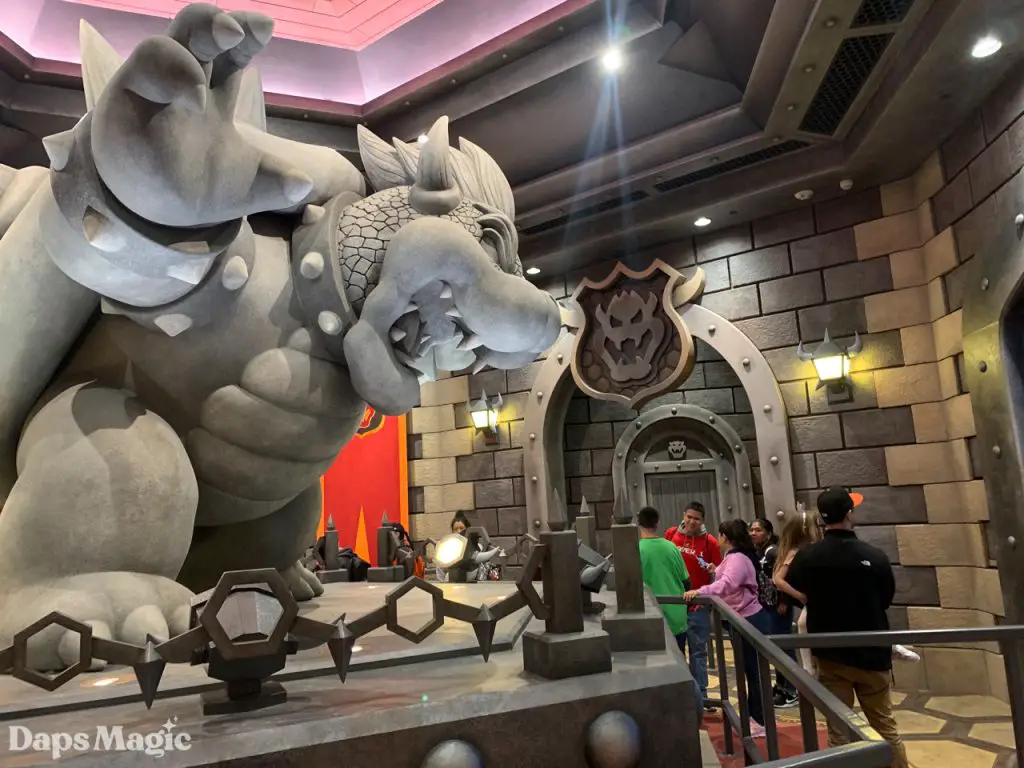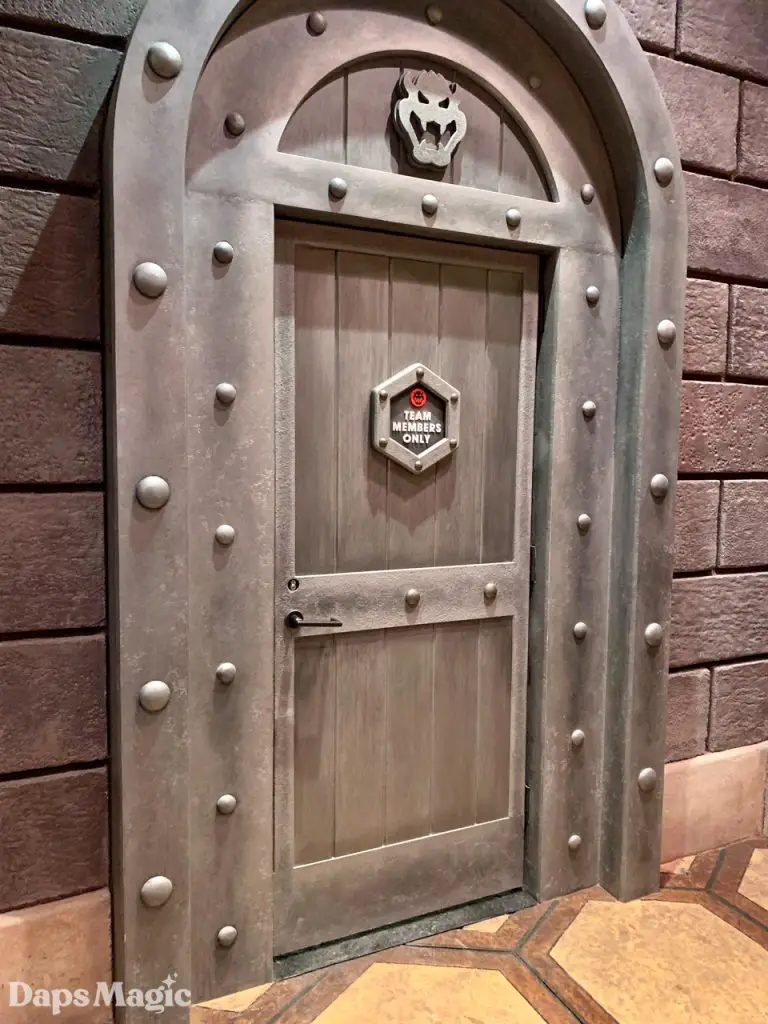 If there is any doubt where you are, an heroic scaled statue of King Koopa himself greets you in the castle. (And there's another one of those Team Member doors!)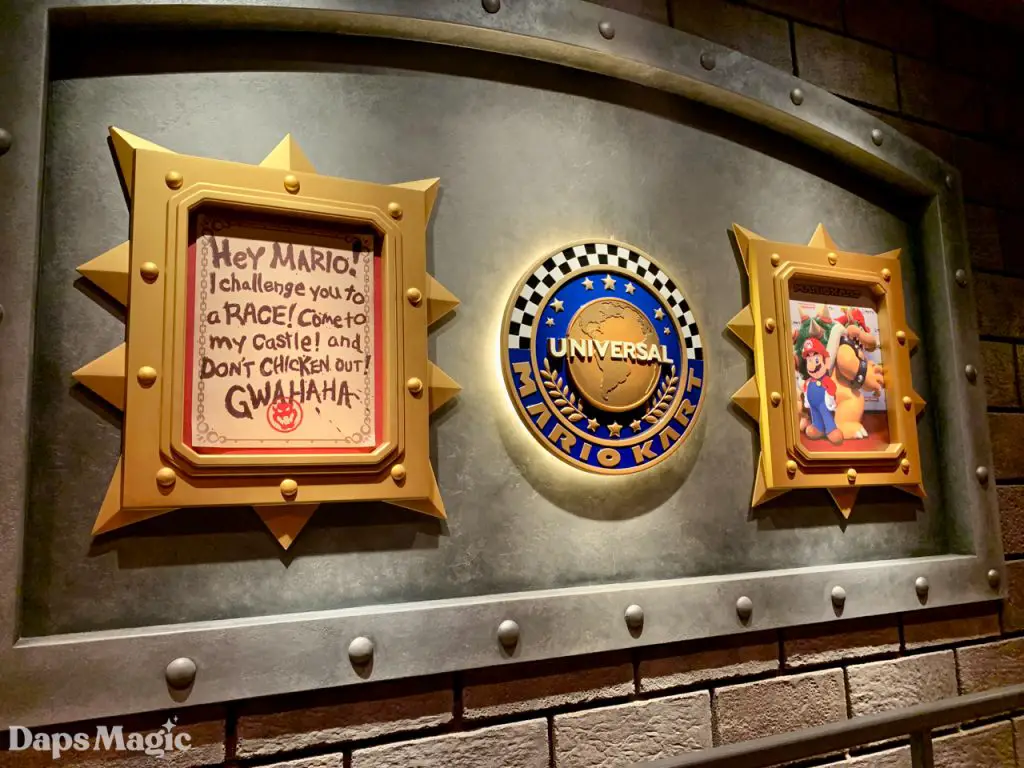 There is an actual challenge displayed in the queue line for MarioKart: Bowser's Challenge.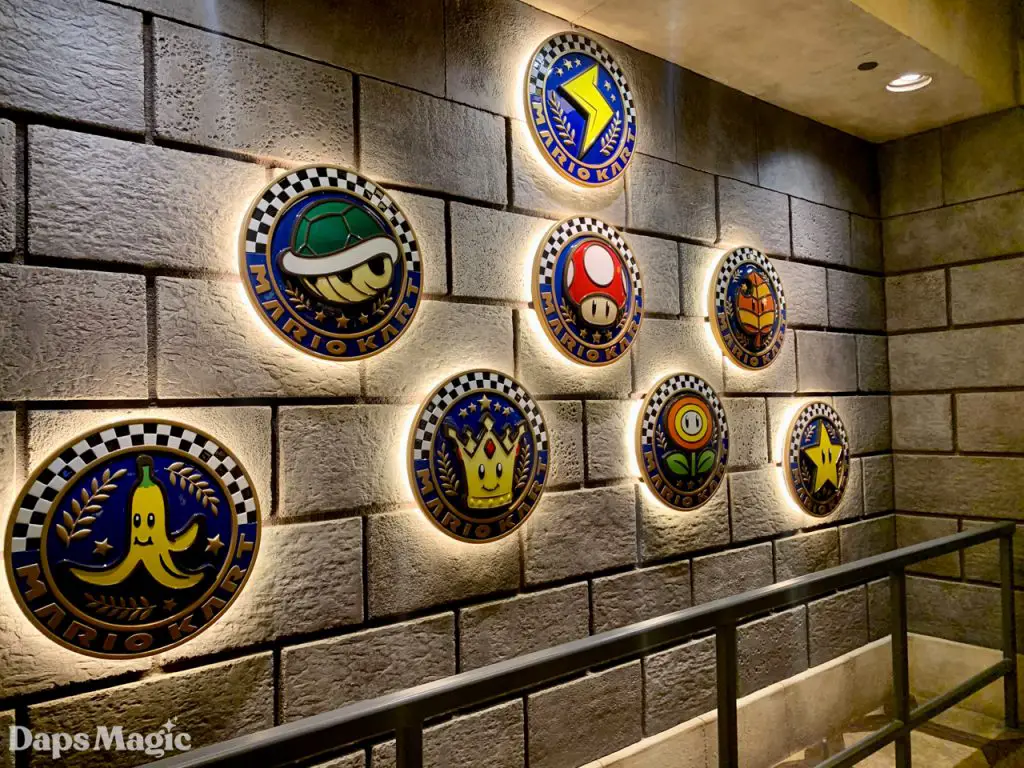 Shields representing various racing teams are also displayed.
Bowser has a staggering collection of trophies and awards, all of which can be found along the corridor to his library.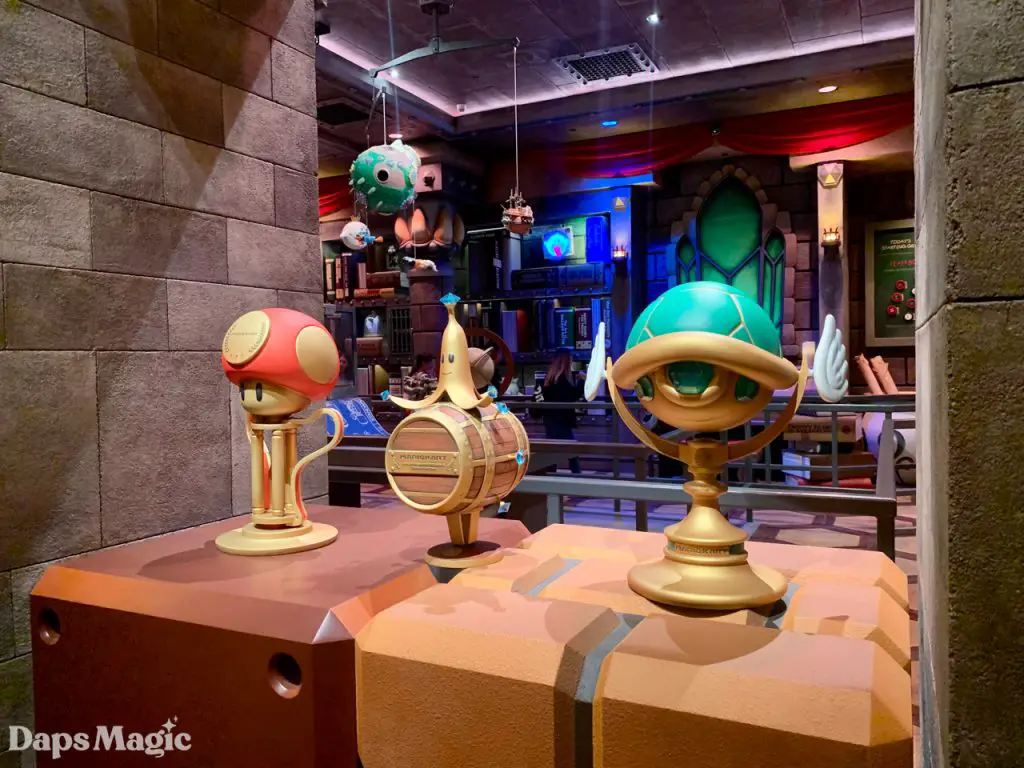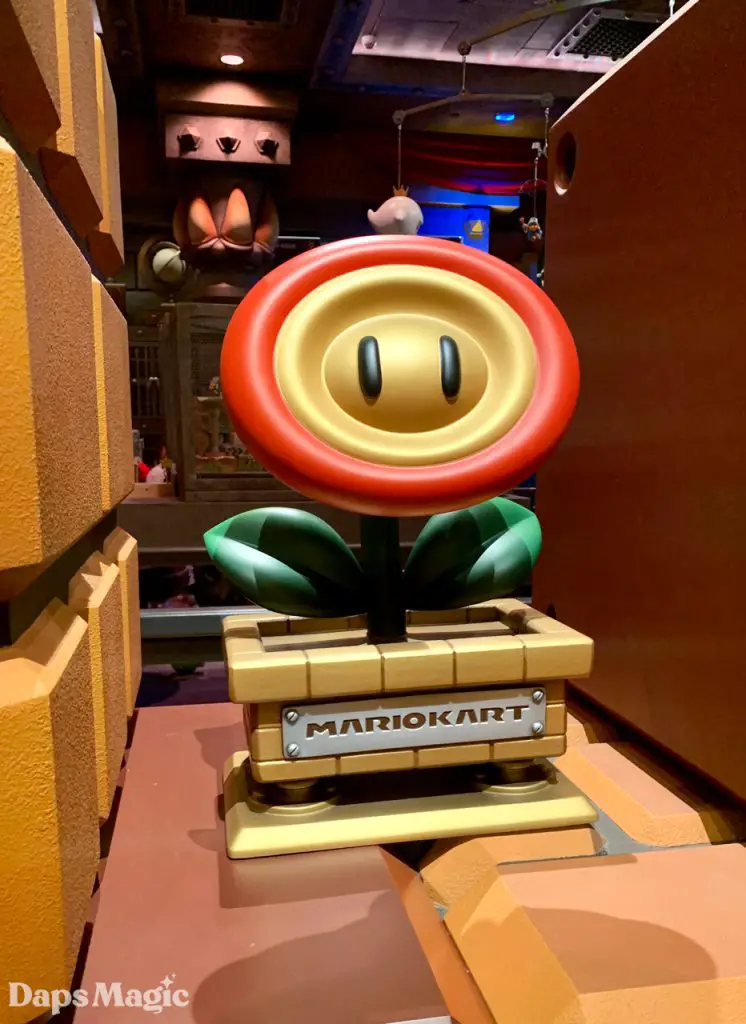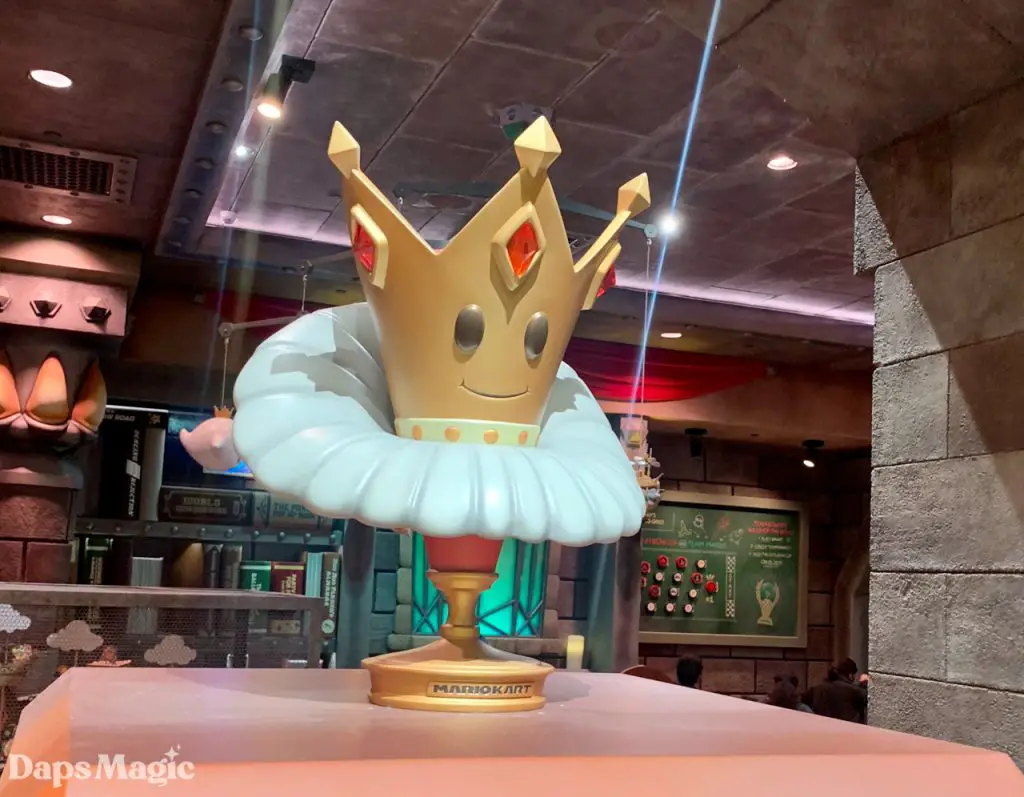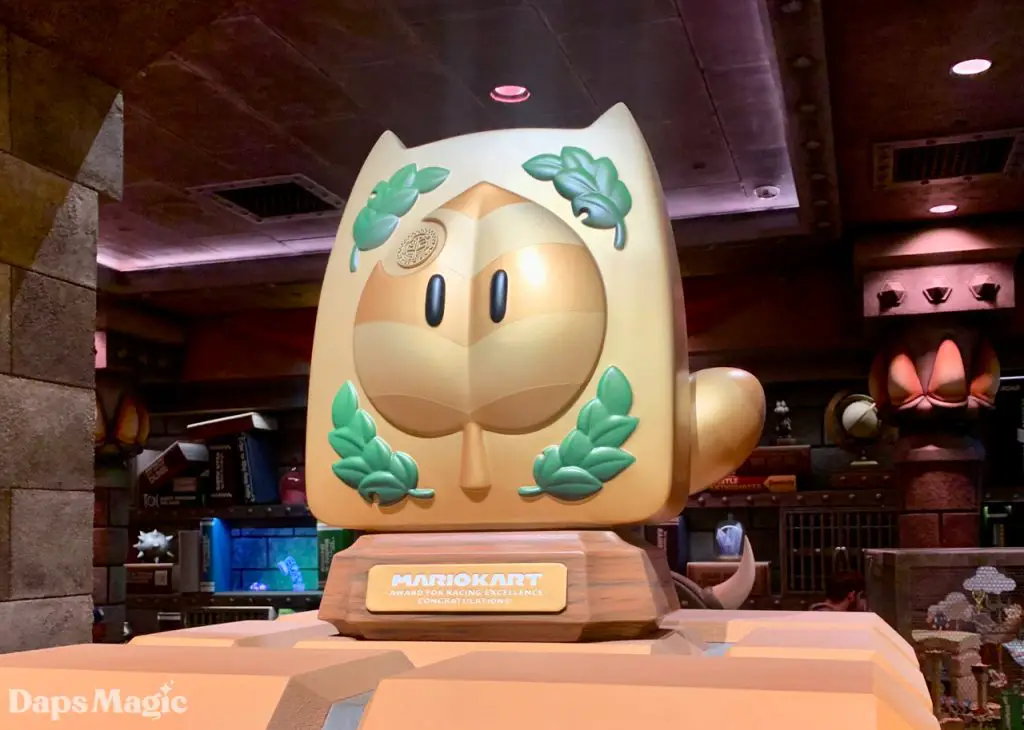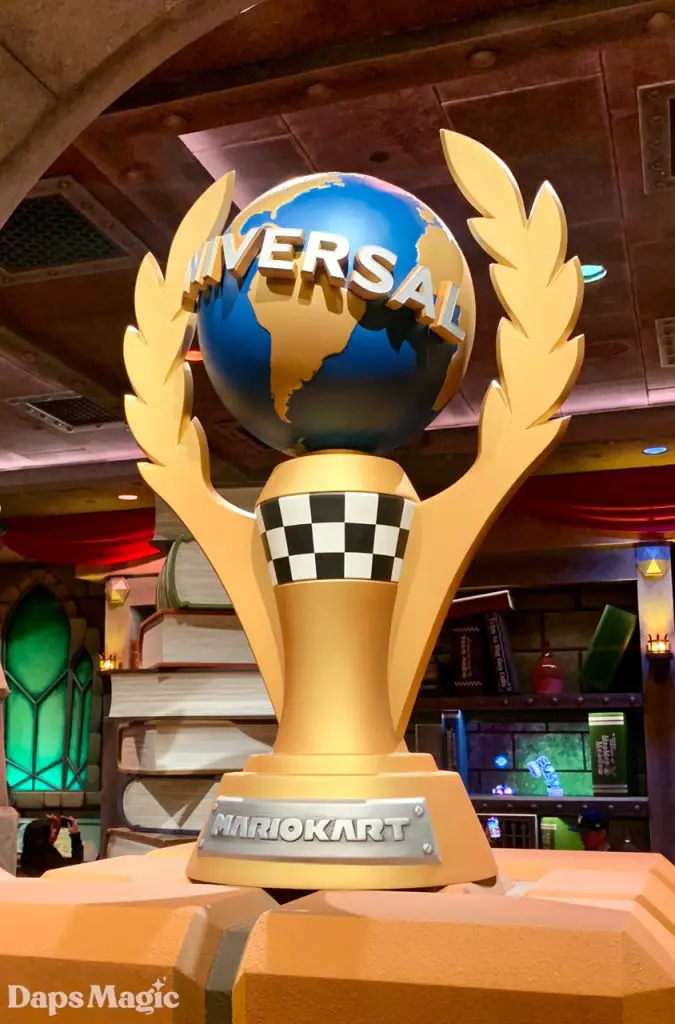 The Universal Trophy is one created exclusively for the attraction.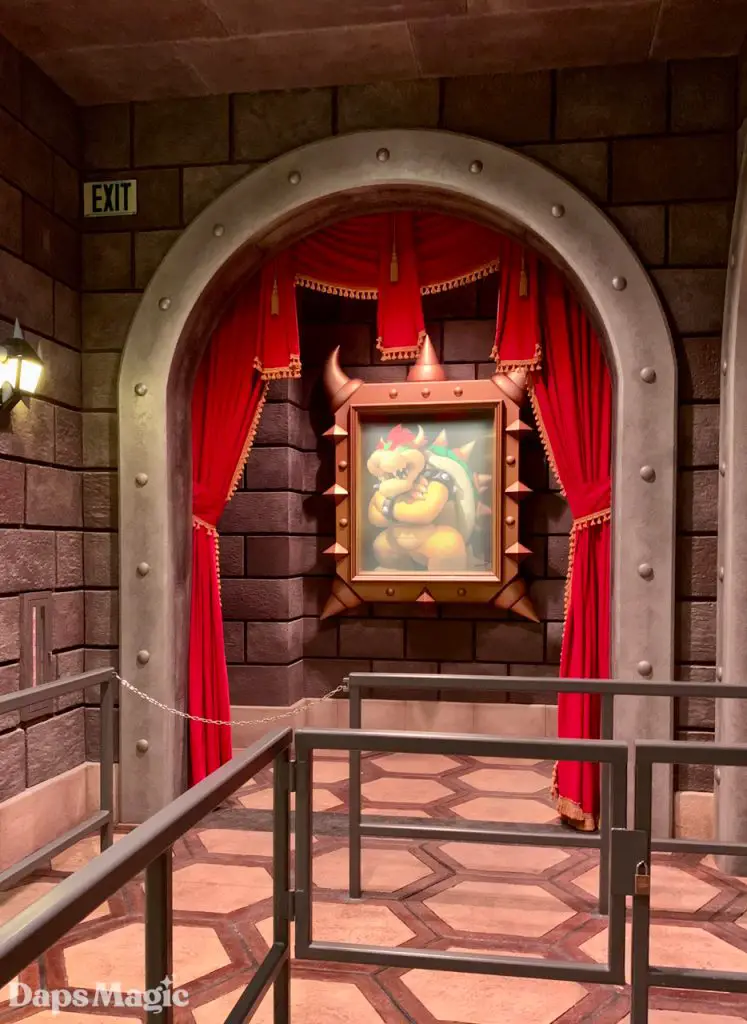 A portrait of King Koopa/Bowser decorates the end of the corridor. A turn to the right leads to Bowser's combination library, study, and throne room.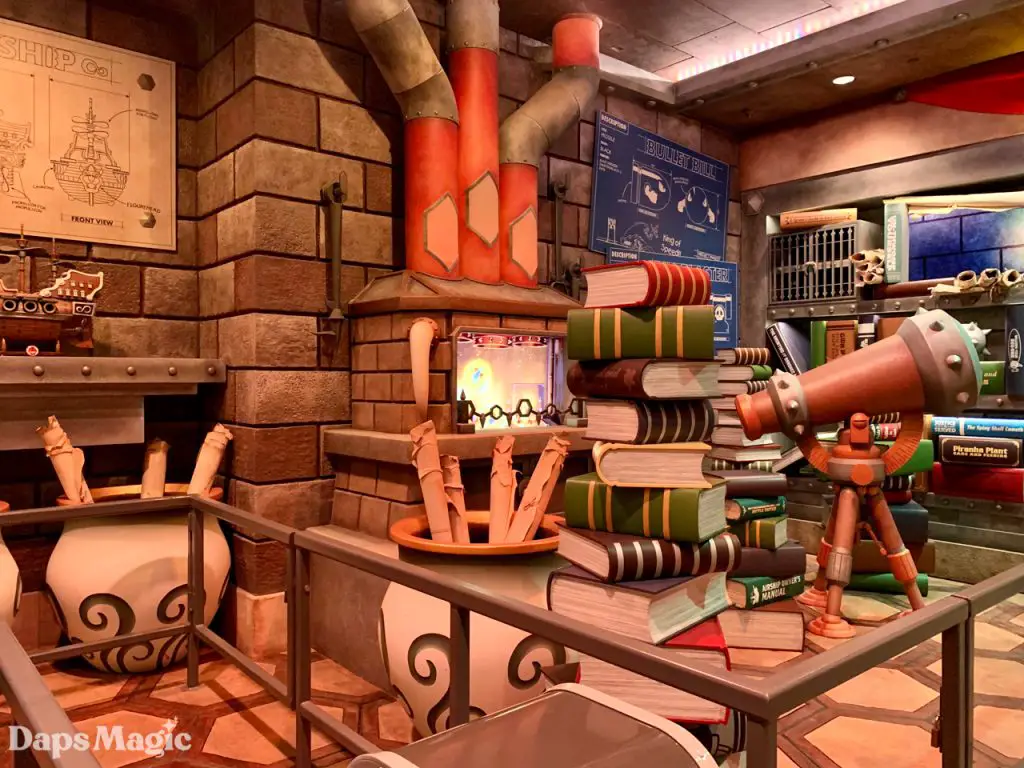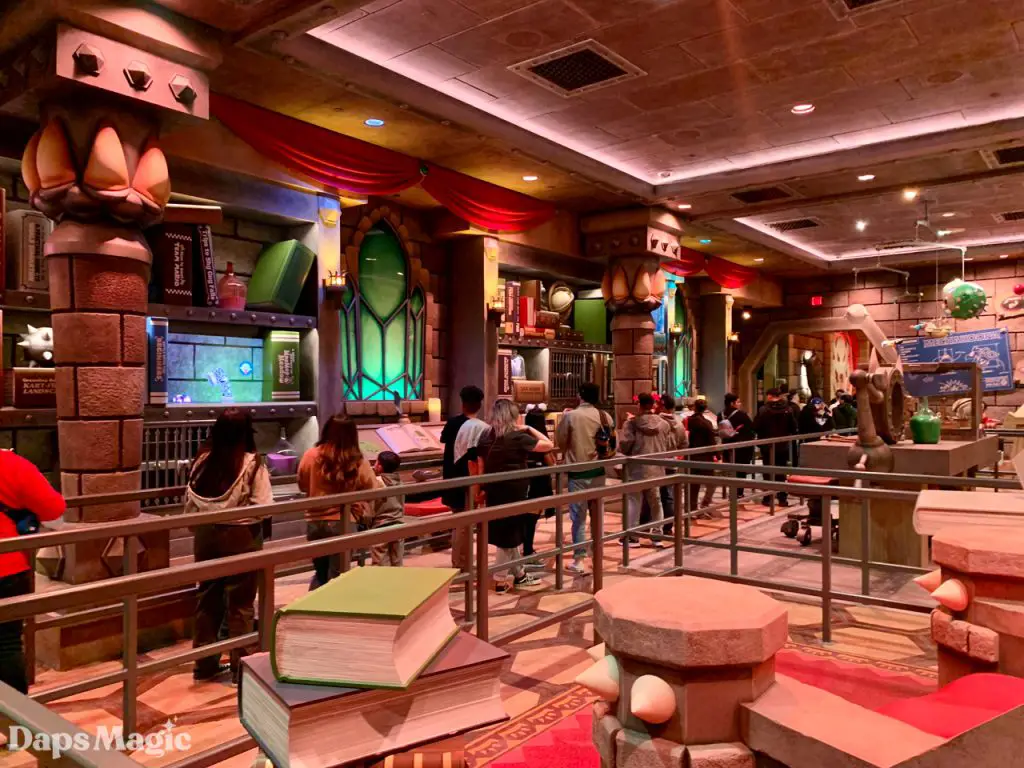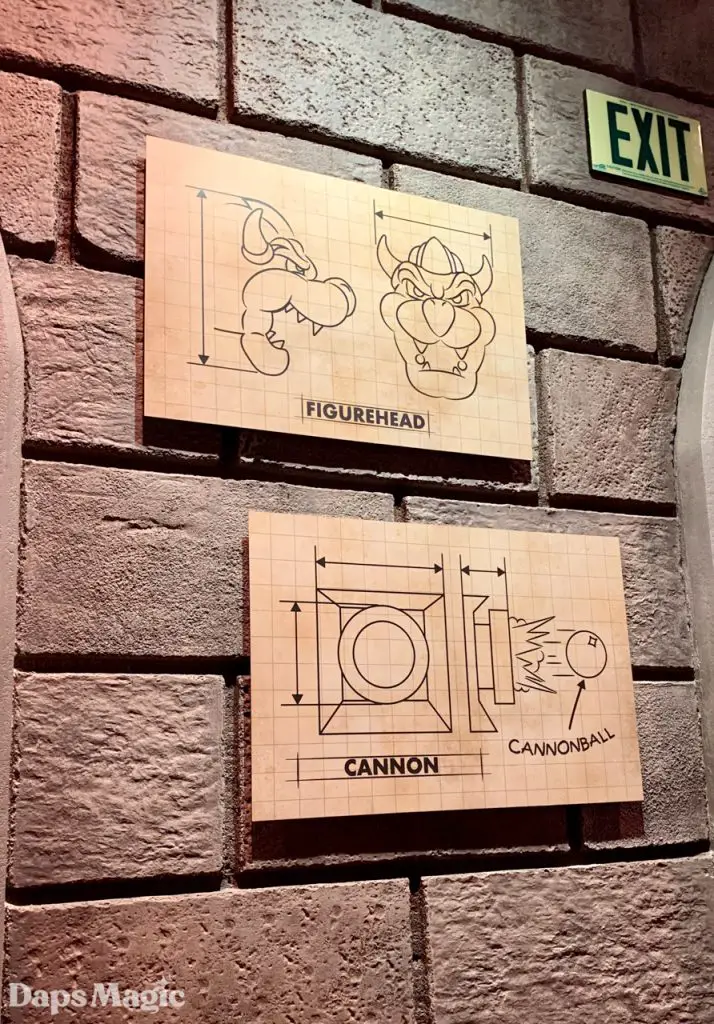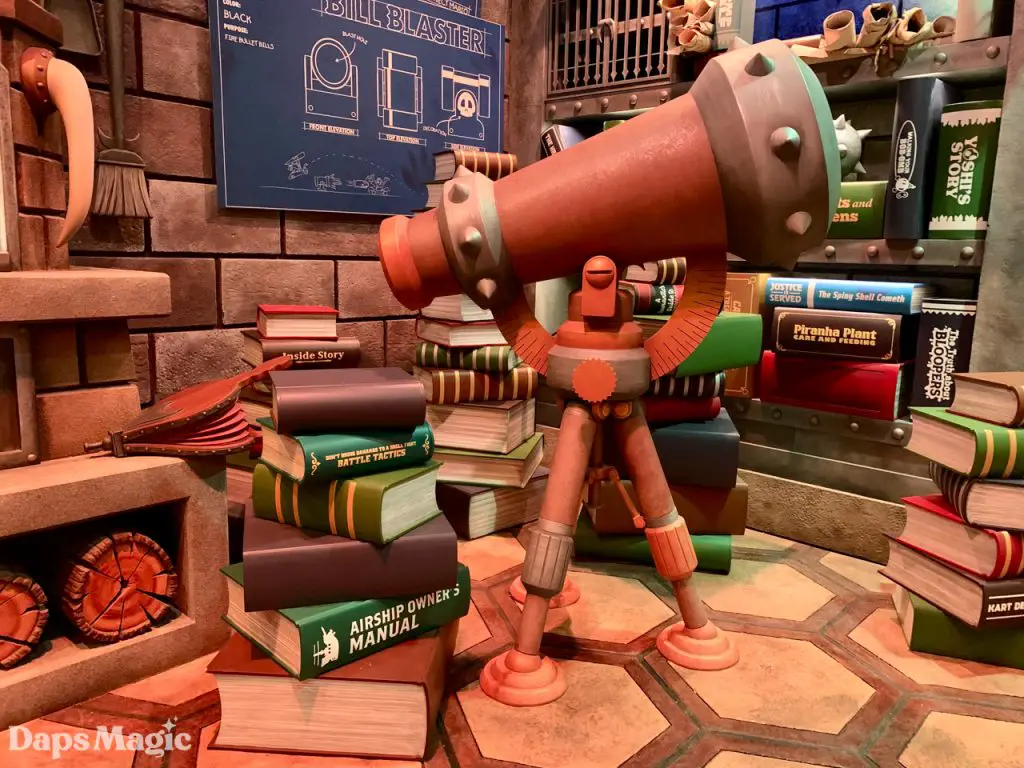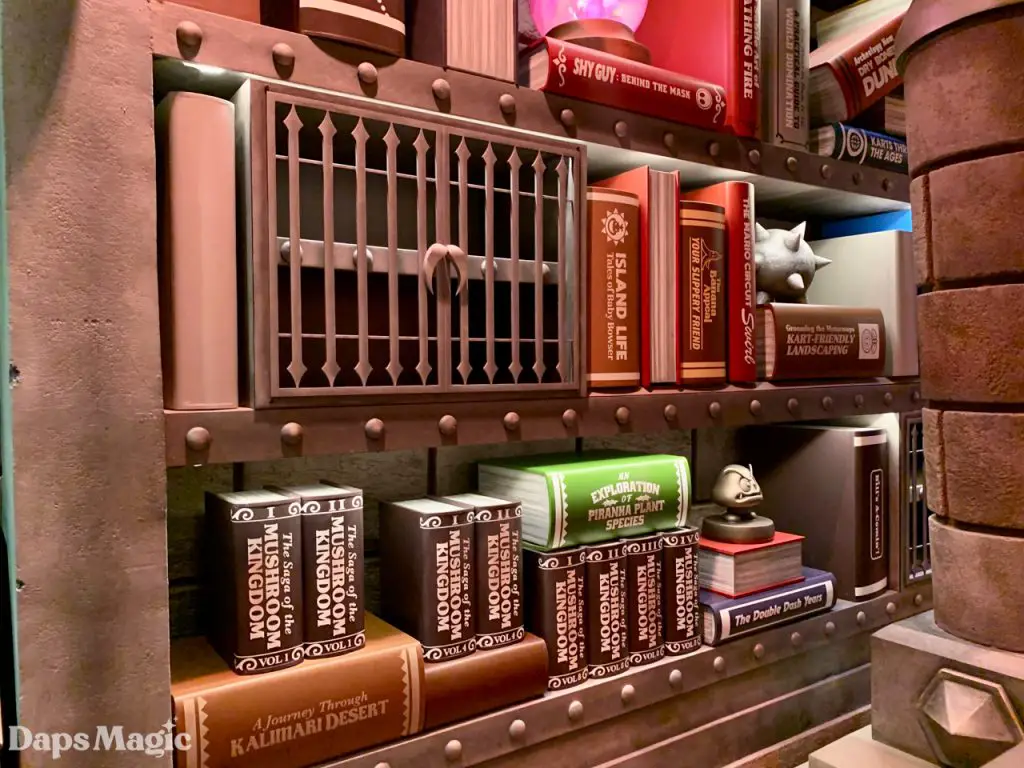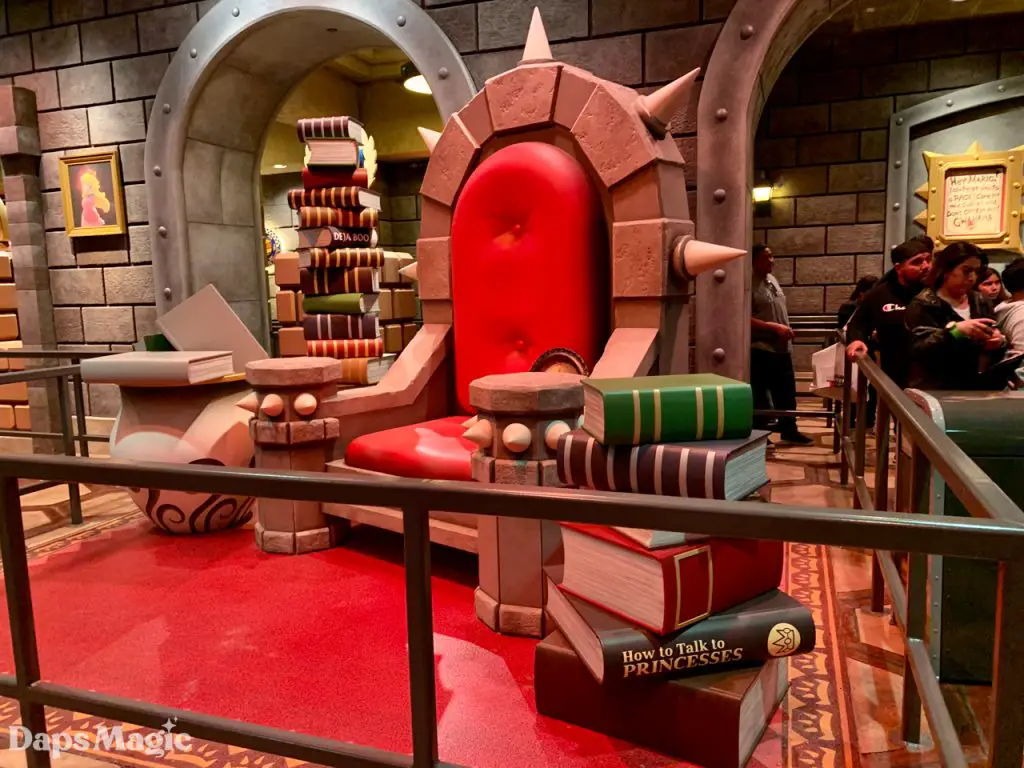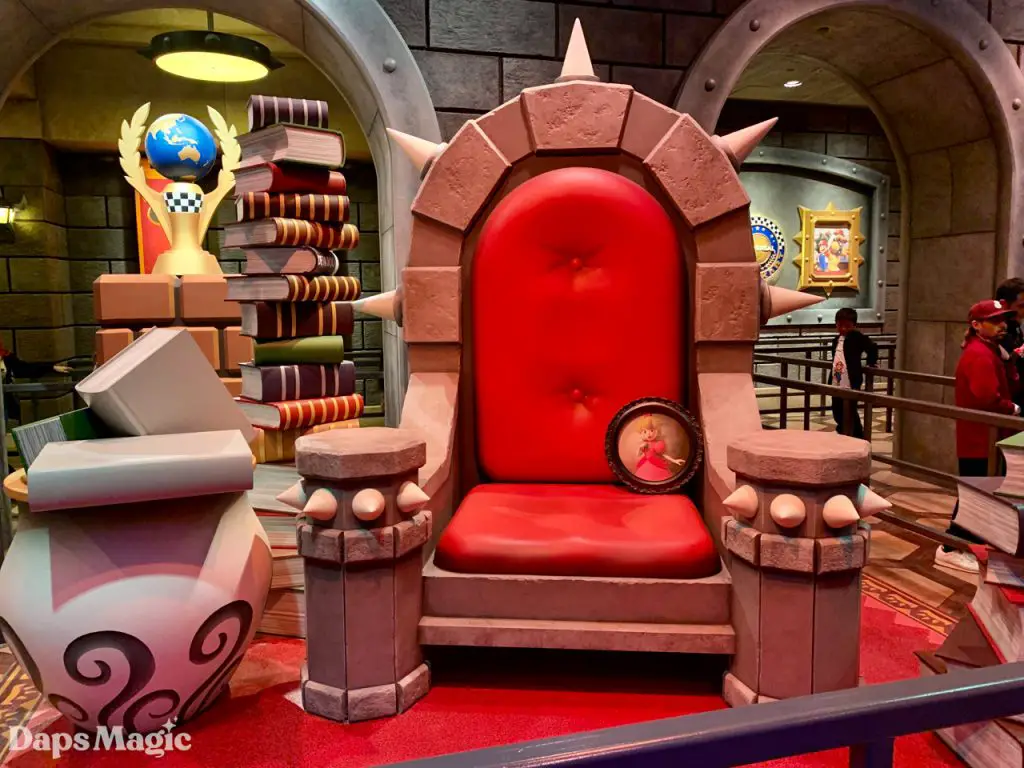 Did we mention Bowser's infatuation with Princess Peach?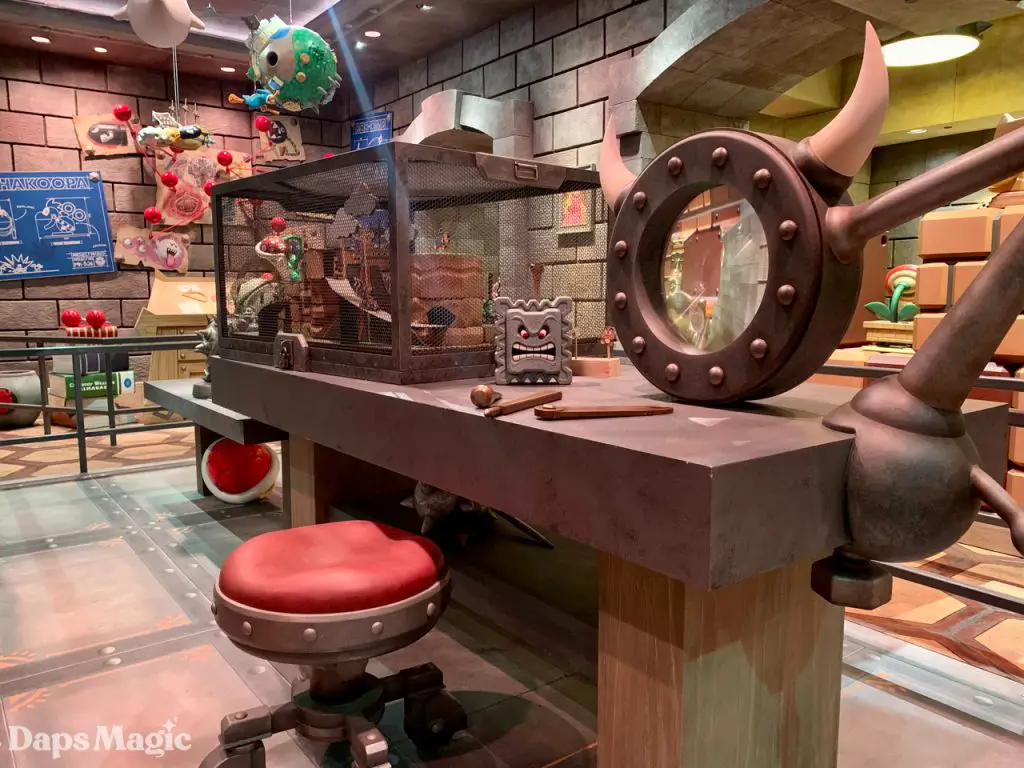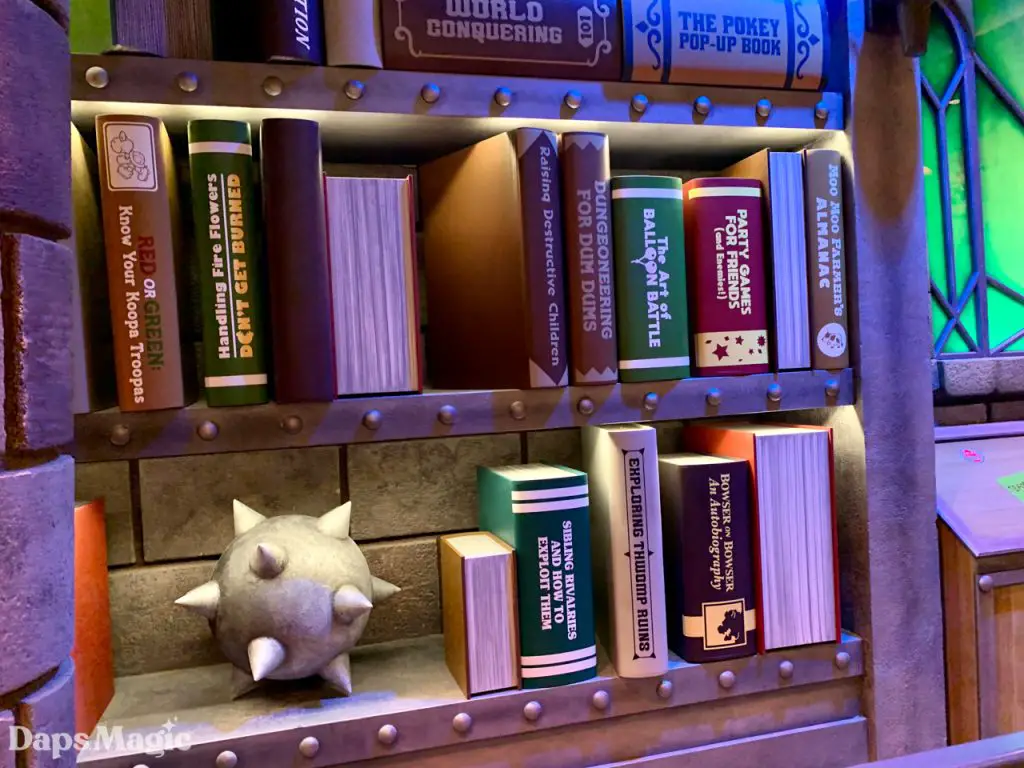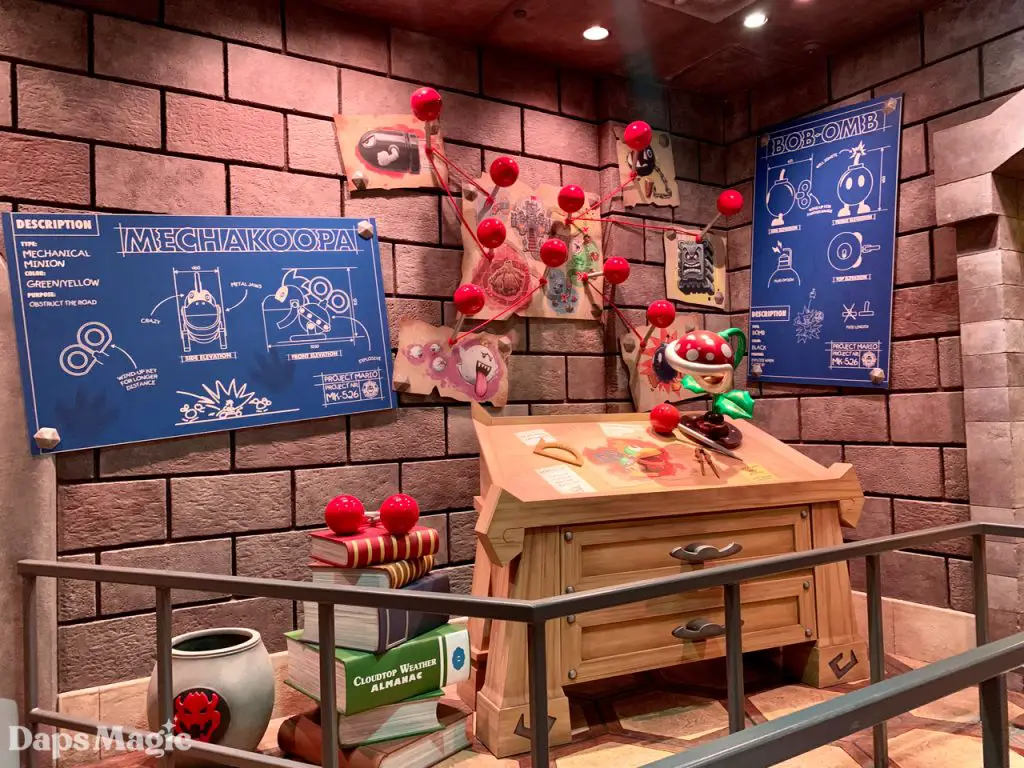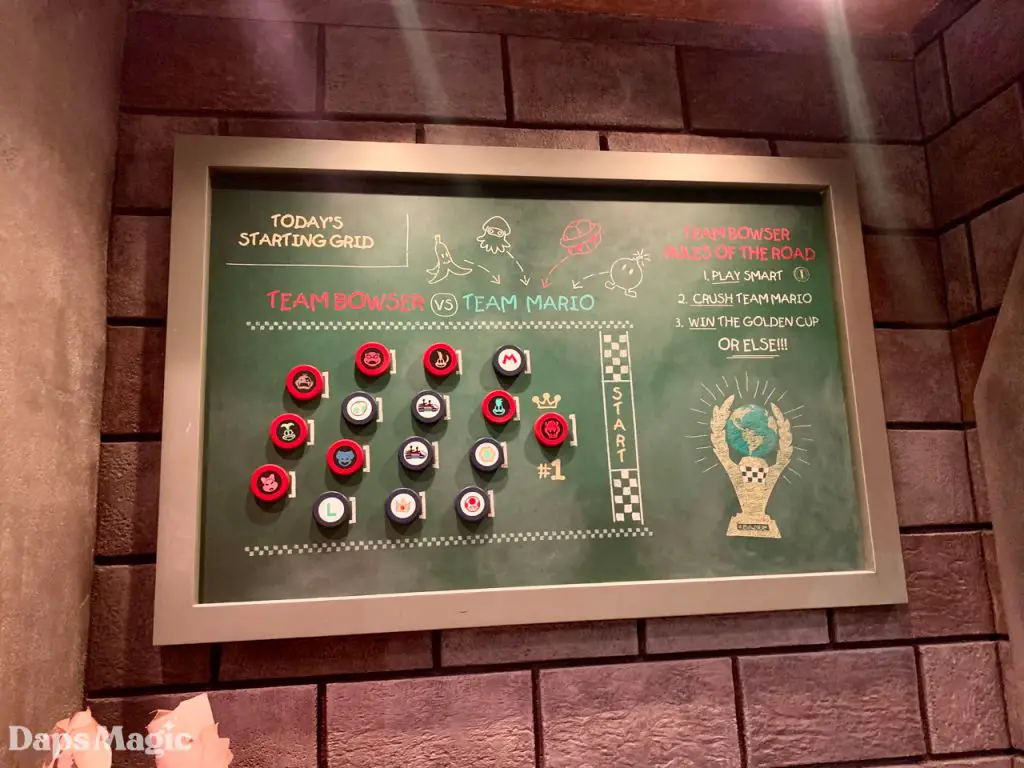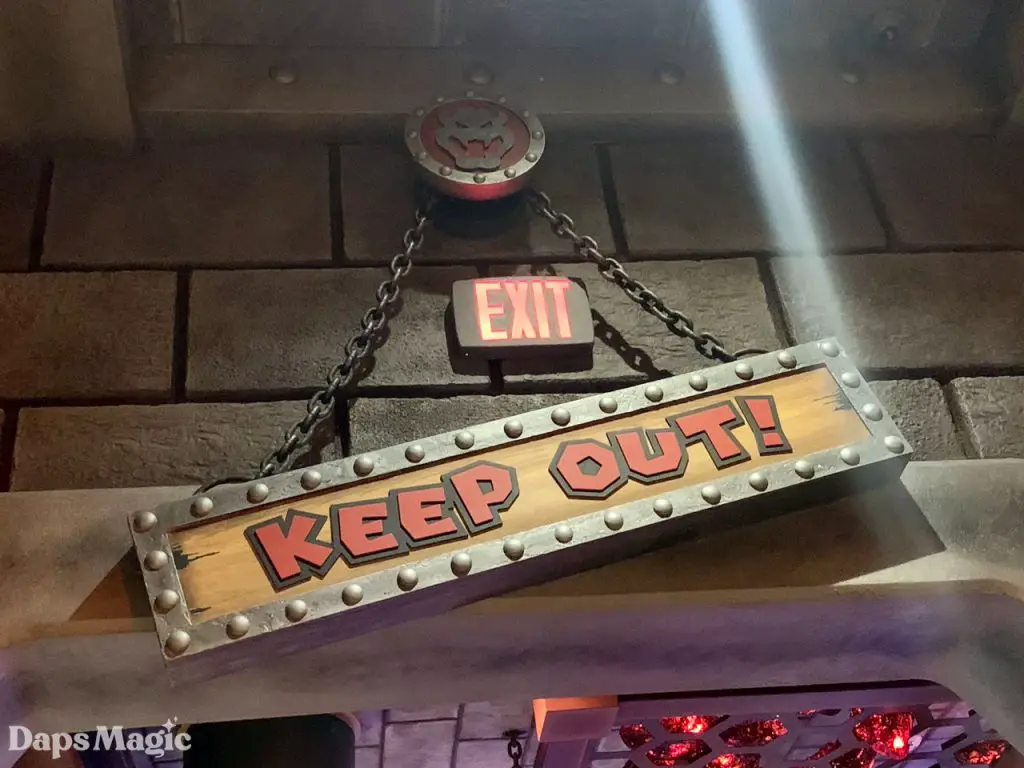 The next room was strictly off limits… so of course, we walked right in.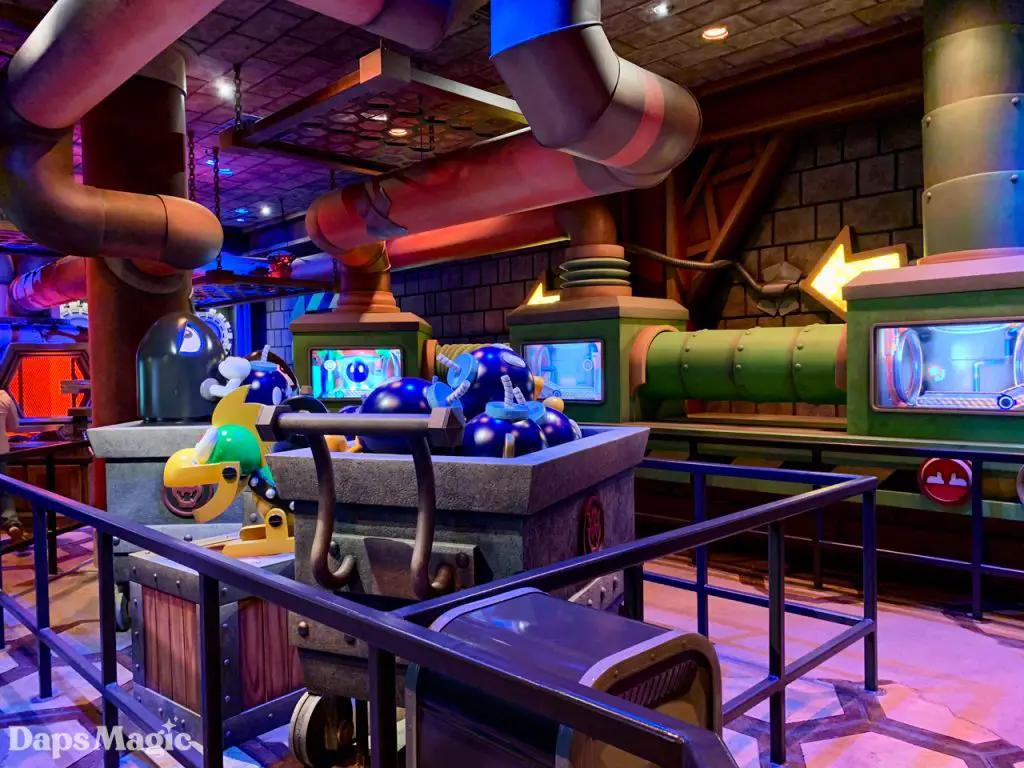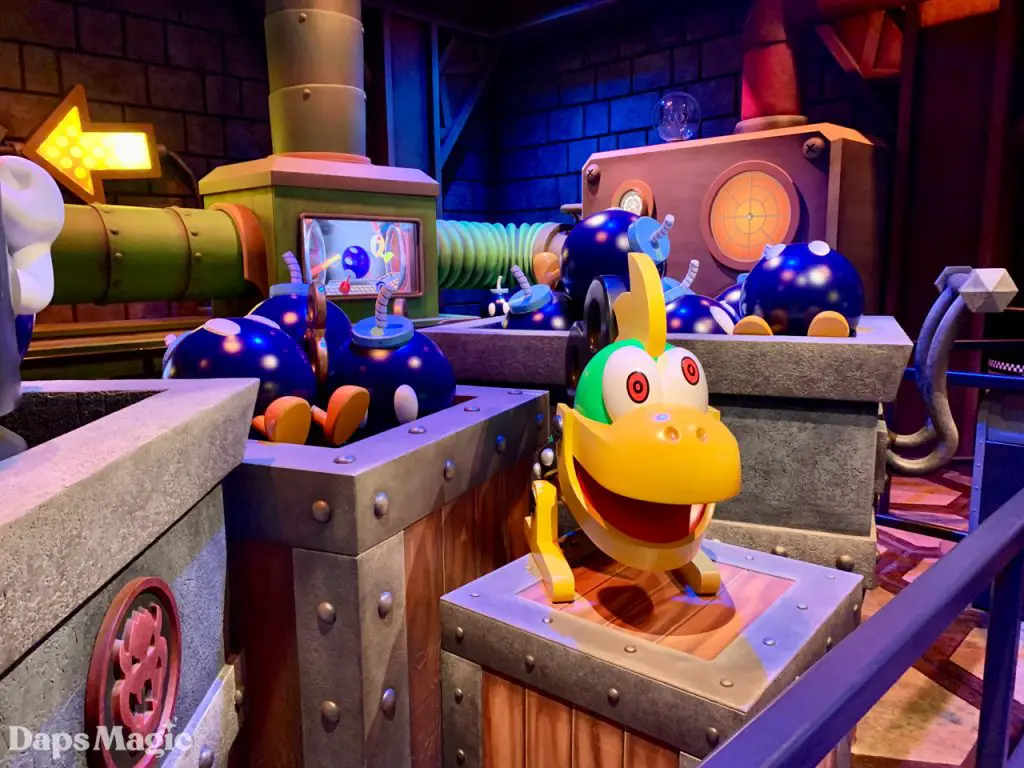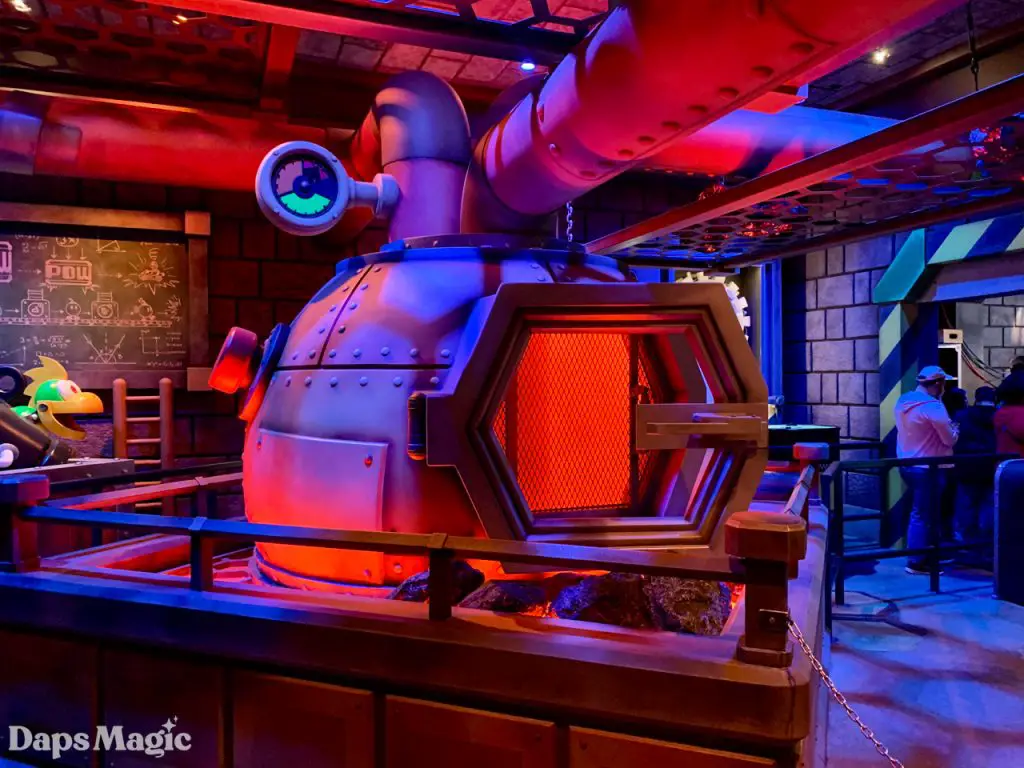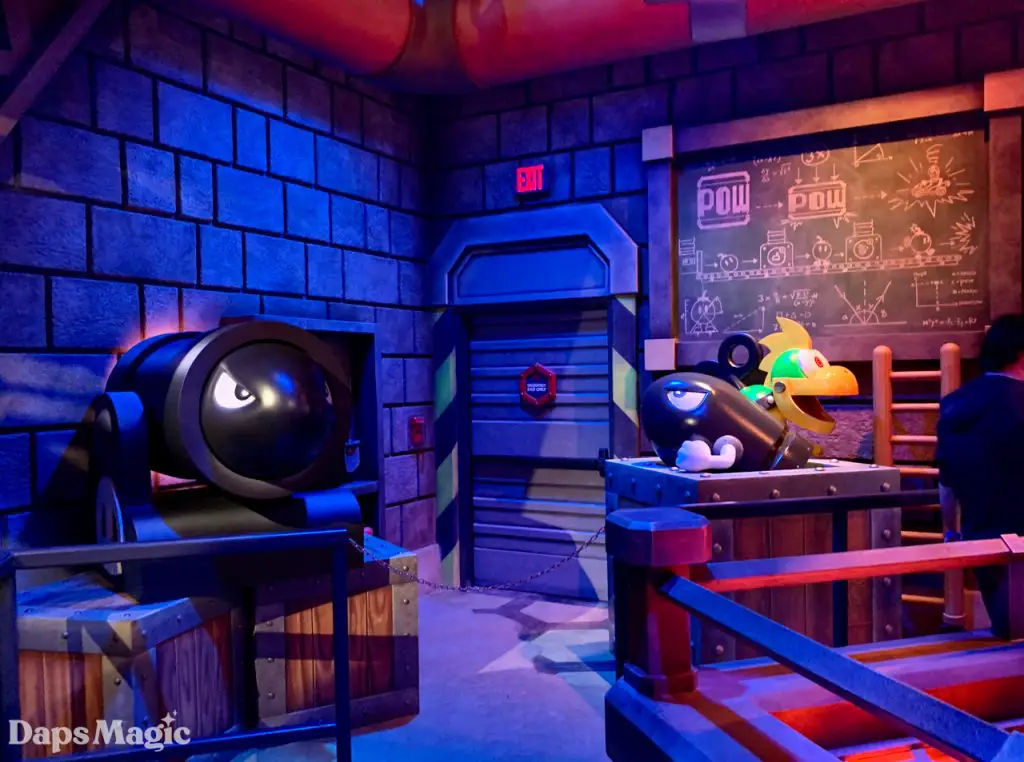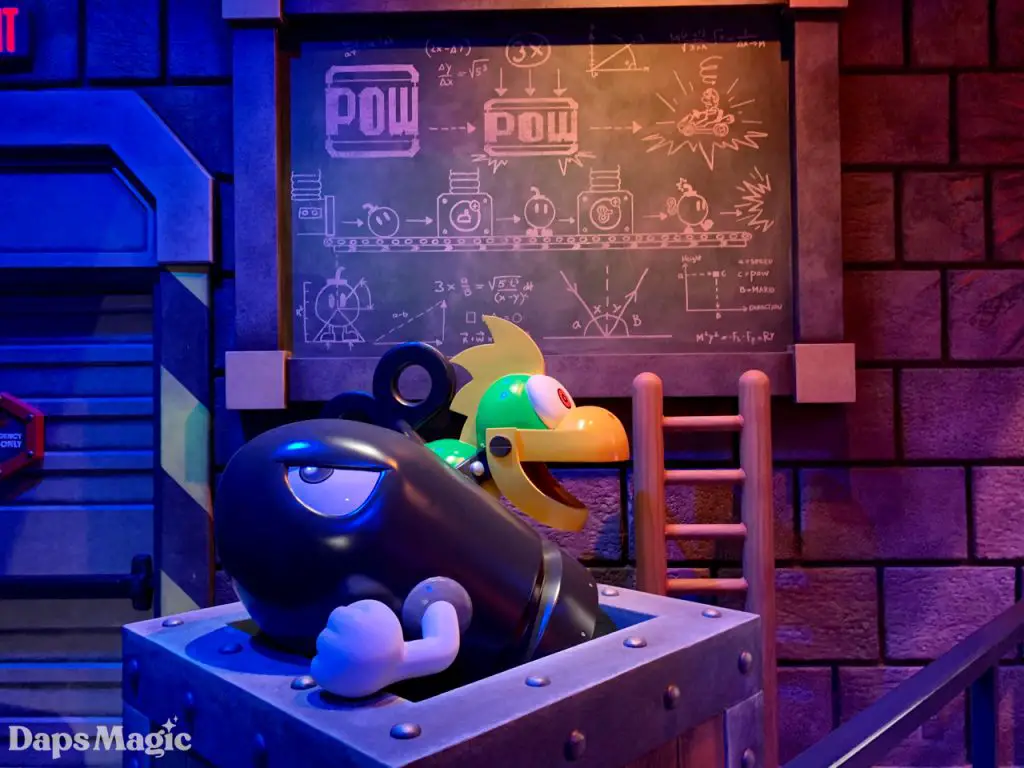 Leaving the Bomb Making Room, guests pass through two ante rooms, and are given a video in… Nintendo-speak?… that explains how the ride system and goggles work.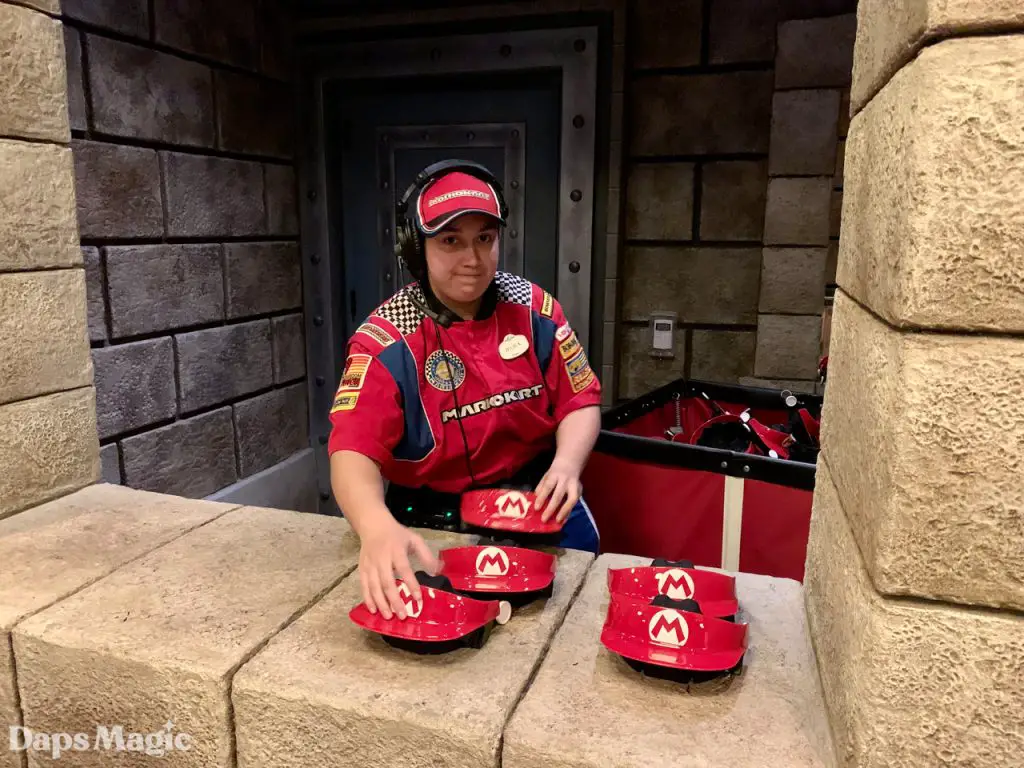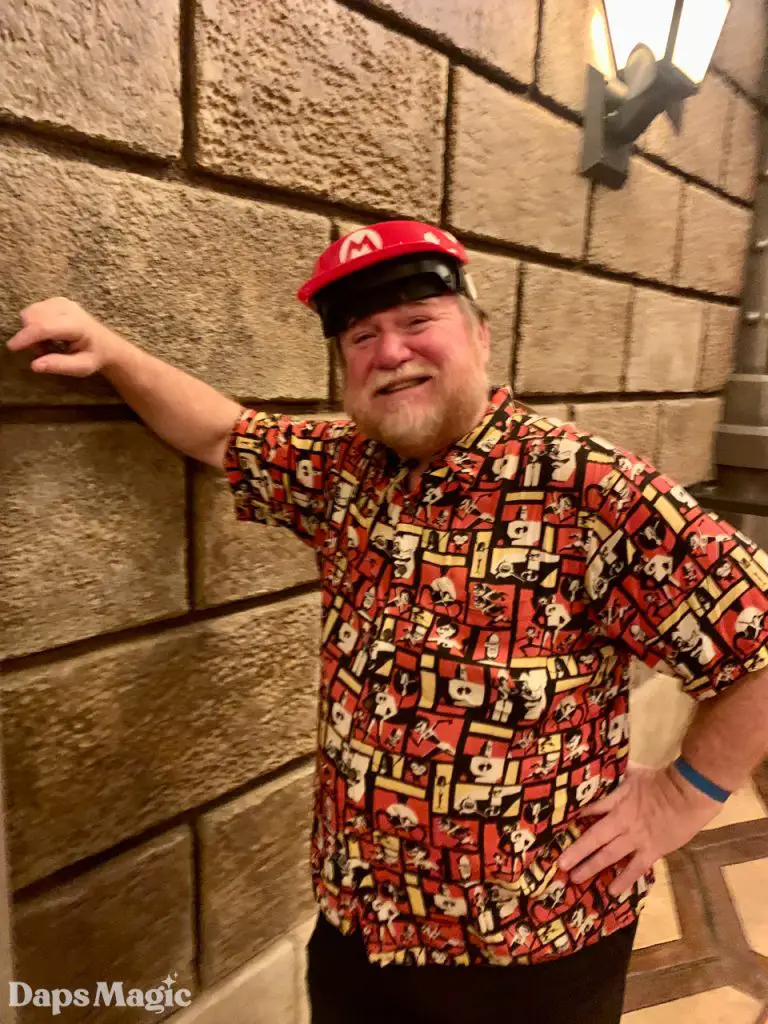 Yes, every guest is fitted with a stylish Mario cap. The hard plastic visor is easily adjusted to fit any size head, and has an area where the goggles are attached.

Time to board. Goggles are attached to each console in the vehicle, and easily snap into place.

We will not be offering photos or videos of the attraction itself, as the most compelling elements of the race are special effects that are displayed on the surface of your goggles.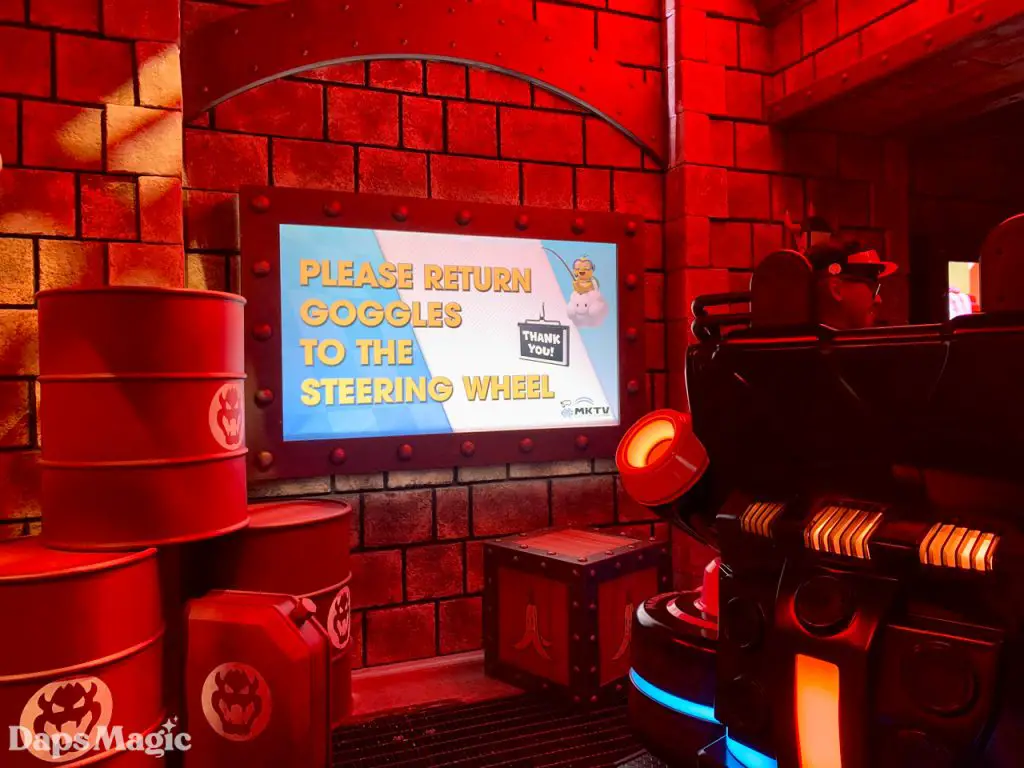 lWhile idling at the end of the race, guests are reminded to stow their goggles just below their steering wheel.

By the time we made it through the queue, experienced the attraction, and exited through the gift shop, the sun was down and Super Mario World was lighted up.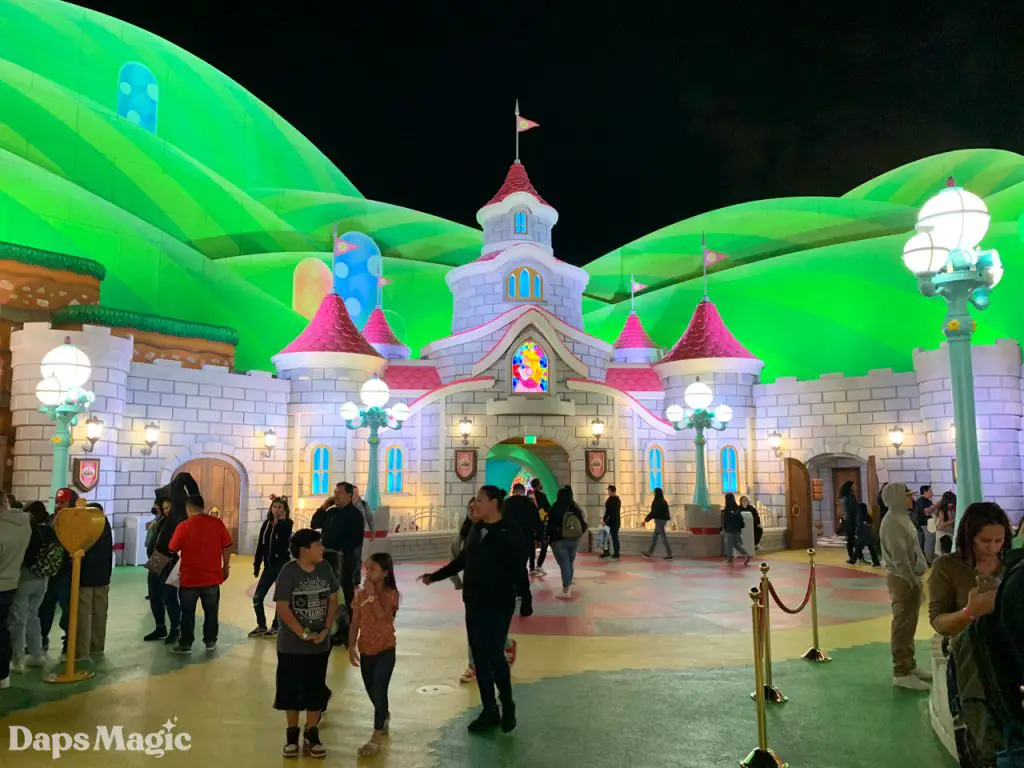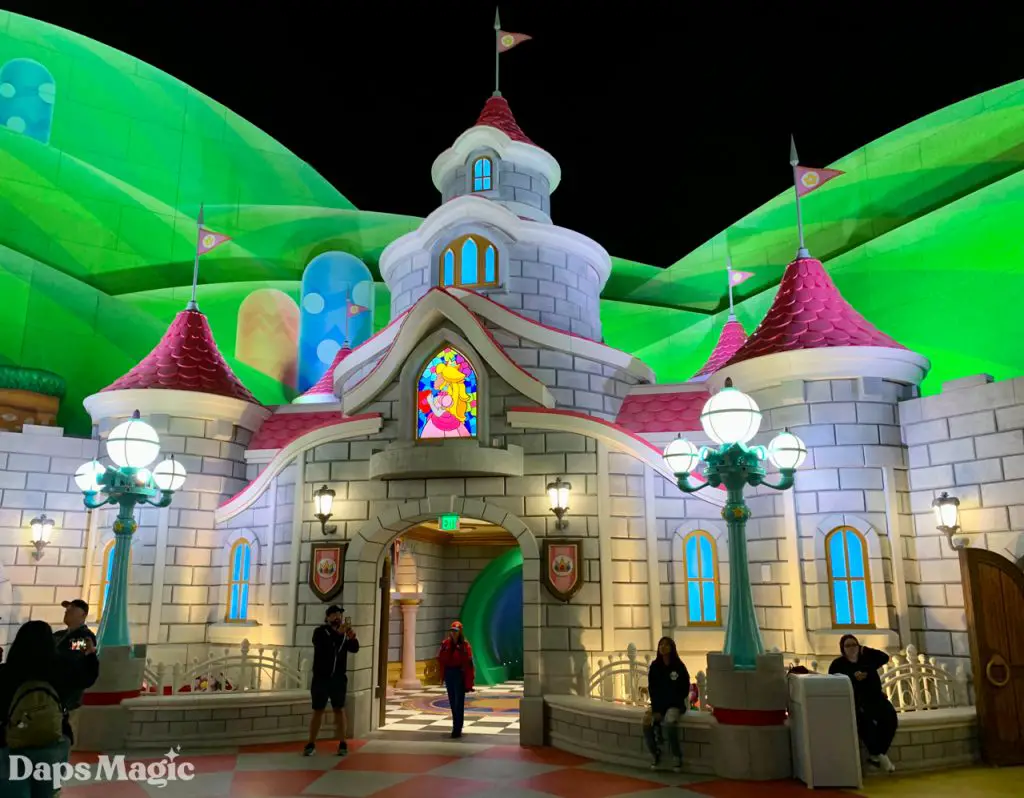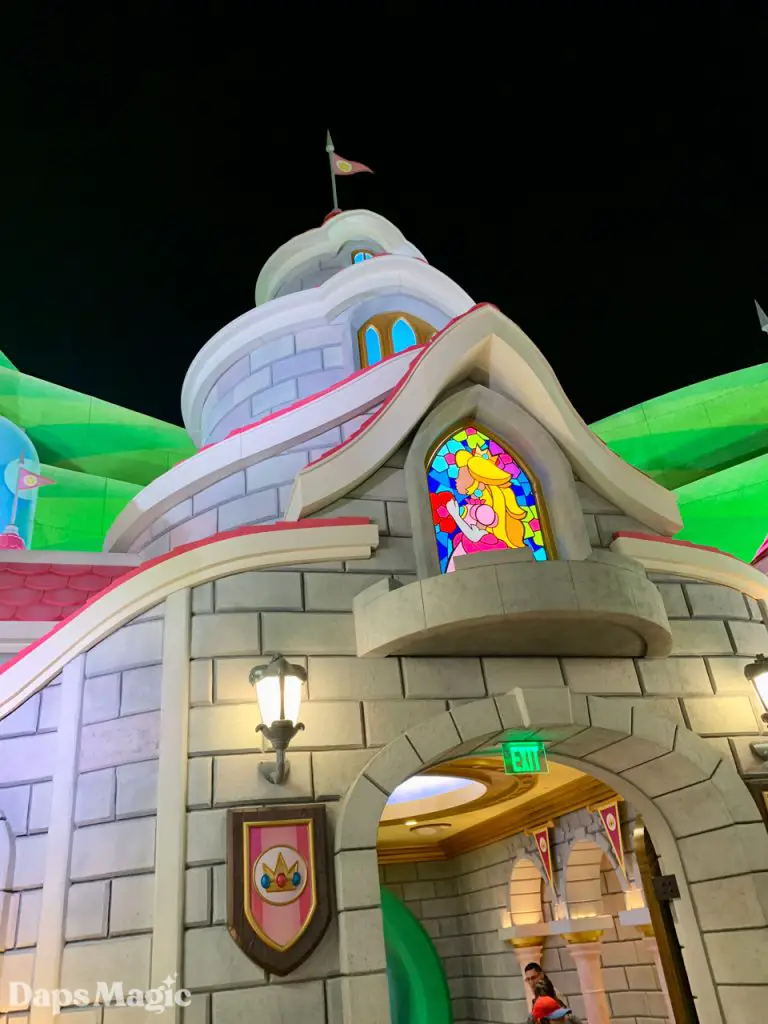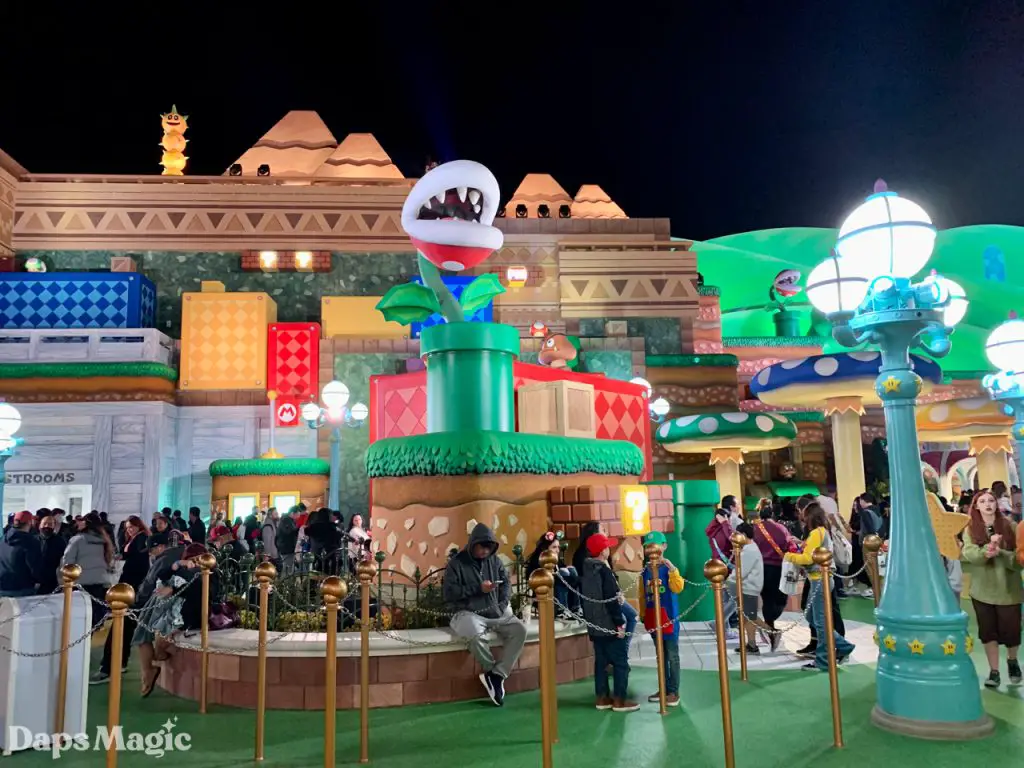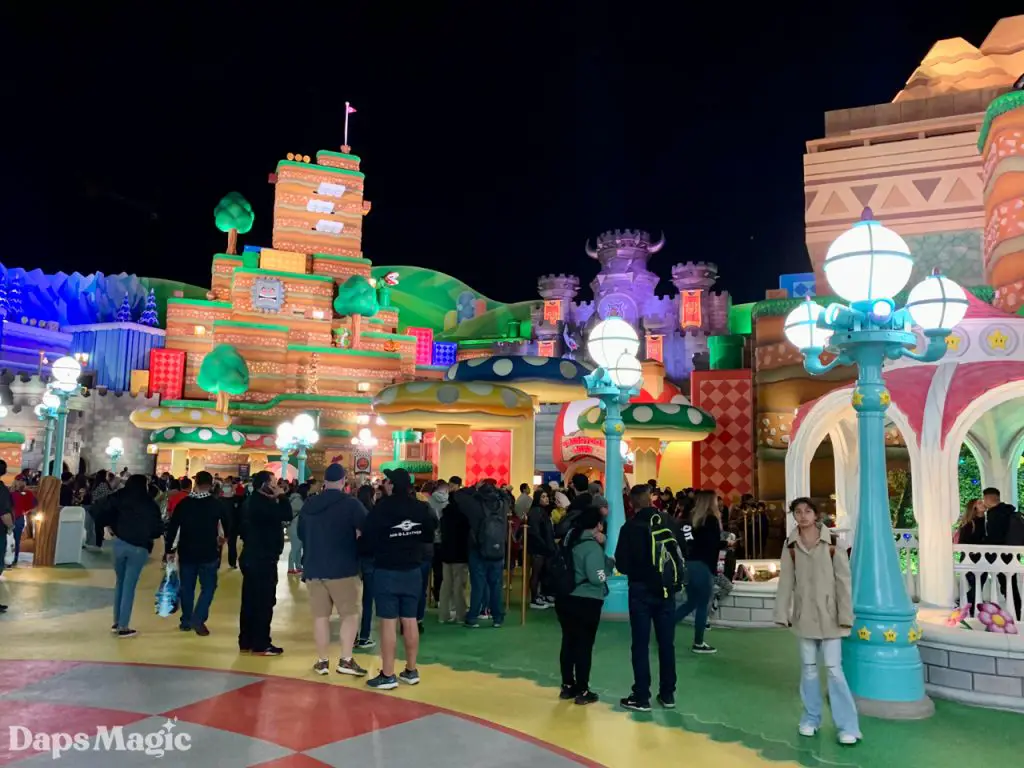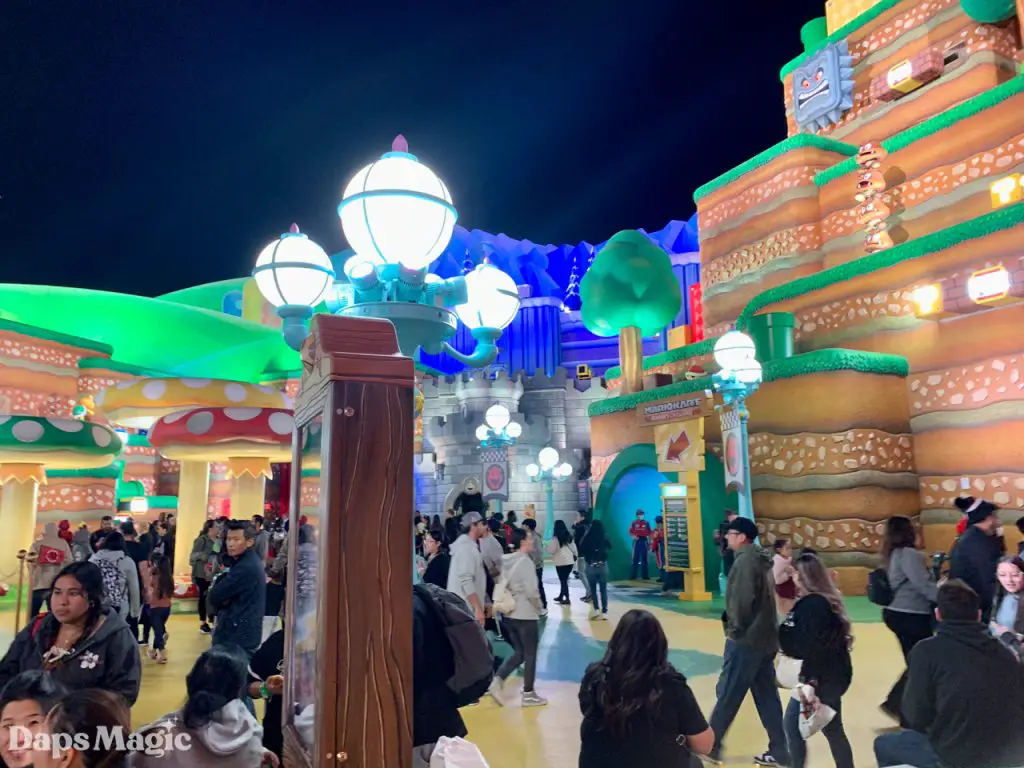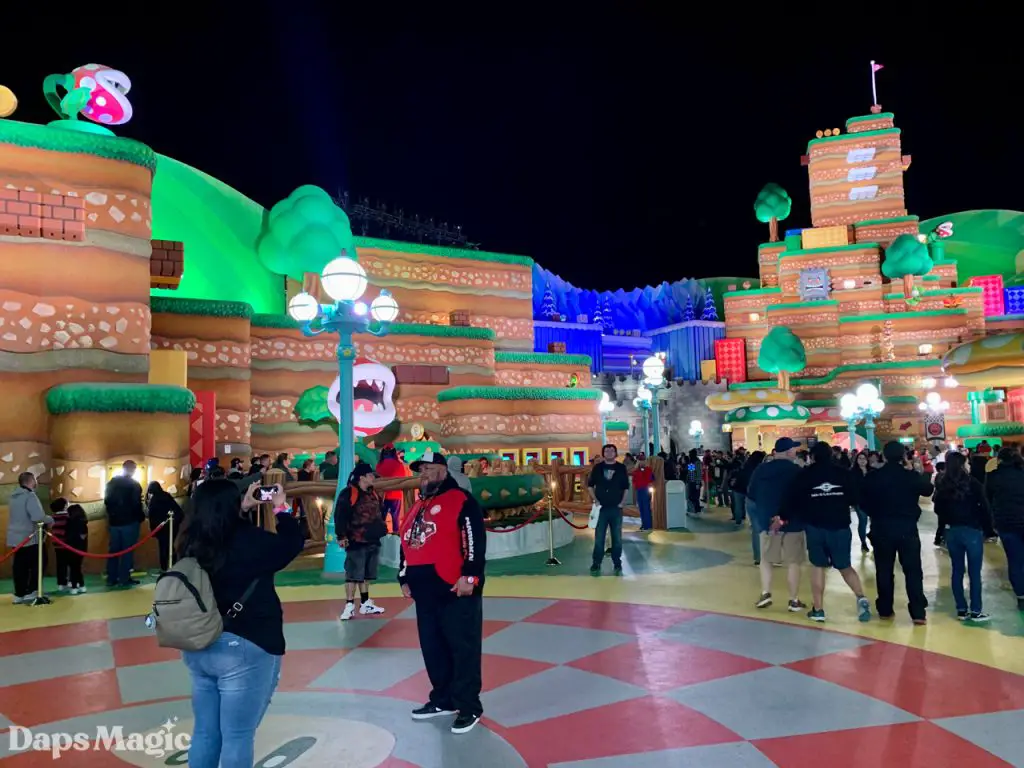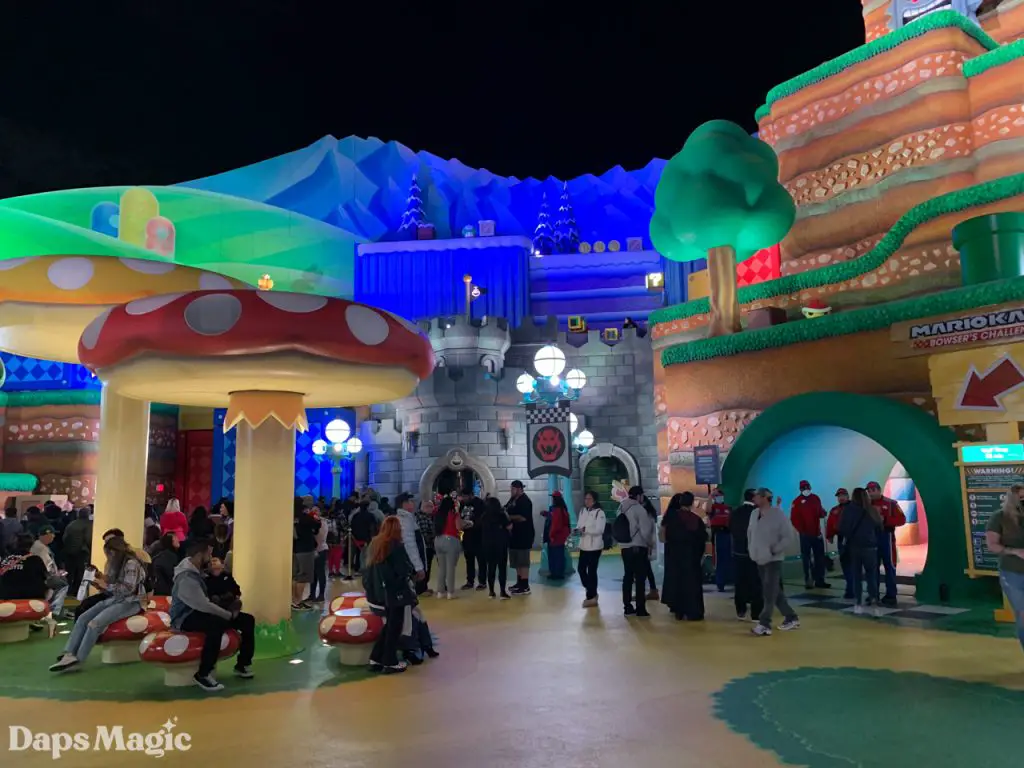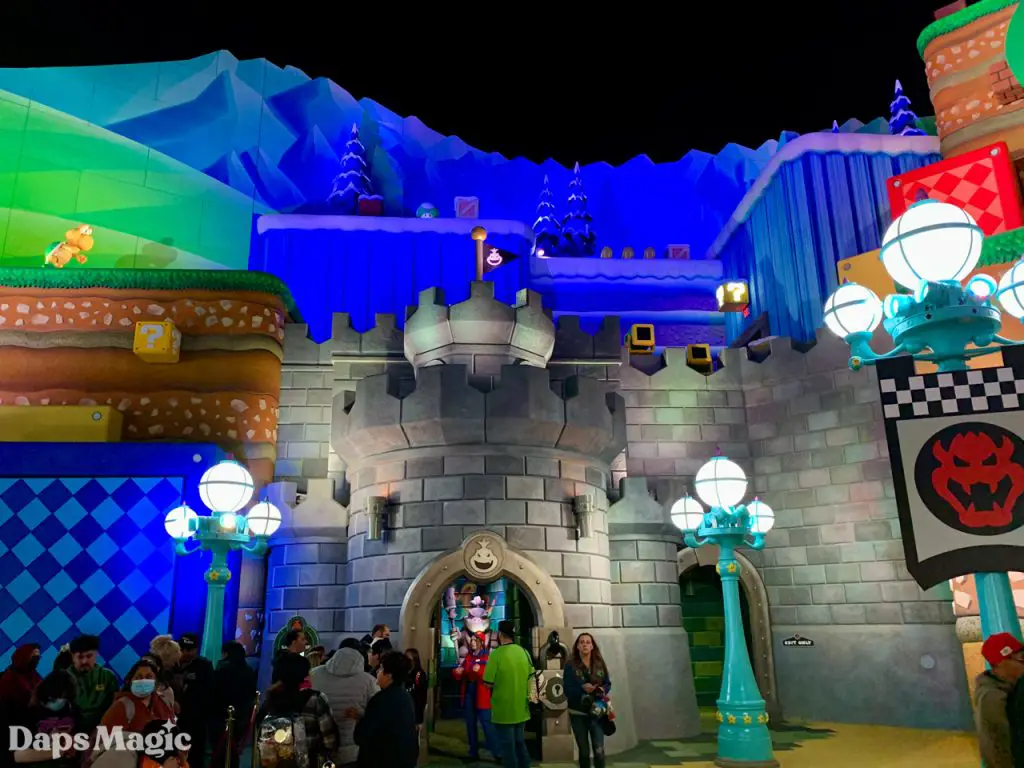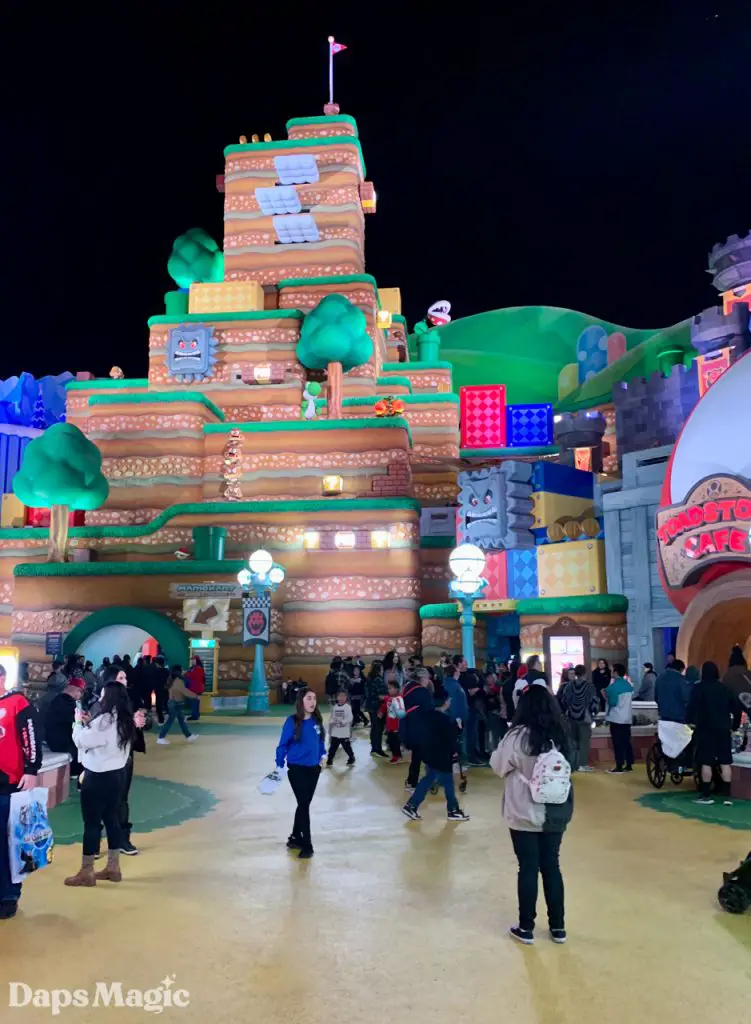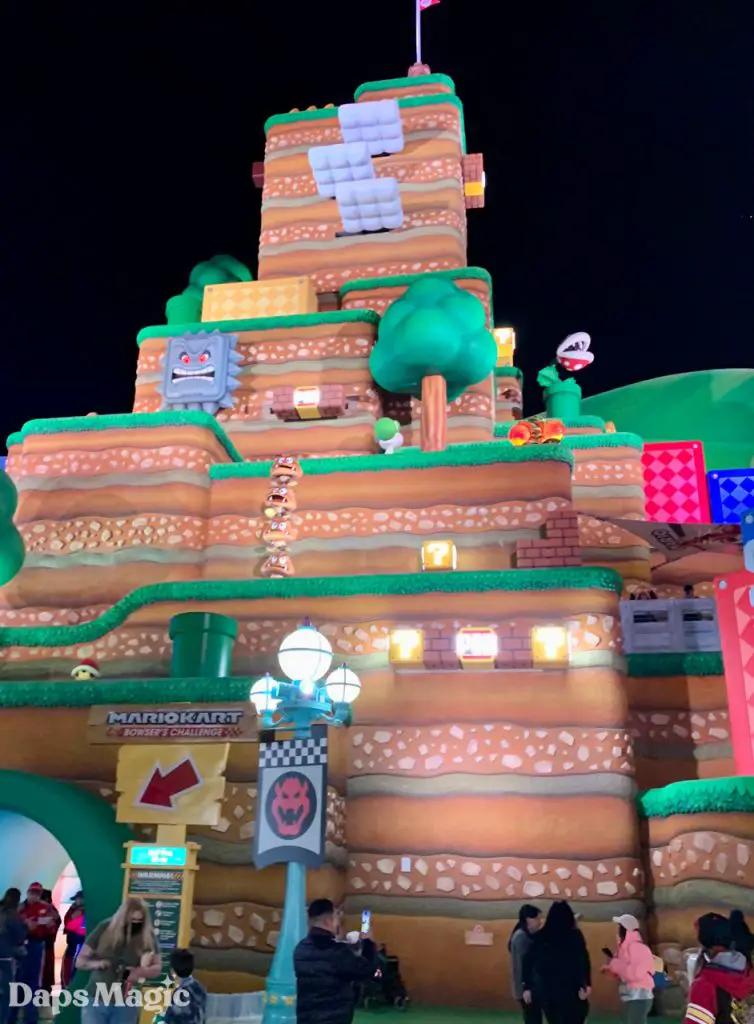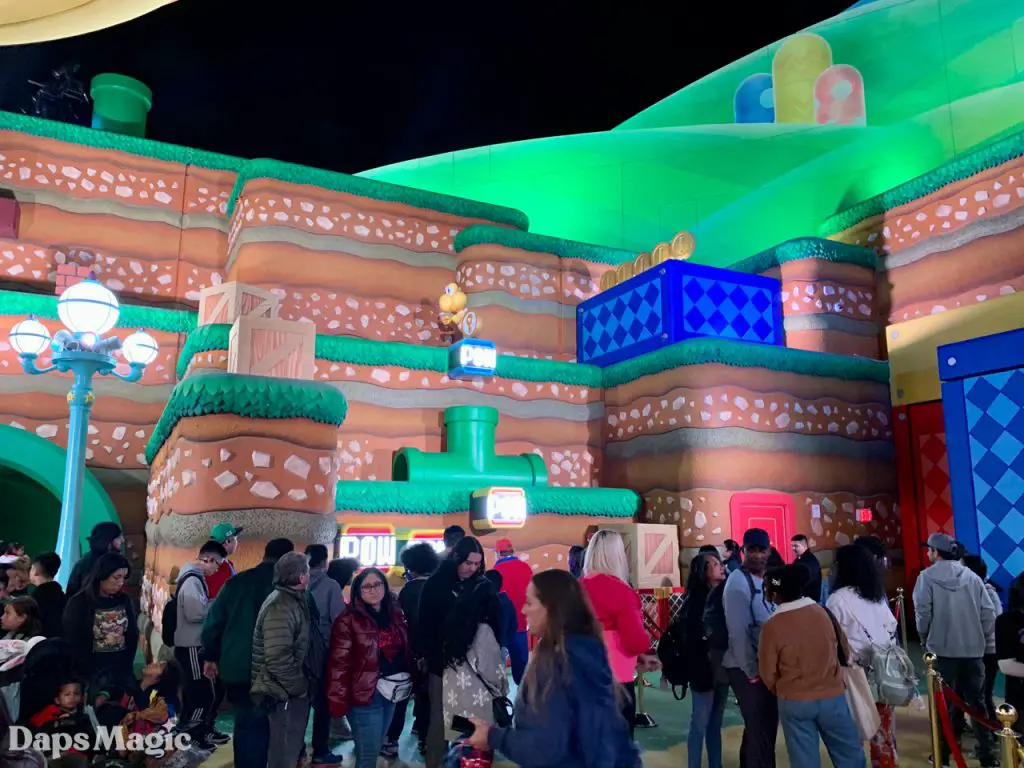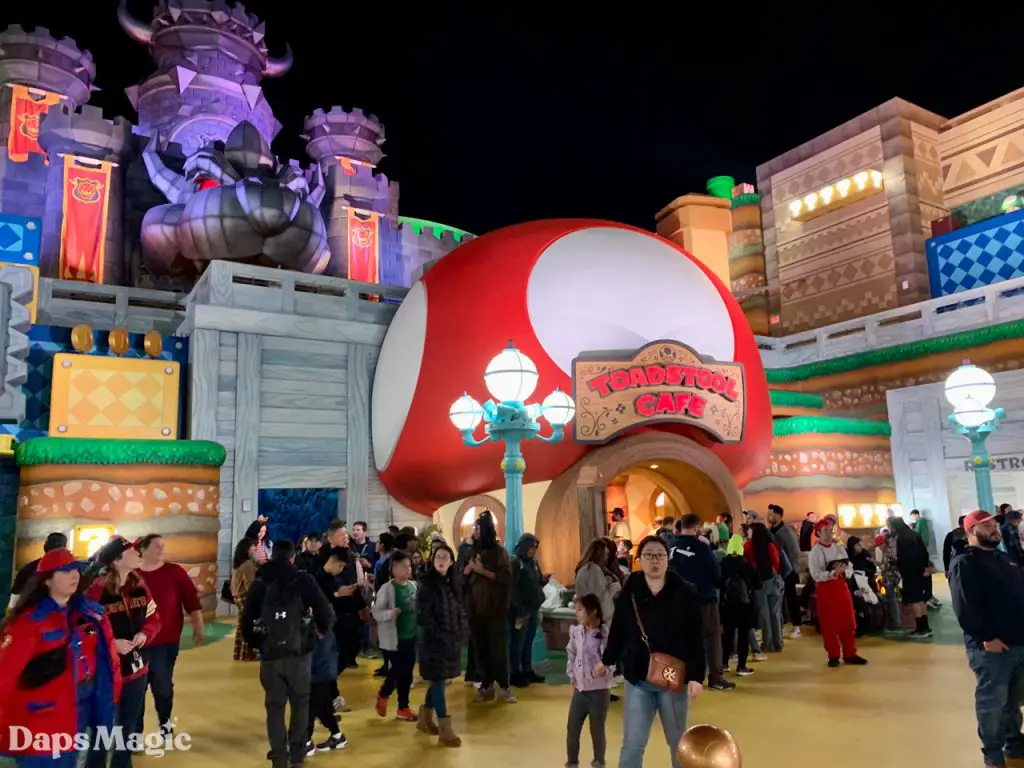 A last look at the Toadstool Cafe…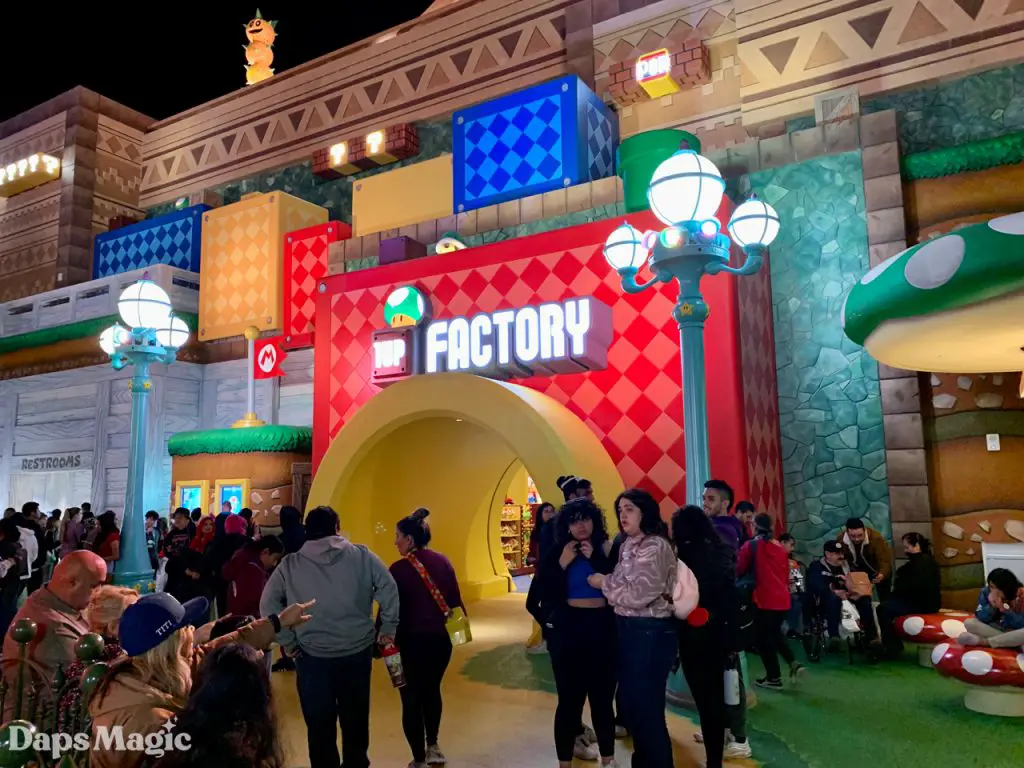 …the gift shop…
…and the castle of Princess Peach. Exit is, naturally, through another green pipe.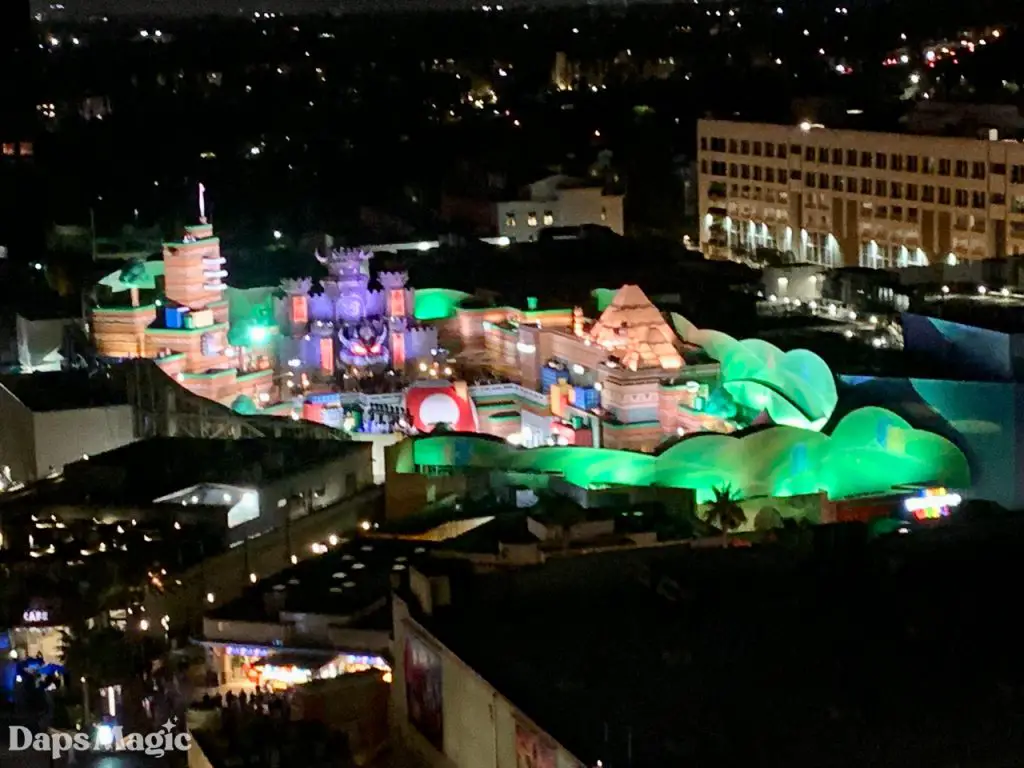 But there's always time for just one more shot, this one from Universal's extensive Starway. You know, that giant escalator that takes you back to the Upper Lot.

We hope you enjoyed this preview of Super Nintendo World. And, hopefully, we will be bringing you a report from what should be a memorable opening day on February 17!