A new collection of shorts will be released on Blu-Ray and DVD on February 7th as Disney celebrates 100 years of magic. Mickey & Minnie 10 Classic Shorts – Volume 1 will have a collection of ten shorts that will be gathered together for the first time. Each will include a new introduction from Mickey Mousse and Minnie Mouse. SteamBoat Willie will be one of the ten shorts included with this collection.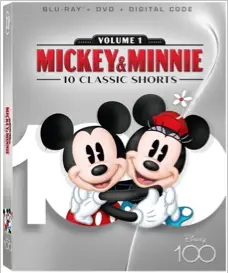 Mickey & Minnie 10 Classic Shorts – Volume 1 will be the first of multiple releases during 2023 to celebrate Disney's 100th anniversary.
Official Description of Mickey & Minnie 10 Classic Shorts – Volume 1
Celebrate 100 magical years of Disney with this collectible compilation of animated shorts! Mickey and Minnie share their memories in new introductions to these 10 wonderful stories, which have entertained generations of children and adults alike. Included is the iconic "Steamboat Willie," the first cartoon with synchronized sound, in which the character of Mickey Mouse was first introduced as a deckhand on a riverboat commanded by the tyrannical Captain Pete. Also included are "Brave Little Tailor," featuring Mickey as a medieval tailor given a daunting task. In "Mickey's Delayed Date," the tardy mouse relies on his faithful pup Pluto to get him to a dance with Minnie. "Hawaiian Holiday" finds Mickey and his pals vacationing on a beautiful island. Then along with friends, Mickey and Minnie glide through a romantic date on a frozen river in "On Ice." And catch five more delightful stories in this legacy collection.
What do you think of this collection? Are you excited about this release? Share your thoughts and opinions in the comments below!