A remastered Titanic is heading to theaters as the film celebrates its 25th anniversary. The film will be arriving in theaters for a limited run starting on February 10, 2023. It will be shown in D 4K HDR with a high-frame rate.
Titanic initially was released in 1997. It was the first film to pass $1 billion at the box office. It also garnered 11 Academy Awards. A new trailer has been unveiled ahead of the arrival of this film in theaters once again.
A new poster for the film was also unveiled.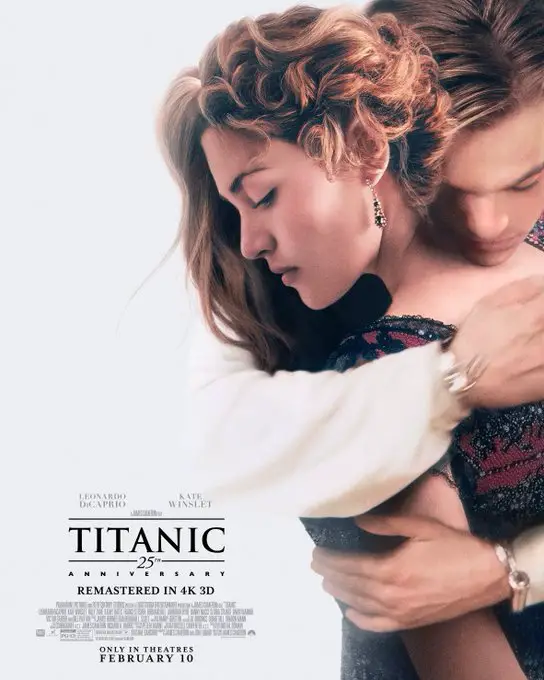 The film follows the events that happened that led to the eventual sinking of Titanic through the lens of a young couple who fall in love aboard the ship. It stars Leonardo DiCaprio, Kate Winslet, Billy Zane, Kathy Bates, Frances Fisher, Bernard Hill, Jonathan Hyde, Danny Nucci, Gloria Stuart, David Warner, Victor Garber and Bill Paxton, and was written and directed by James Cameron.
Globally, the three hour and fifteen minute movie has made $2.2 billion at the box office to date. It was passed up by Avatar when it made $2.74 billion at the box office in 2009.
What do you think about the re-release of this remastered Titanic? Will you be seeing it in theaters? Did you see it in theaters before? Will you see it again? Share your thoughts and opinions in the comments below!