This morning Walt Disney Imagineering revealed that the entrance sign for TRON: Lightcycle / Run has been installed in front of the attraction at Magic Kingdom. This comes just months before it officially opens at Walt Disney World Resort on April 4, 2023. In the coming months there will be cast member previews along with previews for annual passholders and DVC members. The news was shared on social media by Imagineering: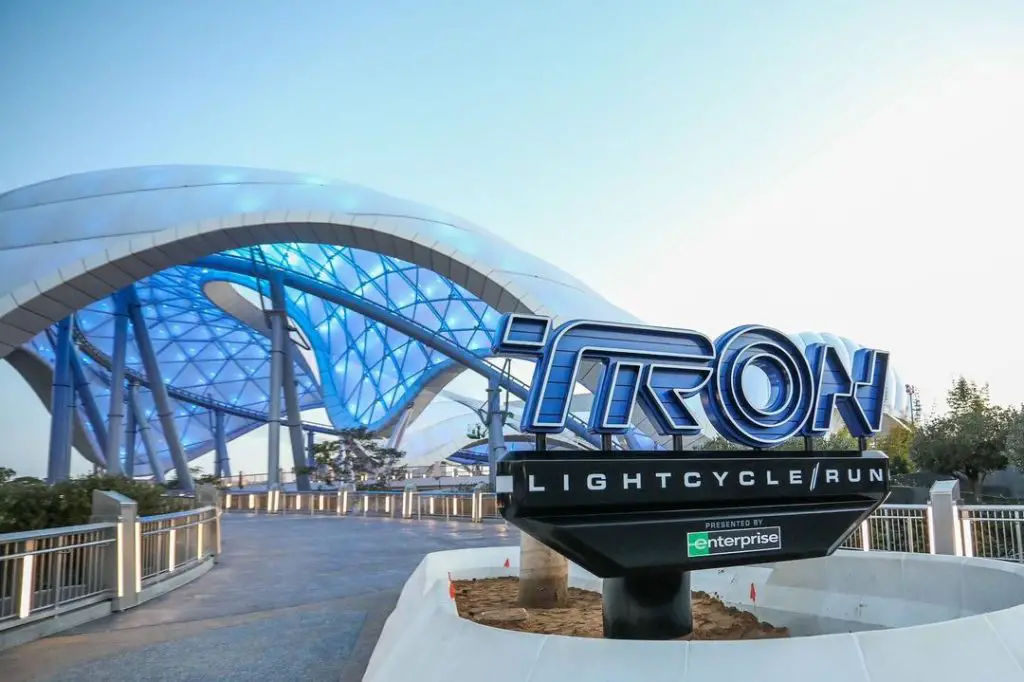 Attention Users: This morning Imagineers installed the marquee for TRON Lightcycle / Run at Magic Kingdom Park, as work continues ahead of the attraction opening on April 4. We can't wait for you to enter the Grid!

Walt Disney Imagineering Instagram
TRON Lightcyle / Run is a highly anticipated ride for Disney fans. Here is the official description of the attraction from Disney:
TRON Lightcycle / Run – Opening April 4, 2023

Speed across a world with no horizons in a high-stakes race based on the Disney sci-fi film TRON: Legacy.

LIMIT: NOT FOUND_

Lean forward into the ultimate race of survival! Leave the real world behind and join Team Blue in an epic quest across the Grid—the dark, computerized world with no horizons from TRON. Here, there's no limit to the excitement.

Climb aboard your very own Lightcycle and take off on a high-speed adventure, racing against the Grid's most menacing Programs. Surge past your fierce opponents as you attempt to cross through 8 Energy Gates and secure your team's victory—so you can survive to race another day.

Scheduled to open April 4, 2023, TRON Lightcycle / Run will be one of the fastest coasters at any Disney theme park in the world.

From the Big Screen to the Theme Park

In 1982, Disney made filmmaking history with TRON, the first production of its kind to mix live action with computer-generated visuals and backlit animation. This iconic film went on to inspire video games, comic books, an animated series and the 2010 sequel TRON: Legacy—as well as this new Disney theme park attraction.

Walt Disney World Resort
Are you excited about this next step in the path to TRON: Lightcycle / Run opening at Magic Kingdom? Will you be experiencing it upon its opening or during a preview? What do you think of the sign? Share your thoughts and opinions in the comments below!