You may recall that a year ago I was writing about Afternoon Avenue Live! at Disneyland, and specifically about the closure of Baloo's Dressing Room. That meet 'n greet, located immediately beyond that new railroad trestle to the west of it's a small world, had been replaced by a construction wall.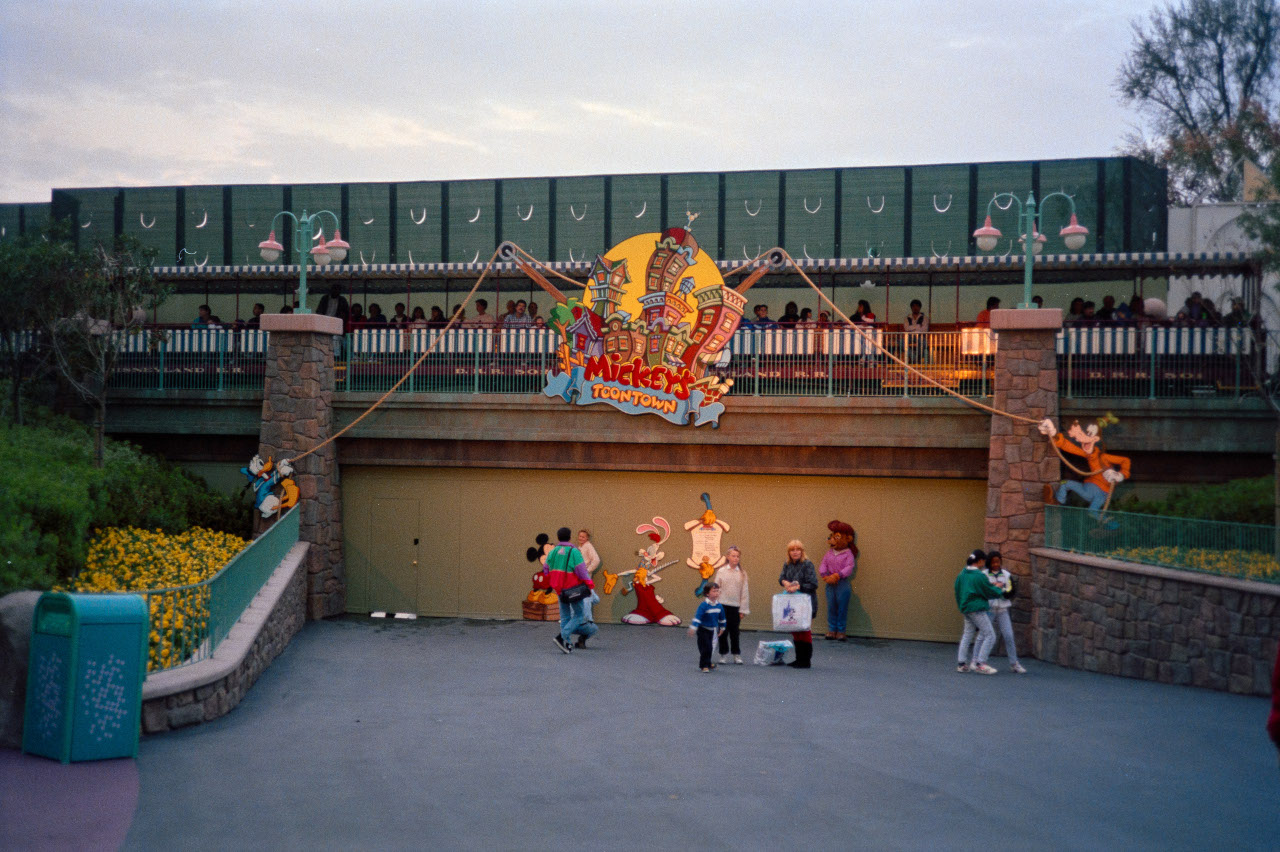 In case there was any doubt about what was going on just beyond that wall, the official Mickey's Toontown building permit was posted right there for all to see.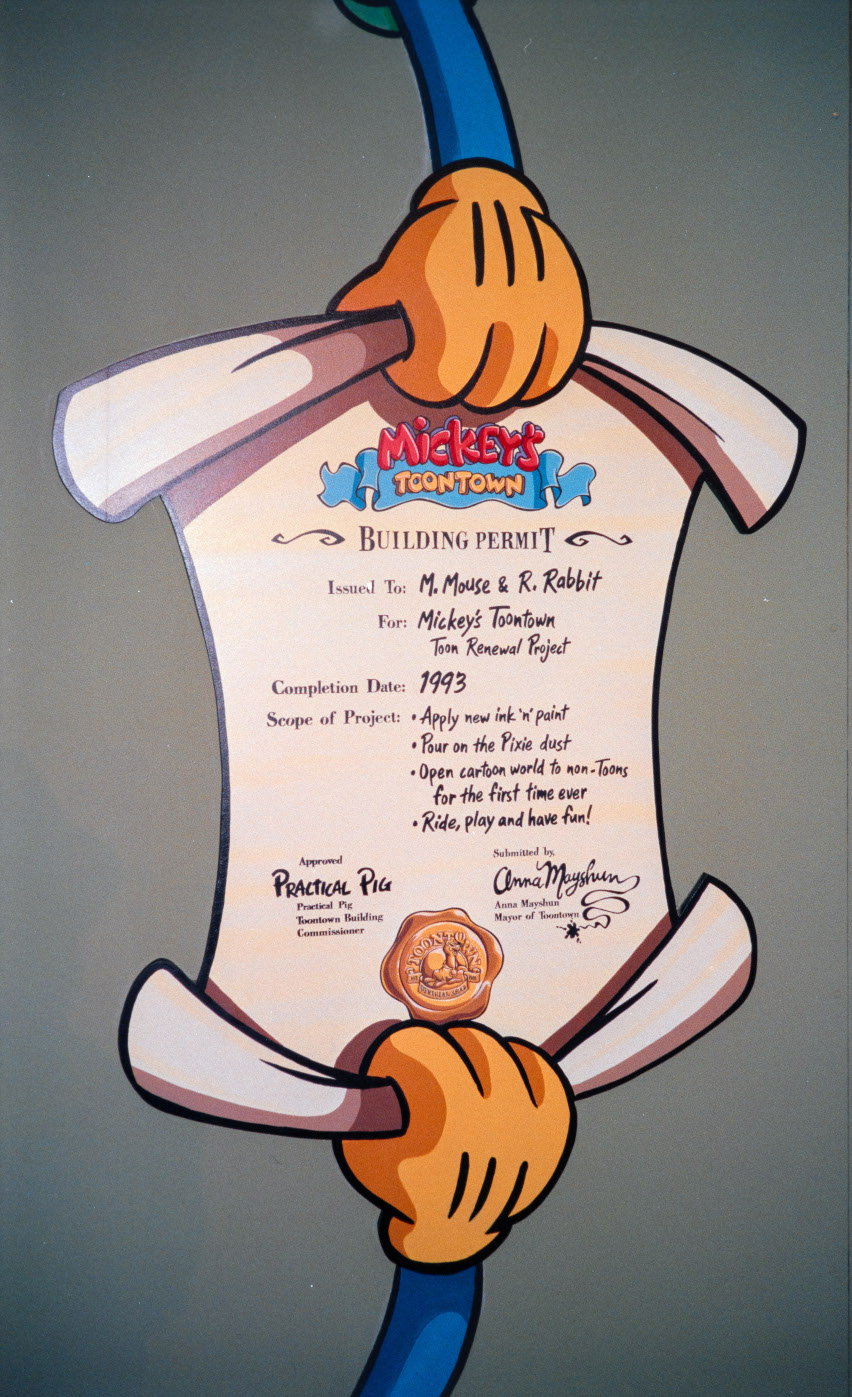 Proof, as they say, is in the pudding. Note that in the first image above, there is a door over on the left hand side. For some reason, a large hole had been cut above the doorknob. As far as I was concerned, it was there so I could take a photo.

Clearly, however, Disneyland did not want any other photos taken during the construction of Toontown. Note again, in the first image above, that there is a very large canvas wall blocking the view from the Disneyland Railroad.
This means that for the next few months, I had to be content with a view like this…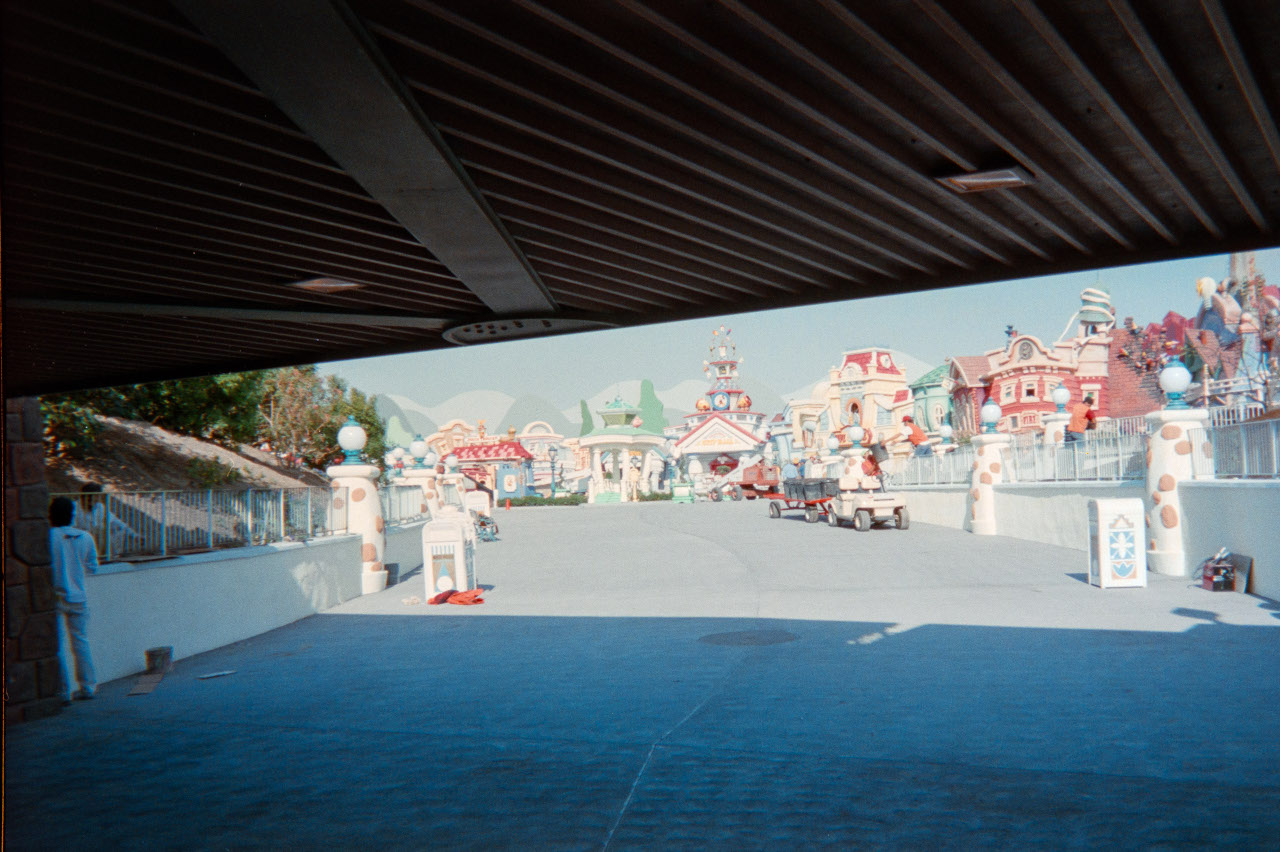 …and like this.

Imagine then, my surprise and joy the day I found that the wall… had come down. It was late summer of 1992, and Mickey's Toontown was scheduled to open in 1993. And here was a "sneak preview," available to anyone willing to look behind them as the steam trains made their approach to small world.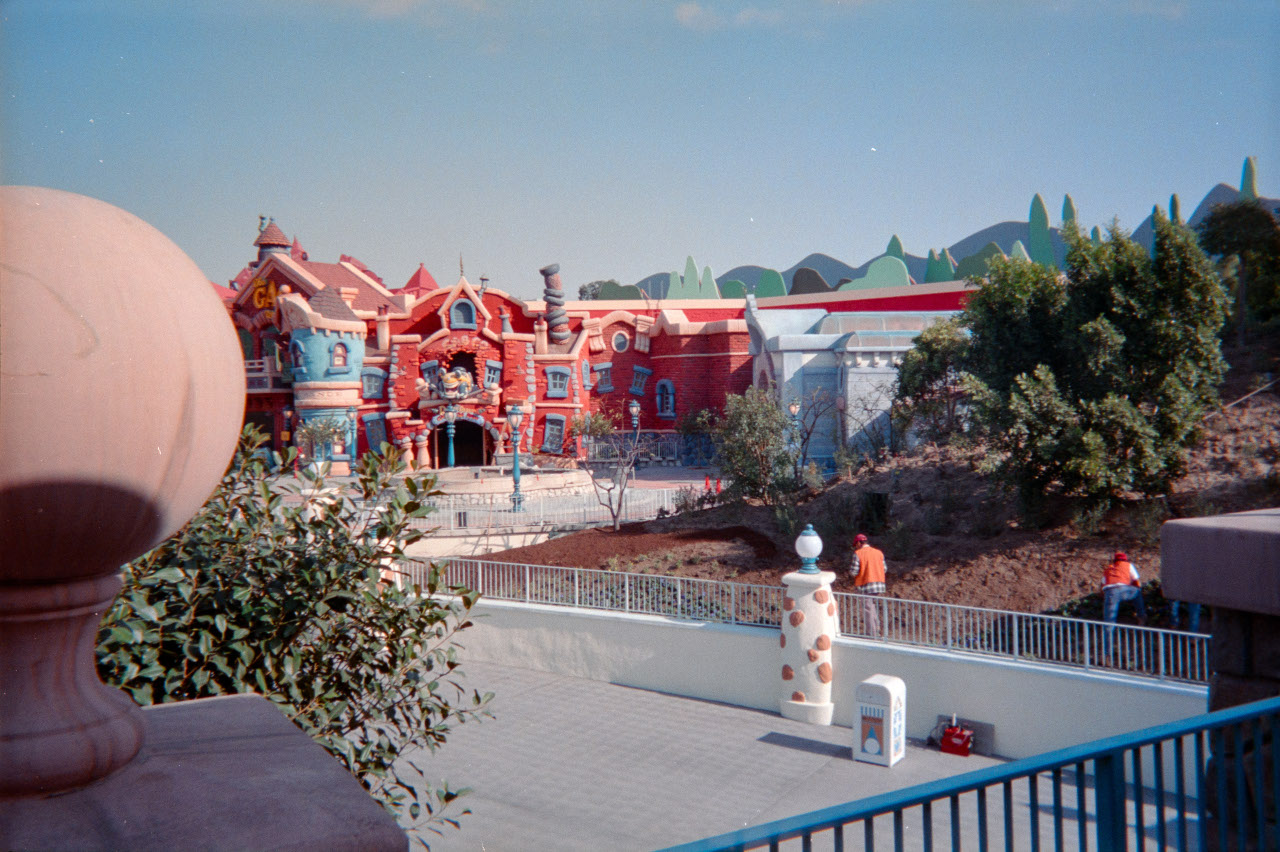 Even with bare hillsides and no notion of exactly what I was seeing, the new land looked pretty exciting.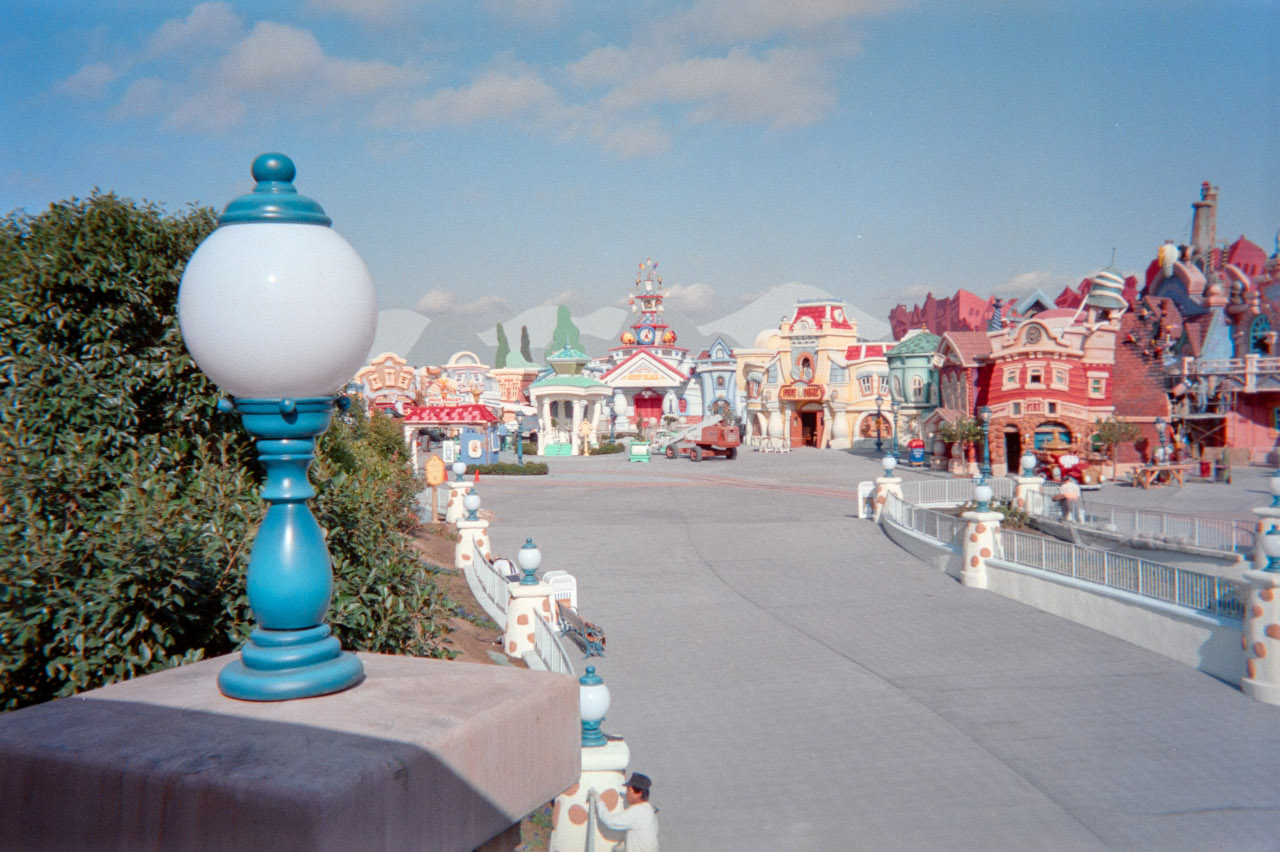 More buildings came into view as the train moved across the trestle.
And just before crossing in front of small world (and losing sight of this sneak peek), there was a glimpse of the Toontown sign in the distance.

I cannot say how many times I made that trip facing the "wrong way" for those few months after the fence was removed. I do know that the view didn't seem to change all that much, truth to tell. But see if you can spot something different in these two images.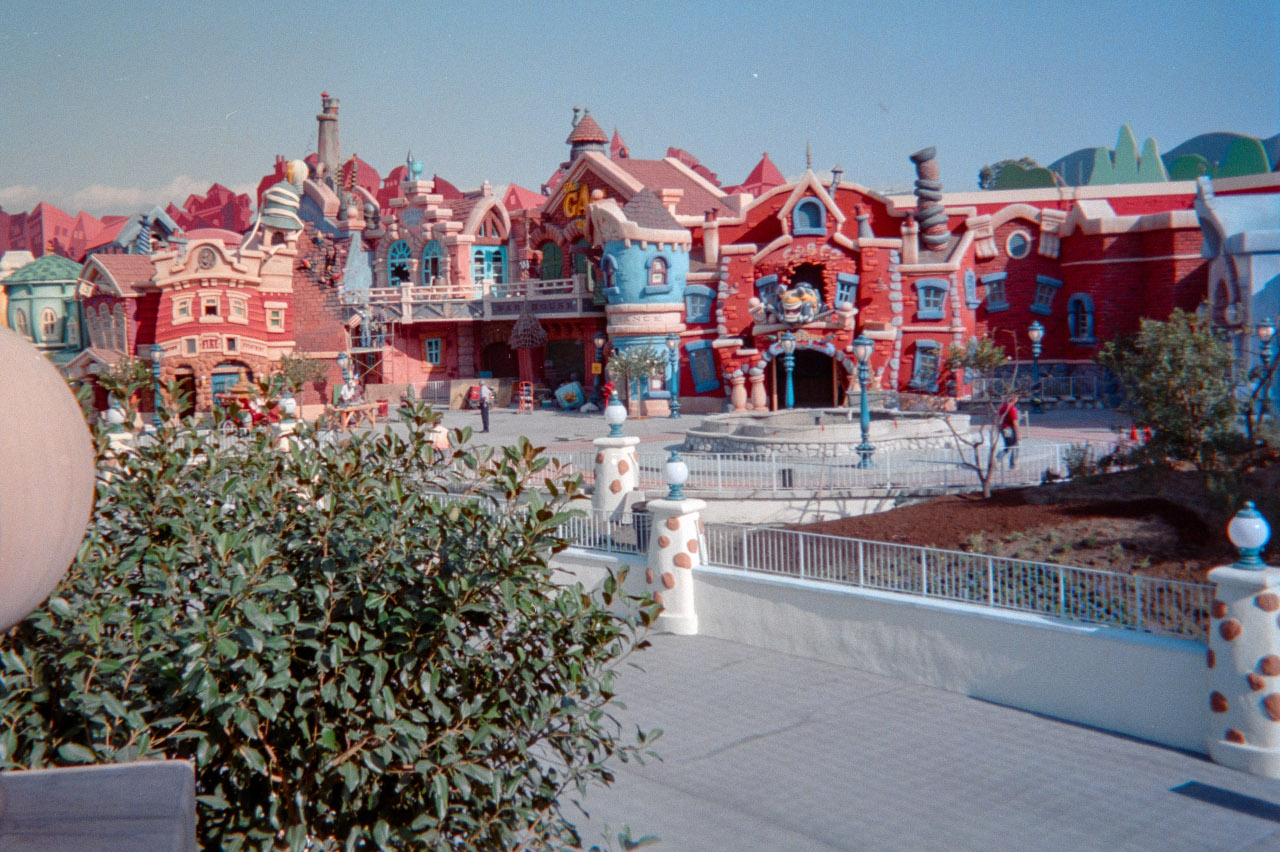 As far as I know, this was the first sighting of the Jolly Trolley, an opening day attraction that was to face a somewhat checkered future. (I may not have even noticed it was out until after I had my photos developed.)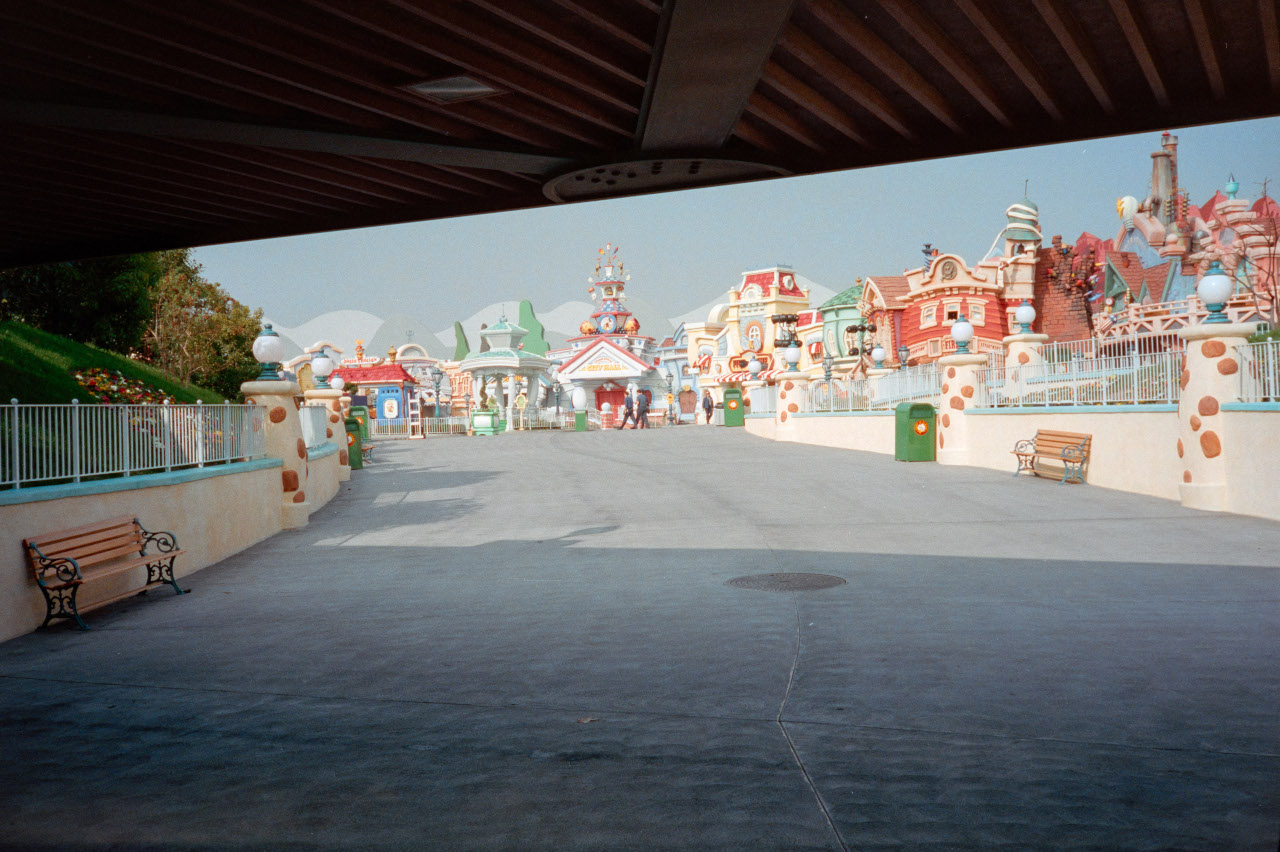 As for the image from under the trestle, that too was now a lot easier to take.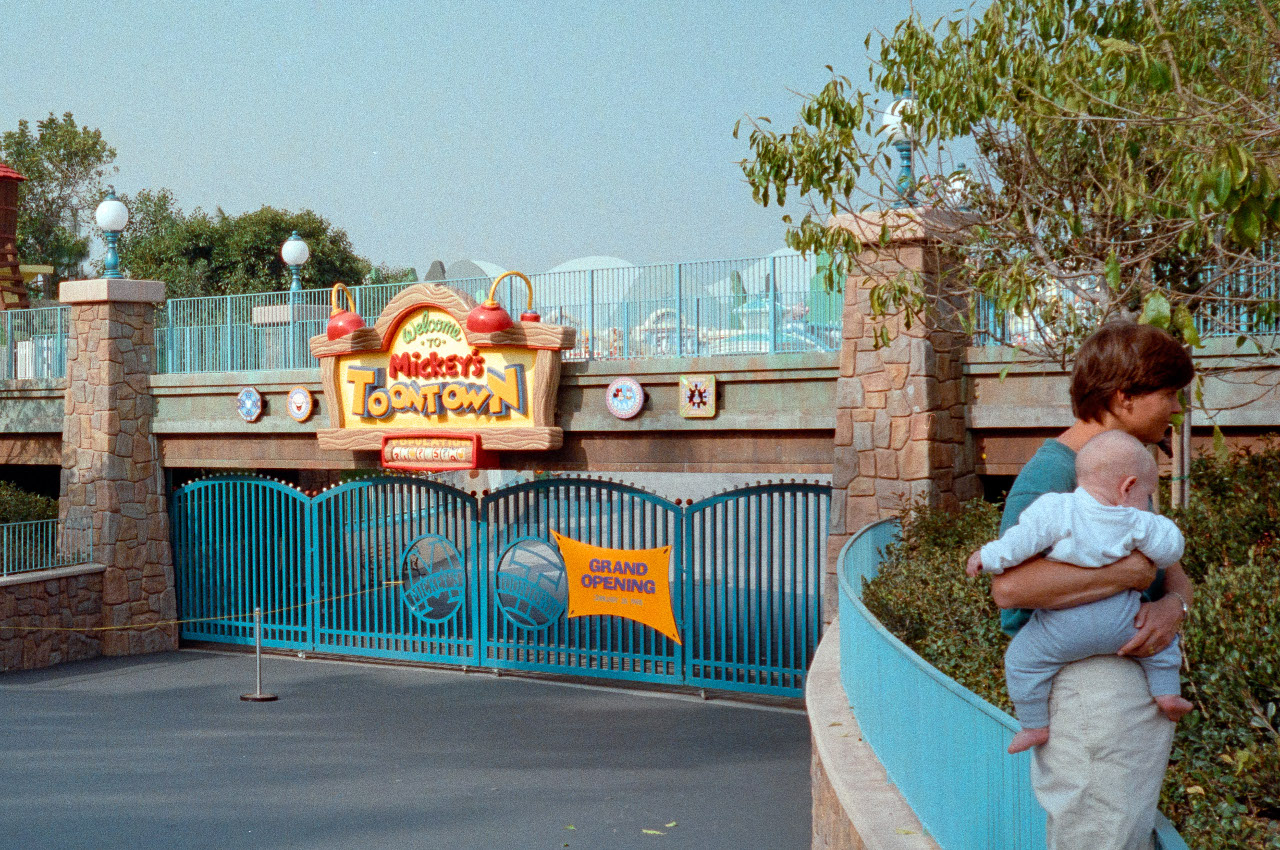 You see, once the construction walls were down, the gate that replaced it made shooting photos much, much easier. (And do you notice that "Grand Opening" sign? More to follow. In January!)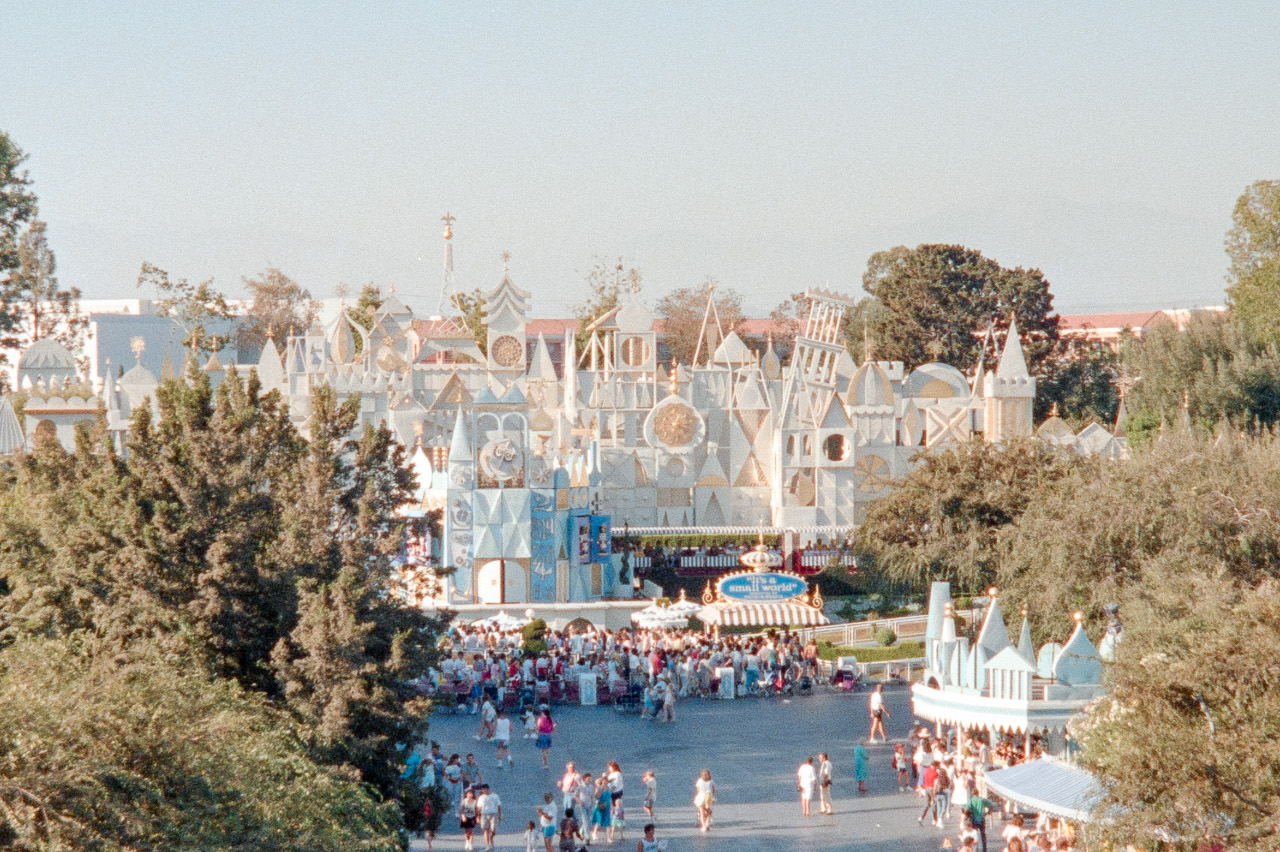 There was another big change taking place back in that corner of the park during the late summer and fall of 1992. In this case, it wasn't a new arrival, but rather a change for one of Disneyland's most beloved attractions.

Many guests may not realize that Disneyland's it's a small world is the original attraction that was shown at the 1964-65 New York World's Fair. Even after many years of revisions, refurbishments and additions, many of the set pieces, props and dolls themselves are original.
One major show element was unique to Disneyland, however. The facade was completely new. Led by artist Mary Blair, the Disneyland team came up with a dazzling design incorporating stylized representations of international architectural icons, finished in white and pale blue, with gold highlights. (Mary Blair believed white was the most "festive" color.)

When a similar facade was planned for Euro Disneyland (as it was called when it opened outside Paris in April, 1992), the facade was painted in colorful pastels. This reflected a different design aesthetic, carried over from the 80s, as well as concerns that the French park would not enjoy as many days of blues skies and sunshine as Anaheim. (Fun fact: If Paris were placed on the same latitude in the United States as it is in France, it would be just north of the border in Canada!)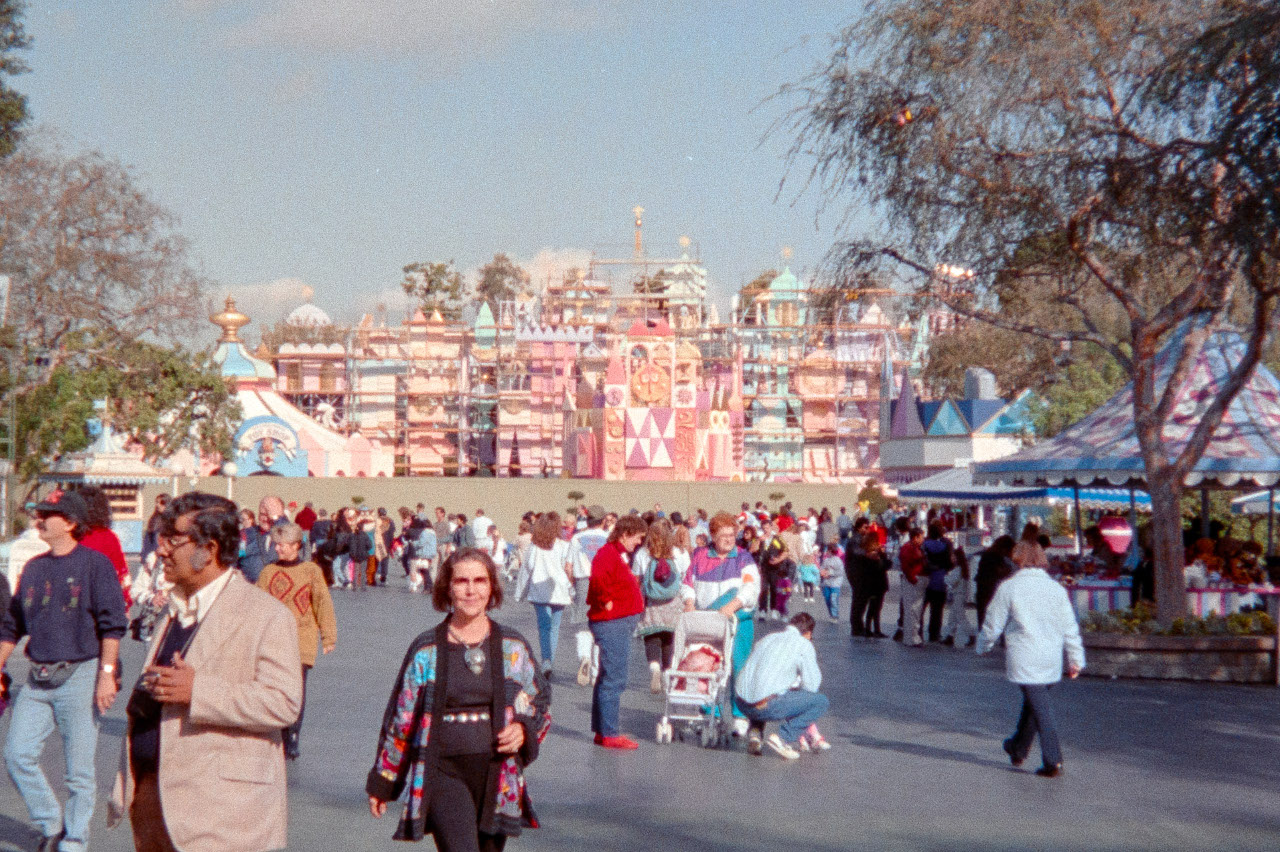 So it was that this sight greeted guests headed back for "The Happiest Cruise That Ever Sailed" that fall and winter: construction walls, scaffolding, and gallons and gallons of pastel paint.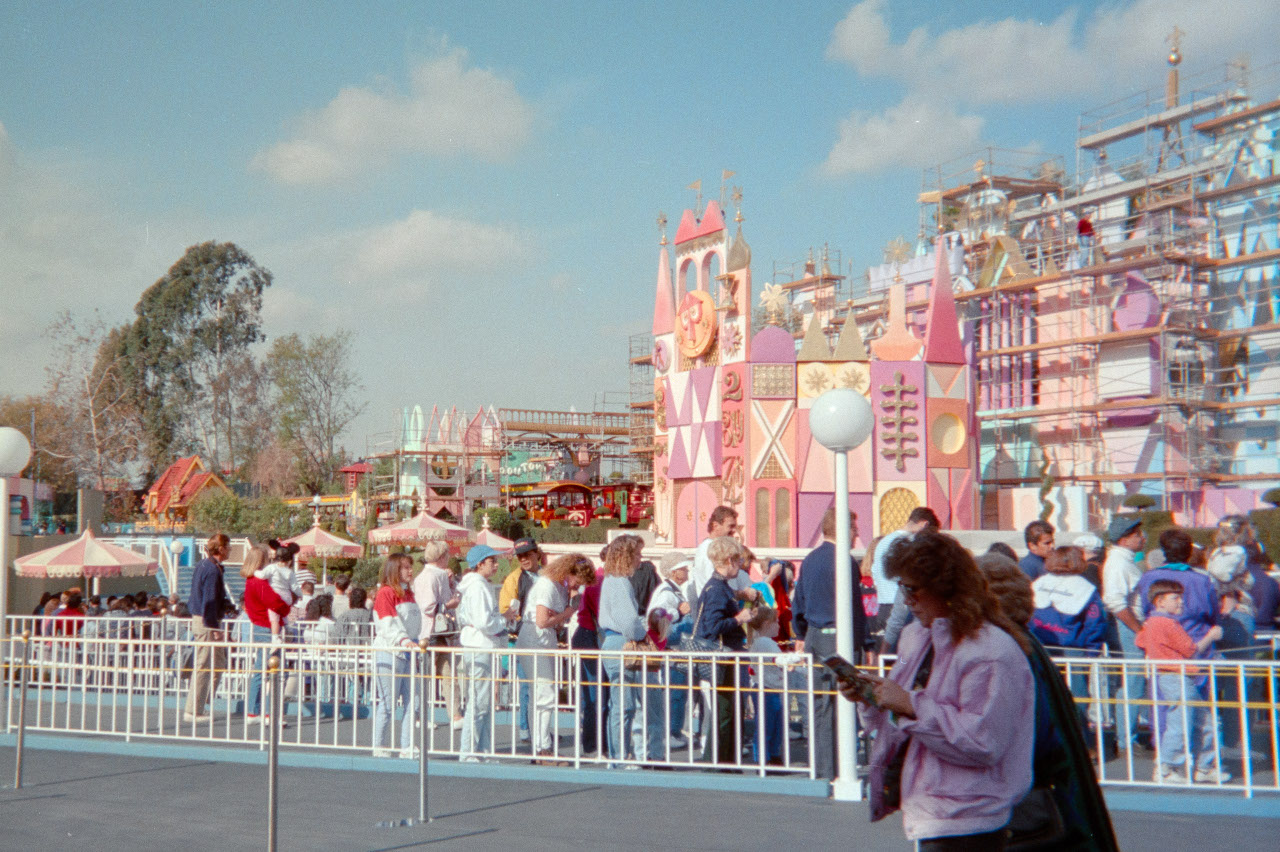 Look at the extreme right of this photo, and you can see the original white and blue, about to disappear beneath the multi-hued new color scheme.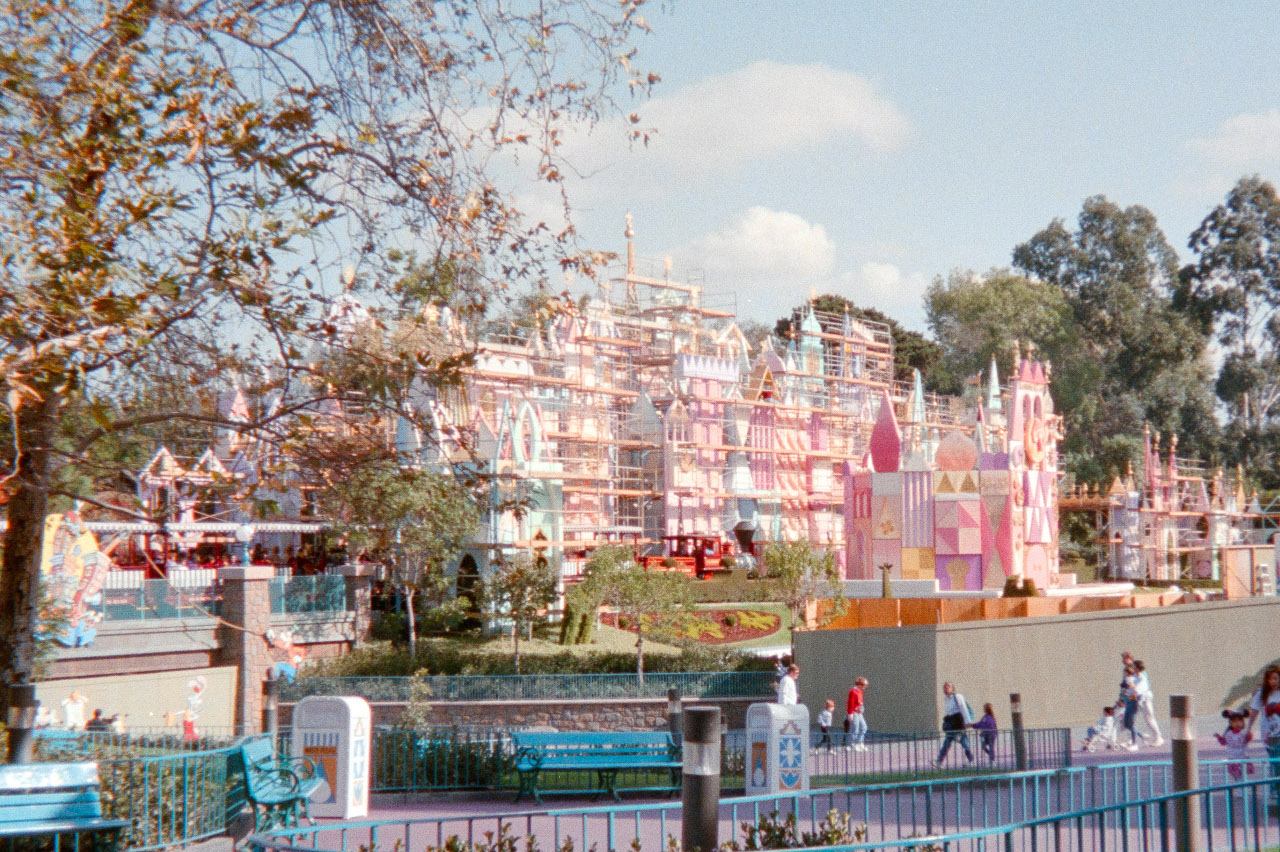 And here it is, as seen from the west. Note also that a portion of the original facade was removed at this end to accommodate the new underpass and future entrance to Toontown.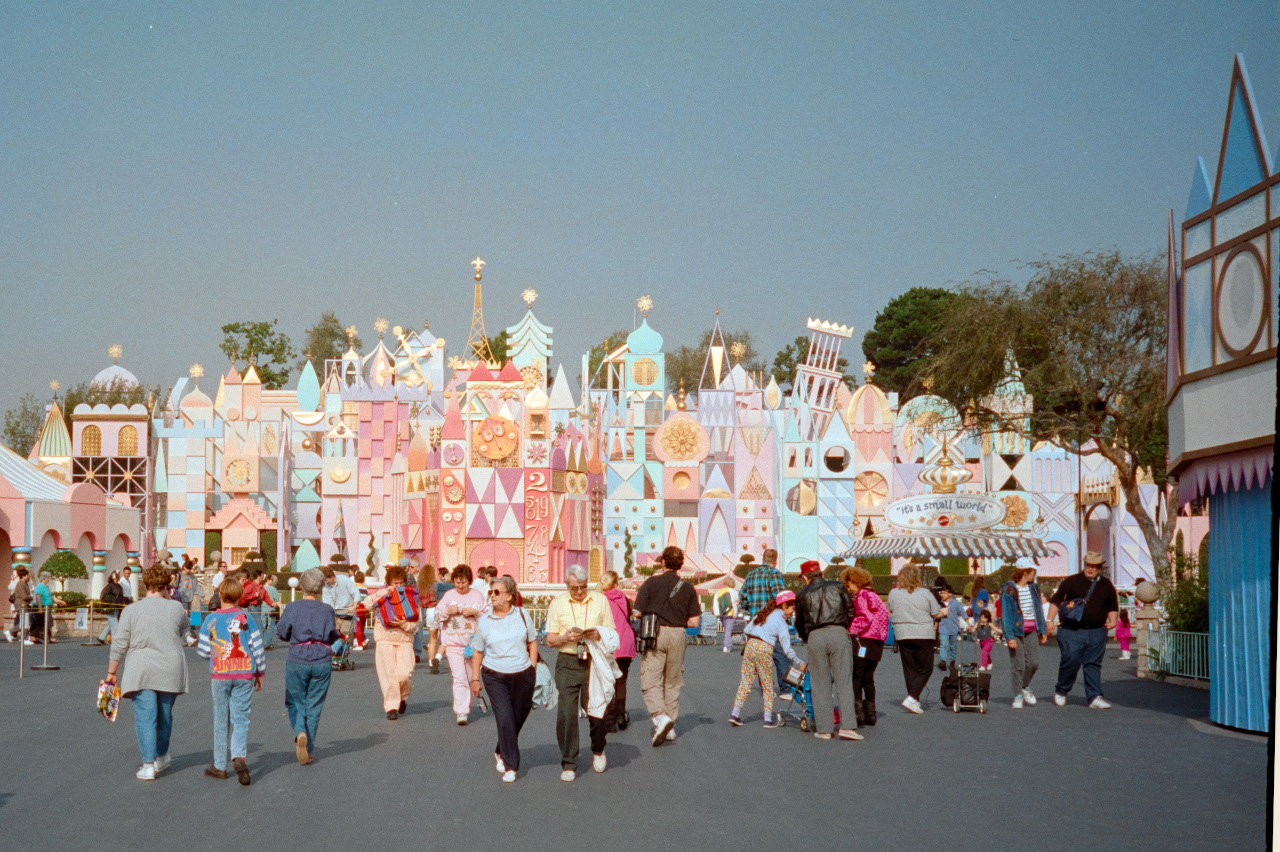 And here it is, in all its pasteled glory.

There would be two more openings at this end of the park before the arrival of Toontown in January, 1993. There will be more about that in a future column.