Entertainment is a big part of what brings Avengers Campus at Disneyland Paris to life. Recently, DAPS MAGIC shared the first part of an interview with Dan, Louisa et Mabrouk, who shared how exactly this happens. Below is the second part of that interview.
An immersive and interactive place
Avengers Campus is both an immersive and interactive place. How did you design this interactive experience for Guests?
Dan: When you are going to see a Marvel movie, you can be sure that you are going to enjoy an amazing cinematic experience, but you are not part of it. Yet, at Avengers Campus, you are the main character of your own story. Consequently, all our work relies on the means that are used to fully immerse our Guests in that story. It's not only about calling them "recruits"; our goal is to treat them as recruits, by giving them the incredible opportunity to spend time with Super Heroes and to train alongside them – all of this in an environment that inspires them and encourages them to give the best of themselves. It is the very basis of our interactions. For instance, Guardians of the Galaxy: Dance Challenge! is not only an opportunity to dance with Star Lord and Gamora. There is a story and a reason behind this choreography that is driven by their desire to recruit you and have you join their galactic team at the end of the day. The particularity of this approach lies in the fact that Star Lord loves to dance, and through this session, he wants to make sure you will be good company for him in space. Not only does this dance make it possible to have a good time with the Guardians of the Galaxy, but it is also in line with their story. The same goes for Okoye. This is a true learning opportunity, both on a physical and philosophical level.
At Avengers Campus, there is no show. Our role consists of creating situations in which Guests will themselves be a part of the story.
To this end, Hero Training Center is a place that is particularly filled with interactive experiences. You get to meet Spider-Man, along with Captain Marvel and Iron Man in an environment specifically dreamed up by Tony Stark for the recruits' training. This is completely different from the simple fact of taking a photo or shaking a Character's hand. You're there to learn combat moves that will help you expand your potential to fight and protect others, and this action-packed moment is frozen in time thanks to 27 photos taken at the same time and put together in a spectacular manner. You get to create and live out a unique story with these heroes – all of this in a spirit of collaboration, sharing and friendship. In addition, each time you come back, you'll be able to learn and experience something different. Even if you are greeted by the same Super Hero, you'll be at a different stage of your training. This type of experience is delivered in a completely immersive way.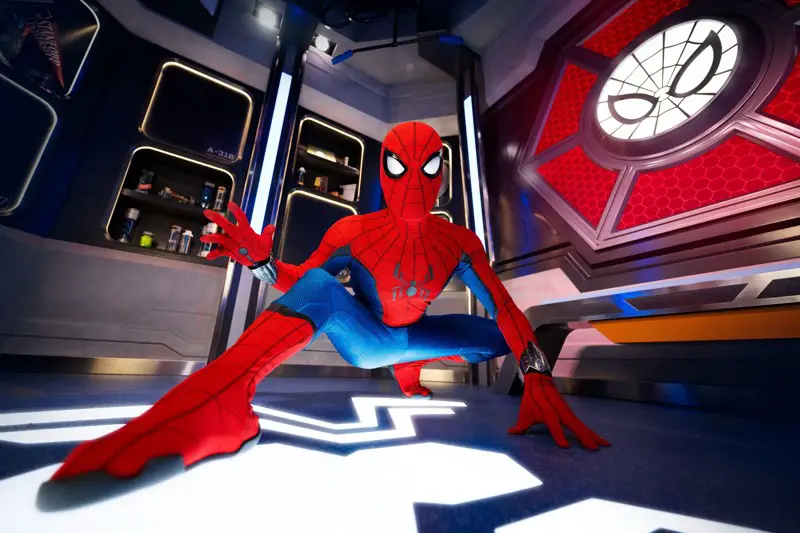 How did you collaborate with Avengers Campus' designers to create places that can both be home to Marvel Super Heroes' adventures and host Guests?
Dan: Avengers Campus is the result of a close collaboration with the project's designers and architects at Walt Disney Imagineering. We are entertainment Imagineers, and we have been working with our coworkers who design attractions and themed environments for more than four years so as to incorporate every element necessary to host both Super Heroes and Guests. I have also been simultaneously working with the Entertainment teams of Disneyland Paris on this project. This process has been carried out in a very organized manner and each detail has been considered in collaboration with all of the involved structures.
This philosophy is in Avengers Campus' DNA. As its name suggests, it is one of the Avengers' bases and at the same time, it is a Campus. Therefore, the door is wide open to welcome Guests, whether they are adults or children. In 2012 – the time period in which MCU stories take place – you would never have gone through Stark Tower's security. Yet here, we are in a different time period in which we all are responsible for protecting each other. This is the reason why we are glad to welcome you because here, we all have a role to play. This was our starting point for the creation of Avengers Campus. When you come here, you naturally expect to run into Super Heroes because it a place where they can work, train, and even fight against their enemies. Based on that, we started thinking about experiences and events that would feature them in a manner that would be both logical and in line with the Campus' story, where everyone – whether Guests or Super Heroes – is connected.
For instance, Hero Training Center is an indoor high-tech location which was initially designed for the Avengers' training. But since it also hosts the recruits of Disneyland Paris at the same time, it becomes a kind of forum – a very lively and dynamic place. As for the other buildings, such as the Spider-Man W.E.B. Adventure one, they used to be factories that have been converted into a Campus. Consequently, their rooftops are often used as a transit place for valuable & high-tech items, along with artifacts. This seemed to be the perfect setting for action stunts. Based on that, we were able to build what was needed to successfully deliver these experiences – while staying in line with the Campus' story – such as the many hidden locations that are completely incorporated in the architecture.
Unique operations management
Avengers Campus is a lively place, that is constantly bustling with activity. Based on that, how did you approach Guests' flows?
Dan: To plan ahead for these flows, we were able to count on our operations partners, who focus on the way Guests' flows affect experiences. The way the Campus' buildings are arranged makes it possible to look at rooftops or go to a restaurant while staying in a single location and being completely immersed in the story. This is an unprecedented experience. We are always trying new things and making adjustments, whether in California or in Paris. During the Marvel Season of Super Heroes, we could accommodate up to 500 people in the Place des Stars to dance with Star Lord and Gamora. But at Avengers Campus, there are so many Super Heroes in action, on rooftops, around the Quinjet or in attractions, that the Campus will constantly be bustling with activity, and Guests will be able to go from one location to another in a smooth and natural way.
How did you decide how often happenings should take place? 
Dan: It's a challenge on which we've worked a lot. Frequency is not the same in the morning, the evening or in the middle of the day, when it's time to have lunch. The length of daytime, depending on seasons, will also have an impact on the frequency of the Campus' activities. In California, we keep on making improvements in this area, and here, in Paris, we continuously listen to our Guests' specific needs.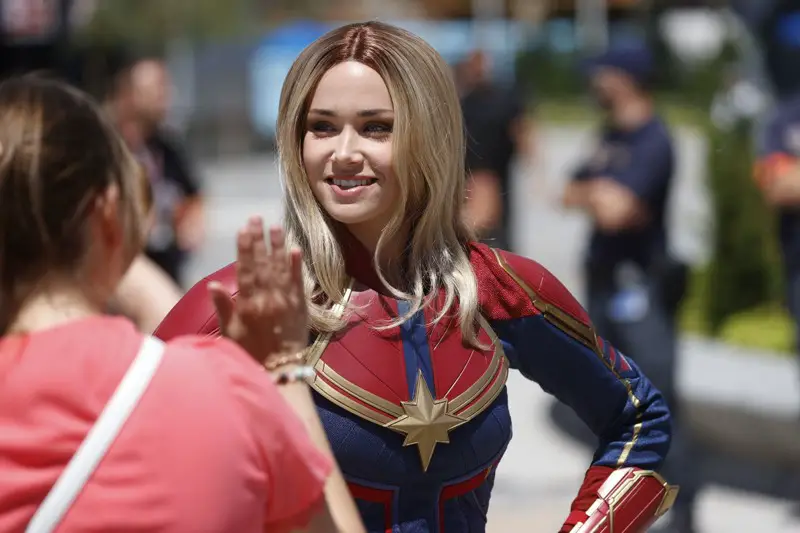 It is a tremendous preparatory work that you've done.
Dan: This required years of planning. We based ourselves on the California version to envision things, but the Campus was entirely redesigned and adapted for Disneyland Paris. Local teams have been involved in this project for a long time to be ready for the opening day. It is an impressive team that is made up of show directors, sound, lighting and special effects designers, musicians, media designers and engineers, not to mention the entire production department.
Let's take the example of Louisa and Mabrouk, our two show directors. They worked on the Marvel Season of Super Heroes in 2017. Therefore, we have been discussing these topics for more than five years at Disneyland Paris. They serve as true Marvel specialists for our Parks, which makes them invaluable assets to Avengers Campus.
These last months, we've had a lot of conversations on a weekly basis to harmoniously put together all of the elements that are now incorporated into the Campus. I am very familiar with the world of Broadway, since I have worked on the Lion King musical, and this particular project also involves very specific areas of expertise. The main difference is the fact that traditional show models are disrupted, as action moments unexpectedly occur everywhere.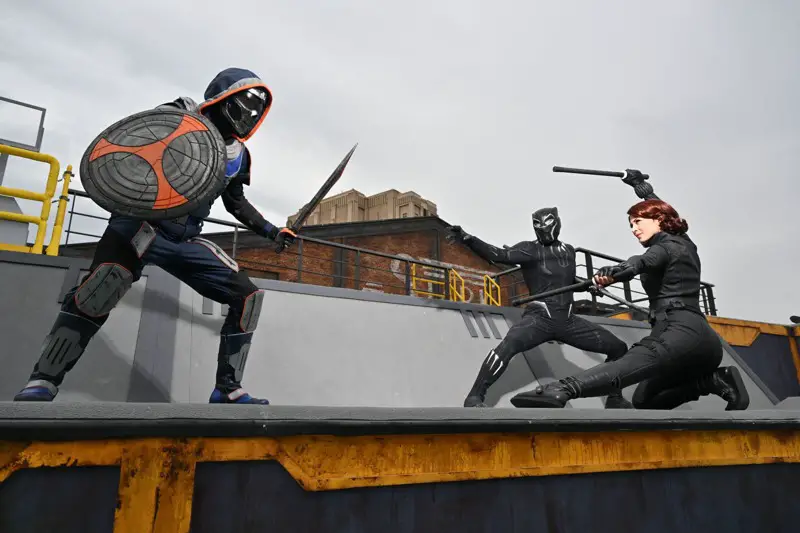 Where do the talents who have worked on this project come from?
Dan: The team that initially worked on the project comes from Walt Disney Imagineering in the United States, but we quickly involved our Disneyland Paris' partners to work in the fields I mentioned. We also had partners who designed and built elements for us in California, Florida, United Kingdom, Spain and of course, France. It really was an international teamwork.
An unusual challenge for Entertainment teams
This brand-new way of creating shows has also been a brand-new challenge for Disneyland Paris' show directors.
Mabrouk: Facing new challenges is always very exciting, and in the context of Avengers Campus, it's really fascinating to be able to create something that will involve our Guests in such a brand-new way. What's special about Avengers Campus is that all our work revolves around new recruits. We have not created shows; we develop comprehensive and immersive experiences. Conducting brainstorming sessions with Louisa and Dan and imagining all the things that may happen around us at the same time is just incredible. It's a comprehensive, 360-degree experience. We want to make Guests of all ages happy and ensure that they all are satisfied and find a part of them in the Campus. Indeed, it is a campus – and not an area – that delivers a comprehensive Marvel experience. 
Unlike in a theater, the so-called imaginary "fourth wall" – that separates actors from the audience – has completely disappeared.
Dan: It's our goal. There is no stage, no show time. Everything happens unexpectedly on the street, in front of you, behind you, even above you, around the Quinjet or on rooftops.
At Disneyland Paris, shows always go hand in hand with emotions, and Avengers Campus is no exception.
Louisa: It's true. Let's never forget that magic is at the heart of our Park and of the Marvel universe.
Mabrouk: That's the core of our work: delivering a Guest experience that is filled with emotions, joy, fun, astonishment, wonder and goosebumps.
Dan: A scene I got to witness in California sums up this idea perfectly well. There was a group of Dora Milaje in their signature outfit that conveys an image of powerful and determined African-American women, and at some point, I saw a little girl in a Snow White costume who rushed toward them to hug them. It shows how strong magic is.
It's a completely innovative vision of Disney Parks experience
Dan: As an Imagineer, using technology as a tool is in my DNA. But as a theatrical art specialist, I know that no technology will ever replace people's desire to gather with other people to immerse themselves in a powerful story. People will always discuss, scream, laugh, and cry together over something that is happening for real in front of them alongside their family or friends. It's something timeless. And it's even more true when you play a role in this story yourself. In this context, Avengers Campus is the ultimate scene. It's like a play that is being performed all around you and you are an integral part of it. To me, the future of shows is being shaped