The Disney Wish will be setting sail this summer and when it does, there will be plenty of magical entertainment to enjoy. Recently, details about the new musical based on The Little Mermaid were released. Now, details have been released about Disney Seas the Adventure.
Disney shared the following premise of the show on the Disney Parks Blog saying:
The show will begin with Captain Minnie Mouse handing over the helm to her dear friend Goofy, leaving him a little unsure about the responsibility. With the help of some familiar friends, he'll embark on a musical voyage into favorite Disney and Pixar stories on a journey to discover his own inner captain.
The musical will include many favorite Disney and Pixar tunes for guests to enjoy. This will include Almost There from The Princess and the Frog, Go With the Flow from Finding Nemo – The Musical at Disney's Animal Kingdom, and a medley of Let it Go, How Far I'll Go and Touch the Sky that is performed by Elsa, Moana, and Merida. There will also be a rendition of Go the Distance that has Hercules and a host of other heroes from Disney films as well.
This week Disney shared a little bit about two of the scenes in the show. The first is Almost There from The Princess and the Frog. This song will take place fairly early in the show. Goofy will learn the power of hard work to make a dream come true when he meets Tiana.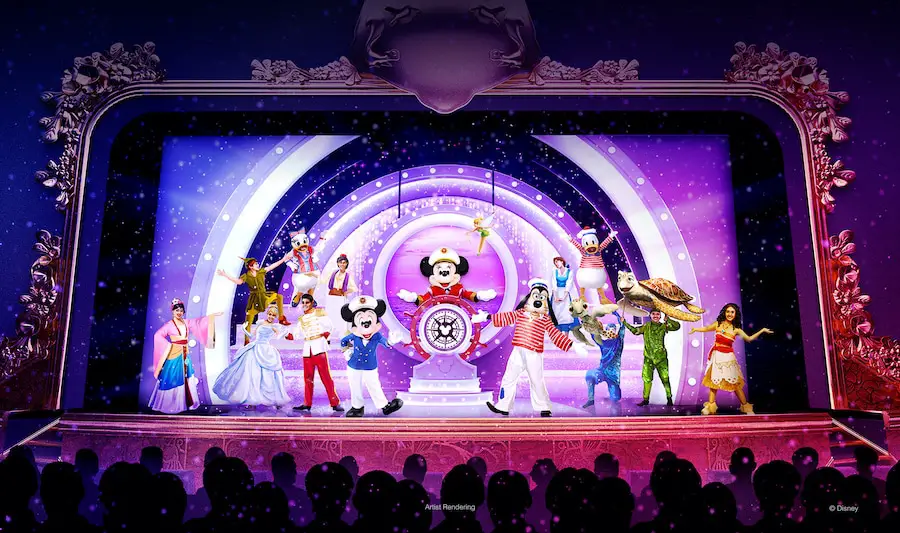 The grand finale for the show will be unlike any show before. A cavalcade of characters will be joining Captain Minnie and Goofy on stage. However, rather than just saying goodbye to the audience, the Disney characters will actually lead guests out of the theater and then into the Grand Hall for a magical sendoff experience like has never been seen before.