Can you believe that we are just over two weeks away from the opening of Avengers Campus in Disney California Adventure Park? If you're looking to bring home reminders of your marvelous vacation, Disney has just announced the new merchandise for the land, including attraction-compatible WEB tech!
This special merchandise will give you the change to completely customize your experience inside WEB SLINGERS: A Spider-Man Adventure. While everyone who board the attraction will have the chance to shoot webs, this new attraction compatible WEB tech will allow guests to truly become the heroes!
The WEB power band will allow guests to multi-fire webs. The add-ons will let you become Spider-Man, Ghost Spider, Iron Man or Rescue to allow you to immerse yourself in the story. Personally, I think I want to grab the Iron Man add-on to fire my repulsor cannon!
These WEB slingers won't just come to life inside the attraction! At home, these will project lights, play sounds, and even have retractable webs! This will be the perfect experience to bring home from your vacation.
If you're looking to bring home a Spider-Bot, you can pick skins that are inspired by your favorite Avengers. You can also make sure they are safe and secure in the new WEB backpack that will secure your bot with a web mesh.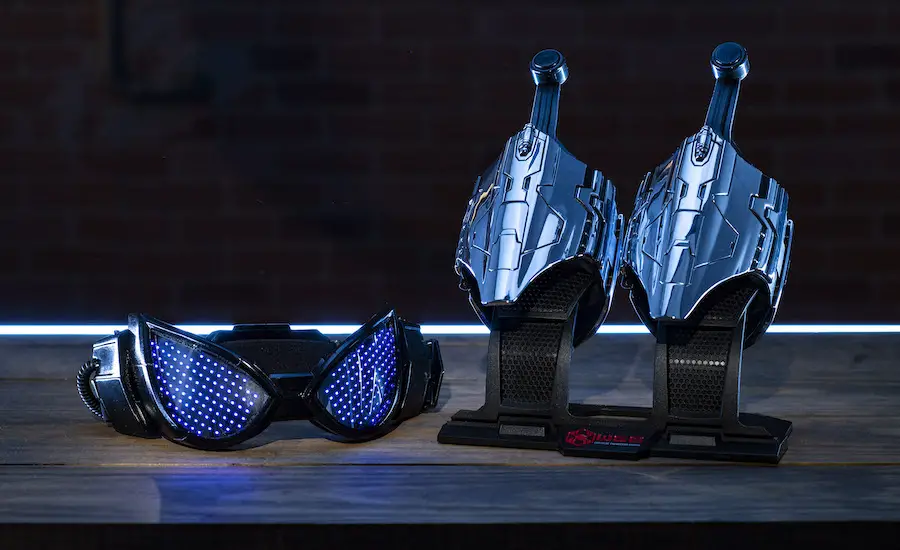 Guests can also take their experience to the next level with the Spider-Man light goggles and Web shooters! The goggles can express your feelings through light with 17 different expressions and the shooters will light up and play sound. This can make you feel like you are truly the hero in your park story!
This is also your first chance to see the new apparel and pins coming to Campus Supply Pod near WEB SLINGERS: A Spider-Man Adventure. At the supply pod in Avengers Campus, you will be able to bring home fleece, pins, shirts, and even figurines to commemorate your adventures.
You can bring these items home from Avengers Campus on June 4 but some items will be available at Disneyland Resort Backlot Premiere Shop in Downtown Disney on May 29, just 10 days away! I hope I can get in next weekend to grab some of this new merchandise!
What do you think of the idea of having attraction-compatible merchandise for Avengers Campus? What are you most excited to try out in the attraction? Be sure to connect with us on Twitter and Facebook to let us know!