The World Famous Jungle Cruise at both Disneyland and Walt DisneyWorld Resorts will be getting new adventures. Today, a new video was released by Disney that has former Jungle Cruise Skipper and current Walt Disney Imagineer giving a glimpse as to what will be coming to this classic attraction. The main story update will be bringing the role of the Jungle Cruise Skipper into the attraction. Moving forward, Jungle Cruise Skippers will be seen in more places than on the Jungle Cruise boats. Check out the video below that gives a peek into what is coming.
Jungle Cruise New Adventures
Here are some concept art images for the Jungle Cruise's new adventures that were released by Disney: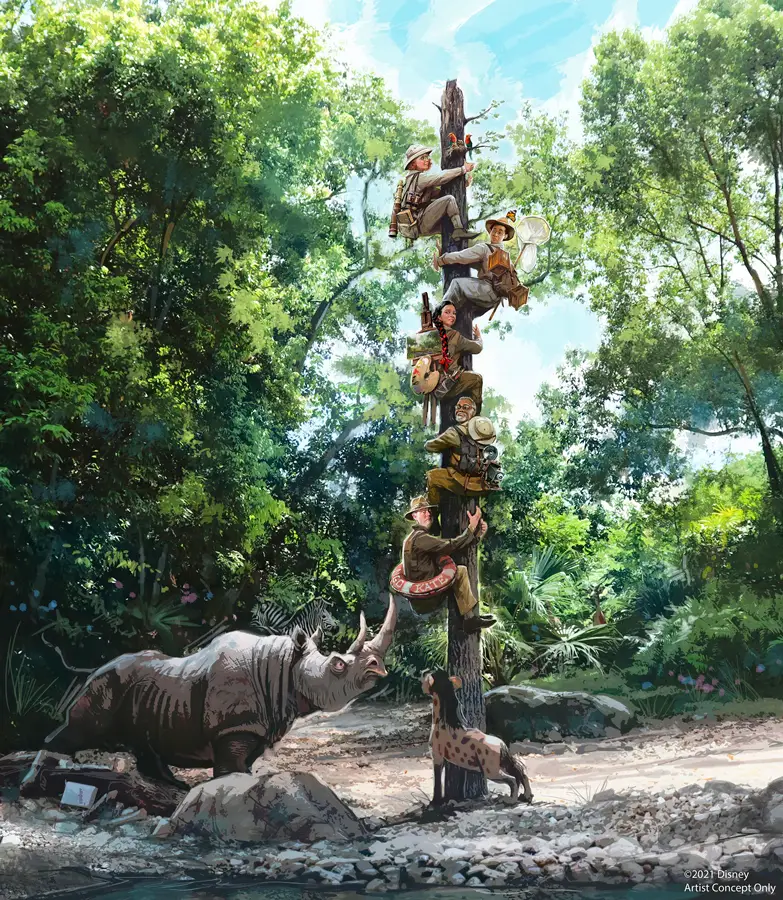 Jungle Cruise Changes
In an interview with D23, Imagineer Chris Beatty shared about the upcoming changes. He said:
We want to make sure that we take this as an opportunity, right? So as we look to clean up a lot of the challenges that we have in the attraction, we want to make sure we go in and add all the humor that Marc Davis gave it, all those years ago. Anything new we add will be in that tone. And for the first time, we are actually linking scenes together.

So if you think of the famous rhino pole scene, with the team of explorers who have somehow camped that night and then been run up the pole by the rhino and a group of other animals… that will really kick off the storyline. Did you ever wonder who those explorers were or where they came from? What's their backstory? As part of the enhanced storyline, each one of them will have their own story and cultural heritage. There's a birdwatcher, an entomologist, a wildlife painter, and a photographer, and each one will have a different reason for being on the expedition. And, of course, they did one of the things you're never supposed to do, which is leave the boat. And one of the things we're adding to the attraction is an animatronic skipper, who's been chased up the pole by the rhino, along with the other explorers. They each have great personality, and I think our guests will connect with these characters in new ways. So we're not really re-envisioning that scene, we're just adding a narrative and storytelling to bring things to life and connect that moment with other happenings along the river.

And you may ask yourself, Wait, what happened to their boat? And we find out that the front of the boat has been beached upon these rocks. We wanted to put something here that feels like Marc Davis had a hand in it, that has a bit of humor in it. And we wanted the animals to have the last laugh. So you'll see that the family of chimpanzees has moved in. And we don't currently have chimps on this attraction—all of these amazing animals have been brought to life through the years on the Jungle Cruise and yet we've never had chimpanzees. The family of chimpanzees jumps on the wreckage of the boat and they are almost making fun of us. One is wearing the skipper's hat and is on the microphone. The mother chimp has opened up all the maps and it looks like she's reading them. A little chimp has gotten into the wildlife painter's supplies and has made a mess with paint everywhere. It's the animals really getting the last laugh in this cute scene—these silly explorers really came in and invaded their world.
Why a Change?
Some people may be questioning why any changes would be made at all. Beatty remembered that changes are always happening in Disney attractions. The basis of the Jungle Cruise that is known and loved today was updated by Imagineer Marc Davis as the attraction went from a serious tour to a more humorous one. Beatty also said that along with constantly looking for ways to enhance attractions, Disney also wants to "make sure everybody has the best time." As Imagineering has done their homework about the attraction, there are a couple of scenes that aren't as "respectful of the diverse world we live in" as they could be. Because of this, there are a couple of scenes that need a "refresh." Beatty explained, "It's the Jungle Cruise you know and love, with the skippers still leading the way, and at the same time, we're addressing the negative depictions of "natives." So that's one of the scenes we're going to go in and change."
Beatty explained that current Jungle Cruise Skippers were also given a preview of what was coming to the attraction. He shared their reaction saying, "You could see, at first, some concern, because obviously there's a lot of love around this attraction. But a few minutes into the presentation, the smiles came onto their faces. They loved it. The feedback from them was that it feels like classic Jungle Cruise, like something that has always been there."
Speaking of Skippers, Beatty also confirmed that the jokes the Skippers tell on the attraction will continue to be utilized. For example, the backside of water won't be going anywhere. There will also be some new jokes added with these new points of inspiration as well. While there isn't a timeline for the arrival of these changes at both parks, the enhancements will be identical with the same adjustment to the story.
DAPS MAGIC will continue to follow this story and provide updates as they become available. What do you think about these changes coming to the Jungle Cruise? Share your thoughts and opinions in the comments below!