Marvel Comics has some updates on a couple of events.  One of them is about X of Swords that is supposed to greatly change the X-Men.  This time there is a nemesis for Wolverine in the likes of the great Marvel rivals.  There is also the event of Knull hitting the Marvel universe.  Knull is the god of the symbiotes, like Venom.  In addition, is a teaser for the new Champions series and the release schedule for Marvel Unlimited.
MEET WOLVERINE'S NEW ARCH-NEMESIS IN X OF SWORDS!
Thor has Loki. Spider-Man has the Green Goblin. And now, Wolverine has Solem. Don't miss the first appearance of Wolverine's new arch-nemesis in X OF SWORDS, CHAPTER 3: Wolverine #6, on sale in October!
WOLVERINE #6 (AUG200605)
Written by BENJAMIN PERCY
Art by VIKTOR BOGDANOVIC
Cover by ADAM KUBERT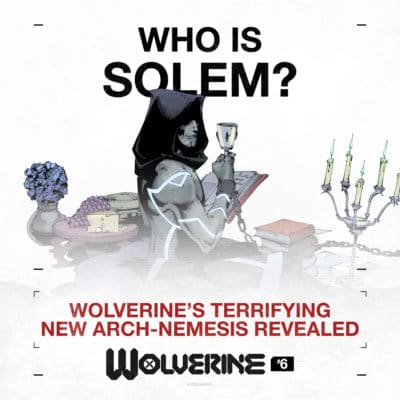 THE MYSTERY OF CHILDREN OF THE ATOM REVEALED THIS JANUARY!
New York, NY— September 11, 2020 — The mystery surrounding CHILDREN OF THE ATOM will finally be answered when the previously announced series by writer Vita Ayala and artist Bernard Chang debuts this January. As the latest title to explore the new era of mutantkind following Jonathan Hickman's House of X, CHILDREN OF THE ATOM will introduce a brand-new team of young X-Men characters. Inspired by their favorite mutants, these gifted youngsters will keep both the X-Men and fans guessing about who they are and where they came from. More than just mere sidekicks, the cast of CHILDREN OF THE ATOM will have a major impact on the world of the X-Men when they burst onto the scene next year!
"I have never known a world without mutants and the X-Men, and to be able to create characters that would become part of the canon is WILD," Ayala said when the book was first announced. "What makes the new cast special to me is that they are reflective of a lot of people I know who look up to what the X-Men stand for, and have taken it upon themselves to further those ideals. These kids are exactly the kids who, in real life, have posters of Storm and Wolverine in their rooms, who grew up seeing them as heroes and want to live up to that."
Discover the mystery for yourself when CHILDREN OF THE ATOM #1 hits stands in January! For more information, visitmarvel.com.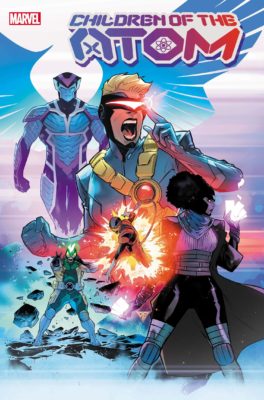 KING IN BLACK EMERGES IN ATLANTIS ATTACKS #5!
New York, NY— September 9, 2020 — Writer Greg Pak and artist Ario Anindio bring the war between the Agents of Atlas and the armies of Atlantis to a startling conclusion this December in ATLANTIS ATTACKS #5. With the fate of the world hanging in the balance, all will be revealed in this titanic tale of love and betrayal featuring Namor, Shang-Chi, Silk, Wave, and more. And when the dust of one war settles, a new enemy will emerge from the depths…
"It blows my mind that we're now capping off our third big miniseries for the new Agents of Atlas," Pak said. "Huge thanks to all the readers and retailers who have made this all possible with their huge support for this team. We're pulling out all the stops with huge payoffs and turning points for key characters—dontcha dare miss it!"
Amidst this epic clash between the Atlanteans, the Sirenas, and the interdimensional Pan will be a tantalizing tease of Marvel's upcoming event, KING IN BLACK. Knull, the God of the Symbiotes, has arrived to forever shroud the Marvel Universe in his unflinching darkness. Check out the brand-new main cover by acclaimed artist Carlo Pagulayan (Incredible Hulk) and don't miss this surprising chapter in Donny Cates and Ryan Stegman's monumental Venom event when ATLANTIS ATTACKS #5 hits stands this December!
ATLANTIS ATTACKS #5 (of 5)
Written by GREG PAK
Art by ARIO ANINDITO
Cover by CARLO PAGULAYAN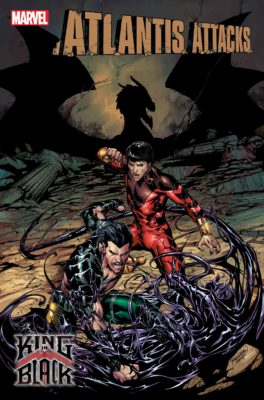 KING IN BLACK DESCENDS ON THE MARVEL UNIVERSE THIS DECEMBER!
Learn more about the event's exciting tie-ins and check out the cover for KING IN BLACK #2!
New York, NY— September 11, 2020 — The long-dreaded arrival of Knull, god of the symbiotes, is almost at hand. Backed by a massive army of symbiotic monsters, the terrifying new villain poses a threat unlike any the Marvel Universe has ever seen. The latest chapter in writer Donny Cates and artist Ryan Stegman's radical reshaping of the Venom mythos, KING IN BLACK is an event years in the making that will change everything you thought you knew about symbiotes.
Eddie Brock has already seen the chaos that Knull will bring firsthand in the pages of VENOM, but he won't be facing him alone. Knull's unrelenting darkness will enshroud every corner of the Marvel Universe in various titles debuting this December! This past week saw announcements about new titles and tie-ins showcasing how Knull's unrelenting darkness will enshroud every corner of the Marvel Universe! Bruce Banner will have to fight through a planet of symbiotes in KING IN BLACK: IMMORTAL HULK #1 by writer Al Ewing and artist Aaron Kuder; writer Christopher Cantrell and artist Salvador Larroca will celebrate Knull-mas with a twisted yuletide tale of unlikely allies in KING IN BLACK: IRON MAN/DOCTOR DOOM #1; and Kurt Busiek, Ben Dewey, and Jonas Scharf's KING IN BLACK: NAMOR #1 offers a deep dive into Marvel history to learn about Knull's chilling connection to Atlantis. KING IN BLACK will also tie-in to ongoing titles such as SPIDER-WOMAN #7 by Karla Pacheco and Pere Pérez and the new BLACK CAT #1 by Jed MacKay and C.F. Villa. You also won't want to miss Eddie coming face to face with the lord of the abyss for the first time in VENOM #31, written by Donny Cates with art by Iban Coello.
"As far as event books go, this is the coolest, darkest, most heavy metal, Cthulhu dark horror thing I've ever been able to do," Cates promised in a recent video announcement. "I still can't believe that Marvel is letting us go as dark and scary as we're going."
Check out Ryan Stegman's cover for KING IN BLACK #2, and keep an eye out for more announcements about what this epic event has in store for the Marvel Universe when it launches this December! For more information, visit marvel.com.
KING IN BLACK #1 (OF 5)
Written by DONNY CATES
Art and Cover by RYAN STEGMAN
DARKNESS REIGNS!
After a campaign across the galaxy, Knull's death march arrives to Earth and, worse yet, he hasn't come alone! With an army of hundreds of thousands of symbiote dragons at his command, the King in Black is a force unlike any Earth's heroes have ever faced. EDDIE BROCK, A.K.A. VENOM has seen firsthand the chaos that even one of Knull's symbiotic monsters can wreak – will he survive an encounter with the God of the Abyss himself? From Donny Cates, Ryan Stegman, JP Mayer, Frank Martin and VC's Clayton Cowles comes the definitive chapter in their two-year-long VENOM saga that changed everything you thought you knew about symbiotes!
KING IN BLACK #2 (OF 5)
Written by DONNY CATES
Art and Cover by RYAN STEGMAN
HAIL TO THE KING!
VENOM #31
Written by DONNY CATES
Art and Cover by IBAN COELLO
KING IN BLACK ARRIVES!
What happens to Eddie Brock when he finally comes face to face with the lord of the abyss, the KING IN BLACK: KNULL?
BLACK CAT #1
Written by JED MACKAY
Art by C.F. VILLA
Cover by PEPE LARRAZ
THE CAT IN BLACK IS BACK!
Feeling lucky? Knull's attack on Earth interrupts the Black Cat's latest heist, and if you know Felicia, you know that's a problem. So the Cat and her crew aim to steal something of greatest value to both Knull and Earth's hope of survival. You'll have to pick up this issue to find out what! This issue guest-stars the X-Men! Captain America! And Doctor Strange! DO NOT MISS IT!!!
KING IN BLACK:  IRON MAN/DOCTOR DOOM #1
Written by CHRISTOPHER CANTWELL
Art and Cover by SALVADOR LARROCA
Iron Man has risked everything to save Eddie Brock, but now he's left with nothing but guilt. As longtime 'frenemy' Doctor Doom shows up with both counseling words and ulterior motives, they'lll be forced to battle an all-too-familiar specter of the holiday season—albeit one now twisted and controlled by the recent invasion of Earth by the symbiote homeworld. As Iron Man and Doom fight as temporary allies, their unexpected encounter both with each other and a horrifying inversion of yuletide joy may ultimately reveal to them the true meaning of Knull-mas.
KING IN BLACK: IMMORTAL HULK #1
Written by AL EWING
Art and Cover by AARON KUDER
A PRESENT FOR THE HULK!
The Hulk is in a bad place. Half of his alters are dead or missing — including Bruce Banner — and the Leader's got the rest of him on the ropes. But never let it be said that Joe Fixit doesn't know how to have a good time — and he's out to make sure this is the best holiday the Hulk's ever had. He just has to fight his way through a planet of symbiotes first.
KING IN BLACK: NAMOR #1 (OF 5)
Written by KURT BUSIEK
Art by BEN DEWEY AND JONAS SCHARF
Cover by LEINIL FRANCIS  YU
Spinning out of the KING IN BLACK epic comes a dark, chilling story of the birth of Atlantis's greatest villains. The players: Namor, Lady Dorma of Atlantis, the outsider Attuma — all still in their teen years — and The Swift Riders, the Atlantean Empire's greatest heroes. It begins with alliances and possibility, as Attuma's people may join the Empire…but what lies ahead is tragedy, betrayal, and the unleashing of dangerous, deadly magics. A deep dive into Marvel history…and the birth of a threat that will only grow in menace across time.
KING IN BLACK: NAMOR #2 (OF 5)
Written by KURT BUSIEK
Art by BEN DEWEY AND JONAS SCHARF
Cover by LEINIL FRANCIS YU
The Young Namor, Attuma and Dorma get to accompany the Swift Riders on a mission, see them in action and learn from them. But the mission involves Russian alchemists in 1930s Murmansk, a dangerous mystic relic, and a catastrophe that brings to life the most menacing threat that Atlantis has ever faced! Now all of undersea civilization is imperiled, and only three youngsters can save it!
SPIDER-WOMAN #7
Written by KARLA PACHECO
Art by PERE PÉREZ
Cover by JUNGGEUN YOON
Abandoned by her friends, there's only one person who comes to Jess' aid…Octavia Vermis! She's got a cure for Jessica, and the prescription is: Crime! Under the cover of the Knull invasion, Spider-Woman is stealing elements of a cure to her condition…OR IS SHE?
MARVEL'S MOST PROMISING HEROES SET OUT TO CHANGE THE WORLD IN THE CHAMPIONS #1 TRAILER!
Get a first look at Eve L. Ewing and Simone Di Meo's new Champions series!
New York, NY— September 10, 2020 — The Champions are back and ready to take on the world in a brand-new series by acclaimed and award-winning writer Eve L. Ewing (Ironheart) and artist Simone Di Meo (Immortal Hulk: The Best Defense). A new law has been passed, forbidding anyone under 21 from being a vigilante, but luckily for the Marvel Universe, the Champions won't be going down without a fight. United, the Champions will rise up against any obstacles that dare stand in their way, including the dangerous new government taskforce known as C.R.A.D.L.E.
Kicking off next month, this groundbreaking new series will propel some of Marvel's most popular heroes, including Ms. Marvel, Miles Morales, and Nova, into bold new chapters of their super hero sagas. Get a peek at things to come in this explosive new trailer, featuring never-before-seen artwork from the debut issue!
"I think individually and collectively the Champions are some of the coolest, most interesting characters in the Marvel Universe," Ewing told Screen Rant earlier this year. "And I want to tell a story that's worthy of them. For me the big challenge is working with an ensemble cast, trying to make sure that we tell a cohesive story while individual characters also have moments to shine."
The Champions are ready to change the world. Are you? Don't miss a beat of their new adventures when CHAMPIONS #1 hits shelves next month!
Marvel Unlimited Expands This September
See what new digital comics are arriving this month.
New York, NY—September 3, 2020—Marvel Unlimited, Marvel's digital comics subscription service, offers members unlimited access to over 27,000 issues of Marvel's classic and newer titles, delivered digitally through your desktop web browser and the award-winning Marvel Unlimited mobile app.
With classic and newer issues added every week, here are some of the other binge-worthy Marvel titles hitting MU in September.
Marvel Unlimited members have access to some of the greatest Marvel Comics featuring The Avengers, Spider-Man, X-Men, Thor, Hulk and more! Not a Marvel Unlimited member? Join today!
This amazing service is accessible through Marvel Unlimited on the web and through the Marvel Unlimited app on iPhone®, iPad® and on select Android™ devices.
New to comics, and don't know where to start? Don't worry! Marvel Unlimited has an expertly guided READING LIST section to help you uncover pathways into the Marvel Universe through events, themes, and recommended series featuring favorite characters and creators!
An added bonus? New Unlimited subscribers get a reward of 3,000 Marvel Insider points when they join this service, and more points when they renew their subscription! Not a Marvel Insider? Sign up today and earn exclusive prizes just by being a Marvel fan! See what rewards are available here!*
With classic and newer issues added to Marvel Unlimited on a weekly basis as early as six months after they're in stores, you'll definitely want to join this guided experience that lets you find new favorites to read anytime, anywhere, from the full range of Marvel's history.
Follow Marvel on Facebook at www.facebook.com/marvel, join in the conversation on Twitter with #Marvel, and for all things Marvel, please visit marvel.com.