Today Disney announced that it will be retheming Splash Mountain at Disneyland and Magic Kingdom at Walt Disney World. The new story for the attraction will be based on the adventures of Princess Tiana from the Disney animated feature The Princess and the Frog. According to Disney, the attraction will pick up "after the final kiss, and join Princess Tiana and Louis on a musical adventure – featuring some of the powerful music from the film – as they prepare for their first-ever Mardi Gras performance."
Princess Tiana is an empowered, courageous, and modern woman who has the courage to pursue her dreams and not lose sight of what is important. She is an incredibly strong lead character with a story that comes from New Orleans and the Louisiana Bayou. New Orleans Square, which opened as the first new land added to Disneyland in 1966 was opened by Walt Disney himself. The new attraction will be a natural extension of the area.
The idea to retheme the attraction came as Imagineers asked the question how can we build upon or elevate the experience and tell a fresh, relevant story? The answer to this question Disney felt would be "of particular importance today." In a statement, Disney shared that the new attraction is inclusive and "one that all of our guests can connect with and be inspired by, and it speaks to the diversity of the millions of people who visit our parks each year."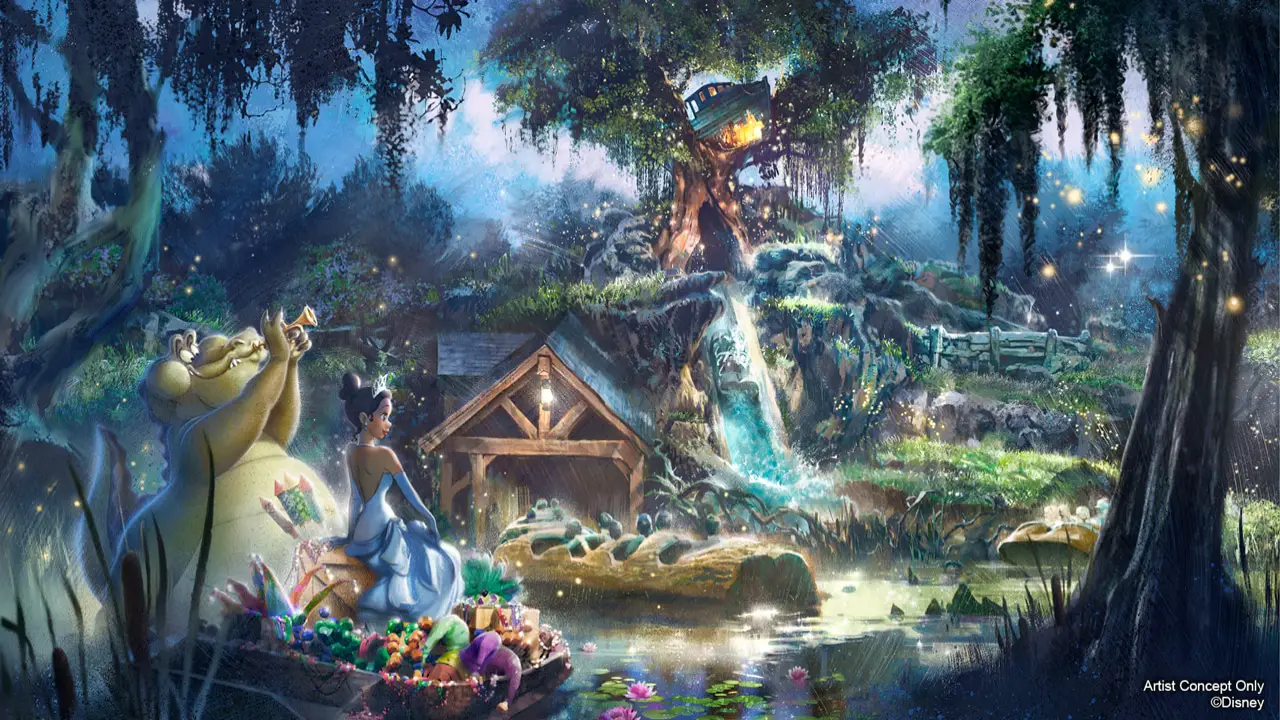 Anika Noni Rose, the voice of Princess Tiana shared, "It is really exciting to know that Princess Tiana's presence in both Disneyland and Magic Kingdom will finally be fully realized! As passionate as I am about what we created, I know the fans are going to be over the moon. The Imagineers are giving us 'The Princess and the Frog' Mardi Gras celebration we've been waiting for, and I'm here for it!"
Walt Disney was always known to be a driver of change who believed that it was important to give people more than they expected and they will then respond.
"Like Princess Tiana, I believe that courage and love are the key ingredients for wonderful adventures. I am delighted to be a part of bringing this fun-filled experience to our guests," said Charita Carter, senior creative producer who is leading the project at Walt Disney Imagineering.
At this time, there isn't a timeline for when this attraction will come to life. The project is in the development process and Disney is working on a conceptual design for the new attraction. Then Imagineers will conduct preliminary reviews which will then lead to a timeline for when and how this transformation will take place.
For now, it will be a time for Disney fans to dream and imagine the possibilities of what Disney magic can do to retheme Splash Mountain into a new attraction based on the adventures surrounding Princess Tiana. With all the music in the attraction and the storyline building towards a big Mardi Gras celebration, there will be a lot of room for music and Disney magic in this attraction!
DAPS MAGIC will continue to follow this story and provide updates as they become available. What do you think of the retheming of Splash Mountain? Share your thoughts in the comments below or with DAPS MAGIC on Facebook or Twitter!