It was another warm, but mild day at the Disneyland Resort. Halloween Time kicked off Friday, and is definitely in full swing with all of the decor up! Pumpkins, pumpkins, and more pumpkins grace Town Square and Main Street, U.S.A. And of course, there are plenty of Halloween themed treats to be found all over both Parks!
The first thing you see as you approach Disneyland is the character pumpkins above the entrance gates. It's always fun to see them no matter what time of day it is! And as you enter Disneyland, the banners and bunting definitely let you know that Halloween Time is here!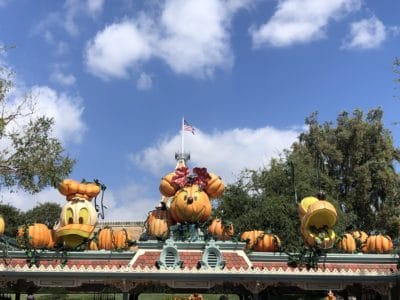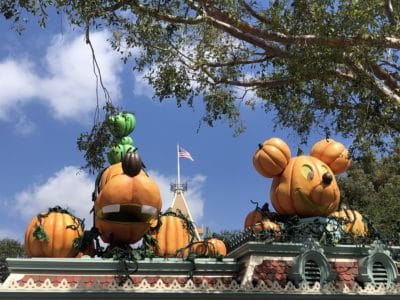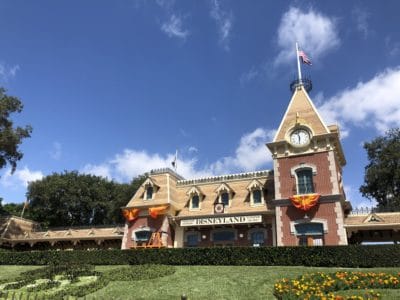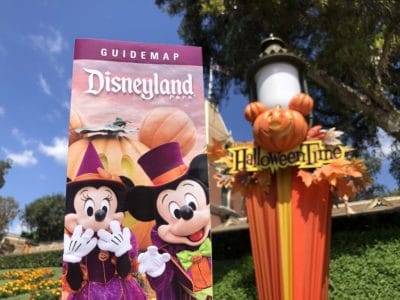 And you can't forget about your favorite characters dressed in their Halloween best! Mickey, Minnie, Pluto, Goofy, Donald, and Chip & Dale, along with some villains can be found throughout Town Square. You never know who you might see so keep an eye out for them.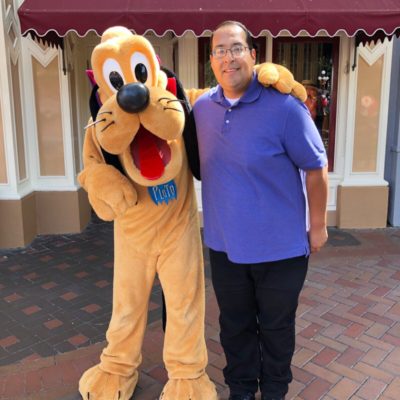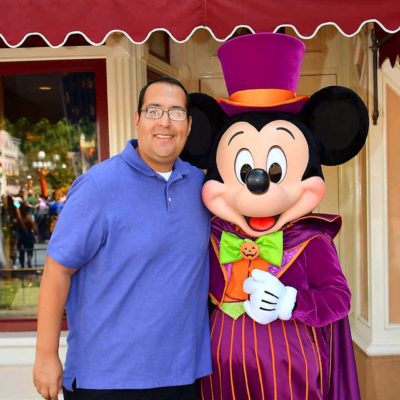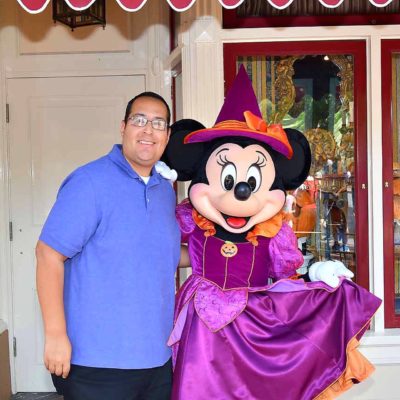 Once Mr. DAPs and Caitie arrived, it was time for coffee from Market House Starbucks! Pumpkin season is here so it was only fitting to get a Pumpkin Cream Cold Brew! It was very good, and the foam tasted like pumpkin cheesecake! I will definitely get that drink again! And of course, we headed to the Hub for some 'DAPs Caf' photos! I had to take mine in front of my favorite pumpkin – the Roger Rabbit pumpkin!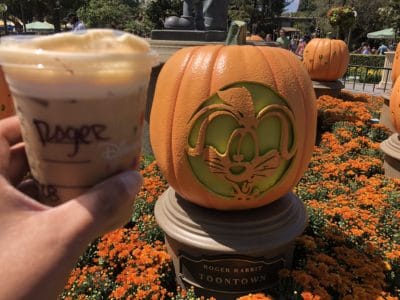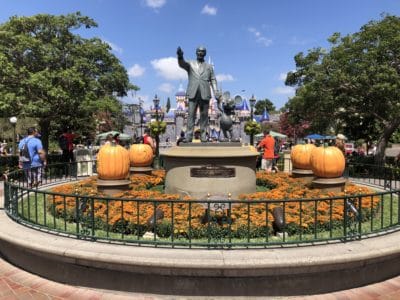 We then headed towards Mickey's Toontown but found Princess Aurora and Maleficent along the way. They were meeting separately, of course, but it was definitely fun to see both of them! Aurora was as delightful as ever, and Maleficent was being her usual self, which was definitely expected! You can find Maleficent meeting behind the Castle at various times during the day!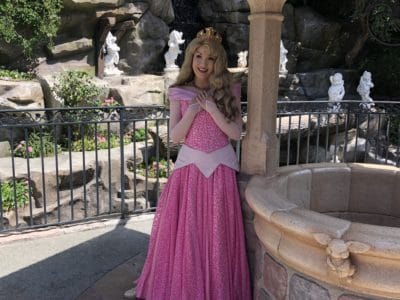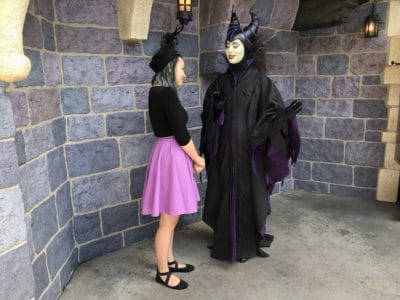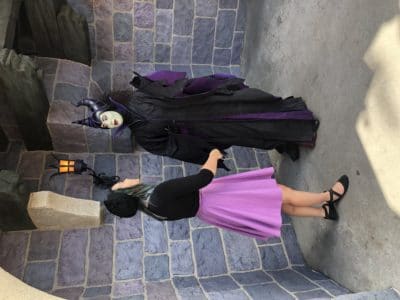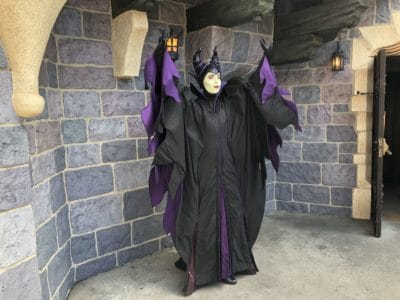 Next we headed to Mickey's Toontown to see if any Halloween decor was there. Our friend Luke joined us here! And missing this year is the bunting and the Mickey and Minnie pumpkins at the entrance to Toontown. I'm thinking that because there's no Halloween party at Disneyland that those will not be up this year. We did, however, find some pumpkins at Goofy's House. He had a small pumpkin patch going so at least that's something.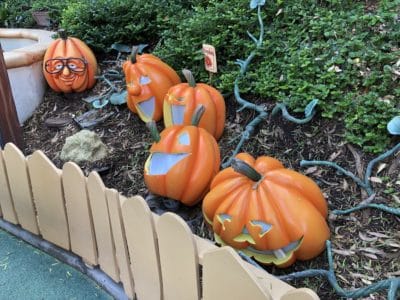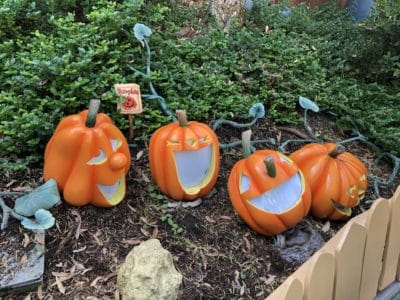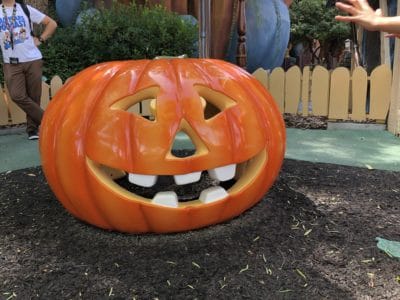 We then found ourselves heading to New Orleans Square for a ride on Haunted Mansion Holiday! Jack, Sally, Oogie Boogie, and many others are back for another holiday delight! Every year is different mainly because of the gingerbread house in the ballroom scene. It's themed to the Haunted Mansion's 50th anniversary!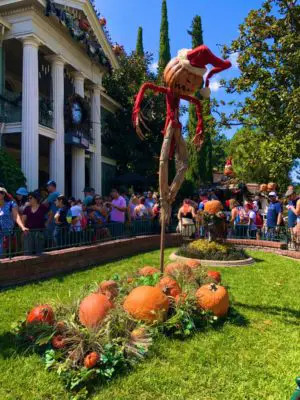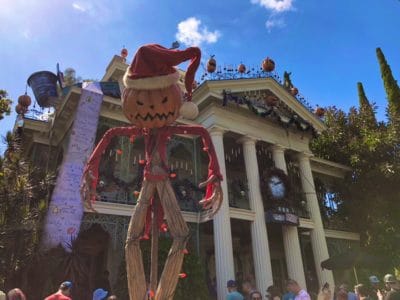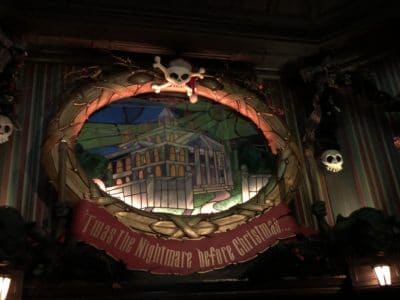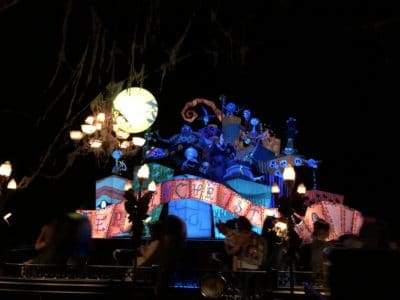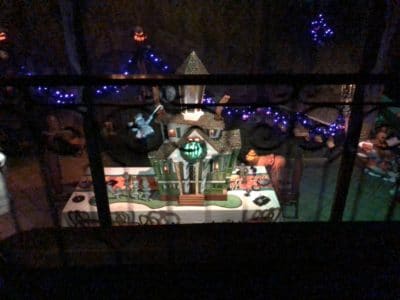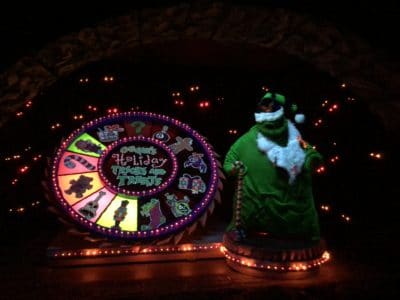 After some Haunted Mansion fun, we made our way to Disney California Adventure. We sat at Sonoma Terrace for a while enjoying the nice afternoon. Mr. DAPs and Caitie got the Halloween themed 'De Vil-ishly Delectable Wings,' or as we called them 'Hallo-wings!' The chicken wings are tossed in a tangy and mildly spicy White Sauce with Parmesan and Black Sesame Seeds. The wings are $9.00, and discounts apply! They were surprisingly good, and something that is worth having again!
And while here, we also met up with Sarah (@agent_pink on Instagram) who had the special Annual Passholder Popcorn Cauldron! It's $20, and is refillable for $1.50 until October 31! (Chicken wings photo is courtesy of the Disney Food Blog because I forgot to take a take of them!)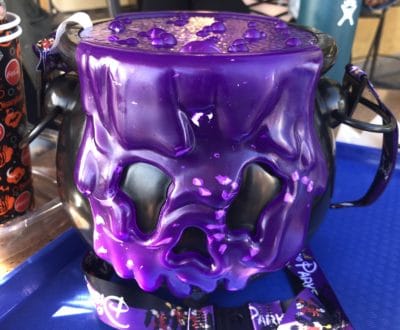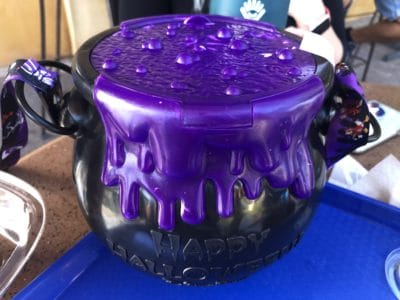 We then headed to Plaza de la Familia for 'A Musical Celebration of Coco.' This show is back for the 3rd year, and it celebrates the Disney Pixar movie 'Coco.' A storyteller, dancers, the Mariachi Divas, and Miguel himself share the story of this beautiful movie in a very entertaining 15-minute show! This is a must-see, and be sure to arrive early for a good spot! The show happens in the area between Goofy's Sky School and Jumpin' Jellyfish!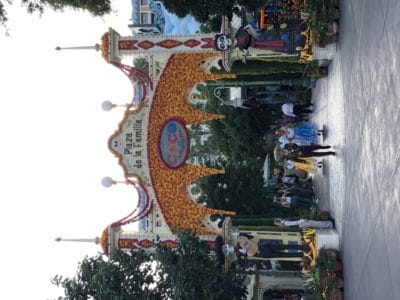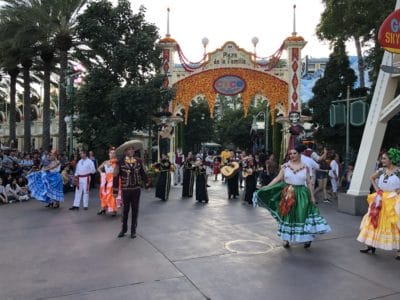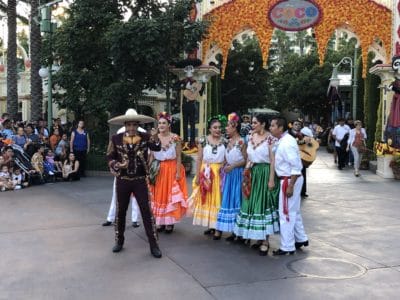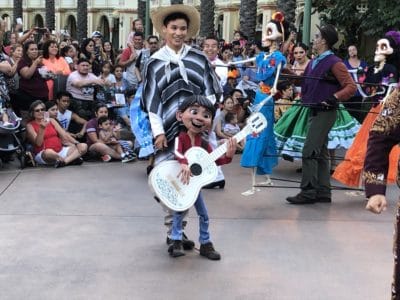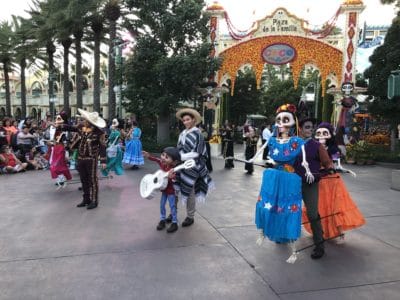 After the 'Coco' Show, we headed to dinner at Paradise Garden Grill. Once again, the restaurant has changed to a Mexican menu for Halloween Time. Burritos, tacos, tamales, quesadillas, and desserts make up the menu at Paradise Garden Grill. I got the tamale plate, which comes with two red chili pork tamales, black beans, rice, and a side of red chili sauce. Surprisingly, I enjoyed the tamales. I'm usually hesitant to get tamales at Disney Parks because it's usually a green chili pork tamale, and to me, that isn't a tamale. The rice was a bit dry, however, but I mixed it with the beans, and it gave it more flavor. I will definitely be getting the tamale plate again! The tamale plate is $12.99, and discounts apply  I also got the Agua de Jamaica Slush! This was really good, but it's hard to drink with a paper straw, either way, I still recommend it! That drink is $4.99, and discounts apply as well!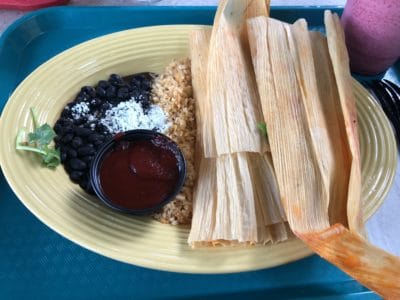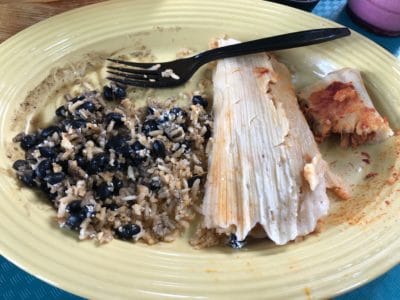 After dinner, we headed back to Disneyland as we had heard that some ghostly friends were meeting in New Orleans Square. We got in line and were told that we were going to be meeting a spook from the Haunted Mansion but we couldn't be guaranteed a particular spook. We first saw Constance Hatchaway, the bride with many dearly departed husbands. She was creepy as ever but kept true to her character. She even held a bouquet of flowers that was hiding her hatchet. We then met the Hitchhiking Ghosts! They were great, and definitely kept the 'spirit alive' as we met them and took photos! As of this post, they are meeting weekends from 5:30 pm to 11 pm near Port Royal Curios and Curiosities where Jack & Sally meet during the day.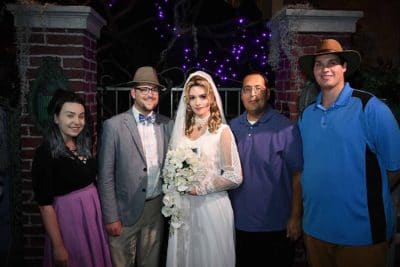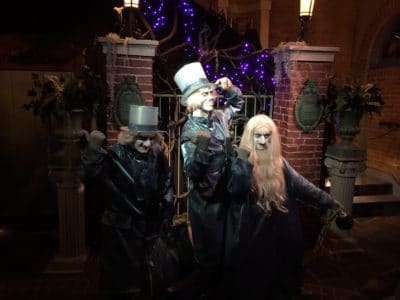 After meeting some spooks, we headed back to Disney California Adventure to check out Cars Land and Buena Vista Street HalloweenTime nighttime decor! There's definitely a different feel on Buena Vista Street once the sun goes down. It's not your typical happy, fun music area. It has been taken over by Oogie Boogie and the Headless Horseman! The lights and music definitely add to the feel of the area!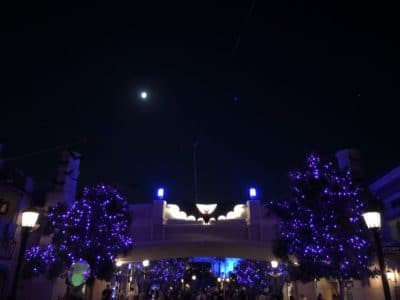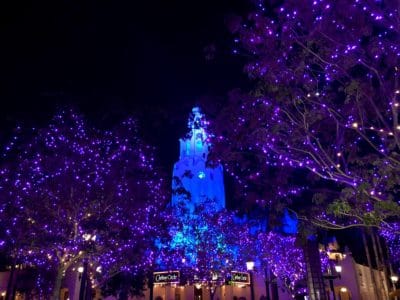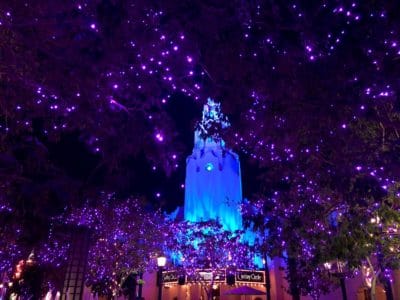 And Cars Land is once again the place to be for family-friendly Halloween Time fun! Each area of the land is decorated and rethemed for the holiday! From Mater's Junkyard Jamboree to Luigi's Rollickin' Roadsters and even the Cozy Cones, there is plenty of Halloween fun and decor to be found!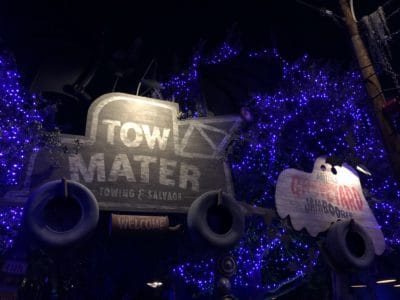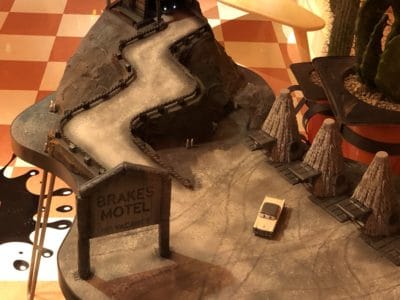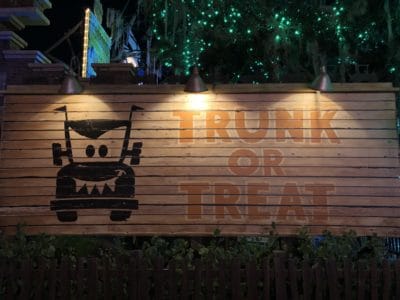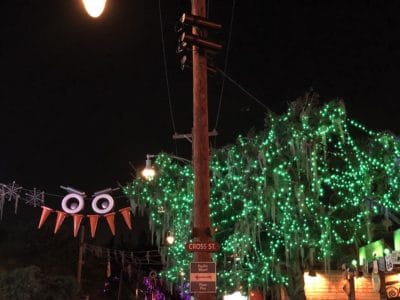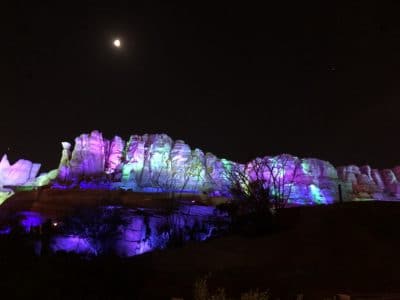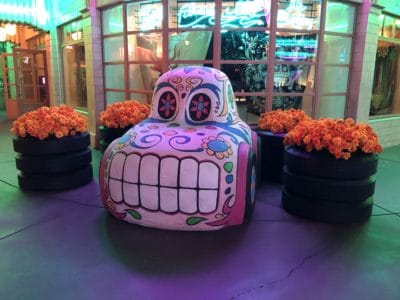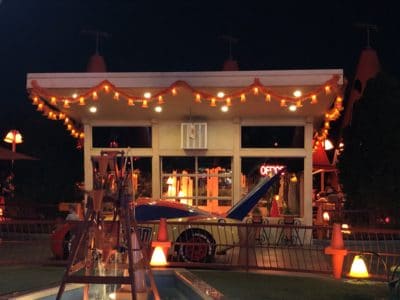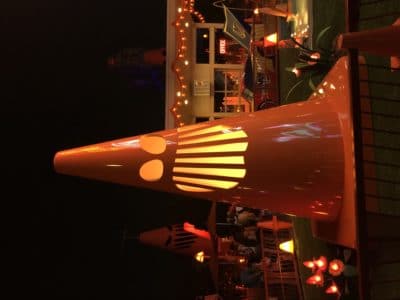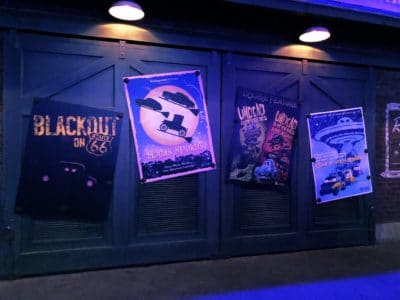 We then headed back Buena Vista Street to check out the Headless Horseman. You can definitely hear the music and sound effects in that area! It makes it for a fun and spooky experience! Soon after, we called it a night!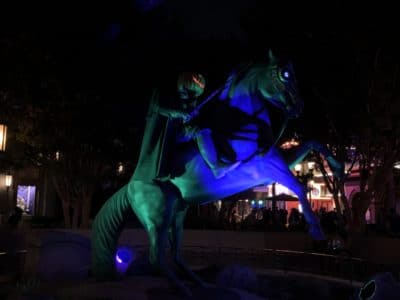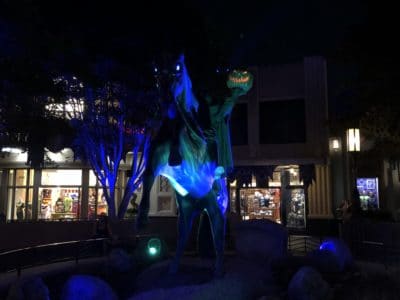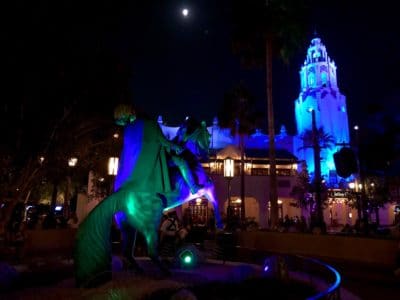 There's so much more HalloweenTime fun to check out so join me next week to see what Halloween fun we will encounter! Until then, have a great week!