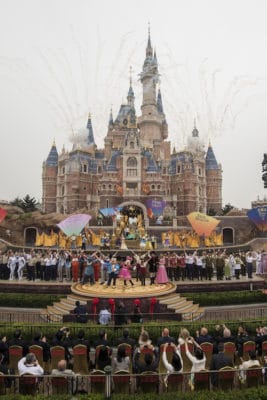 On June 16, 2016, Shanghai Disney Resort opened its gates to the world. It is located outside of Shanghai, China in a town called Pudong. It is the second Disney theme park in China, after the original one in Hong Kong. Although Disney began thinking about a second China Disney theme park in the very late '90s and early 2000s, it wasn't until 2011 when ground broke on this resort.
Shanghai Disney was financed jointly by The Walt Disney Company and a conglomeration of Chinese state-owned enterprises. Originally it was to open in the spring of 2016 but it eventually opened at noon on June 16. On opening day it included the Shanghai Disneyland Park, two hotels, and Disneytown. The opening day was rainy and the opening ceremony included many dignitaries, including Vice Premier Wang Yang. He joked that the weather was good luck and foretold the rain of American dollars that would rain down on the resort.
DAPS MAGIC's very own Murray was there on the opening day of Shanghai Disney Resort. On today, the third anniversary of the opening of Shanghai Disney Resort, let's take a look back at the opening day coverage he provided.
What do you think of Shanghai Disney Resort? Have you visited? Share your thoughts in the comments below!