It was a warm and humid Sunday at the Disneyland Resort, but that didn't stop the fun from continuing. There was a lot to do, especially because it was Donald Duck's 85th birthday! He looks great for 85! I should have asked him what his secret is to staying young!!
As I approached the Disneyland entrance, Monorail Orange was sitting outside the security checkpoint waiting for clearance. It was a perfect time to take photos of the waiting Monorail as the Monorail, Subs, and Matterhorn celebrate their 60th anniversary on Friday, June 14.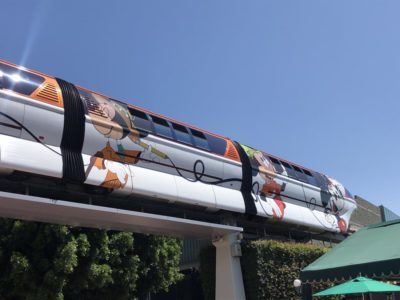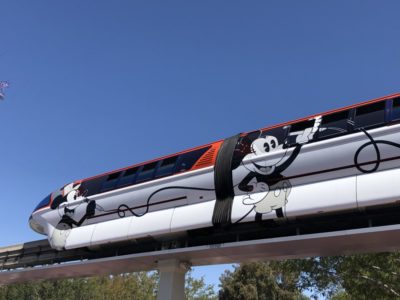 I then entered Disneyland, and took the obligatory photo of Main Street Station. The Disneyland Band was performing in Town Square, so I went to see a bit of their performance. It was nice to hear them play 'Welcome' from 'Brother Bear,' which was also prominently featured in Walt Disney's Parade of Dreams during the 50th anniversary. They also performed a Disneyland attractions medley, as well as the Star Wars theme. The Disneyland Band has been around since opening day on July 17, 1955, and it's always fun to see them! Fun fact: They were originally supposed to have a two week engagement! It's been almost 64 years now!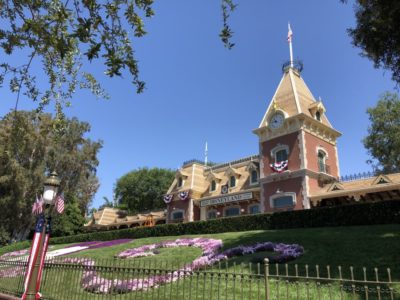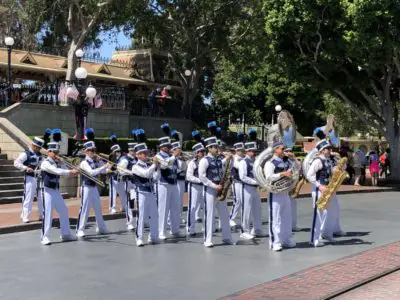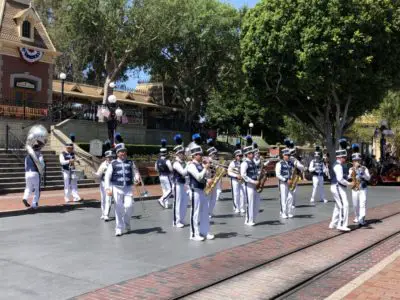 After watching the Disneyland Band for awhile, it was time to wait for the birthday Duck to make an appearance. Many guests were waiting for the 'Duck of Honor,' and when he made his appearance, everyone was very happy to see him! He roamed around for a minute, and then got into place to photos! Some guests bounded as Donald Duck, while I was wearing a Mickey Mouse shirt. As I approached him for the meet & greet, Donald wasn't too pleased about my shirt. I did, however, assure him that he was the number one character for the day because it was his birthday! He definitely got excited about that!
After some photos with Donald, it was time to head to Jolly Holiday Bakery Cafe. They had a special lemon blueberry bundt cake to celebrate Donald's 85th birthday! It was very flavorful, light, and it was the perfect way to celebrate the famous Duck's birthday!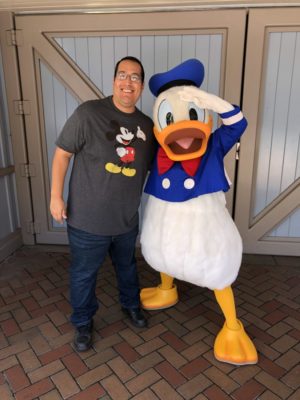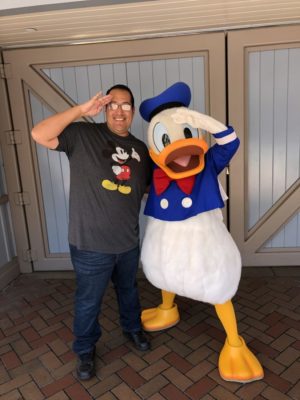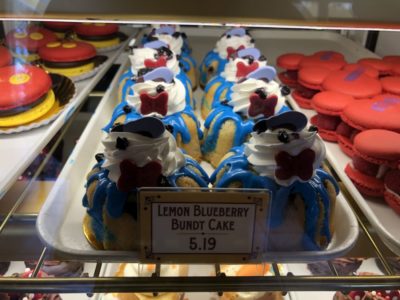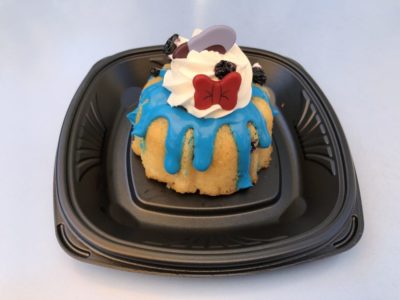 After having dessert, I met up with Mr. DAPs and Caitie. They were waiting for Jenny and Krystyn as they had reservations to head to Galaxy's Edge. As they picked up their wristbands, I booked a FastPass for Toy Story Midway Mania. It was for 3-4pm, and it was just about 12:30pm. After that, we stopped briefly to see the Main Street March, and then headed to Adventureland for some snacks. I didn't get anything as I had the mini bundt cake earlier. We sat at Tropical Imports for awhile, and it was fairly nice there as it was quite warm and humid outside. We then headed to Market House Starbucks for some refreshing drinks! Soon, it was time for Mr. DAPs, Caitie, Jenny, and Krystyn to explore a Galaxy far, far away. We would later meet for dinner.
That gave me time to explore some more, and do things that kept me mostly inside cool areas. The first thing I did was head to 'it's a small world' for a happy cruise around the world. After Small World, I got some popcorn from my favorite popcorn cart – the Matterhorn popcorn cart. All popcorn carts make their popcorn differently. So if you ever wonder why one tastes different than another, that's why.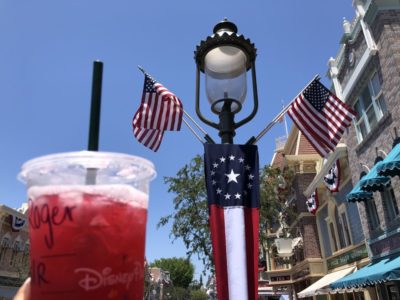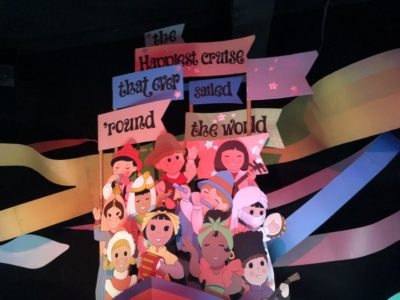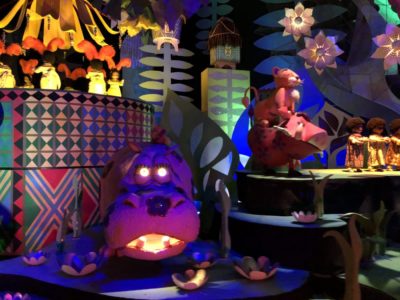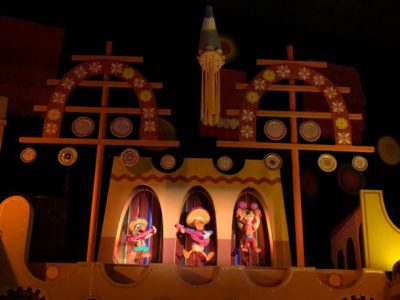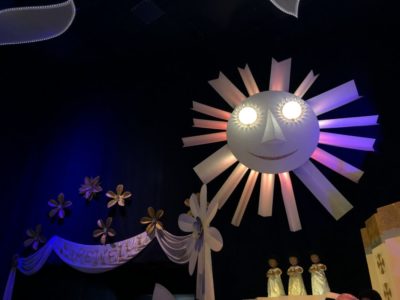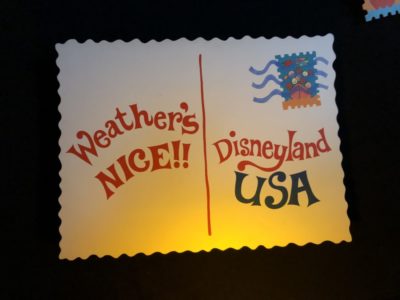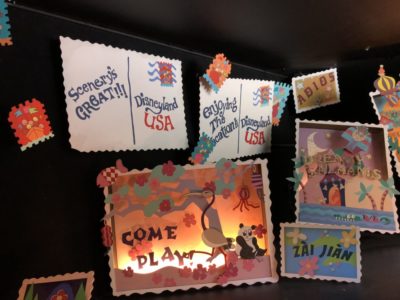 I finished my popcorn on a bench in Town Square before heading to Disney California Adventure. As I entered, I picked up a park map. It featured 'Tale of The Lion King' on the cover. It was now about 3pm, and my FastPass for Toy Story Midway Mania was active. I headed there, watched Mr. Potato Head for awhile, then entered the attraction. I didn't have the best score, but it was fun to play again! It was getting closer to the 3:50pm performance of 'Tale of The Lion King.' It was very warm and humid out, but that didn't stop me from enjoying the show.
'Tale of The Lion King' is retelling of 'The Lion King' as told by the Storytellers of the Pride Lands. It features live singing, music, and dancing. It's a fun little show, and I hope you have chance to see this show sometime throughout the summer at Disney California Adventure.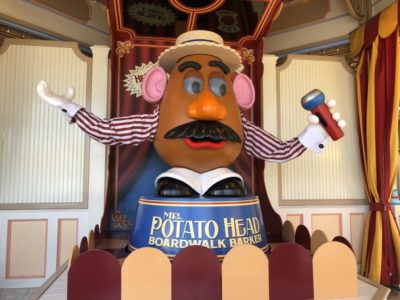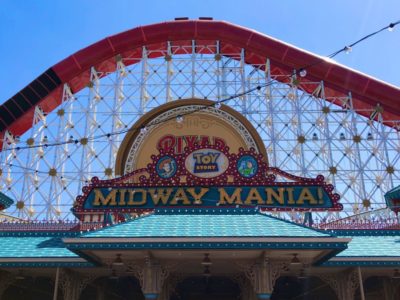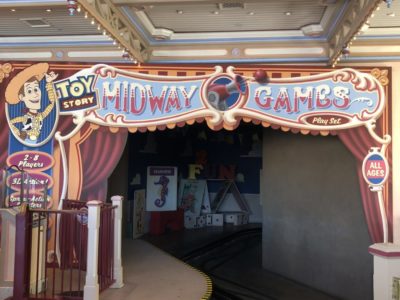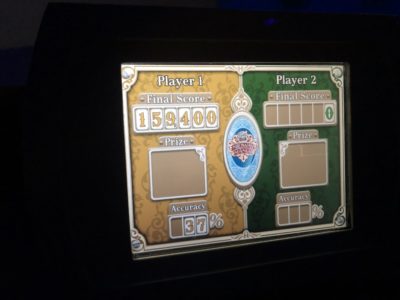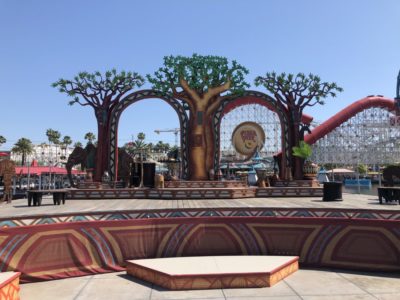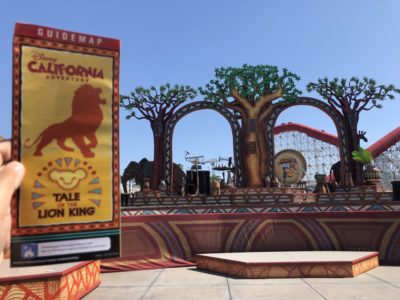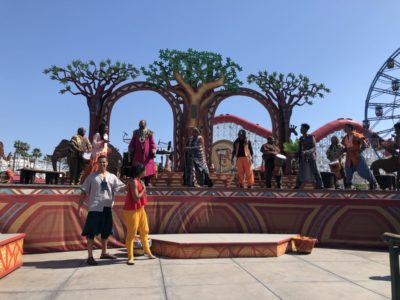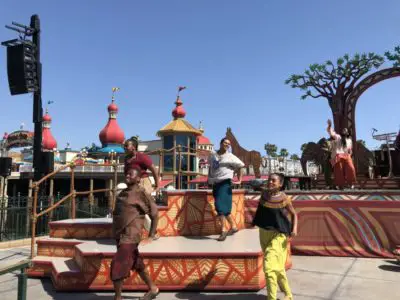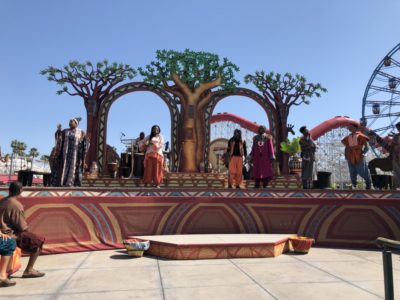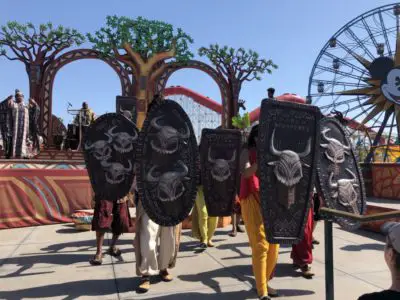 After watching 'Tale of The Lion King,' it was time to cool off. So I went 'under the sea' with Ariel, saw some construction progress at the Marvel super hero themed land, then headed to Hollywood Land to watch Mickey's PhilharMagic! This was much needed, as it was very warm watching The Lion King Show. I then browsed the shops on Buena Vista Street before going back to Disneyland.
Once at Disneyland, it was time for a grand circle tour so off to the Disneyland Railroad I went. With Galaxy's Edge now open for those with reservations, some of the views along the pathways leading to Galaxy's Edge have changed.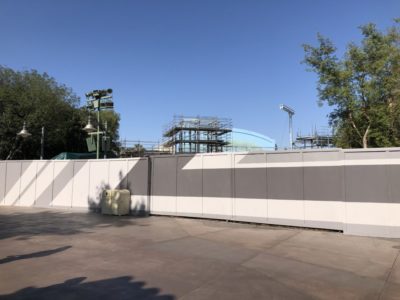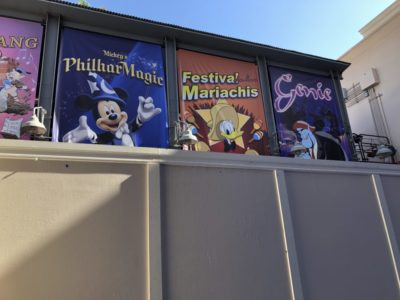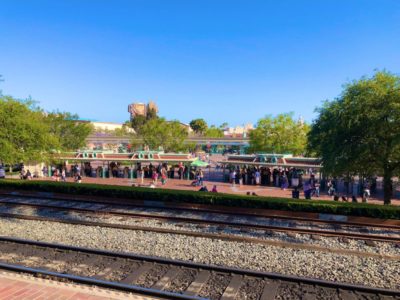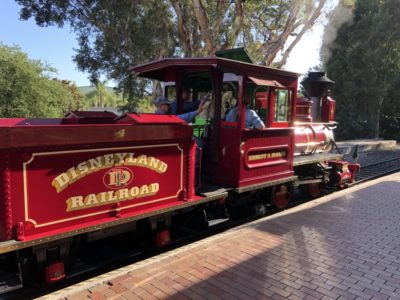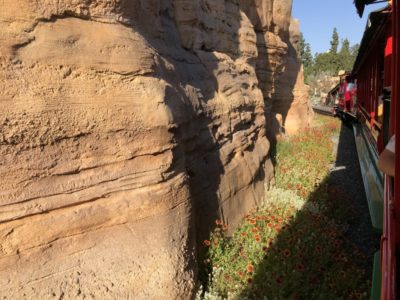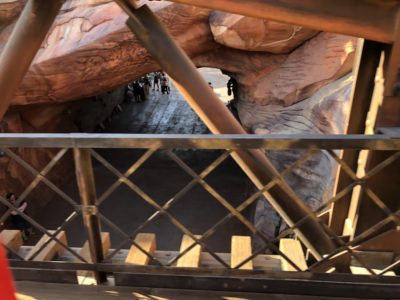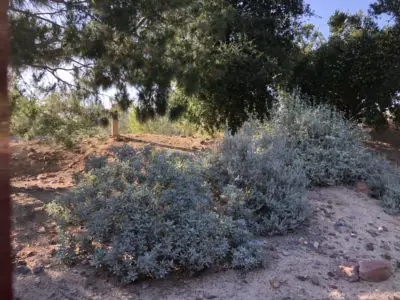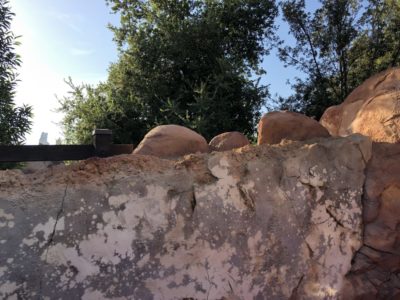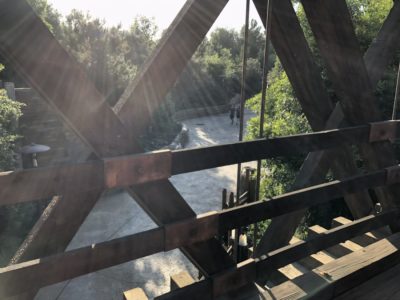 I soon departed the Disneyland Railroad at Toontown as Mr. DAPs, Caitie, Jenny, and Krystyn were now 'Off Planet,' or back at Disneyland! We then headed to DCA for dinner, and along the way met up with our friend Cristina. We had dinner at Smokejumpers Grill, and sat in the shade which was very much needed. Around 8pm, we said goodbye to Cristina, and headed back to Disneyland for ice cream and fireworks. We grabbed our spot for fireworks in front of Sleeping Beauty Castle, then Mobile Ordered ice cream from Gibson Girl Ice Cream Parlor. As we were enjoying our ice cream and fun conversation, an announcement that fireworks may be canceled due to wind was played. We waited, and then at 9:30pm, the cancellation announcement was played. However, Mickey's Mix Magic was going to be shown in the place of Disneyland Forever. We all laughed as Mickey's Mix Magic had ended its run on Thursday night. We then heard the delay announcement for Mix Magic twice. Then we got the Mickey's Mix Magic cancellation announcement due to technical difficulties at around 9:50pm.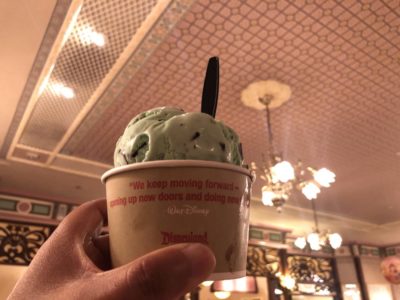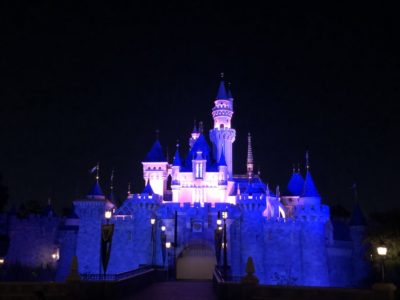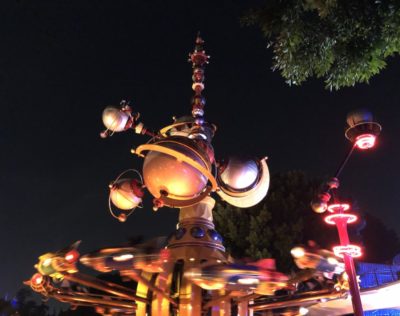 We soon left the Castle area, and headed towards Tomorrowland before heading down Main Street and out of Disneyland. It was yet another fun Sunday adventure at the Disneyland Resort! Stay tuned for more fun and adventures coming next week!