Mobile order has been an absolute game changer since it was introduced at the Disneyland Resort last year! It has made ordering food a snap and saved time for guests all around the domestic parks! We are excited to announce that the look of mobile ordering your favorite food and beverage has changed in the Disneyland app.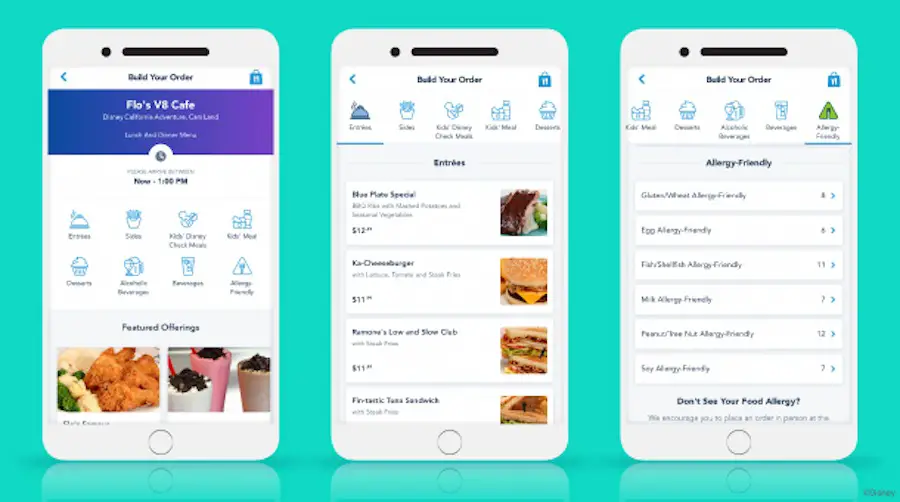 Available now on the Disneyland app and coming soon on My Disney Experience for Walt Disney World, this visual update has made ordering even easier! The app has grown with easier navigation and improved design with fun, colorful icons and even more photos of the menu items. In addition, guests with certain allergies or dietary restrictions can better discover the options that may meet their needs at participating locations.
The app has been one of our absolute favorite features added to the Disneyland App recently. Along with MaxPass, we find ourselves using these features again and again! With mobile order now expanded to over 20 participating restaurants, you are sure to find just what you want to eat! Here is where you can grab mobile orders at the Disneyland Resort:
Disneyland Park
Bengal Barbecue
Galactic Grill
Gibson Girl Ice Cream Parlor
Hungry Bear Restaurant
Jolly Holiday Bakery Café
Red Rose Taverne
Edelweiss Snacks
Stage Door Cafe
Refreshment Corner
Royal Street Veranda
Harbour Galley
Tiki Juice Bar
Disney California Adventure Park
Cocina Cucamonga Mexican Grill
Corn Dog Castle
Flo's V8 Café
Lucky Fortune Cookery
Pacific Wharf Café
Paradise Garden Grill
Smokejumpers Grill
Bayside Brews
Some of our team put together a walk-through of mobile ordering after it was first introduced to Disneyland! Check out the video below.
What do you think of the app's new look for mobile order? Let us know in the comments down below or on any of our social media platforms!